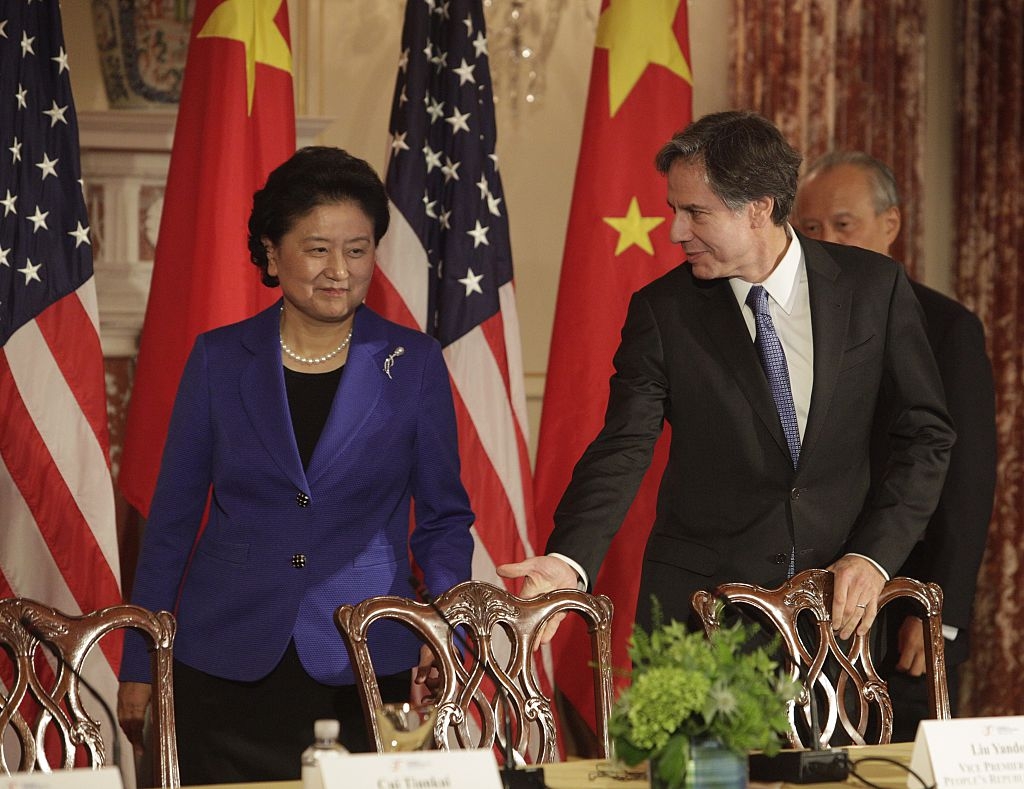 US Secretary of State Antony Blinken said last week that the goal of the Biden administration was not to "contain" China, but to protect a "rules-based order" in international relations. For American diplomacy, this is a significant admission that America no longer wants to lead the world, but gracefully back away as the world's reigning superpower. Pictured: Then US Deputy Secretary of State Blinken (right) meets with Liu Yandong, then Vice Premier of China, at the seventh US-China Strategic and Economic Dialogue in Washington DC, June 24, 2015. (Photo by Chris Kleponis/AFP via Getty Images)
In various recent interviews, President Joe Biden and his top diplomat have tried to say they want China to follow "the rules" while it pushes past the United States as the dominant power in the world. That is the only way to see the signals they are sending to the Beijing regime.
Secretary of State Antony Blinken told Norah O'Donnell of CBS News' 60 Minutes last week that the goal of the Biden administration was not to "contain" China, but to protect a "rules-based order" in international relations:
"Our purpose is not to contain China, to hold it back, to keep it down. It is to uphold this rules-based order that China is posing a challenge to. Anyone who poses a challenge to that order, we're going to stand up and defend it."
For American diplomacy, this is a significant admission that America no longer wants to lead the world, but gracefully back away as the world's reigning superpower. Perhaps these clear signals will be seen by some western allies as merely noblesse oblige, a gentlemanly way of responding to the shoves of a bully.
Interviewed by Anderson Cooper of CNN, President Biden sounded almost apologetic for even bringing up China's human rights abuses in his first phone call with Chinese president Xi Jinping. Cooper asked, "When you talk to him about human rights abuses, is that just — is that as far as it goes in terms of the U.S.? or is there any actual repercussions for China?"
Biden's response is telling. He replied:
"Well, there will be repercussions for China, and he knows that. What I'm doing is making clear that we, in fact, are going to continue to reassert our role as spokespersons for human rights at the UN and other agencies that have an impact on their attitude. China is trying very hard to become the world leader, and goat that moniker and be able to do that, they have to gain the confidence of other countries. As long as they're engaged in activity that is contrary to basic human rights, it's going to be hard to do that. "
It is tempting to see a politician's words about diplomacy as simply tactical moves, not an honest statement of their true diplomatic intentions. President Donald Trump famously used softer words about Vladimir Putin and North Korean despot Kim Jong Un than he did about German prime minister Angela Merkel. But the Chinese communists in Beijing are not known for either subtlety or nuance in how they handle their affairs in their own backyard. Words and statements matter where China is concerned. Weakness displayed is weakness exploited. American policy towards emergent China has long been strong words matched with a policy of containment, which we should explain.
Containment means containing the geopolitical and influence advances around the world of the country in question. During the Cold War with the USSR, this not only meant that we wanted to stop Soviet tanks from going through the Fulda Gap into West Germany, but also that we wanted to limit or contain Soviet influence in Latin America, Africa, and the Middle East. Regarding China, containment has meant supporting Hong Kong, India, Tibet, Chinese ethnic and religious minorities, Japan, and the other Asian Tigers as a bulwark against Chinese hegemony. It has meant opposing Chinese aggression and territorial claims both at the UN and with the presence of the Seventh Fleet.
To win the Cold War in the 1980s, President Ronald Reagan's genius was to go further than simple containment. Reagan believed a simple containment policy would always leave you on defense. He compared it to getting possession of the football and punting on first down. This is why he not only built up American military capabilities but deployed his rhetorical arsenal against the rusting iron grip of Soviet totalitarianism. "Mr. Gorbachev, tear down this wall!" was his closing argument and meant more to the collapse of the Soviet Union than Pershing II missiles, as it turned out.
The fact that both Biden and Blinken tread so gingerly around Chinese expansionism and tyranny, forswearing even to use the word "containment," is because they don't want to provoke Beijing, which would take real offense at us saying it. But if they are acknowledging that Beijing wants to overtake us, and seeks to expand its model of authoritarianism around the world, how can they as putative leaders of the free world not call for containment and more? They appear to be straddling two positions while lacking the fortitude to come out and call for containment.
In the struggle against Marxism-Leninism, that second word is the most dangerous today. The Chinese communist regime is deeply Leninist in its nature and operation. Like its eponymous originator, the Leninists of China stress the dictatorial side of their "revolution," not its theoretical ideas about class or, most definitely, capital. This is the true nature of the Beijing regime and why its threats and challenges are so strong. The "Marxism" side has been somewhat cast off by the Leninist drive to punish and exploit their adversaries. Unless the nature of the Chinese system itself changes, we are going to face with this Leninist threat for decades to come.
So the leaders of the free world should not only be speaking – and acting – in opposition to China's human rights abuses and expansionist, aggressive movements internationally. They should be attacking the worst, most vicious exponent of Leninism – the Chinese Communist Party – as the cause of the human rights problems and global instability that we see in the world. Human rights in China are not a "Chinese" problem, per se, they are a "Leninist" problem. It is no coincidence that what is happening in China today is similar to the attempts at control that we saw in Romania, East Germany, Cambodia and elsewhere during the Cold War.
It is by design and for keeps.
Peter Schweizer, President of the Governmental Accountability Institute, is a Gatestone Institute Distinguished Senior Fellow and author of the best-selling books Profiles in Corruption, Secret Empires and Clinton Cash, among others.