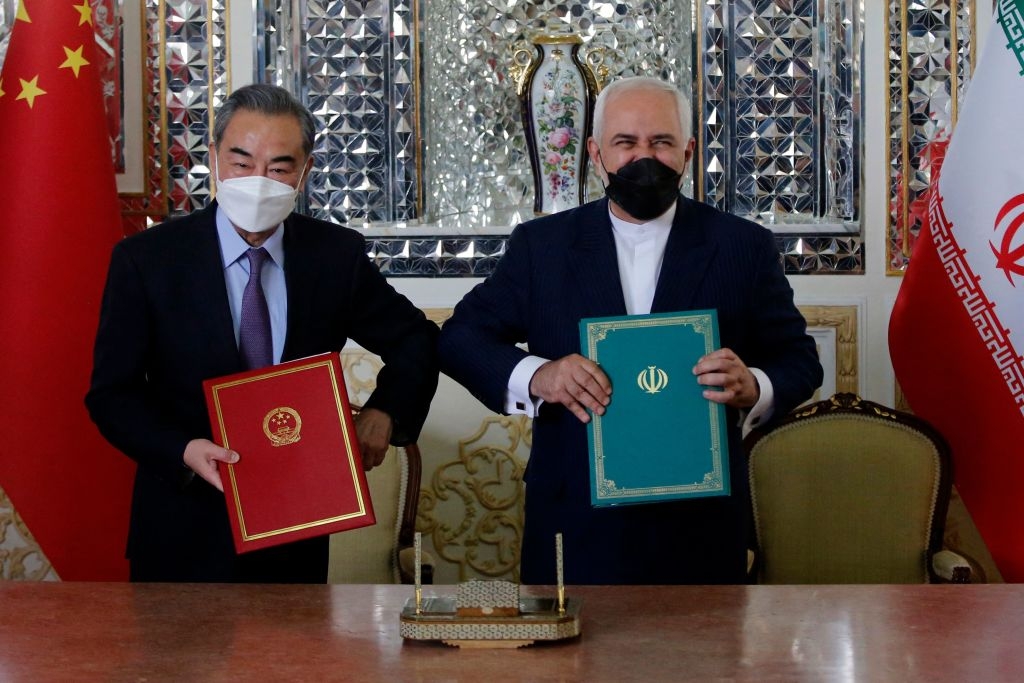 The Free World seems finally to be waking up to the fact that for at least a decade we have been in 'grey war' with the new alliance of China, Russia, Iran and North Korea (CRINK) without openly realising it. Pictured: Chinese Foreign Minister Wang Yi (left) and Iranian Foreign Minister Mohammad Javad Zarif at the signing ceremony for Iran and China's "25-year strategic cooperation pact," on March 27, 2021 in Tehran. (Photo by AFP via Getty Images)
The Free World seems finally to be waking up to the fact that for at least a decade we have been in 'grey war' with the new alliance of China, Russia, Iran and N. Korea (CRINK) without openly realising it. Within high circles in the Western Intelligence Community (which is awake, not woke, thankfully) there is a name for it: ghost attack.
Ghost attack is described thus in two stages: Stage One: "Commit non-attributable, or feasibly deniable, acts of war that advance your own national power and physically harm your adversaries, but do not fit traditional legal standards to mobilize them to a formal response." Stage Two: "Then foment chaos, advance the narrative of your innocence, and underline your adversary's incompetence through information warfare."
A recent privately circulating paper discusses three recent ghost attacks: The Colonial Pipeline ransom attack; the covid outbreak; the denigration of Western vaccines. The first, by a Russian cyber-criminal group which is unlikely to be free-lancing, is already public. The latter two have been struggling to break the Communist Chinese intelligence services' skilful grip on the narrative of the pandemic year.
While zoonotic (natural) causation is possible, evidence is now reversing the burden of proof beyond reasonable doubt in favour of SARS-CoV-2 being a chimera originating from so-called 'gain of function' research principally but not only in the Wuhan Institute of Virology from which, on balance of probability, it most likely escaped by accident due to sloppy procedures. The first end-to-end bio-chemical and forensic diachronic analyses, which were performed in Norway in early 2020 and then updated, are shortly to be published after having been blocked for more than a year. The embargoed Sørensen/Dalgleish paper, written by leading virologists and vaccinologists, is being extensively discussed in the world's press following a letter in Science on 14 May 2021, also written by eminent scientists in the field, that finds deep defects in the WHO investigation and calls for a well-informed and balanced review of the lab-release hypothesis, to which the Anglo-Norwegian paper is the authentic response. On 26th May, US President Joe Biden ordered a 90 day investigation by the CIA; then, on 2nd June, the release of a huge data-dump of Anthony Fauci's emails under an FOIA (Freedom of Information Act) request occurred. It is already yielding confirmation of Sørensen/Dalgleish's forensic deductions, both on virus aetiology and on who, how, where and when the purposive manipulation was done. No wonder there was such pressure to silence them. So, the dam which has held since early 2020 is breaking.
What concerns us here are the geo-strategic implications of this breach. It means that the People's Republic of China (PRC) has effectively lost the dominance over the narrative that it has held so successfully since February 2020, assisted by highly-placed 'friends of China' in the West, especially in universities and scientific journals. As that fully informed conversation develops in coming weeks, the public mood in the Free World will undoubtedly darken further. If this supposition is correct and if Xi Jinping's command group knows this, as its verbally violent response to the CIA tasking suggests, then perhaps it would be prudent to form a further hypothesis of how, network-like, several other dots may join up? In the world of intelligence analysis, this technique is known as Net Assessment. The dots lead from PRC loss of control over the narrative of the pandemic to blowing up the Middle East, to impending war in the South China Sea.
Blowing up the Middle East
Allocating responsibility for the recent violence in the Middle East soon gets lost in the red mist of prior prejudice against Israel in left-wing and woke circles that are dominant in mainstream Western media at present. Therefore it is especially important to fix the facts scrupulously. The cycle of Palestinian violence spiralled quickly up from clearly pre-prepared and pre-meditated rioting on the Temple Mount to also pre-prepared heavy Hamas rocket barrages of Iranian designed or supplied rockets fired from Gaza. These bombardments apparently sought (but failed) to saturate Israel's Iron Dome anti-missile defences, and led to Israeli-Arab rioting for the first time in two decades, each requiring commensurate Israeli response.
The Palestinians who backed the wrong horse in the 1948 war of liberation are tragic anachronisms, the only major group in the long list of those displaced in the convulsions of the late 1940s not to have moved on to thrive and rebuild their lives. They have been used as pawns in the games of other powers, cemented in place with the persisting glue of anti-Semitism. The origin of this recent cycle was confidently proclaimed in most Western media as yet another example of an old false trope: resistance to another illegitimate attempt by Israel to seize Palestinian properties. So the Israelis, again, were supposedly to blame. Yet that just is not true. Some claim that the Sheikh Jarrah cases in East Jerusalem are obscure and interminable like Jarndyce v Jarndyce, the dusty case whose origins no-one could any longer comprehend in Charles Dickens' novel Bleak House. The property dispute at Sheikh Jarrah, the ostensible cause of the May 2021 Gaza conflict in the Middle East, is not so complicated. It is a private rent dispute, caused by squatters and by Palestinian tenants who acquired protected tenancies (not ownership) during the period of Jordanian occupation 1948-1967 when Jordan illegally sequestrated the property rights of Jewish landowners. The Palestinian tenants and squatters are refusing to pay their Israeli landlords rent for properties that have been in undisputed Jewish ownership since the middle of the 19th century. Therefore, as in any law-abiding jurisdiction, the owners have gone to court to enforce their rights and to obtain eviction.
Also of interest is the Sherlock Holmes clue. The case of 'Silver Blaze' turned on something that did not happen (a dog that did not bark in the night). Predictably, there were screaming thousands outside the Israeli Embassy in London; the former Labour Party leader Jeremy Corbyn spoke from a platform adorned with a Jew caricature balloon; a car convoy of anti-Semites in north London shouted megaphone abuse at Jews and threatened to rape their daughters. But it is surely the absence of street demonstrations or expressions of support for the Palestinians in Sunni countries that is of far greater importance, and possibly a sign that the Abraham Accords have struck even deeper roots than enemies of Israel fear?
Why does this matter? Surely war is hell and all are equally to blame? Not so. When in November 1864 General William T Sherman ordered the evacuation and subsequent burning of Atlanta before his scorched earth march through Georgia, to the sea, the Confederate commander General Hood protested against his plan. "...Permit me to say that the unprecedented measure you propose transcends, in studied and ingenious cruelty, all acts ever before brought to my attention in the dark history of war". Sherman, a deeply religious man, replied with a claim both to just cause (ius ad bellum) and just conduct (ius in bello). On just conduct he replied that "war is cruelty and you cannot refine it," which is Clausewitz' principle of illimitability, although immediately Sherman sought to refine it by giving early warning to permit evacuation.
This is exactly what the IDF sought to do with pinpoint strikes in Gaza preceded by phone calls and "tap on the roof" dummy projectiles. The aim? To spare civilian Palestinian lives even while Hamas broke Geneva Conventions and used Gazans as human shields to provide compliant Western media with pictures of dead children: subliminal recollections of the ancient anti-Semitic blood libel and flagrant war crimes if ever there were. The aim of extreme precision targeting underlies the feint executed by the IDF on 13th and 14th May 2021. Former British Army commander Richard Kemp has explained how Operation "Guardian of the Walls" echoed Gideon's deception of the Midianites and, to the extent possible, separated Hamas from civilians. Tank engines serving as Gideon's shofars and 155mm SP artillery as his torches. 7,000 reservists were called up. It was made public that a ground attack had been "signed off". The mainstream media, generally anti-Israel, were quick to headline this imminent escalation. Thus alerted, the Hamas terrorists, expecting a ground attack, withdrew into their tunnel complex, leaving the civilians to face the IDF. The ground attack, however, did not come. Instead, 12 squadrons of 160 IAF warplanes dropped JDAM (Joint Direct Attack Munition) "bunker buster" bombs onto the "metro" tunnel complex under Gaza, destroying the matériel and those within it. The battle damage report is not public; but the fact that Israel initiated a unilateral cease-fire indicates that the IDF must have been satisfied with the point reached. No modern army goes to such lengths to spare civilian life.
Yet Sherman's letter to Hood mainly addressed "just cause" rather than sparing civilian lives. He wrote: "those who brought war into our country deserve all the curses and maledictions a people can pour out ... I know that I had no hand in making this war:" moral responsibility for all the inevitable suffering and death that war brings lies upon the originators. Under Sherman's Doctrine, Hamas is responsible for every civilian casualty in Gaza. This is, of course, also the basis for the "Hiroshima doctrine": if an intolerable blow can end war, it finds moral justification in the lives saved and those with just cause are justified in their actions. It is a fraught calculus. So is everything in war. But that does not mean it has to be excluded from practical ethics.
The record shows that it was a Palestinian and especially a Hamas decision to start this 2021 belligerency. Then why did they do it? and why now? -- so often the first intelligence analysis question to ask. The only other person who published the importance of this 'why now' question prominently was former National Security Adviser John Bolton. He confined his hypothesis to the Iranian circles, which are necessary but not sufficient: the circles are not mutually exclusive. The first circle is certainly a power struggle between the islamist Hamas and the Palestine Authority of Fatah. Much evidence shows why this is a proximate motive cause. Yet the 'why now' question pushes further. Both Hamas and Hezbollah, with its 130,000 rocket arsenal in Lebanon (as of 2019), are self-confessed Iranian proxies. Neither can nor would act without Iranian approval -- or request. The Ayatollahs have, like their proxies, since Iran's Revolution of 1979, vowed the total destruction of Israel. This goal is also inscribed in the charters of Hamas, Hezbollah and the current Palestinian Authority under Mahmoud Abbas, and in eschatological Shi'i beliefs about the return of Muhammad ibn al-Hasan al-Mahdi, the Hidden Imam, who will return over Jerusalem in a blaze of fire.
More prosaically, one may surmise that fury at the degradation of their military leadership, notably the assassination of Qasem Soleimani, the commander of the Iranian Revolutionary Guard Quds (external ops) Division, by a USAF drone on 3 January 2020, and the subsequent disruption of their nuclear programme at Natanz by unidentified parties, gives them every desire to unleash the dogs of war. Likewise, both Iranians and their proxies have every interest in destroying the Abraham Accords which, by circumventing the Palestinians, offer the most far-reaching possibilities for normalisation of regional relations in half a century, and threaten defeat for Iran and its proxies. Again we ask: why now? Remember CRINK: China, Russia, Iran, N. Korea?
Xi Jinping first voiced the idea of a major China-Iran agreement on his state visit in 2016. China, Iran and Russia conducted joint military exercises in the Indian Ocean for the first time in late 2019. In June 2020 a draft of a China-Iran Comprehensive Strategic Partnership within the One Belt One Road (OBOR) colonial policy was leaked from an Iranian source: there was discontent within Iran at the prospect of such heavy chains. It suggested a 25-year term and investment in the oil, gas and transportation infrastructure of $400bn in exchange for increasing flows of discounted Iranian oil (making Iran still only China's fifth most important source of oil: China has been the world's largest oil importer since 2017, stepping into Saudi and Iraqi supplies as the West, for various reasons, stepped back). Since then, Chinese purchase of Iranian oil has been on an accelerating upward curve, from 4m bpd in 2009 to 10.85m bpd in 2021, reaching a new high in March 2021, the month in which the $400 bn agreement was finally signed (on 27th in Tehran). This agreement between China and Iran strengthened the hands of both countries to test the resolve of a Biden administration filled with Obama-era appointees committed to two of his signature foreign policy errors, the Iran Nuclear Deal, and a dogmatic prioritisation of the so-called "Two State Solution" that is now dead and buried. With people such as Hady Amr, now the Deputy Assistant Secretary of State for "Israel-Palestine," who implausibly Biden sent to "mediate" what cannot be mediated, hope dies. Amr is parti pris: someone who once said that he was "inspired by the Palestinian intifada." He has in the past wrongly accused Israel of ethnic cleansing and apartheid.
Showdown in the South China Sea
Obama's third signature error in foreign policy forms a bridge to the other set of dots to be joined up. Fifteen years ago the many small islands and reefs in the South China Sea which are now PLA bases with runways and ports, were uninhabited, many of them tidally submerged and marked with metal poles (which confer no territorial rights under UNCLOS - the United Nations Convention of the Law of the Sea). It was mainly on Obama's watch that this militarisation proceeded, unchallenged, when it could and should have been nipped in the bud. Now, after the unveiling in November 2012 of Xi Jinping's "China Dream" ambition to become the world's political weather-maker by the centenary of the Communist assumption of power in 1949, often repeated and elaborated by him since then, the illegal unilateral declaration of Chinese maritime sovereignty within the 'Nine Dash Line' that sweeps through the littoral jurisdictions of Vietnam, the Philippines and Malaysia will be much more difficult to dismantle without physical challenge.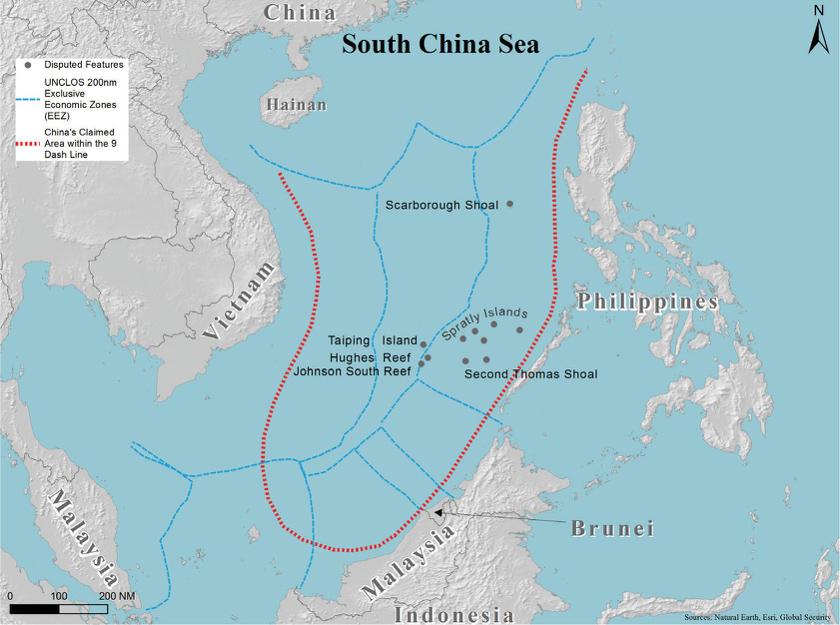 Pictured: The area claimed under China's 'Nine Dash Line', marked by the red boundary. (Image source: Keanehm/Wikimedia Commons)
If the PRC's occupation of the South China Sea, threaded with strategic SLOCs (Sea Lines of Communication), is not dealt with one way or another, China's navy will soon have a second and secure southern approach to Taiwan for the invasion that it has threatened for so long. Air and sea incursions into Taiwanese airspace and territorial waters, have escalated, recently; so too have dire threats of war. Once again: why now?
If we assume, reasonably enough, that Beijing judges the Free World to have failed the tests set during the pandemic year -- of its humiliation of the British by its cruel and studied abrogation of the 1997 Hong Kong agreement, of military clashes with India, of Uighur genocide -- we may also take Xi's word that Communist eyes are intently on Taiwan whose very success is a standing reproach, showing as it does how Chinese people are not welded to the CCP but can make a splendid success of thriving in democracy. There is another way than Xi Jinping's way for a great and ancient people.
Until relatively recently, the Peoples' Liberation Army Navy (PLAN) was primarily configured for amphibious attack across the Taiwan Straits; but no longer. An immense and rapid building programme has turned the PLAN into a blue water navy with long reach for the first time since the epic voyages of Admiral Zheng He for the Yongle Emperor, third of the Ming Dynasty, between 1405-1433. Its ballistic missile submarines are thought to hide mainly in the bastion of the South China Sea just as the Soviet Navy used to use the Sea of Okhotsk before the collapse of the USSR. Furthermore, its fleet of 'little blue men' on fishing boats are integrated into military operations. They swarmed to Whitsun Reef to pose a presence in such number that it could not be challenged without escalating violence.
In the event of war, the PLAN generally asserts an unrestricted global theatre of action but specifically holds at risk US assets from Guam to the far side of Hokkaido, hence US bases in Japan. Furthermore, the PLA has threatened missile attacks on Australia, where key Five Eyes intelligence assets are situated. PLA planners must be aware that these are red lines as much as an attempt to invade Taiwan. Any such actions would trigger US escalation, as recent speeches by senior USN officers have confirmed. It appears that the Communist Chinese are throwing down a gauntlet to test our resolve.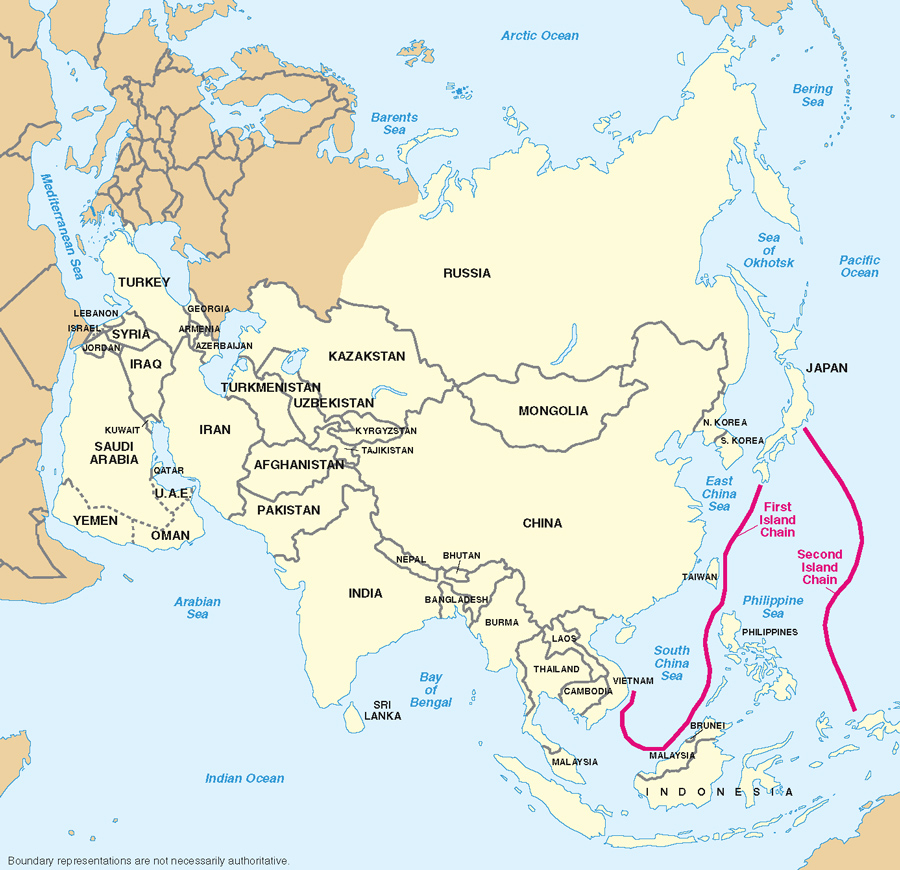 Pictured: The first and second island chains, as defined under the United States foreign policy "Island Chain Strategy". (Image source: U.S. Department of Defense/Wikimedia Commons)
The numbers are certainly formidable, but caution is in order: numbers do not equal capability. The PRC's newly enormous fleet is not battle tested. Admiral Cunningham famously observed when asked if, faced with heavy Royal Navy losses, he would pull back during the battle for Crete during the second world war, that "it takes three years to build a ship but three hundred years to build a navy" -- or longer, as was the case with his, the world's first -- and the PLAN has no such continuity or depth.
The PLAN may be ideologically fervent, as a film of ship inspections by President Xi would suggest, and it may claim advanced weaponry such as hypersonic anti-ship missiles. But Communist China is not ten feet tall. As the recent failure of the PRC space station suggests, we should not automatically assume technological omnipotence. Furthermore we should take advantage from the fact that much defence intellectual property has been obtained from us by hook and by crook. We should remember also, as Sun Tzu's The Art of War (the ancient text which still guides Chinese military thinking) and the other foundation text of Chinese strategy, the Thirty Six Stratagems of the Warring States/Three Kingdoms period, both observe, that perception of power has a power of its own; and that the most elegant defeat is the one incurred by the moral disarmament of the enemy.
Herein lies some hope if your heart has been sinking. Both President Biden's words and those of his Secretary of State Antony Blinken, take a view of the PRC's challenge to the Free World that barely differs in substance from the views of their immediate predecessors, as realpolitik dictates should be so. But in the realm of deterrence, it is deeds, not words, that matter; and here the American 'deep state' has not been inactive.
Over recent months and years, the US Dept. of Defence has been engaged in a series of technical moves of significance. They have not been much remarked, let alone joined up, in the mainstream media; but all can be found in the professional military literature, as they should be if they are to compose a credible deterrent to make Xi Jinping think again and stay his hand.
There is public awareness that the USN has been increasing the tempo of FONOPs (Freedom of Navigation Operations) steadily through 2020, both within the Nine Dash Line, near the artificial island bases, and in transits of the 110 mile wide Taiwan Straits. So too have other Western navies, including the French. A USN FONOP, near the Paracel islands in mid-May 2021, was greeted with near hysterical levels of denunciation from Beijing. But more recently other activities have been reported. Here are a few.
The USN 7th Fleet (based in Japan) whose forward-based carrier strike group is centered on the USS Ronald Reagan, has increased its presence off the Scarborough Shoal, a Philippine territory illegally occupied by the PLA.
The USN has also indicated increased patrol presence of nuclear hunter-killer submarines in the South China Sea. (Details on submarine operations are never specified.) France has also confirmed a "Rubis" class hunter-killer patrolling these waters. These too are significant signals because it can be assumed that Western submarines will detect and 'mark' PLAN ballistic missile submarines with the intention of denying them sanctuary in the S. China Sea bastion as well as posing the wide spectrum of threat to land and sea targets that such potent capital ships can do.
The US Marine Corps has been engaged in reinforcing and Army Engineers in constructing new 'lily pads' in the Philippines archipelago. These are bases with logistic capability to receive regiment-scale reinforcement from US Army Rangers.
In their first ever standing deployment outside the continental USA -- to mid-Pacific bases at Diego Garcia and Guam -- the USAF has, for a few years now, forward-based a small number of the immensely potent B2 Spirit stealth bombers.
These are unlikely to be the only deployments that are being made; but they are sufficient to suggest, in the event that deterrence fails, comprehensive positioning to be ready for a short pre-emptive war to drive the PLA out of the South China Sea.
Add to this the diplomatic commitment of a newly reinvigorated Pacific alliance to which staunch allies the Australians and the Japanese belong. Both nations bring formidable military capability in five dimensions (land, sea, air, space, cyber). The United Kingdom, now free of its entanglements to the failing experiment of the EU, will re-adhere, expressing its commitment in the maiden deployment of the new Queen Elizabeth carrier strike group, already en route to the region, including a Royal Netherlands Navy escort. Together, the Free World can be seen to be getting the measure of Xi Jinping.
What net, then, do the dots suggest, when all joined up? The Communist leadership may be aware that the window of the freedom of action which it has enjoyed generally since it joined the WTO in 2001 is starting to close. It has had special freedom of action during the global preoccupation with the pandemic 2019-21 which may have begun by accident but which has been deftly exploited on the principles of Ghost Attack. Indeed, it may be closing more swiftly, even quite soon, as the PRC loses control of the pandemic narrative as the truth is coming out and Free World vaccines get a grip. To maintain initiative and momentum on the roadmap to the 'China Dream', and most particularly aware that the US is now deploying ways to block the PRC's ambitions in the South China Sea, other distractions are needed.
Iran, now tightly locked into CRINK – China, Russia, Iran and N. Korea --- needs little encouragement to attack Israel, especially via its proxies where it can claim "plausible deniability". The current bout of violence and its sequel suit Xi Jinping's command group well as a "Dead Cat" tactic: a misdirection so that eyes are off the prime area of interest for the PRC. That area is, as it has ever been during most of its millennia of history within its own continental zone. As the British naval historian Andrew Lambert has observed in his canonical work Seapower States, the recent illegal occupation of the South China Sea by this untraditional maritime power is the 'continentalisation' of this sea-space.
Herein lies our chance. The Free World is traditionally, geo-politically, maritime and has mature and tested naval capability that the PLAN does not yet possess. Furthermore, despite race activist screeching, we certainly do not have the reputation for arrogant racism that the new PRC imperialists have acquired in Africa. First-hand observation over four decades enables me to assure you that PRC colonialism is nakedly avaricious and demonstrably unpopular in a way that late British colonial rule simply was not. The rude health of the Commonwealth attests to that.
Chinese demographics and hydrology in China's north are also not moving in Xi Jinping's favour. Charles Parton makes these points powerfully. He is a former British diplomat with long China experience and expertise who crucially, unlike the late Sir Percy Cradock whose baleful advice led to the unnecessary surrender of Hong Kong island in 1997, is not imbued with the reflex defeatism so often seen at the top of the British Foreign office since 1956.
The demographic constraint is both from the below replacement level overall birth-rate and commensurate ageing population profile and from the sex imbalance legacy of the stringently imposed 'one child policy' that leaves China with 30-40 million men, aged 20 to 45, known as "leftover men" or "bare branches" never finding female companionship, with all the social combustibility that this implies. Dialling up permission (if you please) to have three children now, will provide no swift rebalancing but may be an interesting experimental test of the depth of CCP social power: it assumes that pro-natalist instructions will be obeyed by the proportionally well-educated and relatively liberated Chinese female population. Good luck with that. Drought, Parton writes, is less noticed but ought to be better understood. It means that twelve northern provinces, with roughly half of China's industry, power generation, agriculture and population, suffer either from acute water scarcity or from water scarcity for which water carriers from the south will not, for lack of capacity, be a long-term solution. He also identifies debt overhang and education deficits as other reasons contributing to a heavy drag on Xi Jinping's "China Dream".
In short Xi Jinping's command group must be aware that many windows are closing and that time is not on their side unless, via the United Front Work Department of the Ministry of State Security, which Xi Jinping has described as "...an important magic weapon for strengthening the party's ruling position ... and an important magic weapon for realising the China Dream of the Great Rejuvenation of the Chinese Nation," they can persuade the Free World to self-harm sufficiently that we effect unilateral moral disarmament. For this, there is evidence of intent and, unfortunately, of some current success.
Therefore, the Free World must not fall for the Dead Cat gambit. We must firmly support Israel, the window of the West in the Middle East, and we must maintain the Abraham Accords as the best road to normalisation in that region. If we ensure that we are not woke but all awake, we can, in this frame of mind, resist cultural subversion and moral disarmament propelled by the PRC 's United Front Work Department of the Ministry of State Security's 'make friends for China' strategy within our body politic. In these ways, the threat posed to us by the most patient, intelligent, malign and formidable enemy that we have faced, can be defeated.
The admission of the PRC to the World Trade Organisation on "12/11" in 2001 in the lazy and arrogant belief that the Communist Chinese would thereby become more like us, was a grave and ignorant error that we now live to repent. By preference, a Free World united front of firm deterrence and ostracism may cause the Mandate of Heaven to move from Xi Jinping's communist dictatorship, as it has from over-reaching Chinese leaders many times before over two thousand years. We have a duty to the betrayed democrats of Hong Kong and by extension to all decent Chinese people to help them to liberate themselves. But for twenty years we have averted our eyes and so the hour is now late. Many in the Western establishments who were defeatist or complicit over the last two decades have much to answer for. Therefore, to prevail the Free World may have to use force if needs be; and if force must be used, then sooner is safer than later.
Gwythian Prins is Research Professor Emeritus at the London School of Economics, Director of CSIRU (The Cambridge Security Initiative Research Unit) and a former member of the British Chief of the Defence Staff's Strategy Advisory Panel.