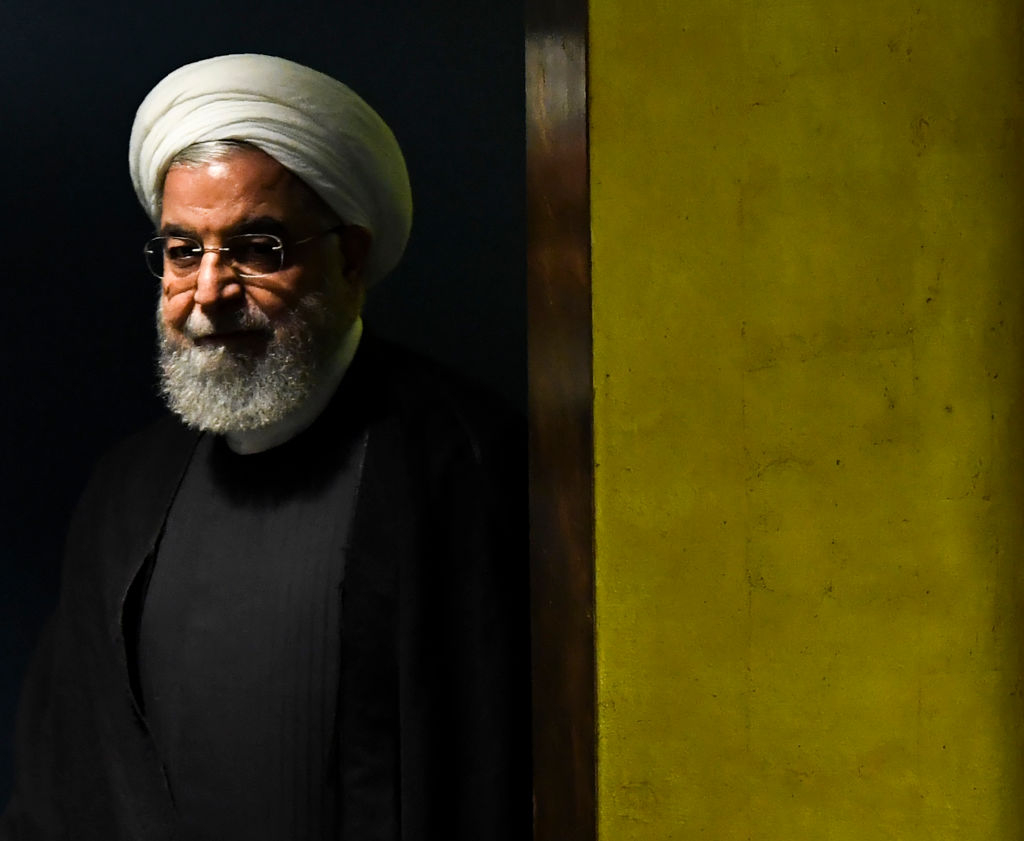 When Iranian President Hassan Rouhani leaves office today, he will do so in the knowledge that his eight-year term has been little more than an abject failure, both at home and abroad. Rouhani will forever be remembered as one of the most disastrous leaders in the Iran's history. (Photo by Timothy A. Clary/AFP via Getty Images)
When Iranian President Hassan Rouhani leaves office today, Thursday, he will do so in the knowledge that his eight-year term has been little more than an abject failure, both at home and abroad.
Back in 2013, when the 72-year-old Mr Rouhani became Iran's seventh post-revolutionary president, his central campaign pledge was to improve the country's economic well-being. In addition he promised to adopt a more liberal approach to domestic policy while seeking to forge a more constructive engagement with the outside world.
Eight years later, with the Iranian economy on its knees and the country facing further international isolation, Mr Rouhani finds himself leaving office with his reputation in tatters and the ruling Islamic regime facing a desperate battle for survival.
Perhaps the greatest indictment of Mr Rouhani's years of catastrophic misrule is that he is to be replaced by Ebrahim Raisi, known universally by Iranians as the "Butcher of Tehran."
Mr Raisi's victory in Iran's indisputably rigged elections in June should be seen not so much as a victory for the country's ultra-conservative supporters of Supreme Leader Ali Khamenei as a desperate attempt by regime hardliners to protect the Islamic revolution from mounting unrest.
It was for this reason that the Council of Guardians, the body controlled by Mr Khamenei that oversees Iran's elections, took great care to ensure that only a hand-picked number of regime hardliners were allowed to contest the elections, with not even long-standing regime loyalists, such as former parliamentary speaker Ali Larijani, being allowed to stand.
Mr Raisi's success in the election, where he was clearly portrayed as Mr Khamenei's preferred candidate, was primarily due to his uncompromising stint as a former chief justice, as well as his notorious role of overseeing the execution of thousands of political prisoners in the 1980s.
Consequently, under Mr Raisi's presidency, Iran is likely to adopt a far more hardline approach to the outside world, which does not bode well for US President Joe Biden's attempts to revive the controversial nuclear deal with Tehran.
In an indication of Iran's more aggressive approach, the US and Britain this week accused Iran of launching a drone attack against an Israeli-managed oil tanker in the Gulf of Oman last week, killing a British security guard and a Romanian crew member. British Prime Minister Boris Johnson denounced the incident as an "outrageous" attack on international shipping.
The fact that Mr Rouhani is standing down at a time of heightened tensions between Tehran and the West, together with the collapse of the Iranian economy, reflects the extent of his failure to fulfil any of his election promises as president.
First and foremost, Mr Rouhani's main objective after becoming president in August 2013 was to rebuild the country's economic prospects following years of decline, caused mainly by the economic sanctions imposed over the controversial policies pursued by his predecessor, Mahmoud Ahmadinejad, concerning Iran's nuclear programme.
At the same time, Mr Rouhani portrayed himself a liberal who was committed to relaxing some of the regime's more burdensome requirements, such as the demand for all women to wear a veil. Yet, as Mr Rouhani prepares to leave office, it is now abundantly clear that he has failed at every level.
His much-vaunted reform agenda has achieved nothing. A movement opposed to obliging women to wear a veil in public spaces was rapidly crushed in 2018, while attempts to release leading reformers, such as former Iranian Prime Minister Mir Hossein Moussavi, from house arrest, came to nothing.
Moreover, far from overseeing an easing of Iran's repressive regime, Mr Rouhani has presided over a series of brutal crackdowns against anti-government protesters, which have resulted in hundreds of deaths and thousands of activists being jailed.
By far the greatest failure of the Rouhani era, though, has been his inability to revive the Iranian economy, an ambition that has been undermined by his government's attitude towards the controversial nuclear deal Tehran agreed with the Obama administration in 2015.
Under the terms of the deal, which saw punitive sanctions lifted in return for Iran freezing its nuclear enrichment activities, Iran was supposed to adopt a more constructive approach to its dealings with the outside world, and use the estimated $150 billion it received to rebuild the economy.
Instead, the Rouhani regime used the funds to finance its efforts to expand its malign influence in the Middle East, prompting former US President Donald Trump to withdraw from the deal and reimpose punitive sanctions against Tehran. Consequently Iran now faces its worst economic crisis in decades -- the value of the rial has halved in the past year and inflation is running at around 20 percent -- with the result that the regime is now under severe pressure.
So, far from being the president that transformed Iran's fortunes for the better, Mr Rouhani will forever be remembered as one of the most disastrous leaders in the country's history.
Con Coughlin is the Telegraph's Defence and Foreign Affairs Editor and a Distinguished Senior Fellow at Gatestone Institute.