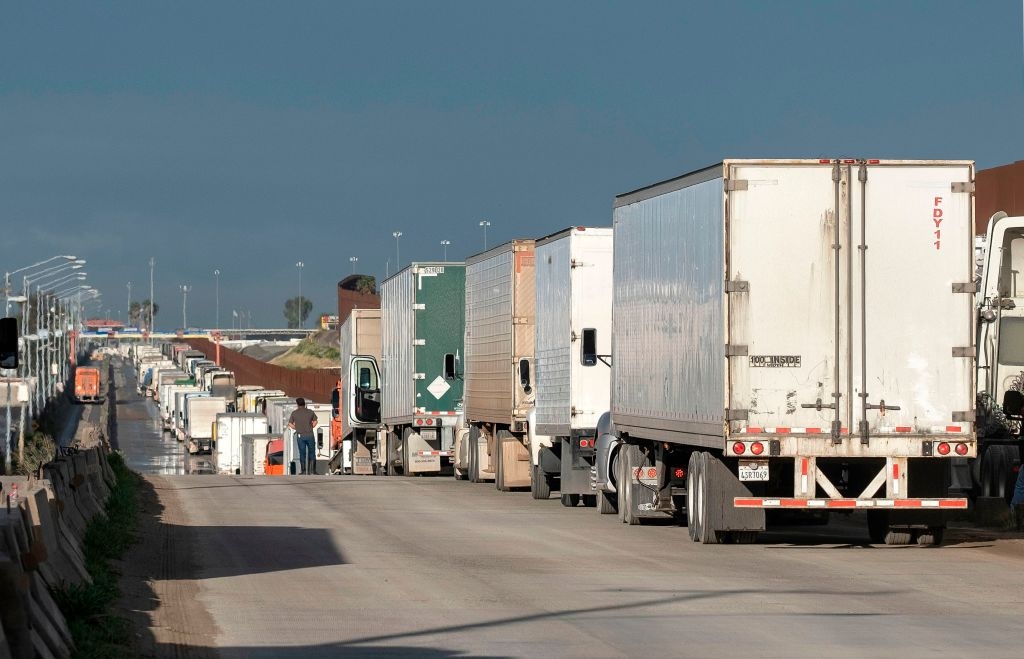 There is a threat to the U.S. trucking industry, supply chain and national security. It is NOT reported in the mainstream media: Foreign truckers -- cleared for expedited commercial crossings between Canada, Mexico, and the U.S. -- include at least half a dozen drivers who had deep connections to terrorism and drug-smuggling operations. Pictured: Trucks line up before heading to the United States at the Otay commercial port of entry on the US-Mexico border in Tijuana, on March 20, 2020. (Photo by Guillermo Arias/AFP via Getty Images)
U.S. Transportation Secretary Pete Buttigieg says that national supply chain problems are caused by a lack of affordable childcare. While major U.S. ports such as Los Angeles and Baltimore have ships in the harbor waiting to offload cargo, a trucking shortage is delaying offloads and hauling. "Some of those issues," Buttigieg stated, "may have to do with the availability of truckers, a thousand miles inland. There are a lot of things contributing to this. One of them is childcare, of course, which is why the president's Build Back Better vision is going to be good for the labor market."
Over at MSNBC, host Tiffany Cross offered a different analysis of the trucking/supply chain problem. "This is an industry populated by a lot of white men over the age of 55," she stated. "This group of people overwhelmingly voted for Trump. Some people have talked about aggressive truck drivers cutting them off or not being helpful."
The trucking shortages in the United States are real. Buttigieg and Cross are entitled to their opinions, of course, but their analyses seem off the mark. There is another threat to the trucking industry, the supply chain and our national security. It is NOT reported in the mainstream media: Foreign truckers -- cleared for expedited commercial crossings between Canada, Mexico, and the U.S. -- include at least half a dozen drivers who had deep connections to terrorism and drug-smuggling operations.
The disturbing details are outlined in a 34-page report, issued by the Department of Homeland Security (DHS) Inspector General with redactions to protect information in the original "law enforcement sensitive" version.
The "commercial clearance" program is known as Free and Secure Trade (FAST), and participants who meet certain eligibility criteria and are considered low risk after a thorough security check receive expedited border processing between Mexico, the U.S. and Canada. Proper vetting is essential and must assure there is no risk in letting the individual with cargo travel freely in and out of the country. The goal is to ensure security and safety of inter-border commerce while enhancing the economic prosperity of each country. Ideally, this enables U.S. Customs and Border Protection (CBP) to focus its security efforts and inspections on commerce that is "high or unknown risk" while ensuring the flow of legitimate, "low-risk commerce." The reality is that CBP is failing miserably to screen drivers properly, federal auditors found, writing that "without an effective means to evaluate the program's impact on border security, CBP may be exposing its land ports of entry to heightened threats."
Due to the agency's "inadequate policies and procedures," the probe found, drivers who should not have qualified for FAST clearance were allowed to participate. Investigators examined 8,859 active drivers during fiscal year 2019 and determined that 1,084 were ineligible and therefore "increasing border security risk." Making matters worse, CBP approved 94% of foreign drivers with "potentially disqualifying records," the report says. In those cases, federal agents failed to conduct full background checks because the U.S. government evidently does not have access to the necessary foreign databases. The exact information is redacted but the report makes clear that the records required properly to vet foreign nationals -- specifically Mexican citizens -- is not available to CBP officers, and they "need access" to complete the appropriate security process to authenticate drivers as low risk.
The void identified in report by the inability of DHS to access and check reliable foreign databases for essential criminal and/or intelligence information goes to the much larger question of vetting immigrants. The subject is far beyond the scope of this article and deserves separate treatment, but make a mental note about the millions of persons entering the United States (legally and illegally) and the paucity of reliable information available to U.S. decision-makers.
Even when the criminal history of a candidate is available from another U.S. federal law enforcement agency, CBP apparently cannot access it. Instead of rejecting the foreign driver in question out of an abundance of caution, the agency simply rubber-stamps the candidate without additional screening. To illustrate this incredible, but very common, lack of cooperation within American law enforcement agencies, the Inspector General offers the case of two Mexican nationals determined to be "ineligible." Both were approved for FAST despite having extensive FBI files, in addition to what redacted portions seem to indicate are substantial criminal histories in Mexico. But evidently CBP and the FBI do not share information. "FBI records did not allow Enrollment Center officers to assess the drivers' risk prior to approving their participation in the program," the report states. So, what does the agency charged with safeguarding the nation's infamously porous borders to do? Wave the foreign drivers through as "low risk" without vetting them.
Was not that sort of breakdown in communication exactly what was supposed to have been a lesson learned and fixed in the aftermath of 9/11? Apparently not.
As unbelievable as this may sound, this sort of conduct has been going on for years. FAST has long been plagued by serious security lapses. In fact, already in May 2012 a DHS Inspector General investigation found that drivers with ties to terrorism and drug-smuggling were authorized by CBP for the program's expedited border crossing. More than 80,100 drivers examined by the IG participated in FAST -- 70,000 along the U.S.-Canada border and over 11,500 along the U.S.-Mexico border. Investigators found that at least half a dozen drivers cleared by CBP had deep connections to terrorism and drug-smuggling operations. And those are just the ones we know about. It gets scarier; it took federal officials five years to realize it! At least two dozen others had criminal, immigration, or agricultural violations. In warning CBP about the dangers of its security lapses, the DHS Inspector General watchdog pointed out in that report that the benefits granted to FAST participants "make the program attractive to drug smugglers." That was back in 2012, and it seems like little has changed after nearly a decade.
President Biden has commented on the public's ability to comprehend national supply chain problems, stating: "You hear a lot about the supply chains in the news, but frankly, not a lot of people have a clear understanding, whether they have a Ph.D. or they didn't go to school, about how a supply chain works."
Biden, Buttigieg and Cross all have their opinions on the current supply chain and trucking problems America is facing. However, the long-term border security and trucking problem the nation faces is something documented by Homeland Security for the past ten years that little or nothing has been done to correct. Given the Biden administration's penchant for open borders, minimal law enforcement and lax security, it appears that nothing will be done to protect the American public -- short of a disaster or terror attack.
Chris Farrell is Director of Investigations at Judicial Watch and Distinguished Senior Fellow at Gatestone Institute.