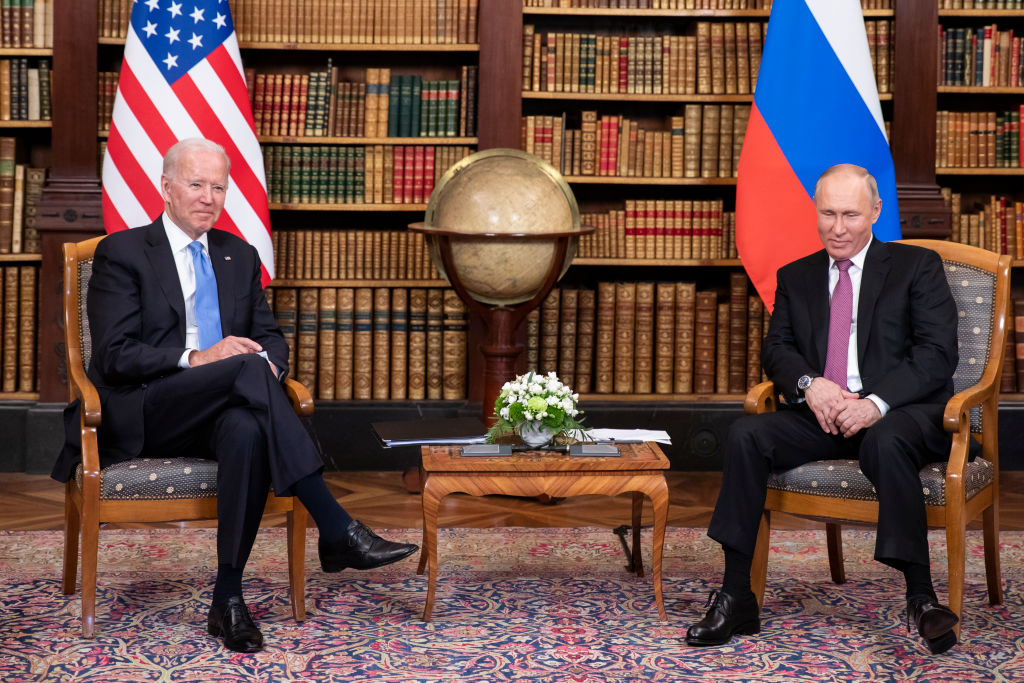 Russian President Vladimir Putin seems to understand US President Joe Biden. Putin also seems to understand hollow threats and ineffective sanctions. Putin reduced natural gas exports to Europe by 41% last month, choking off natural gas supplies to Europe as a wedge to divide the United States from NATO allies over the threatened "severe sanctions." Pictured: Biden and Putin meet on June 16, 2021 in Geneva, Switzerland. (Photo by Peter Klaunzer - Pool/Keystone via Getty Images)
A lot of Internet bandwidth has been dedicated to news reports of Russia's military activities along the Ukrainian border. President Biden has promised "severe sanctions" against Russian President Vladimir Putin and Russia, should the territorial integrity and national sovereignty of Ukraine be infringed upon (again) in any way.
In 2014, when Putin responded to a coup that ousted a pro-Russian regime in Kiev by occupying Crimea, President Barack Obama and Vice President Joe Biden did nothing. Strongly-worded diplomatic notes? Sure. But it was still "nothing." When Putin aided anti-government separatist groups in the Donetsk and Luhansk oblasts of Ukraine, collectively called the Donbas region, once again Obama and Biden did nothing. Putin seems to understand Biden. Putin also seems to understand hollow threats and ineffective sanctions. Putin, in addition, reduced natural gas exports to Europe by 41% last month in order to get the attention of NATO allies. It appears to be a "squeeze play." Putin would appear to be choking off natural gas supplies to Europe as a wedge, to divide the United States from NATO allies over the threatened "severe sanctions."
The Biden administration is desperately trying to convince an unidentified audience watching somewhere that the administration is very, very serious about Ukraine's borders. The problem is, the administration, by its actions is not very, very serious about Ukraine's borders. If it were, it would have sent Ukraine substantial military materiel and conducted corresponding military exercises in adjoining NATO countries such as Poland and Hungary. Engaging NATO and exercising military airlift, logistics and ground combat capabilities has always been an effective deterrent. Remember deterrence? It is not just a quaint relic of the Cold War. It is inducing an adversary to adjust its cost-benefit analysis, making the cost of creating trouble prohibitively high and ultimately not worth the effort. Russia's takeover of Ukraine is not a foregone conclusion – not even for a weak Biden administration. If it were all "just that easy," Putin could have rolled in weeks ago.
To Putin, a Russian invasion of Ukraine is arguably just the next step in what appears an ongoing plan to incrementally reconstruct the former Soviet Union, or at least a large part of it. Putin began with Georgia and the Crimea; it is hard to imagine him stopping with Ukraine. If Estonia, Latvia and Lithuania are nervous, they have good reason to be. Sweden and Finland are practically being driven into the arms of NATO, after Putin demanded that NATO not expand to Nordic countries.
While the Biden administration blusters and postures over Ukraine's border, the administration has an increasingly dangerous situation along America's border.
Biden's deputy national security advisor, Jonathan Finer, was trotted out to lecture Americans about the fundamental principle for all nations – "that our borders should be inviolate, that our sovereignty should be respected."
Oh, really? What about America's southern border? Now, that is the real national security threat against the people of the United States.
Most Americans are not terribly concerned about the sovereign borders of Ukraine. Many could not find the country on a map. Despite the broader geopolitical implications, the fact remains that Americans are, at best, ambiguous about the 8,500 U.S. troops alerted as a saber-rattling stunt the Russians see as a transparent ploy.
Our NATO allies do not even believe the Biden administration. How did Germany respond to the latest beating of the war drums? They offered to send 5,000 helmets to Ukraine. America will not go to war with Russia over Ukraine.
Back at home, however, most Americans are terribly concerned about an out-of-control Mexican border. Mexican cartels control the U.S. southern border and profit from every unlawful crossing. The Mexican cartels make $100 million a week from human trafficking alone – not including the profits from fentanyl or other drugs. The Mexican cartels exploit human beings and bombard the United States with enough drugs to kill "everyone in America." What does the Biden administration do? The Biden administration, through negligence and complicity, has been subsidizing the criminal enterprises and endangering the American public.
In his "Argument in Defense of the Soldiers in the Boston Massacre Trials," in December 1770, John Adams stated:
"Facts are stubborn things; and whatever may be our wishes, our inclinations, or the dictates of our passion, they cannot alter the state of facts and evidence."
Anecdotes and stories are marvelous, but the dire state of affairs on the Mexican border demand fact-based reporting and argument in order to change public policy and save American lives.
Here is the shocking "fact sheet" – all you need to know about just how dangerous our border situation has become:
In Fiscal Year (FY) 2021, 1,659,206 migrants attempting to enter the U.S. illegally were encountered at the U.S.-Mexico border – the highest number ever recorded.
Illegal encounters more than doubled from FY 2020 to FY 2021 in all nine Border Patrol sectors along the border.
27 percent of those encountered in FY 2021 were repeat illegal crossers. In FY 2019, only 7 percent of those encountered were repeat offenders.
63 percent of the illegal migrants encountered in FY 2021 were from countries other than Mexico. While most were form the Northern Triangle, there were also dramatic increases from Haiti (4,395 in FY 2020 to 45,532 in FY 2021), Cuba (9,822 to 38,139), Brazil (6,946 to 56,735) and Ecuador (11,861 to 95,692).
In FY 2021, 64 percent (1,063,285) of all illegal encounters at the border were single adults. This was more than three times the number of single adults encountered the year before (317,864).
During the first quarter of FY 2022, there were 518,360 illegal immigrant encounters along the southwest border. For comparison, there were "only" 128,347 encounters during the same time period in FY 2021.
146,925 of the illegal migrant encounters in FY 2021 involved unaccompanied minors, up from 33,239 in FY 2020.
Between FY 2020 and FY 2021, incidents of violence against border patrol personnel by illegal immigrants increased by 16 percent. This includes an increase in physical assaults from 204 to 275.
The number of individuals with prior criminal convictions arrested by the Border Patrol increased more than fourfold from FY 2020 to FY 2021, rising from 2,438 to 10,763. These include:

Homicide: 3 in FY 2020 to 60 in FY 2021
Drug offenses: 386 to 2,138
DUI: 364 to 1,629
Sex crimes: 156 to 488
Weapons charges: 49 to 336

In June 2021, the Biden administration abolished the Victims of Immigration Crime Enforcement Office, which had been established in February 2017.
The percentage of asylum claims granted has risen significantly during the Biden administration, from 29 percent in FY 2020 to 37 percent in FY 2021. The denial rate for asylum applications fell from 55 percent to 31 percent, the lowest rate of denials since 2016.
The number of illegal immigrants removed by ICE has plummeted under the Biden administration, from more than 20,000 per month in 2019 and early 2020 to fewer than 5,000 per month since January 2021. (Note: This trend began in 2020, likely as a result of COVID).
The backlog of pending immigration cases has ballooned during the Biden administration, increasing by more than 300,000 cases between December 2020 and December 2021. In May 2021, the administration announced its "Dedicated Docket" program to adjudicate cases involving illegal immigrant families more efficiently. As of December 2021, more than 7,000 of the cases handled under the program (approximately 10 percent of total cases) were dismissed because of the government's failure to prosecute the case by filing a Notice to Appear in time.
The number of removal orders issued fell to an unprecedented level in FY 2021. There were 164,777 such orders issued in FY 2020, dropping to 38,208 in FY 2021. For comparison, the lowest number of removal orders issued during any year of the Obama administration was 79,019 in FY 2014.
The percentage of individuals appearing in immigration court who are ordered removed fell from 70.3 percent in 2020 to 29.5 percent in 2021 to 23.4 percent to date in FY 2022.
The Biden administration has also greatly increased the use of "alternatives to detention" for illegal immigrants with pending cases. The number of individuals in the program (which includes bond, released on own recognizance ["RORs"], check-ins with ICE, and ankle monitoring) rose from 87,000 at the end of the Trump administration to 158,000 as of January 1, 2022.
The number of convictions for immigration-related charges is down precipitously from most of the Trump administration. There were 1,724 such convictions in December 2021, down from highs of more than 11,000 per month in early 2018 and approximately 8,000 in December 2019. (This downward trend also began in 2020).
In FY 2021, Border Patrol seized 11,201 pounds of fentanyl, up from 4,791 the previous year. Cocaine seizures rose from 58,002 to 97,638 pounds.
The attack on our southern border by Mexican cartels is a far greater threat, at least to Americans, than anything happening in Ukraine. The impact on American communities across the country is being felt, often in places and ways that have not had to deal with the volume and intensity of challenges.
When almost 2 million people arrive in your country in one year (a population larger than many major American cities), then there are consequences for local social services, healthcare, education, housing, police, fire and EMT – all of the threads of our community fabric. This has nothing to do with race or country of origin. It is a demographic challenge – sheer numbers of human beings.
Lastly, take into account the crime and drug statistics cited above – that compounds and exponentially multiplies the deadly challenges American communities face. That is the true threat to America.
Chris Farrell is Director of Investigations at Judicial Watch and Distinguished Senior Fellow at Gatestone Institute.