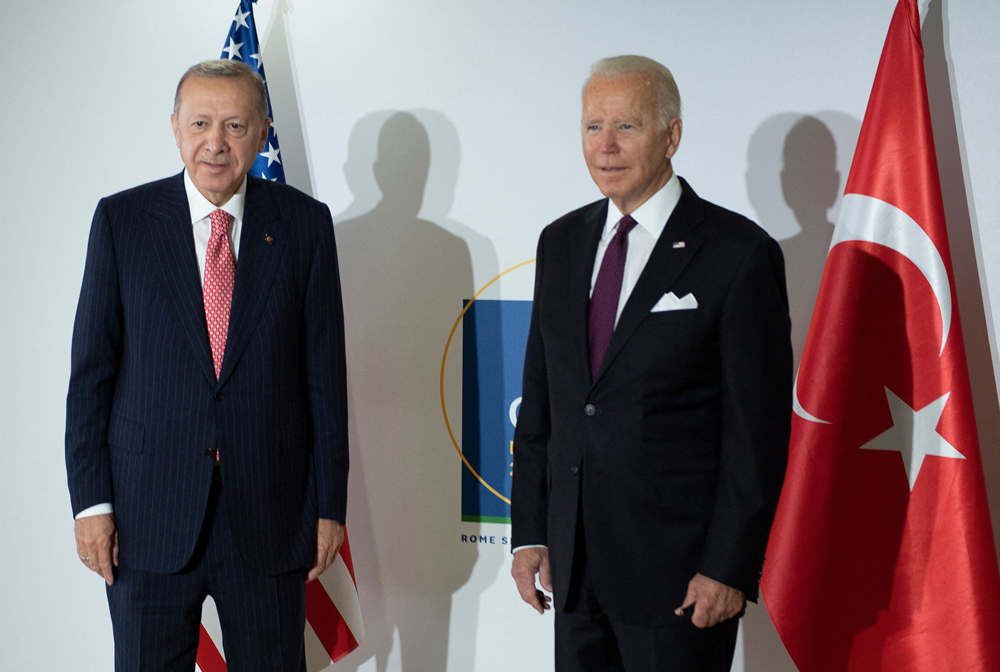 U.S. President Joe Biden's increasingly hypocritical policy on NATO's increasingly difficult ally, Turkey, is badly zig-zagging. Pictured: Biden meets with Turkish President Recep Tayyip Erdoğan during the G20 Summit on October 31, 2021, in Rome, Italy. (Photo by Brendan Smialowski/AFP via Getty Images)
U.S. President Joe Biden's increasingly hypocritical policy on NATO's increasingly difficult ally, Turkey, is badly zig-zagging between the U.S. leader's self-declared advocacy for universal democratic values and Biden's secret agenda, which he prefers dishonestly to hide: appeasing Turkish President Recep Tayyip Erdoğan behind closed doors and condemning Turkey's democratic deficit in public. In less than two years Biden has swung from a pledge to oust Turkey's autocratic leader to appeasing him behind closed doors.
In a December 2019 interview, then-presidential candidate Biden said that Erdoğan should be ousted from power through a democratic process and that support for the opposition was crucial. Turkey's human rights record has gone downhill from there. The Council of Europe has said that if Turkish courts keep ignoring rulings from the European Court of Human Rights, it would start infringement proceedings against Turkey at the end of November.
All the same, on October 31, Biden and Erdoğan apparently had a 70-minute meeting in a "very positive atmosphere" on the sidelines of the G20 summit in Rome. They reportedly agreed to form a joint mechanism to improve ties. "During the meeting," an Erdoğan aide told this author, "Biden's lecture on human rights did not exceed two minutes." It seems that a U.S. delegation will soon arrive in Ankara to work on that joint mechanism.
Since the summer, everything on the Washington-Ankara axis seems to have gone wrong. During a Senate Committee on Foreign Relations hearing in July, Republican and Democrat Senators criticized Turkish government policies and demanded more action from the Biden administration. Democratic Senator Bob Menendez of New Jersey and other Senators expressed concern over the Turkish government's efforts to ban the pro-Kurdish Peoples' Democratic Party (HDP). "That's like if President Biden banned the Republican party from participating," Menendez said.
The Turkish Democracy Project (TDP) in September called on three U.S. companies and one German one to cut ties with Baykar Makina, whose TB2 armed drones have become a weapon of choice for repressive regimes worldwide. According to Ambassador Mark D. Wallace, CEO of TDP:
"In refusing to cut ties with Turkey in the face of direct evidence of the crimes the Erdoğan regime is committing using their products, these companies are demonstrating that they do not take seriously the moral or legal implications of their actions. Lawmakers must take this into account in determining how these companies ought to be dealt with."
Before that, a coalition of 27 U.S. Congress members had signed a letter saying that technology transfers such as the ones these companies show that Turkey continues to clearly violate the terms of the CAATSA (Countering America's Adversaries Through Sanctions Act) sanctions.
In October, U.S. lawmakers proposed legislation that would require the State Department to investigate whether a Turkish ultra-nationalist group with links to the Turkish government, the Gray Wolves, should be designated a Foreign Terrorist Organization. The Grey Wolves are closely affiliated with the Nationalist Movement Party, Erdoğan's staunchest political ally.
In late October, Erdoğan ordered 10 ambassadors in Ankara, including those from the U.S., Germany and France, be declared personae non gratae. The order followed a statement from the envoys calling for the urgent release of activist Osman Kavala, who has been in prison for more than four years while supposedly under investigation for participating in protests and a coup attempt, although he has never been convicted.
Erdoğan stepped back only after the U.S. Embassy in Ankara stated:
"In response to questions regarding the Statement of October 18, the United States notes that it maintains compliance with Article 41 of the Vienna Convention on Diplomatic relations."
Article 41 stipulates that the internal affairs of other states should not be interfered with.
When bilateral ties seemed to be moving from one low point to another, Erdoğan shocked the world by saying that the U.S. administration proposed to sell Turkey a batch of 40 F-16 Block 70 fighter jets -- a claim that quickly turned into a puzzle. On October 23, the day after Erdoğan's claim, State Department Spokesperson Ned Price stated that the U.S. had not made any financing offers on Turkey's request to purchase F-16 warplanes. On November 15, however, a senior U.S. diplomat told this author that all of the State Department, the Pentagon and White House were "in agreement to encourage the F-16 sale to Turkey, but could not guarantee Congress's approval."
Two days after that, on November 17, Turkey's Ministry of Defense said in a statement that a high-level meeting between military delegations, held in Washington, was "positive and constructive." Apparently, the F-16 talks will continue on, with Biden ignoring the Congress.
Both Democratic and Republican U.S. lawmakers urged Biden's administration not to sell F-16 fighter jets to Turkey and said they were confident Congress would block any such exports. In an October 25 letter to Biden and Secretary of State Antony Blinken, 11 members of the House of Representatives cited "a profound sense of concern" about recent reports that Turkey might purchase 40 new Lockheed Martin F-16s and 80 F-16 modernization kits.
Turkey's Ambassador to the U.S., Murat Mercan, an extremely skilful diplomat, said in an October 27 speech:
"Turkey's increased contributions to the transatlantic community's efforts opens a window of opportunity for a newly defined alliance relationship between Turkey and the United States that can still operate under extreme duress, no matter what the diverging opinions are."
There is something wrong about this Biden riddle. Is Biden the champion of human rights and universal democratic values that he claims he is? Or is he an unpleasant cheat with a disappointing fake democratic agenda?
Burak Bekdil, one of Turkey's leading journalists, was recently fired from the country's most noted newspaper after 29 years, for writing in Gatestone what is taking place in Turkey. He is a Fellow at the Middle East Forum.