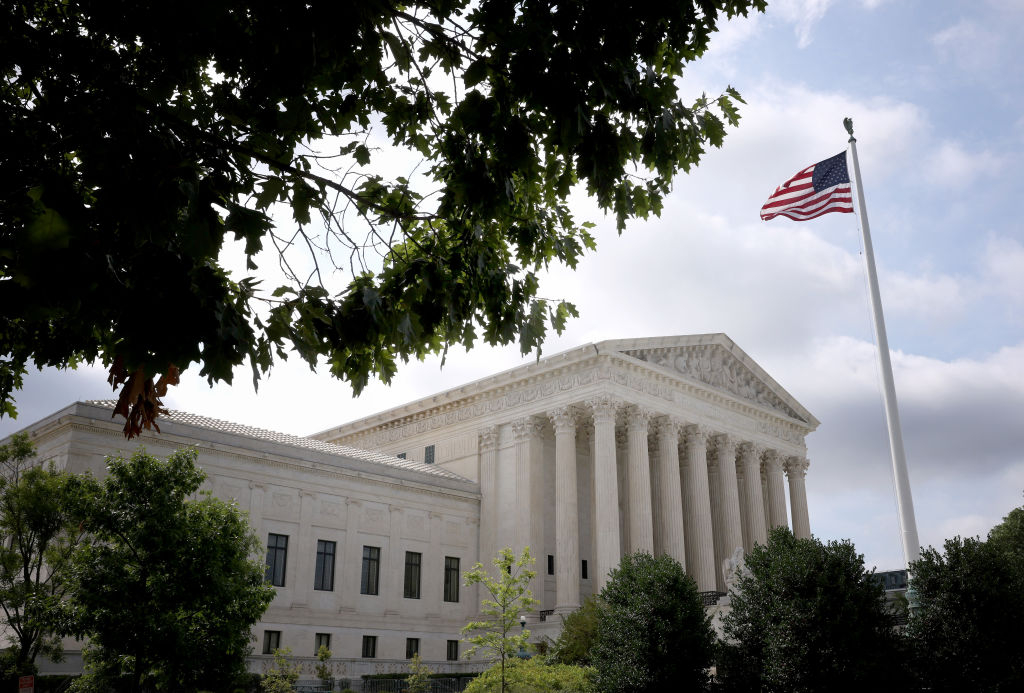 Overruling or severally limiting Roe v. Wade would increase the likelihood that Democrats will try to pack the Supreme Court. (Photo by Win McNamee/Getty Images)
Overruling or severally limiting Roe v. Wade would increase the likelihood that Democrats will try to pack the Supreme Court. It would be widely viewed as an unprincipled act of partisan power as distinguished from a proper exercise in legal judgment. The commission appointed by US President Joe Biden to explore this among other options did not make a recommendation regarding court packing, though some of members favored it. It would get more support from Democratic voters if a woman's right to choose abortion were severely curtailed. It would also diminish the standing of the High Court.
This fear was expressed by liberal members of the Court's minority and is almost certainly of deep concern to Chief Justice John Roberts. The High Court's standing in polls has dropped considerably since its transparently partisan decision in Bush v. Gore 21 years ago. Since that time, it has rendered controversial decisions, both increasing and undercutting fundamental rights such as gay marriage, and religious freedom. It has also dramatically expanded gun rights. During this period, the pendulum has swung quite narrowly. Justices appointed by Republican presidents have occasionally voted with those appointed by Democratic presidents and vice-versa.
This seems to be changing with the appointments of three justices in four years by then President Donald Trump, who was open about trying to reshape the court along party lines. The influence of appointing individual justices was manifested most clearly by the debacle over the failed appointment of Merrick Garland by then President Barack Obama and the successful appointment by Trump of Amy Coney Barrett in the run-up to the 2020 election. The forthcoming decision on abortion rights will surely reflect those events as well as Trump's two earlier appointments.
The fear that the Supreme Court has become a political institution indistinguishable from the two elected branches of government is partly accurate. The truth is more nuanced. The court is less likely to be partisan in the majority of its cases that represent important but largely non-controversial legal issues, such as resolving conflicts among the circuits over statutory construction and the like. These cases form a substantial part of the court's docket. But several deeply controversial and high-profile cases are on every year's docket, and it is these cases that are often influenced by partisan appointments. That is not always the case, as evidenced by the unanimous decision – that included two Clinton appointees— back in 1998 compelling President Bill Clinton to submit to depositions in a civil case. But just two years later, the court's 5-4 decision ending Al Gore's run for the presidency was transparently partisan.
So, the makeup of the docket determines how partisan and political the decisions are likely to be. This is significant because the justices determine their own docket: it takes four votes to grant review. Justice Louis Brandeis once observed that the most important decisions made by the justices are deciding not to take a case. The corollary is that a discretionary decision to take a case, as was made in the recent Mississippi abortion case, can be highly partisan and have profound consequences.
Were a divided decision along partisan lines to be rendered that overruled or severely limited Roe, the Court would become a primary battlefield in the cultural wars dividing our nation. Some will argue that these wars began with Roe v. Wade, and it was inevitable that each side would seek victory through partisan appointments. There may be some truth to this, but there is also truth to the argument that it is better to develop a right, such as the right of privacy, over many years, as was done with regard to Roe, than to abrogate it based entirely on a change in the makeup of the court.
This is not the first time such an abrupt change occurred. When then President Franklin D. Roosevelt threatened to pack the court so that his New Deal would be held constitutional, shifts occurred that upheld most of the New Deal. Historians have called it "the switch in time that saved nine." As several justices who seem to want to overrule Roe have observed, the court has on occasion overruled precedents of long duration, such as Plessy v. Ferguson, which authorized segregation, and the cases that refused to recognize gay rights. Most of these decisions, however, expanded constitutional rights. Overruling Roe would contract a woman's right to choose. Critics of Roe point out that it would expand the fetus' right to life. That is why this decision, unlike the gay rights and gay marriage decision, involves a class of rights, at least for those who believe that life begins at conception or shortly thereafter. Gay rights and gay marriage, on the other hand, involve no such clash. No one has a legitimate right to prevent people from making sexual and marital choices that do not involve other people.
But the argument that a fetus is a person who is entitled to the right to life goes too far -- even for the justices, such as Brett Kavanaugh, who would have the Supreme Court be "neutral" on abortion and leave it to the states. Under that argument, no state would have the right to deny life to a fetus and abortions would be unconstitutional throughout America, regardless of state legislation.
But the public would never accept a national ban on all abortions. That is why pro-lifers want it left to the states, where they would get half a loaf.
Overruling or severely limiting Roe would be the worst instance of partisan power politics by the justices. To be sure, the five Republicans who voted to end the recount in 2000 were engaging in pure partisan politics. But at least they had the justification -- perhaps excuse is a better word -- that there was an emergency. As the late Justice Antonin Scalia wrote me at the time:
"Even if you think that [I] was wrong, considering the severe time constraint [and] the pressure to come out with a near unanimous opinion... you should cut me some slack.... We will talk about it sometime, as you say, before senility."
The Mississippi case poses no comparable emergency. Review need not have been granted; Roe has been on the books for half a century. it should remain the law of the land. But even if does not, the number of justices should remain at 9 to preserve the stability of the Supreme Court and to protect it from further politicization.
Alan M. Dershowitz is the Felix Frankfurter Professor of Law, Emeritus at Harvard Law School and served on the legal team representing President Donald Trump for the first Senate impeachment trial. He is the author of numerous books, including his latest, The Case for Color-Blind Equality in an Age of Identity Politics. His podcast, "The Dershow," is available on Spotify and YouTube. He is the Jack Roth Charitable Foundation Fellow at Gatestone Institute.