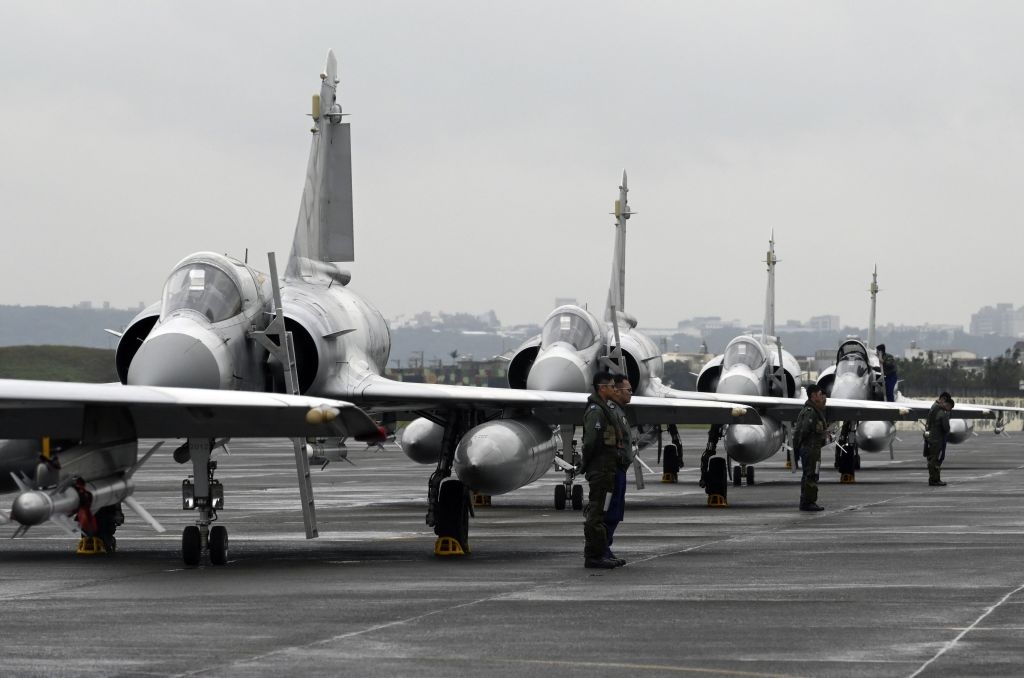 Whether or not China plans to invade Taiwan now, it is time for the United States to ditch decades of misguided policy. Among other things, Washington should, on an emergency basis, begin arming the island with the weapons it urgently needs. Pictured: Taiwan Air Force pilots stand next to Mirage fighter jets at Hsinchu Air Base on January 16, 2019. (Photo by Sam Yeh/AFP via Getty Images)
That is what the Eastern Theater Command of China's People's Liberation Army said on April 15, referring to Washington's encouragement of Taiwan. That day, the Chinese military sent fighter and bomber aircraft as well as frigates near the island republic.
China's exercises, said Foreign Ministry spokesperson Zhao Lijian, were "a countermeasure to the U.S. negative actions recently, including the lawmakers' visit to Taiwan." Beijing, he said, would "continue to take strong measures to resolutely safeguard its sovereignty and territorial integrity."
As he spoke, six American lawmakers, led by Senator Lindsey Graham, the South Carolina Republican, and Robert Menendez, the New Jersey Democrat chairing the Senate Foreign Relations Committee, met with Taiwan's President Tsai Ing-wen and other senior officials of the self-governing island. They arrived on a U.S. Air Force plane, a not-so-subtle signal to Beijing. The two-day visit was unannounced, "sneaky" in the words of China's Defense Ministry.
The Global Times, a tabloid controlled by China's official People's Daily, was even more direct. It said the drills were not only a "warning" to other lawmakers planning to visit the island but also went "beyond deterrence by preparing for potential, real actions that would resolve the Taiwan question once and for all when necessary."
"Real actions"? Whether or not China plans to invade Taiwan now, it is time for the United States to ditch decades of misguided policy. Among other things, Washington should, on an emergency basis, begin arming the island with the weapons it urgently needs.
The People's Republic of China reserves for itself the right to use force to annex the Republic of China, Taiwan's formal name. "Taiwan is a sacred and inalienable part of Chinese territory," the Eastern Theater Command declared in a statement. "There is no room for any foreign interference on the Taiwan issue."
Many analysts have surmised that the heroic Ukrainian resistance to Russian invaders has made China's invasion of Taiwan less likely. For various reasons, few if any outsiders know how the Chinese leadership in fact views the situation.
Unfortunately, Xi Jinping, the extraordinarily ambitious and bold Chinese ruler, may feel encouraged by recent events in Eastern Europe. As Wang Dan, a Tiananmen Square-era student leader, wrote late last month, "We should not expect rational decision-making from dictators and totalitarian regimes."
Xi could very well decide that the Ukraine war shows he now has a green light to invade Taiwan. After all, the United States, the 27 nations of the European Union, and Great Britain — combined, these 29 states had an economy more than 25 times larger than Russia's last year — could not exercise their power to deter Vladimir Putin, so Xi may feel they will similarly fail with regard to China.
Moreover, the sanctions placed on Moscow after the invasion were not comprehensive, and they are, incredibly, still not comprehensive. Xi, therefore, could believe that no nation would dare impose meaningful costs on his magnificent state.
Finally, Xi might think that Vladimir Putin's invasion has created enough chaos and distraction that others would be in no position to oppose his acts of aggression.
China's leaders give the impression they have been emboldened by recent events. As Kabul was falling last year, for instance, Beijing was pushing the point that the U.S. was incapable. The Global Times asked how America could stand up to mighty China when it could not even deal with the Taliban. The semi-official tabloid also stated this, referring to America: "It cannot win a war anymore."
Moreover, Communist Party propaganda talked about Taiwan as Kabul fell. In an editorial in August, the Global Times declared that once a war breaks out in the Taiwan Strait, the island's defense will collapse in hours and the U.S. military won't come to help.
None of this is to say China will invade— there are many reasons why it will not — but nowhere is deterrence now more important than in the Taiwan Strait. Taiwan, after the fall of Afghanistan and invasion of Ukraine, is considered around the world as the test of American credibility.
The United States for decades has had a policy of "strategic ambiguity," not telling either China or Taiwan what it would do in the case of imminent conflict.
Ambiguity worked in a benign period, but, especially after the Ukraine invasion, the world is no longer in a benign period. Chinese leaders say America no longer deters them. Washington has to take them at their word, which means the U.S. must now adopt measures once considered extreme. As American policymakers consider what to do, they must remember that three decades of misguided Taiwan policy have left them with no risk-free options.
To prevent a Chinese invasion, President Biden should publicly declare that America will defend Taiwan. In addition, the U.S. should work with allies Japan and Australia and offer a multilateral defense treaty to Taipei.
Moreover, as former Secretary of State Mike Pompeo proposed last month while visiting Taipei, the U.S. should recognize Taiwan for what it is: a sovereign state.
Recognition of Taiwan would require a change in America's One-China Policy. Pursuant to that policy—often confused with Beijing's One-China Principle — the U.S. recognizes Beijing as the legitimate government of China. In other words, Washington has pronounced the Communist Party the winner of the Chinese Civil War. Nonetheless, America does not, like China's One-China Principle, accept Beijing's position that Taiwan is part of the People's Republic. The U.S. merely acknowledges that Beijing makes that claim.
The U.S. instead takes the position that Taiwan's status remains unresolved and that the resolution of the status must be peaceful, in other words, with the consent of Taiwan's people.
To make sure the resolution of Taiwan's status is peaceful, the Biden administration should start shipping weapons to Taiwan, especially long-range missiles that can hold China's regime hostage.
Moreover, America and friends, to back up their words, should base forces on the island.
Deterrence is the best guarantee of peace.
The United States did not send sufficient weapons to Ukraine before the February 24 invasion, thereby failing to maintain deterrence in Eastern Europe.
By openly bolstering Taiwan's defenses, Washington would be declaring that America was no longer afraid of offending Beijing. That is transmitting the "right signal" for Chinese leaders to ponder.
Gordon G. Chang is the author of The Coming Collapse of China, a Gatestone Institute distinguished senior fellow, and a member of its Advisory Board.