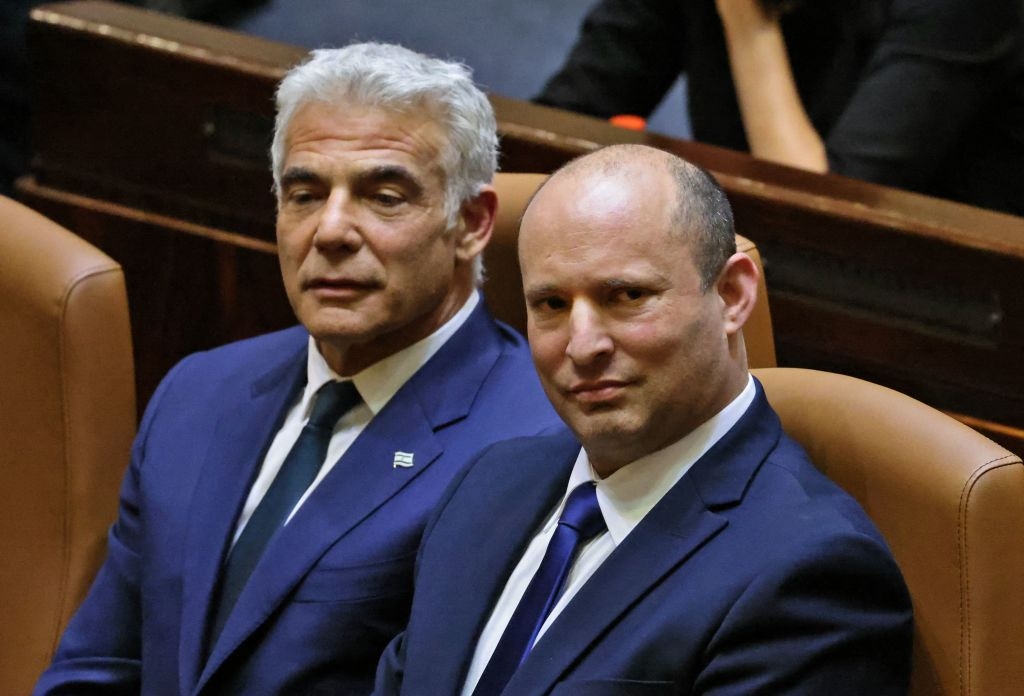 Since June 2021, for the first time in 12 years, Israel seems to have a weak prime minister, Naftali Bennett. Israel needs its strong tribe status. Israel needs a statesman. Now. Pictured: Bennett (right) and his foreign minister, Yair Lapid, on June 13, 2021. (Photo by Emmanuel Dunand/AFP via Getty Images)
Beersheba, Israel. March 22. Mohammed Abu al-Kiyan rams his car into a rabbi riding a bicycle, killing him, then drives to a gas station and stabs a woman to death there, and then drives to a shopping mall and stabs two more people to death. After fleeing the mall, he crashed his car into another vehicle and was finally shot and killed by armed civilians as he charged at one of them with a knife.
On March 27, Ayman and Ibrahim Ighbarieh open fire at people standing at a bus stop in Hadera, kill two Border Police officers and wound ten more people before they, too, are shot and killed by off-duty police officers who were eating nearby.
March 29, in Bnei Brak, a suburb of Tel Aviv, Diaa Hamarsheh, murders five people in a shooting spree before being shot dead by policemen, one of whom Hamarsheh had mortally wounded.
April 7, Raed Hazem opens fire at people in a central Tel Aviv pub, killing three and wounding a dozen. He is killed a few hours later in an exchange of fire with police.
Fourteen Israelis were murdered; two dozen wounded, some seriously. It was the worst wave of terror attacks Israel has seen in a while.
Three of the five terrorists had previously been arrested for serious crimes, tried, imprisoned, then released. Abu al-Kiyan, a teacher who encouraged children to join the Islamic State, was convicted in 2016 for membership in a terror group and sentenced to four years in prison, but released after only three years. There he had taken part in a "rehabilitation program for 'ISIS prisoners'".
Ibrahim Ighbarieh, arrested by Turkish authorities for attempting to join the Islamic State, was handed back to Israel, where he was tried, convicted, served a prison sentence of 18 months and released. Hamarsheh, imprisoned in 2015 for dealing in illegal firearms and affiliating with a terrorist group, had spent six months in prison.
The Israeli judiciary gives light sentences to people who appear ready to commit murder and other terrorist acts. In Israel, constantly threatened by terrorism, terrorists and would-be terrorists are imprisoned only briefly before being released back out on the street.
The terrorists who murdered in Bnei Brak and Tel Aviv came from territories exclusively controlled by the Palestinian Authority (PA) and were in Israel clandestinely. There are many breaches in Israel's security fence; the Israeli government knew about them but did not fix them. The terrorists in Beersheba and Hadera, however, were Arabs from within Israel -- and constitute a threat that may be gaining ground.
There are nearly two million Arabs in Israel, full-fledged citizens who make up about 20% of the population of 9.5 million. Many serve in the military, police and civil service. Israeli Arabs sit as members of parliament, serve as mayors and judges (including on the Supreme Court), and work "in the foreign service, with a handful serving as ambassadors since 1995." Israel's Arab citizens have the same rights as its Jewish citizens but are not required to serve in the military, although many volunteer to join. These Arab citizens are descendants of families who did not flee in 1948 during a war that was begun -- but then lost -- by five Arab countries, Egypt, Jordan, Syria, Lebanon and Iraq, that invaded and tried to kill the new country.
When, after the war, the Arabs who had fled wanted to return, Israel refused, explaining that they had been less than loyal. These are now known as Palestinians. They live in Jordan, Syria, Lebanon, the West Bank (of the Jordan River; formerly occupied by Jordan), the Gaza Strip (formerly occupied by Egypt), and in other countries around the world. While the Jews welcomed their co-religionists to Israel as full citizens, the many Arab states did not do the same for their brethren. Instead, Arab states left the newly-stateless Palestinians in refugee camps, often squalid, presumably in the hope that one day they would resume the war they lost, but this time win it.
Propaganda from Hamas and the Palestinian Authority that advocates jihad and martyrdom indoctrinates the Arabs who live in the Gaza Strip (ruled by Hamas) and the Palestinian Authority-run West Bank (ruled by Fatah).
In an atmosphere of a daily diet to hate Israel and the Jews, some Arabs become murderers. Although all of the Arabs born in Israel have Israeli citizenship, many today, out of communal solidarity, define themselves as Palestinians and believe it is their duty as Muslims to wage jihad against Jews and Israel.
In Israeli Arab towns, or in mixed cities where the population is partly Arab and partly Jewish, there is evidently significant traffic in arms that are stolen or smuggled into Israel. Even though the Israeli police regularly carry out operations to seize them, trafficking continues. Arms not seized by the police are sometimes used to commit ordinary crimes -- or can be used for terrorist attacks.
The uprising of Israeli Arabs that shook Israel last spring, as Hamas launched missile attacks on Israel, indicated that a worrying situation was taking shape. Synagogues were ransacked and burned; nearly 400 Jewish homes were looted. Arabs blocked road to stop cars and attack drivers that were Jewish. Jews were lynched, killed or wounded, in the streets just because they were Jews. Rioters destroyed Israeli flags and raised Palestinian ones. Israeli intelligence established that during the uprising, Hamas operatives had been coordinating with Israeli Arabs.
Israeli security experts said that a problem existed and answers were needed.
The "problem" is all the more serious because the situation in the region has also been deteriorating; the Middle East policies of the United States since January 2021 have been exacerbating the "problem".
The years before 2021 had brought relative calm and improvements. The United States had cut much of its funding for the Palestinian Authority, which had been used for terrorism. As a result, terrorism had substantially decreased. When the US pulled out of the Iran nuclear deal and drastically sanctioned Iran, the mullahs and their Islamic Revolutionary Guard Corps had less money to finance and arm Hamas. ISIS was crushed. A rapprochement began between Israel and the Arab world and led to the Abraham Accords, signed between the United States, Israel, and five Muslim countries – the United Arab Emirates, Bahrain, Morocco, Kosovo and Sudan. For the first time in decades in the Middle East, "peace, security and prosperity" held sway.
The election of US President Joe Biden, however, quickly revealed that better lives for people in the region, including the Palestinians, were about to end. The Biden administration immediately returned to the policies of the Obama years. It restored the funding that Palestinian leaders use for terrorism, without first stipulating that the terrorism had to stop. The Biden administration resumed nuclear negotiations with Iran -- through an intermediary from, of all places Russia. (Iran did not allow the US officials in the room.) The US government itself had named Iran "the world's worst state sponsor of terrorism;" now the Biden administration was again enabling the ruling mullahs -- who call for "Death to Israel" and "Death to America" -- soon to have an unlimited number of nuclear weapons, the intercontinental ballistic missiles to deliver them, and billions of dollars for terrorism and resuming their efforts to take over the oil-rich Middle East. Meanwhile, America's interlocutor, Russia, has been working with Iran on how it can evade US sanctions for invading Ukraine so that both countries may further enrich themselves by Iran selling Russia's oil.
Since June 2021, for the first time in 12 years, Israel seems to have a weak prime minister, Naftali Bennett. He has evidently promised to work in "quiet coordination" with the Biden administration and never criticizes the administration's anti-Israel policies.
The leaders of the Palestinian Authority and Hamas see that an anti-Israel administration is in place in Washington and draw their own conclusions.
The nuclear deal that the Biden administration has been trying to sign with Iran is even more disastrous for Israel than the original 2015 deal, yet Bennett remains silent. He hinted a few months ago that he no longer considers the Iran deal to have been a "historic mistake." Recently, he added, "We are not automatic naysayers. We're taking a practical approach". The deal, however, deeply worries the leaders of the Sunni Arab world, who are as threatened by Iran as Israel; Bennett's attitude can only increase their concerns.
US Secretary of State Antony Blinken recently visited Israel to explain the administration's Middle East policies. He was supposed to go to Saudi Arabia and the United Arab Emirates, but Crown Prince Mohammed bin Salman and Crown Prince Mohamed bin Zayed declined to receive him.
Israel's Foreign Minister Yair Lapid wanted to find a way to remedy the refusals. He invited the leaders of four Arab countries (UAE, Bahrain, Egypt, Morocco) to a summit at Sde Boker, in Israel, to meet with Blinken. There was almost no mention during the summit of Iran. Lapid simply stated briefly that "the shared capabilities we are building intimidates and deters our common enemies, first and foremost Iran and its proxies". Blinken used the opportunity to insist on a make-believe "two-state solution", downplay the Abraham Accords and criticize Israel.
Although the summit took place just a few days after the Beersheba attack and coincided with the Hadera attack, Blinken did not denounce terrorism. He said instead that the Abraham Accords "are not a substitute for progress between Palestinians and Israelis," and added that peace involves working "to prevent actions on all sides that could raise tensions, including settlement expansion, settler violence, incitement to violence".
When "settlement expansion" is made to sound as grave a transgression as murder, terrorism will resume. Lapid said nothing. The Arab leaders also said nothing; they could hardly have been reassured.
On December 29, Israeli Defense Minister Benny Gantz hosted Palestinian Authority President Mahmoud Abbas in his home, and offered the PA a $32.2 million loan against future tax revenues that Israel collects on Ramallah's behalf, as well as to "legalize the status of 9,500 undocumented Palestinians and foreigners living in the West Bank and Gaza." Gantz reported that the meeting had gone well and added, "I will continue to meet with him and other elements... with whom discourse helps our stability, security and interests". Two days later, Abbas delivered a speech accusing Israel of "racial discrimination", "organized terrorism" and "ethnic cleansing". Gantz said he was disappointed, but ready to meet Abbas again.
"[F]or the past 70 years," wrote the journalist Caroline Glick, "the nations of the Middle East have viewed the US as the most powerful tribe in the region", but that this is no longer applies. The Biden administration's concessions to Iran are perceived by Arab leaders as treason, and the behavior of the Israeli government has led them to doubt Israel's strength. Sunni Arab leaders, Glick wrote, are currently "trying to decide whether to grovel to Iran, or stand with Israel". She concluded that today, "Israel has but one option – to become the strong tribe of the Middle East".
The Israeli government will have to curb the Israeli Arab terrorist threat and, internationally, take a stand on the Biden administration's policies on terrorism and the immense danger coming from Iran.
Israel needs its strong tribe status. Israel needs a statesman. Now.
Dr. Guy Millière, a professor at the University of Paris, is the author of 27 books on France and Europe.