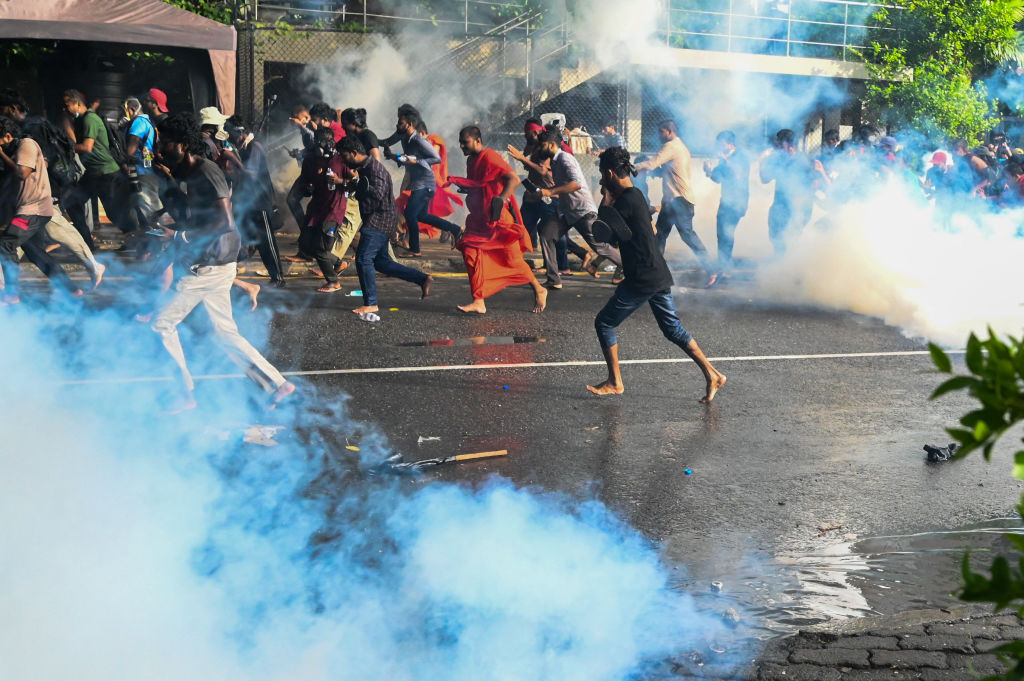 Events in Sri Lanka highlight how China is going about dominating the world. China is the world's predatory lender. Beijing is corrupting national leaders, drowning them in debt, and ultimately destabilizing their governments. Beijing, it appears, is particularly targeting democracies. Pictured: Police use tear gas to disperse protesters who are demanding the resignation of Sri Lanka's President Gotabaya Rajapaksa, in Colombo on May 19, 2022. (Photo by Ishara S. Kodikara/AFP via Getty Images)
On May 12, India confirmed that it would provide a desperate Sri Lankan government 65,000 metric tons of urea, pursuant to an existing $1 billion credit line. The sale, which overrides New Delhi's ban on the exports of the commodity, relieves severe pressure on the government of Sri Lankan President Gotabaya Rajapaksa.
Sri Lanka since the end of March has been wracked by violent protests. "Shoot-on-sight" orders have for the most part restored order, but the unrest has led to the replacement of Prime Minister Mahinda Rajapaksa, once the country's dominate political figure. His brother, the president, is unlikely to survive the tumult. The ongoing economic and financial crisis is Sri Lanka's worst since independence from Britain in 1948.
Sri Lanka is only the world's opening act. Disturbances there constitute the first in a series of crises about to engulf vulnerable countries, perhaps even large ones. The war in Ukraine, aggravating underlying problems in Sri Lanka and elsewhere, is shaking just about every corner of the planet.
Events in Sri Lanka also highlight how China is going about dominating the world. Beijing is corrupting national leaders, drowning them in debt, and ultimately destabilizing their governments. Beijing, it appears, is particularly targeting democracies.
India's urea, a fertilizer, will allow Sri Lankan farmers to plant in the May-August Yala cultivation season. It comes at a time of critical need. The country was spending about $400 million annually to import fertilizer but had not been able to make purchases recently due to the lack of foreign exchange. The government last year, to conserve currency reserves, banned chemical fertilizer.
The finance ministry reports that the country has only $25 million in usable foreign reserves on hand, hardly sufficient to service obligations. Sri Lanka is scheduled to repay $7 billion in debt this year, a part of the $26 billion due by 2026. The country's total foreign debt is $51 billion.
The chemical fertilizer ban forced farmers to abandon paddies, and some joined the recent protests.
There is, as a result, hunger in the country, and soaring food prices have fueled protests. "I've been living in Colombo for 60 years, and I've never seen anything like this," said Vadivu, a domestic worker, to AFP in March. "There's nothing to eat, there's nothing to drink." This month, food prices there, Sri Lanka's most-populous city, tripled in the space of a few days.
The new prime minister, Ranil Wickremesinghe, said he would ensure that everyone had three meals a day. "There won't be a hunger crisis, we will find food," he told the BBC.
That is a promise Wickremesinghe may not be able to keep. Sri Lanka cannot solve its problems on its own. The COVID-19 pandemic ended tourism, a main source of revenue. Moreover, the Russian invasion of Ukraine—both countries are big sources of tourists for Sri Lanka—killed hopes for a recovery this year.
The issue, however, goes beyond tourist arrivals. The Ukraine war looks as if it is ending a decades-long period of globalization, and this transition is going to be difficult for countries that are especially dependent on others. The Sri Lankan crisis, therefore, is only the beginning. "Sri Lanka is the first country to buckle under the mounting economic pressures triggered by the war in Ukraine," London's Guardian stated. "It is unlikely to be the last."
Sri Lanka also faces another difficulty: China. The dominant Rajapaksa clan, long thought to be in Beijing's pocket, borrowed heavily from Chinese sources for misconceived ventures. Many of the "white-elephant projects" are in the Hambantota district, the home of the Rajapaksas.
The Hambantota port, losing $300 million in six years, was ill-conceived from the beginning. Port operators, therefore, were unable to service $1.4 billion in loans from China. Close to the port is a rarely used $15.5 million conference center. Thanks to a $200 million loan from China, Sri Lanka was able to build the nearby Rajapaksa Airport, which could not pay even its electricity bills.
In Colombo, there is Sri Lanka's answer to Dubai: the Chinese-funded Port City, an island of 665 acres of landfill and a "hidden debt trap." In that city is also the never-opened-to-the-public Lotus Tower, also funded by China. "What is the point of being proud of this tower if we are left begging for food?" asked Krishantha Kulatunga, the owner of a small stationery store near the landmark. "We are neck-deep in loans already."
China extended around 17% of the country's total debt. Very few know the full extent of the indebtedness to Chinese parties because there are hard-to-track loans to Sri Lanka's state firms and to the country's central bank.
Whatever their amount, Chinese loans have broken Sri Lanka. In April, it declared a suspension of repayment of foreign debt. The BBC reports that the suspension, the first default since independence, is "largely because it cannot service loans from China that paid for massive infrastructure projects."
China is the world's predatory lender, something evident from its Belt and Road Initiative, also known as BRI. Beijing's grand infrastructure project specializes in roads, ports, and railroads that have, like the Sri Lankan projects, little or no commercial justification. So far, 146 countries have signed BRI memo agreements with Beijing. Some of them find themselves in hock to the Chinese.
The Chinese have established a pattern. "China extends debt on onerous terms, backs up authoritarian governments when there are financial collapses or civil disobedience, and then takes everything it can find," Cleo Paskal of the Foundation for Defense of Democracies told Gatestone.
This pattern is evident in Sri Lanka. In December 2017, Beijing took control of the Hambantota port, grabbing 70% of the equity and signing a 99-year lease, after that project could not repay high-interest loans extended by China. Now there are concerns that Hambantota will eventually become a Chinese naval base.
China's admirals have long eyed Sri Lanka: In both September and October 2014 the Sri Lankan government allowed a Chinese submarine and its tender to dock at the Chinese-funded Colombo International Container Terminal.
A base in Sri Lanka would allow Chinese aircraft and surface combatants as well as submarines to cut sea lanes in the Indian Ocean and force next-door India to divert military assets to a threatening presence.
It is no coincidence that Djibouti, also heavily indebted to Chinese parties, is now the site of China's first offshore military base.
"This pattern is deep, entrenched, and expanding, and so it's like the dominoes have all been set up and Beijing is perfectly happy to have them fall down so that it can come to the rescue economically and politically and entrench itself even more," Paskal noted.
Sri Lanka is now looking for a bailout from the International Monetary Fund, but that is not necessarily a good idea. The international community should not be helping a voracious China gobble up small, vulnerable societies.
"It's not financial restructuring that you need, it's political restructuring that you need before you should put in any more money," Paskal said. "If the IMF bails out Sri Lanka without ensuring that it is no longer aligned with Beijing, it will have subsidized Chinese investment and politically reinforced a country that becomes a Chinese proxy."
Gordon G. Chang is the author of The Coming Collapse of China, a Gatestone Institute distinguished senior fellow, and a member of its Advisory Board.