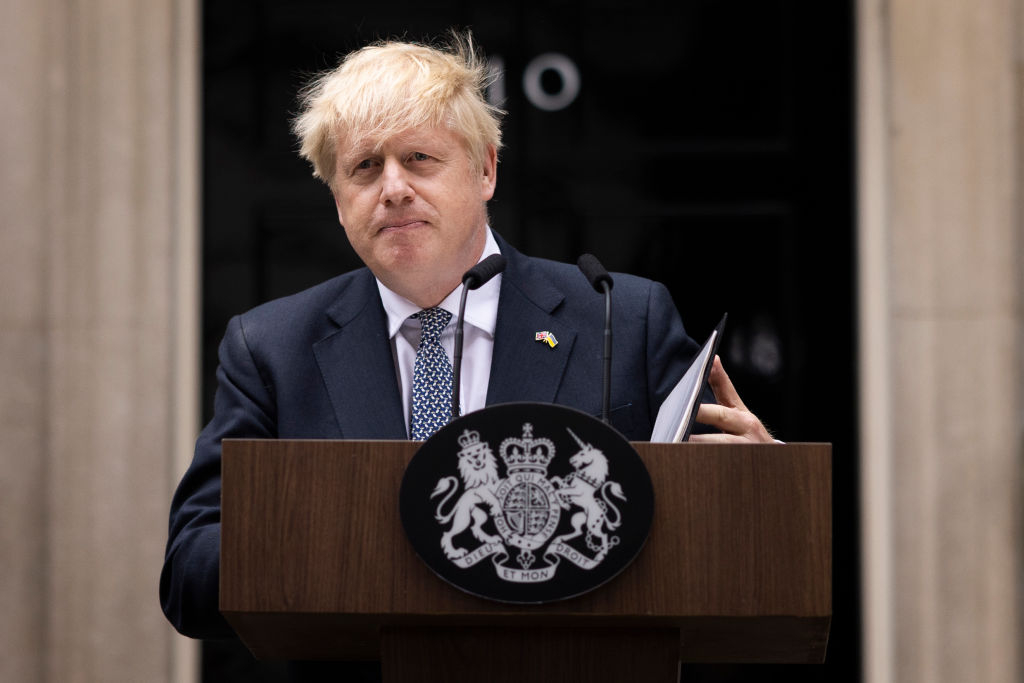 Britain Prime Minister Boris Johnson's dramatic removal from office gives a superb opportunity to adopt a new policy towards Iran, one that takes proper account of the deadly threat the Iranian regime poses. (Photo by Dan Kitwood/Getty Images)
Boris Johnson's dramatic removal from office gives Britain a superb opportunity to adopt a new policy towards Iran, one that takes proper account of the deadly threat the Iranian regime poses to Britain and its allies.
From his time as foreign secretary to his more recent tenure as prime minister, Mr Johnson's attitude towards Iran and its illicit nuclear activities can most charitably be described as equivocal.
During the Trump administration, Mr Johnson liked to give senior American officials working on the Iran brief the impression that he was deeply sceptical about the value of the Joint Comprehensive Plan of Action (JCPOA), the deal negotiated by then US President Barack Obama that was supposed to limit Iran's nuclear activities.
Any reservations Mr Johnson may have entertained in private about the deal did not, however, see him end Britain's involvement in the agreement. On the contrary, under his premiership, Britain backed attempts by other Western signatories to the deal -- the US, France and Germany -- to revive the JCPOA in the face of mounting evidence that Tehran has absolutely no interest in abiding by its commitments.
In the latest indication that Iran is in breach of its JCPOA commitments, the International Atomic Energy Agency (IAEA), the UN-sponsored body responsible for monitoring Tehran's nuclear activities, has reported that Iran has recently escalated its uranium enrichment activities at its underground Fordow facility.
Experts say this will enable Iran to enrich uranium to weapons-grade levels without being detected by IAEA inspection teams.
Iran's wilful disregard for the deal it signed with the Obama administration in 2015 has been a key factor in the Biden administration's failure to revive the deal, despite US President Joe Biden investing an enormous amount of political capital in his doomed mission to improve relations with Tehran.
Consequently, with Mr Johnson soon to depart from Downing Street, there is a golden opportunity for his successor to adopt a new, more robust policy towards Tehran, one that clearly identifies the ayatollahs as posing a clear and present danger to the security of Britain and its allies.
The scale of the Iranian threat is reflected in last week's statement by US National Security Advisor Jake Sullivan that Iran had agreed to supply Russia with hundreds of drones to support its war effort in Ukraine.
Russia's offensive in eastern Ukraine has stalled as a result of the heavy losses it has suffered both in terms of men and equipment, and Moscow is desperate to secure military reinforcements to sustain its war effort.
The provision of hundreds of Iranian drones could therefore provide the Russians with a much-needed boost.
"Our information indicates that the Iranian government is preparing to provide Russia with up to several hundred UAVs, including weapons-capable UAVs on an expedited timeline," Mr. Sullivan told a briefing of White House reporters this week.
The revelations concerning Iran's deepening involvement in the Ukraine conflict should certainly concern the British government which, under Mr Johnson, has been a staunch supporter of the Ukrainian cause, so much so that there have even been Ukrainian streets named in honour of Britain's deposed prime minister.
In such circumstances, it will be extremely difficult for Mr Johnson's successor as prime minister to continue with the same policy of appeasement towards Tehran while Iran is actively supporting the Kremlin's war effort in Ukraine.
The British military is certainly under no illusions about the scale of Iran's military threat after a detachment of Royal Marines recently intercepted a cargo of Iranian surface-to-air missiles that was being shipped to Iranian-backed Houthi rebels fighting in Yemen in contravention of a UN Security Council resolution.
According to details provided earlier this month by London's Ministry of Defence, the Iranians were attempting to smuggle missiles out of the country in speedboats destined for the Yemeni coast when they were intercepted by Royal Marine commandos in the Gulf of Oman.
The recent upsurge in Iranian military activity, both in the Arabian Gulf and Ukraine, provides incontrovertible evidence that, far from trying to reach an agreement with the West, Iran appears determined to intensify hostilities.
It is a change of approach that Britain's next prime minister must acknowledge when formulating Britain's policy for dealing with Iran.
In future, Britain, together with other signatories to the JCPOA, must base its policy on the assumption that Iran is a hostile regime, not one that has any interest in reaching a peaceful accommodation with the West.
Con Coughlin is the Telegraph's Defence and Foreign Affairs Editor and a Shillman Journalism Fellow at Gatestone Institute.