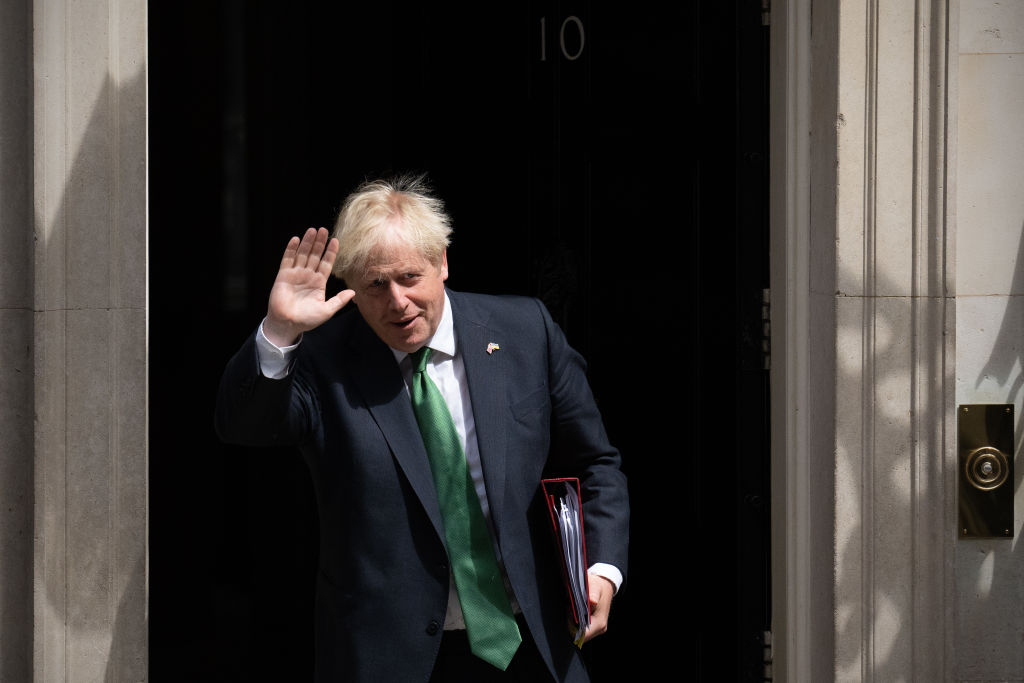 Pictured: Britain's Prime Minister Boris Johnson leaves 10 Downing Street on July 13, 2022 in London, England. (Photo by Carl Court/Getty Images)
It is hard to believe, but it was only a year ago that Boris Johnson, imagining himself at the peak of glory as a political leader, was waxing lyrical about his "strategic goal" of rescuing millions of Britons out of poverty and neglect. Adopting the sobriquet of a 17th-century movement known as the "Levellers," he renamed a Ministry to the "Department for Levelling Up, Housing and Communities," headed by the heavy-weight member of his Cabinet, Michael Gove.
Needless to say, as it was typical of good old Boris, he never spelled out what he meant to do under a flag borrowed from the English Civil War. As for Gove, the minister in charge, all he could reveal was that the aim was to elevate the degraded northern part of England up to the level of modernity and prosperity achieved in the southeast.
Now we shall never know what kind of miracle was in the offing because Johnson has been forced out and, before doing so, fired Gove.
The interesting point is that Johnson was shown the exit not because of policies he actually espoused, let alone those, like Levelling Up, that he merely mused about.
Boris won power with the slogan "Get Brexit Done" which, instead of focusing attention on what Brexit would actually do to Britain, presented the whole thing as a matter of practical measures with the emphasis on form rather than content.
As some of us noted years ago, the whole Brexit narrative was built on a number of misconceptions and outright lies. Interestingly, with the exception of a single substantive debate in the House of Commons, the issue was never seriously debated or probed through a proper parliamentary process let alone at a popular level with the help of the media and proximity activists.
As a result, Britain was plunged into a politico-cultural civil war between "Leavers" and "Remainers"; the former promised paradise and the latter promoted "Project Fear". And as in any other war, even a civil one, the first victim was the truth.
The trouble is that Johnson's departure does not put an end to that civil war. He was not forced out because it has become clear that "Brexit", at least in its current shape, doesn't work. Outside the small Liberal-Democrat Party, no major political group in England advocates dropping the worst aspects of Brexit, let alone reversing it. Nor was Johnson forced out because of his policy to increase the military budget to a level not known since the 1980s.
Johnson's saber-rattling policy on Ukraine wasn't a cause for his demise either. In fact, even opposition parties mumbled chagrined approval for it. Johnson's questionable handling of the Covid-19 pandemic, at least in the early stages, didn't contribute to his demise either, while his boast about "leading the world in mass vaccination" was swallowed by many, including his political adversaries.
Johnson's departure was also not caused by his economic policies. He presided over a very large increase in the national debt, to finance generous "furlough" schemes during the pandemic and subsidize businesses hit by Brexit. Nor did the fact that he went in the opposite direction of the traditional Conservative Party shibboleth of tax cuts by raising taxes to their highest level in a generation contribute to his downfall.
In other words, none of Johnson's macro-political choices forced him towards the exit.
He was forced out by drip-drip reports of peccadilloes, what ancient Greeks called skendein, small slips, and the origin of the word scandal. He was attacked because one of his advisers broke lockdown rules by making a train journey to see his mum. Then came a report that Johnson's health minister had broken the rules by staging a love-fest in his ministerial office with his Italian paramour. That was followed by reports that the prime minister had attended mini-bacchanalian parties in his official residence in Downing Street.
The final straw that broke the back of Boris's camel was his claim that he didn't know that the man he promoted to the Cabinet as deputy chief whip was a pincher of male derrieres.
What does all this tell us? Don't you think it tells us that there is something wrong with British democracy when a prime minister is ousted not because of policy failures but as a result of little "slips" that old Athenians would have corrected with a rap on the culprit's knuckles?
The Boris episode underlines the poverty of democratic debate in Britain today, where politics is reduced to sloganeering with the sole aim of winning elections. The fetishistic approach turns elections from a means to serve precise aims to an end in themselves. The result is the short-termism that deprives Britain and other Western democracies of strategic thinking.
Even before Boris has left Downing Street, the chattering classes are wondering who of his wannabe successors as Conservative Party leader could win an election.
As for Sir Keir Starmer, the opposition Labor Party leader, no one is asking what he offers as policy but whether he could win an election. The obsession with elections and lack of interest in actual policy is fed by daily opinion polls analyzed and aggrandized by pundits and focus groups. What matters is the process leading to power, not what to do once in power.
Imagine Disraeli or Gladstone or more recently Thatcher or Blair basing every move on opinion polls and pundit speculations about election results. None of them would have achieved the major reforms and socio-political changes that they introduced.
Gladstone could have been chased out by tittle-tattle about nocturnal visits to Saint James Park. Disraeli might have been shaken by innuendo about inheriting a fortune in murky ways. Thatcher would have been destabilized when her closest aide made a baby with his secretary out of wedlock. Blair could have been derailed by rumors that his wife, a top-notch lawyer, earned sky-high fees from clients with interests in the public sector.
Boris was a symptom of the current ailment of British politics, not its cause. And unless that ailment is tackled, whoever succeeds Boris will end up like him, albeit minus his charisma, or even worse than him.
What Britain needs is a return to the noble aspect of politics which means focusing on the real issues of the polis rather than skendein.
Amir Taheri was the executive editor-in-chief of the daily Kayhan in Iran from 1972 to 1979. He has worked at or written for innumerable publications, published eleven books, and has been a columnist for Asharq Al-Awsat since 1987.

This article was originally published by Asharq al-Awsat and is reprinted by kind permission of the author.