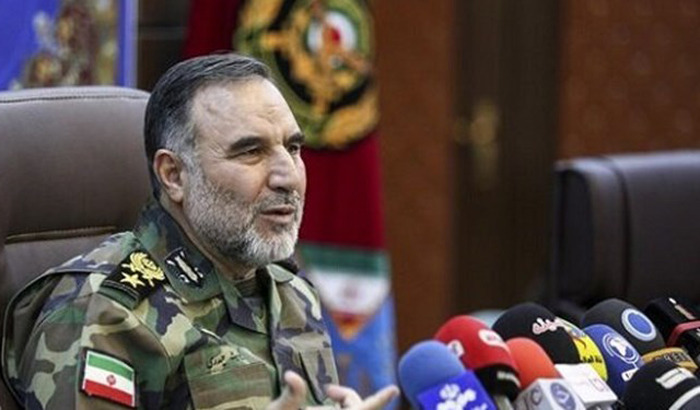 In Iranian mythology, partly reflected in Ferdowsi's Shahnameh, the national epic, the advice given to young men who aspire to become great warriors is to never reveal their strategy and avoid boastful talk. Rustam, Gudarz, Geeve, Bahman and other heroes of Iranian epic are never seen spilling the beans about war plans or boasting about wiping the enemy off the face of the earth.
In ancient Iranian mythology, empty boast becomes a curse ("fogor") that dooms the bravest of fighters ("yalan") to defeat.
More than four decades after the Khomeinist revolution started to steer Iran away from its national heritage and, in the words of the former Iranian Foreign Minister Muhammad-Javad Zarif, "choose to live in a different way", that lesson seems to have been forgotten.
The old advice was "Two hundred talks are no better than one half action!"
The aspirant heroes of the "Islamic Revolution", however, are champions of boastful garrulity.
They are constantly talking of "crushing America" and wiping Israel off the map. Up to a point, their boasts may be mildly amusing. It may also be a sign of their fear -- fear of the unknown, which reminds us of Nosrat Rahmani's poem about a man passing through a dark street at night and whistling to reassure oneself.
It is, of course, no surprise that self-styled heroes of Khomeinism know nothing of the epic Iranian heroes' advice. After all, Rustam and his peers were "infidels" ("kuffar") dedicated to their Iran-Zamin ("mihan") not to a self-styled "Supreme Leader".
However, in some circumstances, empty boasts, known as "rajaz-khani", could pose a threat to Iran's national security.
One example came last week when Commander of the Land Forces, Brigadier-General Kioumars Heydari, told a press conference that the Islamic Republic's military had developed a new generation of drones named Arash-2, specifically for "attacks on Tel Aviv and Haifa" in Israel.
Heydari added that the army's Commander-in-Chief, Major-General Abdul-Rahim Mussavi, had ordered the deployment of Arash-2 on a ready-to-activate basis.
The new drone has a range of 2,000 kilometers, long enough to reach not only Israel but all countries in the Middle East and parts of North Africa. The 2,000-kilometer range limit was chosen to comply with promises Tehran gave to "major powers" not to develop missiles or drones with a range longer than the two extreme points of Iran's territory between the frontier with Turkey in the northwest and that of Pakistan in the southeast.
It is not clear whether the new drone is capable of carrying nuclear warheads.
Interestingly, the drone is named after another mythological hero of Iran, Arash Kamangir (Arash the bowman), who earned his place in the Persian Valhalla by shooting an arrow from Amol on the Caspian Sea to Marv in Central Asia, thus determining Iran's frontier with the land of the Turanians.
Heydari's own first name, Kioumars, is an ancient Persian one and a mile and a half away from Khomeini's "pure Islam."
But, enough of dwelling on Khomeinist confusion about Persian names. Heydari's war talk deserves attention for a number of reasons.
To start with, the general made no mention of the "Supreme Guide" Ali Khamenei, supposed to be the ultimate decision-maker on all major issues, especially war and peace. Khamenei has always said he would love to see Israel "wiped from the face of existence". But he has never said that his own Islamic Republic is going to launch in a direct war to destroy "the Zionist entity". Almost 10 years ago, he prophesized that Israel would disappear within 25 years. In the meantime, however, his Islamic Republic won't take any direct action against Israel, instead using Lebanese and Palestinian surrogates in a low-intensity proxy war.
For the past six years, Israel has been attacking Iranian positions in Syria and even hitting targets inside Iran without being attacked in response. According to estimates by the Martyrs Foundation, in 2020 some 5,000 Iranian military personnel and their Lebanese, Afghan, Pakistani and Syrian surrogates had died in Israeli air raids.
The question now is simple: has the "grin and bear it" policy changed?
Should we assume the Iranian military are now in the driving seat on such high-risk issues? Traditionally, the military in Iran were required to obey the "silence is golden" rule. Even after the mullahs seized power, that tradition was largely observed. The military did make boastful speeches but never threatened any country with any specific course of action.
The threat came just 24 hours after David Barnea, the head of Mossad, the Israeli intelligence agency, warned that if Tehran's proxies attacked the Jewish state, Iran itself would be attacked in retaliation.
By publicly announcing that an attack on Tel Aviv and Haifa is being planned, Heydari gives Israel a reason to claim "the right of self-defense" or "preventive war" if and when it decides to take military action against the Islamic Republic. So, should we assume that Heydari and his boss Mussavi, are helping the Mossad' chief beat the drums of war?
Heydari's rajaz-khani contains other problematic aspects.
He says that Arash-2 is capable of covering the estimated 1,100 kilometers distance between a launching pad close to the Iran-Iraq border and Tel Aviv in 90 minutes, long enough for Israel's anti-missile defense network to destroy it over Syria or Lebanon.
The irresponsible boast also comes at a critical point in the dicey negotiations to revive Obama's "nuclear deal" (JCPOA) and signal the Islamic Republic's supposedly peaceful intentions.
Did part of the Khomeinist establishment write the Heydari puppet-show script to derail President Joe Biden's efforts to undo Donald Trump's policy on Iran? Is the same faction not aware of the fact that there is and will not be Iranian popular support for any war based on purely ideological grounds?
Or is the beating of war drums a ploy to divert attention from the regime's economic, diplomatic and social failures?
Do the two generals think they can provoke a major war in the Middle East without any reaction from other nations whose security would be affected by a regional war?
The far more important question is whether or not the Khomeinist leadership has thought through the scale and the consequences of a direct attack on Israel and assumes that there would be no retaliation if and when Arash-2 turns the heart of Israel into a charred carcass?
Amir Taheri was the executive editor-in-chief of the daily Kayhan in Iran from 1972 to 1979. He has worked at or written for innumerable publications, published eleven books, and has been a columnist for Asharq Al-Awsat since 1987.

This article was originally published by Asharq al-Awsat and is reprinted by kind permission of the author.