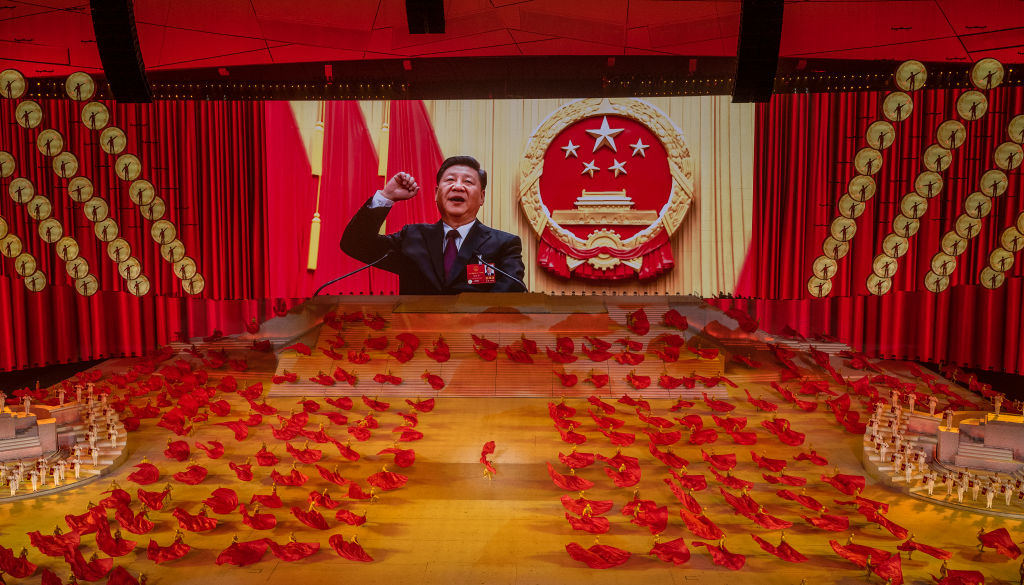 When he took over as China's leader 10 years ago, President Xi Jinping was hailed by Western experts and media as a man who would open the path for major political reforms to reflect the rising tiger's economic transformation. Some even saw him as a wiser version of Mikhail Gorbachev and speculated that he might adopt the end-of-history narrative by accepting democratization as the only option for a modern industrial power.
A decade later, however, we know how wrong those assessments of Xi were. As he prepares for the coming National Conference of the Chinese Communist Party (CCP) starting 16 October, Xi may be the subject of another misunderstanding. This time he is presented as an ambitious autocrat whose dream of world domination threatens the fragile world order in place since the end of the Cold War.
Misunderstanding Xi ten years ago persuaded the Western democracies, notably the United States, and Japan, to open every door on which China knocked. According to best estimates since Xi's ascent to supreme power, Western, Japanese and Taiwanese investment in China more than doubled while the People's Republic concluded sweet-heart trade deals with the European Union, Japan, the United States and Australia. Foreign direct investment in China by the US, for example, rose from $50 billion to $118 billion in 2021.
At the same time, major global markets were opened to Chinese businesses in what looked like a good deal in which the West and Japan provided the capital and technology and China furnished low-priced manufactured goods, a felicitous circle that tamed the monster of global inflation.
At the same time, Xi's adoption of a new narrative based on a selective reading of Confucius was seen as a sign of moving away from the Communist discourse and its Maoist version. The fact that China kept a fairly low profile on global political issues also backed the assumption that Xi would never pose a threat to the Western-dominated world order. China was never invited to the top club of G7 and for a while G8 with Russia added. But it was welcomed in G20, a talking shop, as one of the so-called BRIC nations along with several other "emerging nations".
We now know that Xi and his advisers were playing a long game the Chinese way. Classical Chinese strategy advises obliquity in every move. Unlike Western strategies, you never pursue a goal openly nor attack an adversary head-on; you always choose a roundabout way. Napoleon always counseled aiming at the heart of the adversary in a "total war," while Russian Field Marshal Mikhail Kutuzov, who defeated him in 1812, was probably heeding Sun Tzu's advice to dodge a strong attack and hit when the adversary is in a weak position.
Thus the theory that Xi is preparing China for a war with the United States, ostensibly over Taiwan, may be as much of a misunderstanding as seeing him as a Sancho Panza to any American Don Quixote. The various nightmare scenarios and books about the clash of two giants may well be based on that misunderstanding.
There is no doubt that Xi is closing a chapter opened under Hua Kuo-Feng and continued under Deng Xiaoping as Supreme Leader and Li Xiannian, Jiang Zemin, and Hu Jintao as president, in which China tried and succeeded in establishing itself as a normal nation playing according to the rules but also demanding respect.
What Xi wants now is deference at least on issues that he thinks are vital for his own position as at the center of power in Beijing.
There is no doubt that Xi will secure a third term as the top leader, combining his position as secretary-general of the party with those of president of the People's Republic and chairman of the military commission. Having changed the party's constitution, he is no longer required to retire at age 68 and, heading to be 70 next year, he may hang on to power for another 10 years. Nevertheless, things may not be as easy as Xi hopes.
The Chinese Communist Party, with a membership of 98 million, is full of young and ambitious men and women who regard Xi and others in his generation of party chiefs as "Red Princes", sons of first-generation Communists who owe their ascendancy to nepotism.
Then there is China's huge and rapidly growing military machine, which consumes over $200 billion each year and contains tens of thousands of young, highly educated and ambitious officers who may not see Xi, a man with no military background, as the sole arbiter of the nation's fate.
To be sure, Xi has tried to forestall any threat to his authority by purging over 170,000 of the party cadres at all levels, the biggest night of the long knives in Chinese Communist history since Mao was the Great Helmsman. He has also imposed his "thoughts" as part of the CCP's constitution and, in the coming party conference, he hopes to be named The People's Leader (Pinyin), equaling Mao.
And, if he sees that he can get away with it, he will also demand to have his giant portrait installed next to Mao's in the Square of Celestial Peace in Beijing.
With a gross domestic product of almost $20 trillion, China is the world's second-largest economy, with a middle class estimated to number over 300 million. It is not at all certain that this growing middle class, which has adopted Western-style patterns of consumption and lifestyles, will forever tolerate the one-man rule that Xi is trying to build.
Xi faces two other problems.
First, the Chinese economy is clearly slowing down, with hundreds of businesses going bust and tens of thousands of projects abandoned, while stagflation looms on the horizon.
The second is what some see as systemic corruption. Xi has launched a massive anti-corruption campaign, even issuing death sentences for some senior party figures. But many in China suspect that he is using the campaign as a cover for purging opponents in the party.
Xi's achievement of total personal power may be coming at a time when his real position is weakening. Paradoxically, that could be bad news for everyone. To divert attention from his weakness, Xi may be tempted to flex muscles on the world stage, with unpredictable consequences.
But even if he doesn't, he may not be able to help bring Russia and Europe back from the edge of the abyss by ending the war in Ukraine.
Amir Taheri was the executive editor-in-chief of the daily Kayhan in Iran from 1972 to 1979. He has worked at or written for innumerable publications, published eleven books, and has been a columnist for Asharq Al-Awsat since 1987.

This article was originally published by Asharq al-Awsat and is reprinted by kind permission of the author.