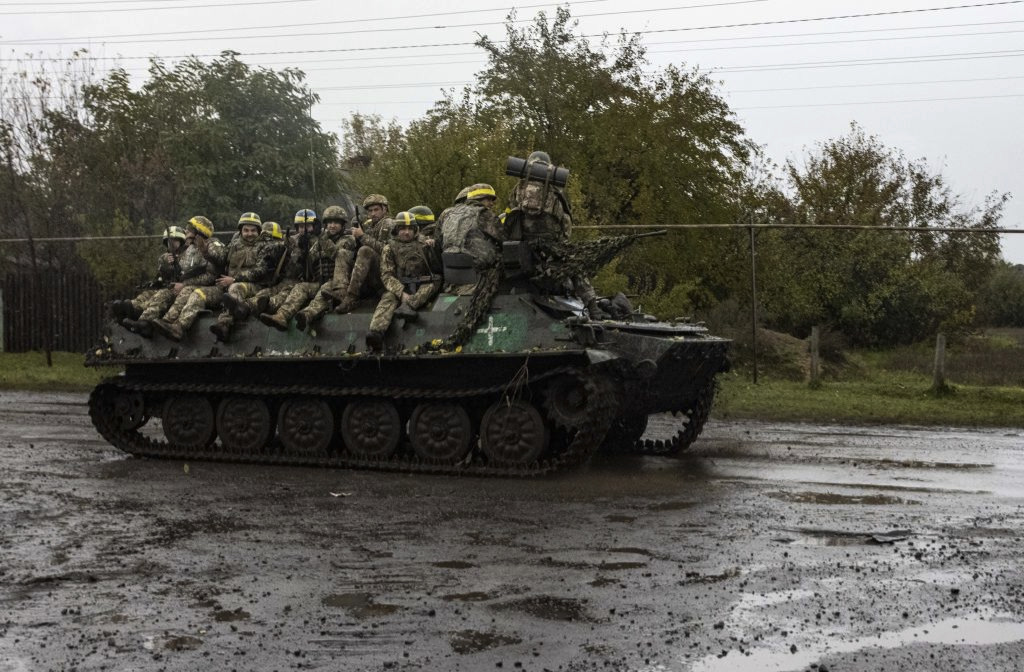 Russian President Vladimir Putin might be suffering a humiliating military defeat in Ukraine, but reducing American support for Kyiv -- as some American politicians are suggesting -- will not only constitute an unconscionable betrayal of the Ukrainian cause. It will encourage Putin, and allies such as Iran, to conduct further acts of territorial aggression.
With the Ukraine conflict now in its eighth month, it is, perhaps, inevitable that a degree of conflict fatigue has set in among some politicians. But with Ukraine still managing to inflict significant defeats against its Russian adversary, the Ukrainians require more support, not less, if they are to succeed in their goal of achieving a conclusive victory and liberating their country from Russian occupation.
There are worrying concerns, though, that instead of intensifying military support for Kyiv to provide it with the firepower it requires to achieve victory over Russia, America's political classes are tiring of their support role, and are instead looking for ways to scale down their contribution.
By far the most egregious attempt by American policymakers to wash their hands of the Ukraine conflict was a letter written by a clique of left-wing Democrats calling on President Joe Biden to negotiate directly with Russia to end the conflict, an approach that amounts to an unpardonable betrayal of the Ukrainian cause.
Thirty House liberals linked to the Congressional Progressive Caucus sent a letter to the White House on October 24 urging Biden to negotiate directly with Russia to bring an end to the war in Ukraine. The letter has since been withdrawn after it drew bitter criticism from other Democrats, with House Speaker Nancy Pelosi, speaking in Croatia at a summit on the conflict, insisting that "support for Ukraine and the people" will not stop, claiming "support for Ukraine is bipartisan, it is bicameral."
That the letter, though, contained the signatures of the usual suspects on the left of the Democratic Party - Reps. Jamie Raskin (MD), Alexandria Ocasio-Cortez (NY), Cori Bush (MO), Ro Khanna (CA) and Ilhan Omar (MN) - indicates there is a significant body of opinion in Congress where support for Ukraine is waning.
Nor is it just Democrats who have voiced reservations about the Ukrainian conflict. Kevin McCarthy, the Republican House minority leader, caused controversy earlier this month when he said that Republicans would not be prepared to write a "blank check" for Ukraine if they win control of the House at next month's midterm elections.
McCarthy's words provoked a fierce response from Republican Wyoming Rep. Liz Cheney, who accused him of being the leader of the "pro-Putin" wing of the GOP.
Ukrainian officials also expressed "shock" at his comments as only a few weeks ago, during a visit to Washington, they had received an assurance from McCarthy that "bipartisan support of Ukraine in its war with Russia will remain a top priority even if they win in the elections", said David Arakhamia, head of Ukrainian President Volodymyr Zelenksy's party in parliament.
This is not the first time Republican reservations over Ukraine have surfaced. In May, Republican Senators and House Representatives opposed a $40 billion security assistance package requested by Kyiv, and there are fears that Republican dissent on the issue will increase in the next Congress.
Nor is the weakening of support for the Ukraine cause confined to Washington. In Britain, the selection of Prime Minister Rishi Sunak, who has declared that fixing the UK economy is his main priority, might see him move away from former PM Boris Johnson's unequivocal support for Kyiv. And in Italy, one of the first tasks of newly elected Prime Minister Giorgia Meloni was to reprimand former Italian leader Silvio Berlusconi over his close ties with Putin.
From Ukraine's point of view, the various calls for the West to adopt a different approach on the war with Russia could not come at a worse time. After the recent successes Ukrainian forces have enjoyed on the battlefield, there are signs that Moscow is preparing to launch a new offensive. Putin has called on Russian industry to provide more weapons, and conscripts are being press-ganged into service to reinforce Russian forces at the Ukrainian front.
In addition, Russia is receiving military assistance from Iran, which is providing drones and other equipment, with US intelligence reporting that a contingent of Iran's Islamic Revolutionary Guard Corps is now operating in Russian-occupied Crimea.
The prospect of a new "axis of evil" being formed between two rogue states such as Russia and Iran is certainly a prospect that should encourage Western leaders to harden their support for Ukraine, not back away from it.
Any attempt by the US and its allies to appease the Kremlin over its unprovoked aggression towards Ukraine will simply encourage Moscow and Tehran in the belief that the Western powers lack the courage and resolve to resist their attempts to spread their malign influence across the globe.
Con Coughlin is the Telegraph's Defence and Foreign Affairs Editor and a Shillman Journalism Fellow at Gatestone Institute.