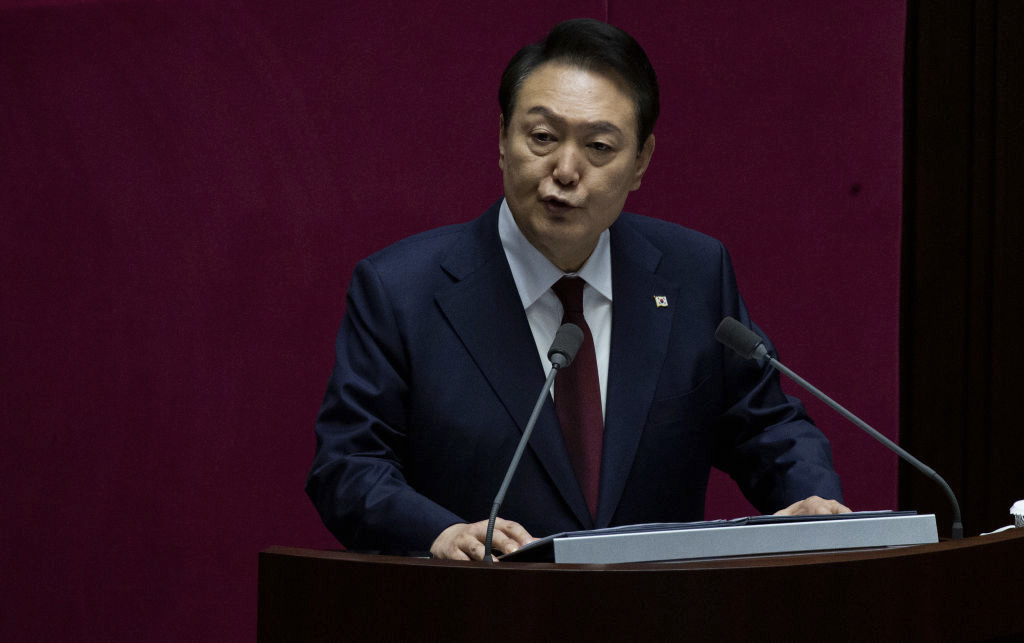 South Korea's president has just told the world that he no longer has confidence in the United States.
"It's possible that the problem gets worse and our country will introduce tactical nuclear weapons or build them on our own," said President Yoon Suk Yeol on January 11, at a joint briefing by his country's defense and foreign ministries. "If that's the case, we can have our own nuclear weapons pretty quickly, given our scientific and technological capabilities."
America has a treaty obligation to defend the Republic of Korea, as South Korea is formally known, and Washington has extended its "nuclear umbrella" to protect it. In other words, the U.S. has pledged it will, if necessary, launch its most destructive weapons at those attacking South Korea. For Yoon to announce that his government might have to arm itself with nukes, therefore, is to in effect announce that he does not trust Washington to honor its word.
Not trust America? That is something America's friends may say in private — NATO allies all the time muttered that in private during the Cold War, for instance — but it is not something America's friends officially say in public, which is what the pro-American Yoon just did.
And Yoon has reason to be distrustful. As David Maxwell of the Foundation for Defense of Democracies told Gatestone, "Today, even a blind man can read the tea leaves and know that [North Korean dictator] Kim Jong Un will not denuclearize despite the fact that his policies have been an abject failure."
One of the most destitute states in the world has consistently gotten the better of the most powerful nation in history. American presidents from Bill Clinton to Joe Biden have completely failed to stop the Democratic People's Republic of Korea (DPRK) from building nuclear weapons and intercontinental ballistic missiles.
The failure to stop North Korea has consequences. The North Koreans, for instance, at any time they want, can turn South Korea into a radioactive slab. Furthermore, the North's Hwasong-17 can reach any part of the United States, and the missile will be able to land a nuclear warhead soon, if it cannot do so already.
There are many reasons for this American failure, but the most important is that Washington had for decades placed more importance in integrating China's Communist Party into the international system than in disarming North Korea. President George W. Bush, for example, put Beijing at the center of the world's efforts to defang Pyongyang by allowing it to run the ill-fated Six-Party Talks, from 2003 to 2009. During that period, Chinese officials used their central role in the negotiations to protect their only formal military ally, North Korea. Even today, the U.S. is still hoping to work with Beijing to rein in the Kim regime, which the Communist Party has no intention of doing. As a result of its efforts to enlist the Chinese, the Biden administration is imposing no costs on China for openly supporting Pyongyang's weaponization efforts.
Why would China support a nuclear North Korea? For just about the same reason it supported the Pakistani nuclear weapons program and today supports the Iranian one. Beijing uses nuclear-armed proxies to keep America and its friends off-balance. The proxies are also good bargaining chips: Just about every time Pyongyang does something provocative, Washington seeks China's help.
We do not have to wonder if Beijing in fact supports North Korea's weapons programs. China for decades has allowed the North to use Chinese banks to handle proceeds from criminal activities and activities in violation of U.N. sanctions.
The Trump administration in June 2017 finally lost patience and, pursuant to Section 311 of the USA PATRIOT Act, designated China's Bank of Dandong to be of "primary money laundering concern." The designation meant the bank could no longer clear dollar transactions through New York.
Yet Trump in 2018 decided not to enforce money-laundering laws against two of the "Big Four" Chinese banks, Agricultural Bank of China and China Construction Bank, which were handling suspicious transactions for North Korea. Another of the Big Four, Bank of China, has been caught red-handed hiding DPRK cash.
Such designations would put these state banks out of business everywhere outside China.
If these banks were to fail, so would China's state-dominated banking system. The failure of the banking system would undoubtedly mean the end of the Chinese economy and financial system. The end of the Communist Party's political system could not be far behind.
Whatever the effects of designations, the United States needs to enforce its laws. America did not allow Pablo Escobar to run criminal cash through New York, so why does America allow China to do that for North Korea?
Today, Pyongyang is still using Chinese banks. "Recent U.S. government advisories confirm that China is still the main enabler of North Korea's money laundering," Joshua Stanton, who has assisted Congress on drafting North Korea sanctions, told Gatestone this month. "The Biden administration has yet to impose a significant penalty on a major Chinese bank or corporation for violating North Korea sanctions."
"This failure is a choice," said Stanton, who also writes on North Korea sanctions issues at One Free Korea, to this publication last year. "The money Kim Jong Un obtains by fraud, computer hacking, and ransomware and which he uses to build bombs to threaten us is being laundered through our banks. We're giving Xi Jinping and Kim de facto immunity to keep right on doing it."
No wonder South Korea's Yoon is not particularly impressed with America.
Yoon tried to walk back his words on the day after his stunning remarks. "The most important part of his comments yesterday was that, as a realistic measure at the moment, it's important to effectively strengthen extended deterrence within the security alliance between South Korea and the United States," said an unnamed official from Yoon's office to reporters. "However, when it comes to security, the worst-case scenario must always be taken into consideration, and from that perspective, he was making his commitment and determination ever clearer to protect the people as commander-in-chief against the escalating threat of North Korea's nuclear weapons."
South Korea is a signatory to the Nuclear Nonproliferation Treaty. If Seoul were to develop nuclear weapons, it would have to withdraw.
Perhaps South Korea should withdraw. China, also a signatory, has been freely proliferating nuclear weapons technology to dangerous states, such as Pakistan and Iran, in addition to North Korea, and the United States has done little, sometimes nothing. At the same time, Washington repeatedly stopped South Korea and Taiwan from building nukes.
Yoon did the world a favor by exposing the folly of America's nonproliferation policy. Washington needs to stop being afraid of Beijing and start defending allies such as South Korea -- and itself.
Gordon G. Chang is the author of The Coming Collapse of China, a Gatestone Institute distinguished senior fellow, and a member of its Advisory Board.