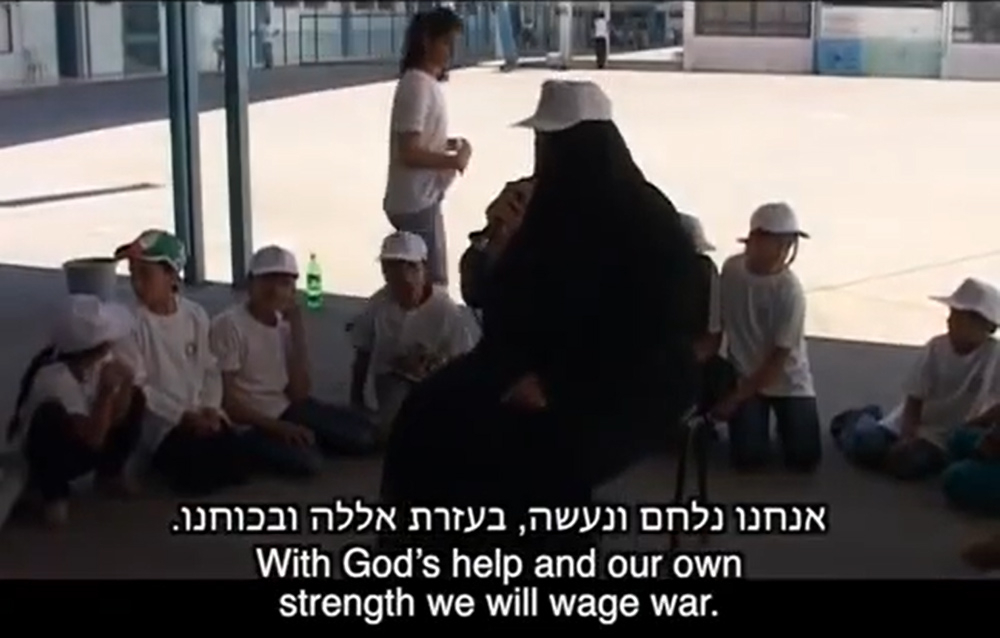 The United Nations Relief and Work Agency for Palestine Refugees (UNRWA) has once again requested international financial aid. This is the same organization whose workers have been promoting violence and antisemitism on social media.
On January 24, the agency appealed for $1.6 billion "for programs and operations." UNRWA said it "continues to play an indispensable role in the lives of millions of Palestine refugees," and warned that "compounding challenges over the past year, including underfunding, competing global crises, inflation, disruption in the supply chain, geopolitical dynamics and skyrocketing levels of poverty and unemployment among Palestine refugees have put immense strain on UNRWA."
Established by the UN General Assembly in 1949 with a mandate "to provide humanitarian assistance and projection to registered Palestine refugees pending a just and lasting solution to their plight," UNRWA has since done absolutely nothing to help the "refugees" move on with their lives and seek a better future themselves or their families.
In reality, UNRWA continues to perpetuate the refugee problem by granting refugees status through the generations.
It also perpetuates the narrative of the so-called right of return, which envisions the elimination of Israel by flooding it with millions of Arabs and turning it into another Arab state where some Jews might be allowed to live as a minority as long as they are loyal to the Arab ruler.
As then Israeli Member of Knesset Einat Wilf correctly pointed out in 2015, most of the Palestinians living in the Hamas-ruled Gaza Strip are incorrectly registered as refugees from Palestine:
"Almost all of them have been born in Gaza, their parents have been born in Gaza, their grandparents have been born in Gaza and lived there all their lives; they were never displaced an inch. Yet, every day they hear, they learn, and they get an official stamp from the UN agency that says: 'That's not your home. You might have lived here all your life, but your home is there, just across the fence. That's your real home [Israel], and it was taken from you."
The Geneva-based independent human rights group UN Watch has uncovered evidence of UNRWA staff incitement which clearly violate the agency's own rules as well as its proclaimed values of intolerance for racism, discrimination or antisemitism.
The report published by UN Watch highlights that more than 100 educators and staff members who work for UNRWA schools and social services have publicly promoted violence and antisemitism on social media platforms.
In 2021, the Biden administration decided to resume financial aid to UNRWA (which had been cut off by the Trump administration) on the grounds that the US was "deeply committed" to ensuring that its partnership with UNRWA "promotes neutrality, accountability, and transparency."
In response to the Trump administration's 2018 decision to end US contributions to UNRWA, Brett D. Schaefer, a Jay Kingham Senior Research Fellow at the Margaret Thatcher Center, and James Phillips, Visiting Fellow at the Allison Center for Foreign Policy Studies, wrote:
"This decision is long overdue. UNRWA has existed for more than 60 years as a 'temporary' initiative to address the needs of Palestinian refugees and to facilitate their resettlement and/or repatriation. Despite receiving ongoing financial assistance from UNRWA, the Palestinian refugee problem has only grown larger. Many of the original refugees are deceased, but the refugee population has expanded to 5.3 million individuals because UNRWA redefined and expanded its definition of refugee. Today, the agency has made refugee status available to the 'descendants of Palestine refugee males, including legally adopted children.'"
Meanwhile, in 2021, the US government confirmed its "failure to ensure that taxpayer aid dollars sent to the Palestinian government did not ultimately make their way to terrorists." (US Government Accountability Office, March 2021)
Terrorist groups in Gaza, such as Hamas, have continued to build terror tunnels under UNRWA schools, to use the children as human shields if Israel retaliates after it is attacked -- as Hamas member Abu Khaled, openly admitted in December 2021.
"UNRWA's procurement contracts suggest that funds are already flowing to PFLP affiliates," wrote foreign policy expert Julia Shulman in June 2021.
"As recently as March, UNRWA was funding the Union of Health Work Committees (UHWC), a Gaza-based entity with extensive links to the PFLP. Earlier this month, Israel charged several staff members from UHWC's partner organization with funneling funds to the PFLP."
In a June 2021 policy brief for the Foundation for Defense of Democracies, Matthew Zweig wrote:
"[T]he Palestinian Anti-Terrorism Act (PATA).... prohibits assistance to the PA unless the administration certifies that 'no ministry, agency, or instrumentality of the Palestinian Authority is effectively controlled by Hamas'

"Still, critical questions remain about the overall package, specifically the State Department's oversight and vetting mechanisms. The congressional notification for the assistance package declares that USAID deploys 'rigorous partner-anti-terrorism vetting and certification, auditing, and monitoring procedures to help ensure that its assistance does not go to Hamas or other terrorist organizations.'"
"Other terrorist organizations" in Gaza that could use UNRWA as a pass-through for funding include the Palestinian Islamic Jihad (PIJ), and the Democratic Front for the Liberation of Palestine (DFLP).
Commenting on the Biden administration decision to restore the financial aid, UN Watch said that now is the time for the US to demand that "neutrality, accountability and transparency" paraded by US Secretary of State Antony Blinken.
"The US should demand that UNRWA adopt a zero-tolerance policy for employees who incite racism or murder by immediately terminating them," UN Watch stressed. It also called on UNRWA to conduct a thorough investigation of its facilities and put an immediate stop to all antisemitic or terrorist-inciting activities and images found there.
It does not seem, however, that UNRWA has taken far-reaching and drastic measures to end the incitement to violence and antisemitism. In fact, it has not taken any at all.
In the Gaza Strip, UNRWA often takes great pains to avoid alienating the Palestinian terrorist groups, above all the Iranian-backed Hamas and Palestinian Islamic Jihad. The two terror groups, whose declared goal is to destroy Israel and replace it with an Islamist state, have long been receiving money and weapons from the mullahs in Tehran.
UNRWA has also turned a blind eye to the fact that Hamas, PIJ and other terror groups have, since 2001, been building tunnels for attacking Israel and storing weapons near the agency's facilities, including schools, in the Gaza Strip.
On January 27, Israeli warplanes attacked a tunnel used by the terrorists to manufacture rockets. The attack came in response to the firing of a number of rockets at Israel earlier in the day. The terrorist target attacked by Israel was adjacent to an UNRWA installation in the Gaza Strip. It is not uncommon for terrorists to stockpile weapons or dig offensive tunnels near and beneath schools and hospitals.
What is particularly disturbing is the manner in which UNRWA and other international agencies relate to the serious threat posed by the terrorists.
In the past few years, UNRWA has published statements regarding the discovery of tunnels near and underneath its facilities. The agency, however, often employs ambiguous and indirect rhetoric when mentioning the tunnels. It also refrains from openly condemning Hamas or holding it directly responsible.
Take, for example, the statement issued by UNRWA in November 2022, in which it said that the agency "recently identified a man-made cavity underneath the grounds of an UNRWA school in Gaza."
UNRWA condemned the construction under its facility, calling it a "serious violation of the Agency's neutrality and a breach of international law."
Needless to say, UNRWA did not dare to hold Hamas or other Palestinian terror groups fully and directly responsible for the "man-made cavity."
The use of the word "cavity" instead of "tunnel" is laughable. What is stopping UNRWA from calling a tunnel a tunnel? Why do UNRWA and other UN agencies have no compunctions when it comes to condemning Israel but tiptoe around condemning Palestinian terrorist groups?
Is UNRWA afraid to use the word tunnel because it fears for the lives of its workers, or is it because UNRWA wants to downplay the actions of the terrorists? What are people supposed to understand by the use of the word "cavity?" That the terrorists are dentists?
The organization NGO Monitor has documented at least 7 additional incidents from the past 10 years, in which terror tunnels and weapon caches were discovered under UNRWA schools or in their close vicinity.
On June 4, 2021, UNRWA stated that an investigation, "revealed what appears to be a cavity and a possible tunnel" under the grounds of the UNRWA Zaitoun School in Gaza.
On June 9, 2017, UNRWA issued a statement, noting that "On 1 June UNRWA discovered part of a tunnel that passes under two adjacent Agency schools in Maghazi camp."
On July 29, 2014, UNRWA stated: "A cache of rockets was found earlier today at an UNRWA school in central Gaza... We condemn the group or groups who endangered civilians by placing these munitions in our school."
An additional four incidents in 2020, 2017 and 2014 have been documented as well.
It is clear that UNRWA, like many other UN agencies, has become part of the problem, not part of the solution. Instead of seeking ways to solve the problem of the so-called refugees, UNRWA has protracted and inflated it by creating new generations of "refugees." Instead of promoting peace and non-violence, UNRWA employees have been doing the reverse. Instead of taking a tough and clear stand against terrorism, UNRWA hides behind riddles. UNRWA donors might consider these evasions before they sign the next check to one of the UN's most incompetent and corrupt organizations.
Bassam Tawil is a Muslim Arab based in the Middle East.