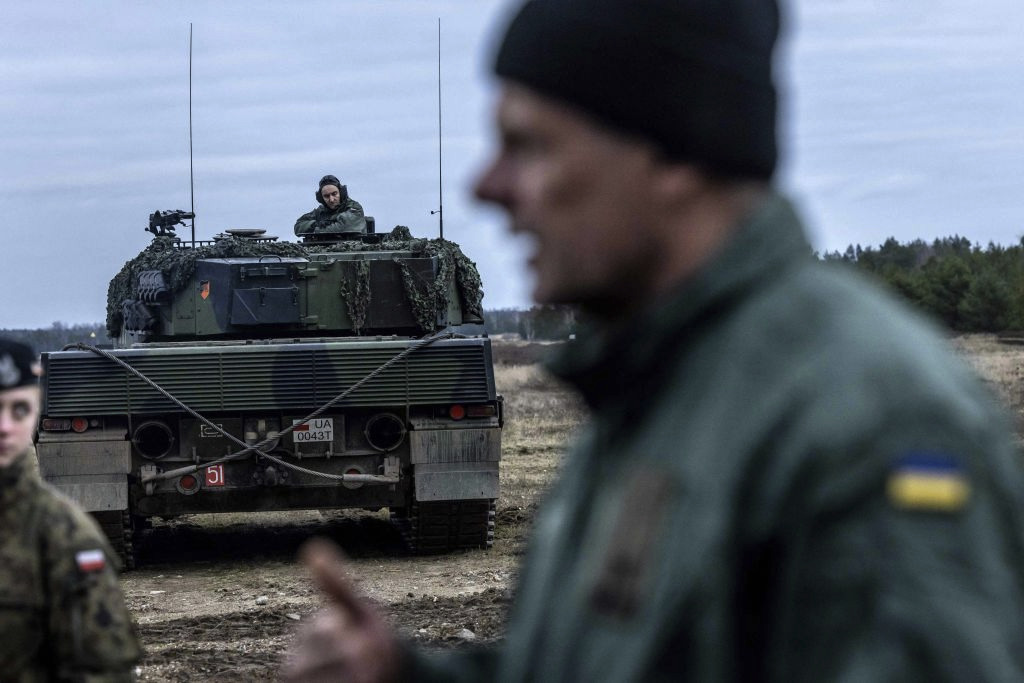 President Joe Biden's reluctance to supply Ukraine with the US warplanes it desperately needs raises serious questions about his claims that he wants Kyiv to emerge victorious in its brutal war for survival against Russia.
During his surprise visit to Kyiv in late February to mark the first anniversary of the Ukraine conflict, Biden worked hard to give the impression that he was firmly backing the Ukrainian cause.
"One year later, Kyiv stands," Biden declared after meeting Ukraine's President Volodymyr Zelensky at the Mariinsky Palace. Jabbing his finger for emphasis on his podium, against a backdrop of three flags from each country, the president continued: "And Ukraine stands. Democracy stands. The Americans stand with you, and the world stands with you."
Biden made similar declarations of support during his subsequent visit to Poland, a country that, in stark contrast to Biden's hesitant approach, has been unstinting in its support for the Ukrainian cause since Putin launched his unprovoked invasion on February 24 last year. Speaking against the imposing backdrop of Warsaw's Royal Castle, Biden insisted that the US and its allies "will not waver" in supporting the Ukrainians.
There is, though, a hollow ring to Biden's rousing rhetoric when it is matched against the practical support his administration is actually prepared to give the Ukrainians, especially their pleas to be supplied with American fighter jets.
With the Russians widely reported to be planning a new spring offensive, the Ukrainians are desperate for weaponry that will both enable them to hold off the Russians and launch their own counter-offensive to liberate Ukrainian territory from Russian occupation.
Despite the many pledges of support he made during his tour of eastern Europe, Biden is proving remarkably reluctant to respond positively to the Ukrainians' request. Commenting on Ukraine's request for US F-16 fighters, Biden said he had ruled out "for now" sending the advanced jets.
Biden's reluctance to provide Ukraine with the military equipment it needs to prevail on the battlefield is consistent with the foot-dragging approach he has adopted since the start of the conflict. When hostilities first commenced, he resisted providing Ukraine with the long-range missiles it needed to disrupt the Russian advance, only to be reluctantly persuaded to approve the delivery of the long-range HIMARS that have resulted in a tangible improvement in the Ukrainian war effort.
More recently he opposed Ukraine's pleas to be supplied with Western battle tanks, only to be forced into making an embarrassing u-turn after Poland and other European nations pledged to provide tanks of their own.
It is largely as a result of the unstinting commitment Polish Prime Minister Mateusz Morawiecki has shown for the Ukrainian cause that the first consignment of German-manufactured Leopard tanks, donated by Poland, crossed the Ukrainian border at the weekend.
By contrast, thanks to Biden's dithering, it could be months before any US Abrams tanks arrive in Ukraine, by which time it could be too late for them to make any material difference to the course of the conflict.
Now the Biden administration finds itself accused of reneging on its pledge to support the Ukrainian war effort by refusing to supply F-16 fighter aircraft, even though there are many compelling military reasons for doing so.
One of Biden's gravest miscalculations during this conflict has been his concern that, by providing weapons to Ukraine, the US could provoke a wider escalation in the conflict, one that could lead to a direct confrontation between Russia and Nato.
This is a specious argument on many levels. Firstly, Putin's constant references to his nuclear weapons arsenal is nothing more than bluster, designed to distract attention away from the humiliating losses Russian forces have suffered on the battlefield.
The Biden Administration's concerns about Russia's nuclear arsenal are nothing more than a red herring , one the White House is using to conceal its reluctance to give the Ukrainians the backing they need to prevail on the battlefield. This reluctance, moreover, no doubt explains Beijing's deciding to provide military support to Moscow, a move that could certainly turn the tide of the conflict in Moscow's favour. China's rulers appear to have reached the conclusion that, as Biden's support for Ukraine lacks conviction, no one is going to stand in the way of Beijing providing military support to Moscow.
The Russian military could certainly do with a lift. The latest Russian assault on the city of Bakhmut in eastern Ukraine, for example, has demonstrated that the Russian forces are taking casualties on a scale not seen since the First World War, as commanders resort to using human wave attacks in their attempts to capture ground from the defending Ukrainians. The result is that piles of Russian corpses are left rotting on the battlefield, many of them former convicts who have been recruited from Russia's prisons to fight with the notorious Wagner Group of mercenaries, which is reported to be leading the offensive to capture Bakhmut. Even so, the sheer weight of numbers the Russian forces have deployed to capture the city has put the Ukrainians under severe pressure, with Zelensky coming under intense pressure to stage a tactical withdrawal from the city to conserve his forces.
With the Ukrainian forces under intense pressure from their adversaries, Kyiv is understandably desperate to secure fresh supplies of weaponry from its Western allies. Moreover, under the terms of the UN Charter, Ukraine is perfectly entitled to acquire weaponry from friendly states to defend its sovereign integrity against outside aggression. There is nothing wrong, per se, with providing Ukraine with Western warplanes, so long as they are flown by Ukrainian pilots.
Another factor the Biden White House needs to take in consideration is that, now that Communist China is willing to supply weapons to Moscow, any misgivings Washington still has about escalating the conflict are no longer valid.
Biden's half-hearted approach to the Ukraine conflict sends entirely the wrong signal to other autocratic regimes such as China. If Ukraine loses this war, it will be a strategic disaster for the West of far greater proportions than the Afghanistan fiasco.
Nor do Biden's arguments that there is no military justification to supply fighter jets to Ukraine hold water. When asked about his reluctance to supply the warplanes in an interview with ABC News, Biden replied that "there is no basis upon which there is a rationale, according to our military now, to provide F-16s."
This position is completely at odds with the more robust approach being taken by a number of European allies which have already put measures in place to begin training Ukrainian pilots to fly Western fighters. British Prime Minister Rishi Sunak has approved advanced fighter jet training for Ukrainian pilots, while both Poland and the Netherlands, whose air arsenals include F-16s, have signalled they, too, are prepared to do the same. French President Emmanuel Macron has also said he is considering providing Kyiv with fighter jets.
If Biden is, as he claims, really serious about supporting Ukraine, then the US needs to take similar action, and begin the process of training Ukrainian pilots to fly advanced fighter jets such as the F-16 in preparation for eventually supplying Kyiv with Western warplanes.
Apart from giving the Ukrainian military a significant upgrade in its war-fighting capabilities, such a move would send a strong signal to the Kremlin and other autocratic states such as China that the West is totally committed to fighting for the cause of freedom.
Con Coughlin is the Telegraph's Defence and Foreign Affairs Editor and a Distinguished Senior Fellow at Gatestone Institute.