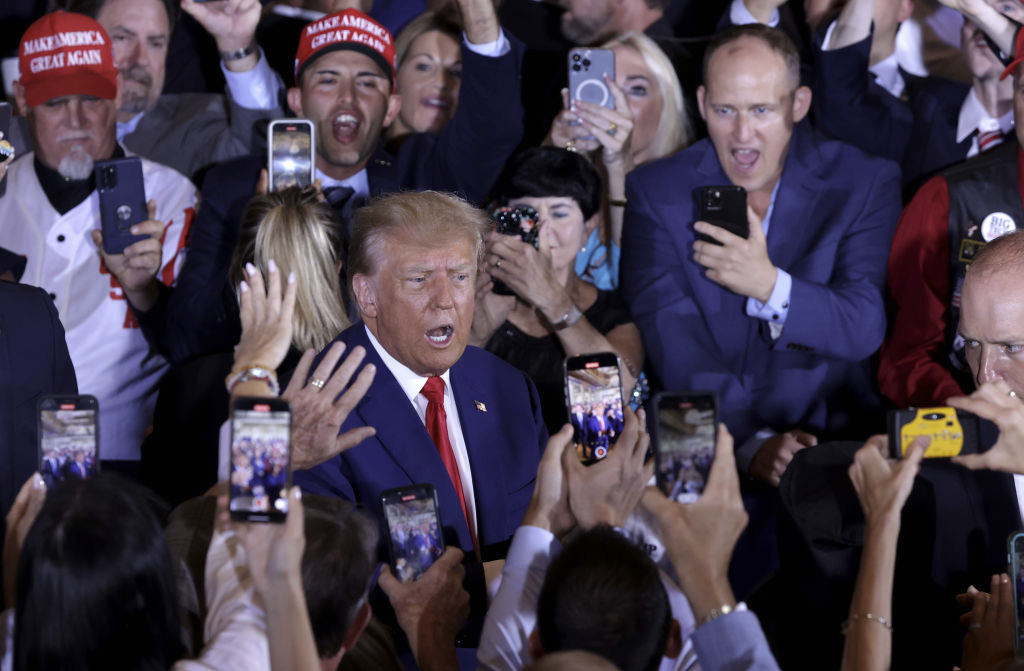 What's a politician to do? Going into a presidential election year, the incumbent president looks to be facing a difficult reelection campaign. Persistently high inflation numbers remain a problem. Energy prices are still up. America's southern border is being overrun with illegal border-crossers and fentanyl. Major bank failures have raised the specter of a banking crisis. There are multiple House of Representatives investigations covering Biden family finances, the weaponization of government agencies, China, and the origins of COVID. For the current administration and its supporters, the answer is as easy as it is familiar: change the subject to Donald Trump. It has been an oppositional go-to foil since Trump dared step onto the political stage in 2016.
The expectations that President Joe Biden would be facing significant headwinds going into the November 2024 election are proving to be accurate. While there is plenty of time for the political narrative to change — and it will — for many in the government hoping to run again, the current situation has to be worrisome.
Fox News reported that a March 23 poll found that Biden's approval numbers had slipped from 45% down to 38%. That is just above his July 2022 all-time low of just 36% approval, which followed inflation peaking at 9.1% in June 2022. "It's the economy stupid," as the expression became famously known during Bill Clinton's presidential election campaign in 1992. On this critical issue, Biden gets a rating of only 31% approval.
While the 2022 midterms failed to develop into the "red wave" Republicans hoped for, and pundits anticipated, there was enough of a ripple to give Republicans control of the House of Representatives. As these same pundits prepare their 2024 predictions, they can look to the election of 1980 when inflation was as high as we experienced in the summer of 2022.
Leading up to the 1980 presidential election, Americans experienced gas lines at the pump, President Jimmy Carter encouraged Americans to wear sweaters so we could save on heating costs by turning down the thermostat, and we had high interest rates to go along with high inflation and unemployment, leading to what eventually was dubbed "stagflation." Carter ending up losing his reelection bid to President Ronald Reagan in a landslide.
Economic uncertainty and consumer anxiety in 1980, and again in 1992, led to the demise of two presidential reelection bids. Biden and the Democrats recognize that on their current trajectory, they might be heading to the same outcome in 2024.
Red lights have to be flashing for the current administration and its supporters: "danger ahead."
Inflation continues threatening to turn into a crushing recession. Iran is reportedly days away from a nuclear-weapons breakout. A Chinese spy balloon just spent a week doing figure-eights over America's most sensitive nuclear sites while transmitting information back to Beijing in real time. Communist Chinese President Xi Jinping is telling his people to prepare for war. And the House Oversight Committee keeps finding more bank evidence that the Biden family appears compromised by foreign payments.
What do the current administration and its supporters do, then? Revert to the tried-and-true playbook of the Trump era and launch the latest "Trump trial" to distract from the administration's challenges. The pattern has been consistent – create a false narrative that is more favorable to themselves and more problematic for whoever is challenging them.
Even as Hillary Clinton and pollsters were anticipating another Clinton presidency in 2016, they began the sinister "Russia hoax" campaign against Trump, to create a narrative that Trump was beholden to Russia. Clinton's former campaign manager, Robby Mook, testified in court that Clinton herself approved sharing information with the media about uncorroborated information linking Trump to Russia. The Clinton campaign and the DNC reportedly financed the "Steele dossier," a now-discredited report, "that included salacious allegations about Trump's conduct in Russia and allegations about ties between the Trump campaign and Russia."
Consider other actions as part of the Trump trials, including two impeachments of Trump; blocking discussion on the Chinese origins of COVID-19 in order to blame him, and discrediting the now-authenticated salacious Hunter Biden laptop as Russian disinformation just days before the 2020 elections.
Where does this lead one? After seeing multiple high-level Democrat operatives from candidate Hillary Clinton herself approving a disinformation operation against then-candidate Trump, her campaign and the DNC reportedly financing the Steele dossier, DNI James Clapper reportedly leaking info on the Steel dossier to the media, Adam Schiff misleading his colleagues about information leading to the first Trump impeachment, and 51 former intelligence officials signing a bogus letter about the Hunter Biden laptop, there should be little surprise that New York County District Attorney Alvin Bragg -- whose campaign was indirectly supported by a million dollars from George Soros while Bragg "promised to put Trump behind bars" -- decided to move forward with what ended up a totally fabricated, politically-motivated indictment of Trump. It did not even fulfill the constitutional requirement for Trump "to be informed of the nature and cause of the accusation" – meaning: Bragg did not even name the supposed federal crime.
Those now in charge will seemingly do almost anything to make the narrative leading up to the election once again about allegations against Trump instead of the geopolitical and economic shortcomings of Biden's policies. If a presidential candidate, a Director of National Intelligence, and a Chairman of the House Intelligence Committee will engage in hyper-partisan political activities under the guise of legitimate government activities, why should we be surprised that a local prosecutor might do the same thing?
Clearly the narrative is already changing. Trump's indictment, the first indictment of a former president in the history of the country, will dominate the news during early April. The media is already acting on cue, going with wall-to-wall coverage of Trump's motorcade and flight to New York, and his arraignment. Ongoing discussions about the risks, perils, and opportunities of a future court trial will become top story.
Trump's fundraising skyrocketed in the immediate aftermath of the indictment news and his poll numbers jumped up too in the Republican primary. Meanwhile, as predicted, 94% of Democrats support Trump's indictment, but the Republican Party is showing some signs of fracturing on the issue.
Republican presidential candidate Asa Hutchinson has called for Trump to withdraw from the 2024 race while the candidate who came in third in CPAC's presidential straw poll, Perry Johnson, indicated he would pardon Trump. Vivek Ramaswamy said Trump's indictment could take the deeply-divided country to the breaking point, and Nikki Haley expressed dismay that the press was again focused on Trump instead of issues at the southern border.
The bottom line is that every Republican potential candidate will have to address the "Trump issue," probably multiple times during the upcoming weeks and months, rather than discussing their solutions and proposals to address the economic and national security concerns gripping Americans today. For the current administration, that is "mission accomplished."
Peter Hoekstra was US Ambassador to the Netherlands during the Trump administration. He served 18 years in the U.S. House of Representatives representing the second district of Michigan, served as Chairman and Ranking member of the House Intelligence Committee and is a Distinguished Senior Fellow at Gatestone Institute.