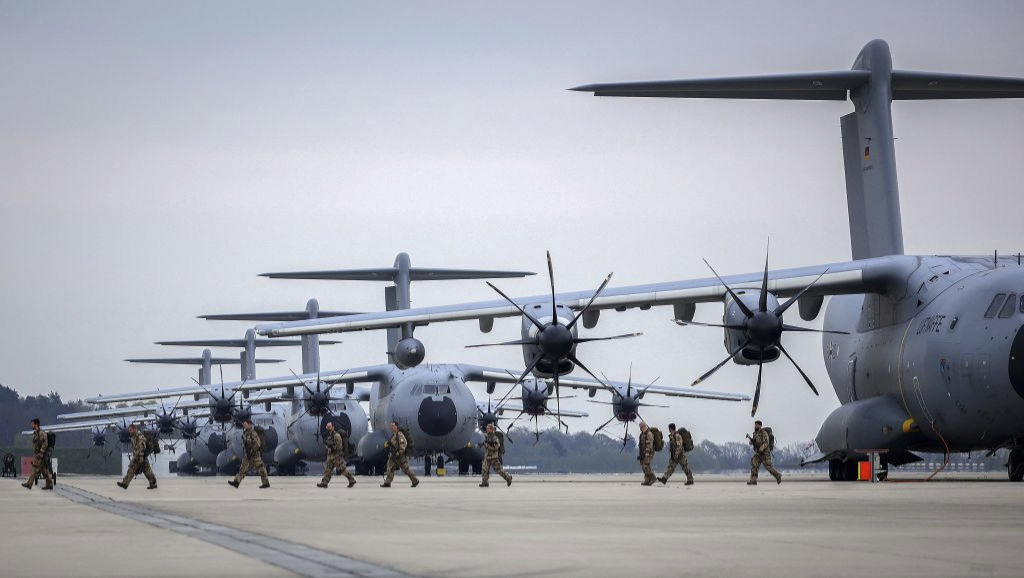 Due to the vacuum of leadership that the Biden administration has left on the global stage, China, Russia and the Iranian regime have become more empowered and emboldened than ever -- a situation that helps the Iranian regime to skirt US sanctions. It also enables the ruling mullahs to gain access to funds and advanced military materiel, empower its militia and terror groups in region, and especially accelerate its race towards acquiring nuclear weapons.
The vacuum of leadership can also now be seen in Sudan conflict. The Biden administration has reportedly abandoned 16,000 US citizens in the country, who were left there to make "life or death decisions".
"I am incredibly shocked and disgusted by the American lackluster response to the health and safety of their citizens," a woman named Muna Daoud, whose parents were trying to get out of Sudan, stated.
"To be honest with you, the State Department was useless, utterly useless throughout this entire period," said a man named Imad, whose parents were also trying to get out of Sudan.
According to a report by Politico on April 12:
"China and Russia are in advanced secret talks with Iran to replenish the Islamic Republic's supply of a key chemical compound used to propel ballistic missiles, diplomats familiar with the matter say, a move that would mark a clear violation of United Nations sanctions and possibly help Moscow replenish its depleted stock of rockets...

"The exact quantity of AP Iran is seeking to purchase isn't clear, but the diplomats familiar with its plans estimate it would be sufficient to build thousands of rockets, including the Zolfaghar missile, which has a range of 700 kilometers and has been used by both Iran and its proxies in the Middle East in recent years. If the deal goes through, some of those rockets could end up being deployed against Ukraine, the diplomats said."
The ruling mullahs of Iran have also become a major exporter of weapons to Russia – and are not limiting themselves to exporting just drones.
On another front, the Chinese Communist Party and the ruling Islamist mullahs of Iran, when it comes to exporting Tehran's oil to China, have been violating US sanctions. During the Biden Administration, Iran and China have become so empowered that, in violation of the U.S. law and individual freedoms and rights, they are increasingly employing repression on American soil.
Recently, for example, the FBI arrested two men, both US citizens, for allegedly operating a Chinese "secret police station" in Manhattan's Chinatown district. Safeguard Defenders, a human rights organization based in Europe, was among the publications reporting the existence of dozens of Chinese police "service stations" in major cities around the world, including New York and "at least 6 more cities."
According to Assistant Attorney General Matthew G. Olsen of the Justice Department's National Security Division:
"These cases demonstrate the lengths the PRC government will go to silence and harass U.S. persons who exercise their fundamental rights to speak out against PRC oppression. These actions violate our laws and are an affront to our democratic values and basic human rights."
The Iranian regime also hired people to assassinate senior US officials on American soil and attempted to kidnap a journalist.
"A lot of these are new tactics and lines that are being crossed that we have not seen China and Iran do on U.S. soil in previous investigations," one FBI counterintelligence official stated.
"We've really seen an inflection point in the tactics and tools, and the level of risk and the level of threat that have changed over the past few years," another said.
According to the FBI:
"When foreign governments stalk, intimidate, or assault people in the United States, " , "it is considered transnational repression. It is illegal...

"Transnational repression may take the following forms:

Stalking
Harassment
Hacking
Assaults
Attempted kidnapping
Forcing or coercing the victim to return to the home country
Threatening or detaining family members in the home country
Freezing financial assets
Online disinformation campaigns"
"You're witnessing a vacuum of leadership on the global stage, largely owing to the failed policies of the Biden administration," former Vice President Mike Pence noted in an exclusive interview with radio host John Catsimatidis on WABC 770 AM on March 23.
"[Y]ou had President Xi in Moscow with Putin earlier this week, you have a China negotiating relations and some sort of normalization between Saudi Arabia and Iran is all evidence of a vacuum that's been created...

"It's a vacuum of American leadership. It's one of the reasons why we need strong bold leader, we're the leader of the free world. And if America is not leading in the free world, the free world is not being led."
The vacuum that the Biden administration has left across the world as well as a result of its failure to lead is not only effectively handing the US over to China, Russia and Iran; it is also apparently viewed by these rogue states as a green light to act in whatever malign way they want.
Russia is taking over Sudan, reportedly for its gold and to build a port that will be able to block shipping through the Suez Canal. Iran's ruling mullahs have reportedly poisoned "hundreds of schoolgirls" to try to discourage them from receiving an education. Last week, another oil tanker was seized in the Gulf of Oman; and an interrogator recently broke the kneecaps of a 70-year old grandmother, a political prisoner serving 10 years in prison.
Why is United States leadership allowing this monstrous Iranian regime to acquire nuclear weapons?
Dr. Majid Rafizadeh is a business strategist and advisor, Harvard-educated scholar, political scientist, board member of Harvard International Review, and president of the International American Council on the Middle East. He has authored several books on Islam and US Foreign Policy. He can be reached at Dr.Rafizadeh@Post.Harvard.Edu