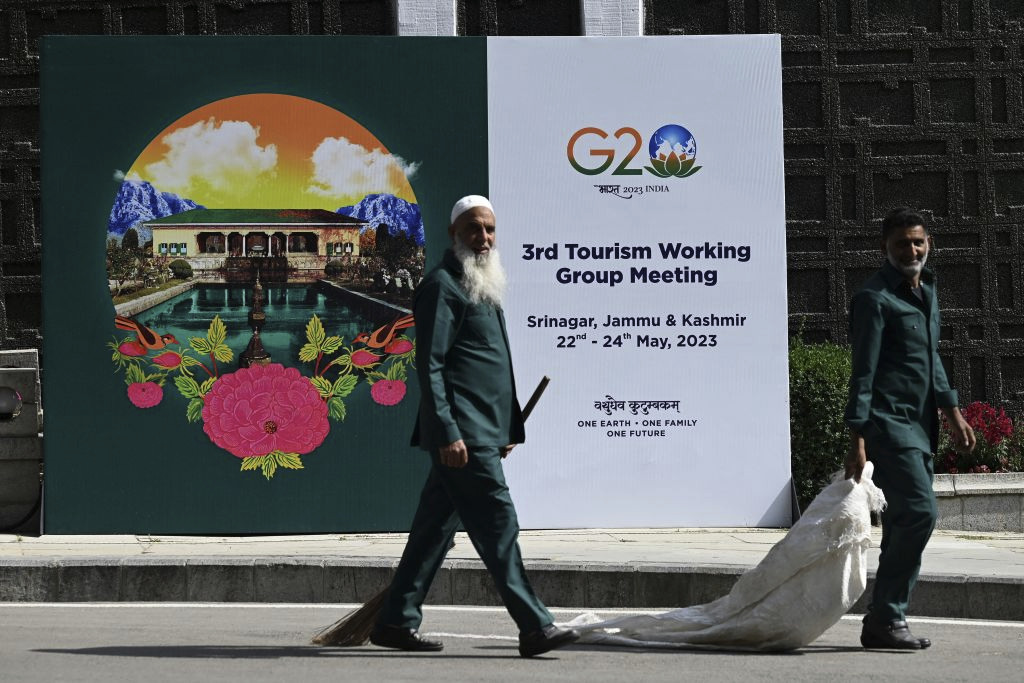 When India hosted a key G20 conference in Srinagar, the capital of the Jammu and Kashmir Union Territory of India, on May 22 and 23, even though the conference was reportedly attended by around 122 delegates, including 60 foreigners, it was boycotted by Pakistan as well as its longtime allies, China and Turkey.
Pakistan called the meeting "illegal." Jammu and Kashmir is an integral part of India, but it is claimed by Pakistan, which has violently targeted the region through terror groups. Hundreds of people therefore rallied in the Pakistan-occupied area of Kashmir to protest the meeting.
Three G20 member countries (China, Saudi Arabia and Turkey) as well as two guest-countries invited by India (Egypt and Oman) were among those that did not send delegations. However, three Muslim countries did attend the meeting: Indonesia, United Arab Emirates (UAE) and Bangladesh.
During the meeting, India showcased its development work in the region, as well as the tourism potential of the Jammu and Kashmir. The International Centre for Peace Studies in New Delhi reported that prior to the conference, Pakistan attempted to undermine the event:
"Since May, secessionists supported by Pakistan have made persistent efforts to undermine the forthcoming G-20 event. In the border area of Poonch in the Jammu division, armed individuals following instructions from across the border have posed a threat to regional peace for over two weeks.

"The terrorist attack in Poonch resulted in the loss of five soldiers, with one terrorist neutralized and others still being pursued. Additionally, local sympathizers have been apprehended by the security forces."
Kashmir, historically, is Hindu and Buddhist. For thousands of years, until the 14th century when Islamic invaders from Central Asia took control, it had a population that was majority-Hindu and Buddhist. Today, it is majority-Muslim. The history of the Islamization of indigenous non-Muslim populations of Kashmir is similar to that of the Middle East and North Africa: native non-Muslim peoples were first conquered by Islamic armies and then subjected to discrimination and persecution, which led to either death, conversion to Islam or departure/flight.
As the Hindu American Foundation notes:
"Ancient Kashmir was renowned as a center for Hindu and Buddhist learning and was ruled by Hindu kings until 1339. Hindus indigenous to the Kashmir Valley, known as Kashmiri Pandits, are the original inhabitants of Kashmir and have a unique ethno-religious culture that dates back more than 5,000 years.

"Following waves of Islamic invasions, numerous foreign origin Muslim rulers occupied Kashmir until 1819. Under Muslim rule, Hindus faced periods of persecution resulting in several mass migrations from Kashmir. Sikhs gained control over the region in 1819 and ruled Kashmir until 1846, followed by the Hindu Dogra (an ethnic group native to the Jammu region in the state) reign from 1846 to 1947."
When the British partitioned India into two countries, India and Pakistan, in 1947, princely states such as Kashmir had the option of choosing to join secular India or Islamic Pakistan. After Pakistan's armed forces invaded Kashmir in 1947, the Princely State of Kashmir, ruled by the Dogra King Hari Singh at the time of partition, joined the Indian Union
In 2019, the government of India abrogated Articles 370 and 35A of India's Constitution, thereby bifurcating Jammu and Kashmir into two new Union Territories (UT): one for Jammu and Kashmir, and one for Ladakh. Pakistan and China occupy other parts of Kashmir.
The current population of Jammu and Kashmir is more than 12 million and Ladakh's is over 270,000. Pakistan-occupied Kashmir (including Gilgit-Baltistan) has an estimated population of 6 million people. Due to killings and forced conversions, there are no Hindus remaining in Pakistan-occupied Kashmir, although it is still home to ancient Hindu sacred sites.
The anti-Hindu violence culminated in 1989-1990 when Pakistan-sponsored insurgents carried out an ethnic cleansing campaign against the approximately 95% of the Hindus living in the Valley of Kashmir.
"Thousands of Hindus were killed, more than 30,000 homes, businesses, and places of worship destroyed or occupied. Approximately 350,000 Hindus were forced out of the region on threat of death. To this day they've largely been unable to return to their homes."
In November 1998, Shri C.L Gadoo, President of the Kashmiri Samiti, delivered a speech at the British House of Commons in London on the Kashmir issue, noting the population collapse of indigenous Hindus as a result of Muslim extremism supported by Pakistan. He stated:
"We are members of the Kashmiri Pandit community which is a microscopic ethnic minority in the state of Jammu and Kashmir... Our ethos, culture and heritage are sought to be completely destroyed by the terrorists, materially and morally helped by Pakistan...

"This community was reduced to minuscule minority by cultural aggressions in the past and, therefore, in 1947, according to census figures, the population of this community was 15%, in 1981 5%, in 1991 .01% and today a big 99.9% of this community (about 350,000) population has been forced to flee Kashmir. These 350,000 Kashmiri Pandits live in abysmal/appalling conditions, 'as refugees', in camps in Jammu and Delhi. This mass exodus of 1990 was followed by sustained terror, rapes, murder, loot and kidnappings....

"As a result of this carefully drawn-our strategy and plan of ethno-religious cleansing of Kashmin Pandits by the armed insurgents, this community is today scattered, devastated and disintegrated. It is living in sub-human conditions in more than 50 refugee camps in different parts of India."
The abrogation of Articles 370/35A in 2019 by the government of India therefore aimed to create conditions for resettling the displaced Kashmiri Pandits in Kashmir, their ancestral homeland, after being ethnically cleansed more than 30 years ago.
Meanwhile, Pakistan remains a major sponsor of global terrorism. The Counter-Extremism Project reports:
"The Pakistani state itself has also used Islamic extremism as a strategic tool to further its interests in the region.

"Several Pakistan-based extremist groups, including Lashkar-e-Taiba (LeT), Jaish-e-Mohammed (JeM), Harakat-ul-Mujahideen (HuM), and Hizb-il-Mujahideen (HM), conduct attacks on Indian targets in the Indian state of Jammu and Kashmir, which makes up 45 percent of the overall Kashmir region.

"Lashkar-e-Taiba (LeT) is a Sunni militant group that was founded in 1990 in Afghanistan's Kunar province and is currently based near Lahore, Pakistan. LeT seeks to refute Indian sovereignty in Jammu and Kashmir... and to extend Islamic rule to parts of India and to other regions surrounding Pakistan. It is active in Kashmir, Chechnya, and other parts of Central Asia. LeT leader Hafiz Muhammad Saeed has stated that he considers India, Israel, and the United States to be his prime enemies, and has threatened attacks on U.S. interests."
Many moderate Muslims of Kashmir, nevertheless, strive for deradicalization of the extremist members of their society and peaceful co-existence with Hindus and other non-Muslims.
Yana Mir, editor in chief of The Real Kashmir News and vice president of the All Jammu and Kashmir Youth Society, said:
"The Indian government has been successful to a large extent in stopping Kashmir in becoming yet another Afghanistan where women are suppressed for their rights to marry whoever they choose to and where minorities from religions other than Islam are harassed or shot or lynched. The Indian government has successfully stopped Kashmir from becoming another Pakistan where girls from minority communities are forced to marry older Muslim men or where one sect of Muslims, namely the Sunnis, are free to violently attack other sub-sects of Muslims like the Shia, Hazaras and Ahmadi Muslims."
Aditya Raj Kaul, a Delhi-based journalist, added:
"[T]here is strong consensus among these Kashmiri Muslim activists that an inclusive, democratic Kashmir will require the eradication of radical ideologies that have infiltrated the valley over the past 30-40 years, as well as the safe return of the Kashmiri Hindus who have been living in exile."
Jihad is a global threat targeting the entire international community. For the safety and stability of the region and beyond, it is crucial not to let jihad succeed. India's sovereignty over Kashmir and the international community's support for hosting international events, as well as tourism in Kashmir, are critical for the global fight against terrorism. It is also beneficial to the residents of Kashmir – particularly women, peaceful Muslims, indigenous Hindus and other non-Muslim minorities.
Those countries that oppose Kashmir as part of India and attempt to dissuade international events such as the G20 conference to promote tourism are hardly advocating the establishment of a secular, pluralistic democracy in Kashmir.
Their goal, rather, is to create an Islamist state in Kashmir where women, religious minorities, and moderate Muslims would be persecuted – just as in anyplace else taken over by Islamic theocracy.
Such a state would also be a center of terrorism and instability in the wider region. The civilized world needs to support India's sovereignty in Kashmir against foreign interference from oppressive states -- such as China, Turkey and Pakistan.
Uzay Bulut, a Turkish journalist, is a Distinguished Senior Fellow at the Gatestone Institute. She is also a research fellow for the Philos Project.