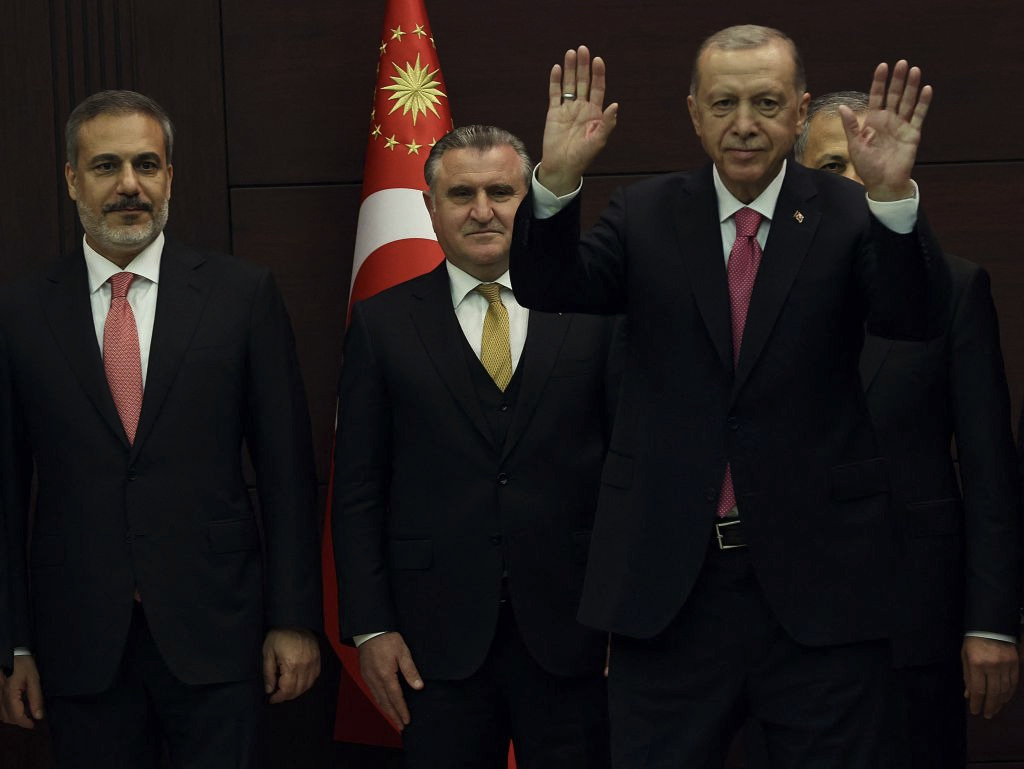 As Turkey's post-election dust is settling down, the international community has turned its attention to two key appointments announced by President Recep Tayyip Erdoğan, who on May 28 won his 17th election victory in 21 years, and entered his third decade in power.
Turkey's two key appointments are new foreign minister and former intelligence chief, Hakan Fidan; and the newly-appointed intelligence chief, Ibrahim Kalın, also an Erdoğan confidant.
Both men have interesting and impressive careers. How both of them have become the only two people who make policy and share power with Erdoğan is illuminating, especially where their careers intersected under the president.
The enigmatic Hakan Fidan
Fidan, born in Ankara in 1968, served the Turkish Army's Land Forces Command as a non-commissioned officer. He worked at NATO's Rapid Reaction Force in Germany. His thesis was titled, "A Comparison of the UK, US and Turkish Intelligence Agencies." After he abruptly quit his army career in 2001, he worked at the Australian Embassy in Ankara as a political and economic analyst -- a curious entry in his bio. It is not usual in Turkey, however, that a non-commissioned officer joins an embassy with almost no political and military ties with Turkey.
Fidan's first fully political appointment came in 2007, when he was named as deputy undersecretary to then Prime Minister Erdoğan. Three years later, he became the deputy director of Turkey's National Intelligence Organization (MIT). Just a month after that, Erdoğan appointed him as director of MIT. At the time, Fidan was 42, the youngest ever Turkish official occupying this office.
Before he took over MIT, the agency operated without a division between foreign and domestic intelligence operations. His first task was to separate those departments, a revolutionary move for the agency. In the entire history of the MIT agency, its task was to fight enemies abroad and within. There was no differentiation between espionage work in, say, Germany or Istanbul. MIT officers were expected to be intelligence experts, knowing, for instance, both Afghanistan and southeastern Turkey. Fidan's move drew a line between foreign and domestic operations.
Fidan, a shadowy character with minimal public appearances, has never ceased to be at the center of domestic and foreign policy controversies. In 2010, Israel's then Defense Minister Ehud Barak called him "a man who supports Iran." Barak said he feared that under Fidan, MIT would share with Iran sensitive intelligence regarding Israel. In 2020, the Israeli newspaper Makor Rishon wrote that "Fidan was a twin of [Iranian terrorist] Qasim Soleimani, and a conspiracy theorist."
In 2009, Fidan was part of a Turkish delegation that held rounds of peace talks, brokered by Norway, with the Kurdish separatist PKK. Audio recordings of these talks were leaked to the media in 2011.
In 2015, Fidan resigned as MIT chief to run for parliament on Erdoğan's AKP party list. Erdogan did not endorse the move and said he was offended by Fidan, who then tendered his resignation from MIT and returned to his seat.
In 2013 his name once again appeared in headlines. First when an audio recording was leaked to the media, allegedly by followers of the exiled Islamic preacher Fethullah Gülen, with full minutae of a meeting between Turkey's foreign ministry undersecretary, Fidan, Foreign Minister Ahmet Davutoğlu and military chief General Yaşar Güler – the latter having been appointed as defense minister in Erdoğan's new cabinet. During that meeting, Fidan told the others that if they decided to go to war with Syria he could easily arrange a false flag operation: "Easy for me. I can send four men into Syria, they send eight missiles [into Turkish soil], and there you go."
Later in the same year, prosecutors (allegedly followers of Gülen) mobilized Gendarmerie forces to stop and search trucks on their way to Syria. The trucks belonged to or were commissioned by MIT. Their cargo contained loads of arms, ammunition, explosives and medical supplies. The trucks were destined to deliver their cargo to jihadists fighting in Syria.
The Erdoğan government immediately put a media ban on related news and sacked the prosecutors and Gendarmerie officers involved in the scandal on the usual charges that they were Gülen followers.
In his first public speech as foreign minister, Fidan said his mission will be to pursue an independent and national foreign policy. As a matter of fact ,Turkey's foreign policy calculus had invariably been devised and recalibrated by three men: Erdoğan, Fidan and Kalın, with the previous foreign minister, Mevlüt Çavuşoğlu, merely following orders and working like a secretariat officer.
Fidan's appointment as foreign minister formalized a de facto situation. Fidan will probably have greater independence in foreign policy formulation. He will probably pursue a less explosive rhetoric than his predecessors.
Kalın: An Islamist Intellectual at the Helm of MIT
Kalın, like Fidan, has been Erdoğan's close confidant, especially in matters of foreign policy. During his university studies, Kalın often appeared in pro-Islamist student demonstrations. According to Wikileaks, he worked for Stratfor under the code name TR-306. Stratfor's G. Friedman would later describe him as "this man is a great source."
Between 2002 and 2005 he studied at the College of Holy Cross where he focused on philosophy, Islamic thought and international relations. Back in Ankara he formed the pro-Erdoğan think tank SETA. In 2007, he released his book, Islam and the West. SETA has since become a fertile ground for most prominent Erdoğan confidantes, Kalın, the president's communications director Fahrettin Altun, and Burhanettin Duran, a member of Erdogan's Security and Foreign Policy Board.
Kalın has piled up quite a rich volume of intelligence experience. In his recent professional years, he passed literally hundreds of hours with former spymaster Fidan and Erdoğan. The appointments mark formalizing executive cabinet jobs for two most important men in Erdoğan's most inner circle.
Burak Bekdil, one of Turkey's leading journalists, was recently fired from the country's most noted newspaper after 29 years, for writing in Gatestone what is taking place in Turkey. He is a Fellow at the Middle East Forum.