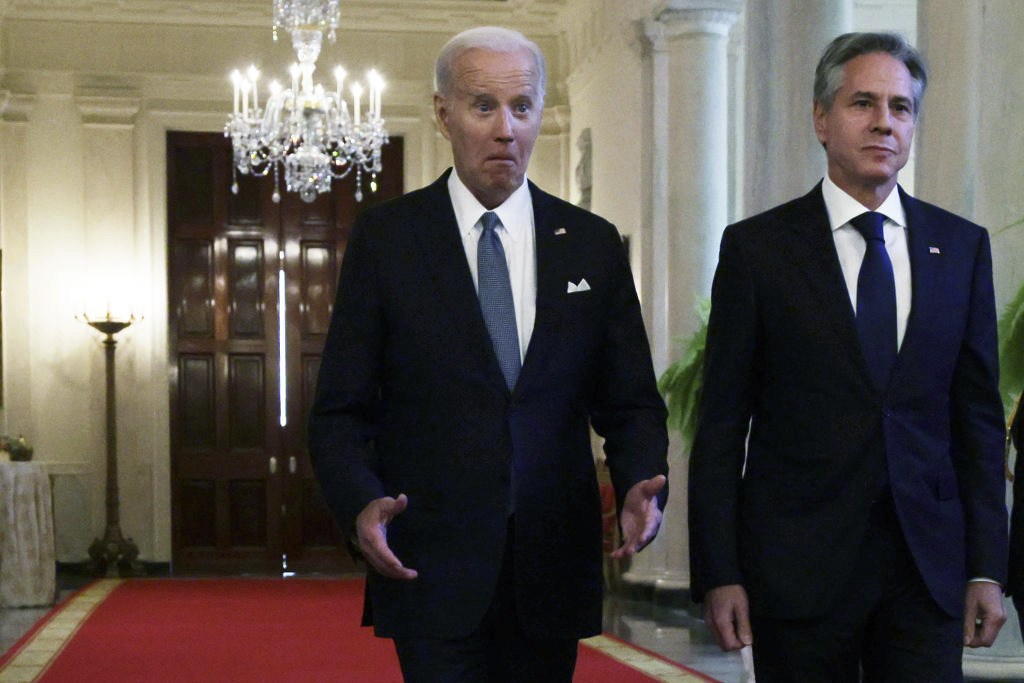 In the war of words over Israel's judicial reform, irrespective of the rights and wrongs of the disputants, the word "democracy" appears to have suffered a bit of a roughing-up.
Thomas Friedman, New York Times columnist, proclaimed that "Only Biden Can Save Israel Now." Meanwhile President Joe Biden and Secretary of State Antony Blinken have extend their not-so-clandestine attacks on the proposed reforms of Israel's judiciary – and intruded, uninvited, into the internal affairs of a fellow democracy -- right on the heels of a free, fair and uncontested election. Friedman wrote in his open letter to Biden:
"... Mr. President, this Jewish democracy urgently needs another airlift to save it from being destroyed from the inside. It needs an urgent resupply of hard truths — something only you can provide.... something very important could break in Israel and in our relationship with Israel. And once it's gone, it will never come back."
First of all, Israel's election was the product of "Jewish democracy." Unfortunately it seems to have delivered a result the Biden Administration did not like. What was the democratic response from Biden Administration? It repeatedly called for and helped fund what some may call a slightly undemocratic attempted coup d'état to remove the newly elected prime minister and his government until Israel can come up with one that the Administration likes better. As former National Security Advisor Ambassador John Bolton dryly tweeted:
"For both America and Israel, Biden was wrong to intervene in the debate over Netanyahu's proposed judicial reforms. US officials who are real friends of Israel should contribute their thoughts quietly, otherwise, Israeli officials may start commenting on Hunter Biden's plea deal. "
So, the Biden Administration delivered an "either-or" threat: stop the judicial reform or break our special relationship. The break had actually already begun with President Barack Obama, who became quixotically committed to a policy to finance and enable Israel's self-declared arch-enemy -- "Death to Israel" should probably qualify one as an arch-enemy -- unlimited nuclear weapons, billions of dollars to manufacture them; ballistic missiles to deliver them, and loose change for Iran's mullahs to continue "exporting" their Revolution into Yemen, Syria, Iraq, Lebanon, the Gaza Strip and Latin America.
"We are five days away from fundamentally transforming the United States of America," then-presidential candidate Barack Obama declared a few days before the 2008 presidential election, somehow neglecting to say what he was planning to transform it into. The most generous assessment might include putting the incumbent party's justice system on par with some of Latin America's finest.
In the latest outrage, Biden's Department of Justice has acted both as Hunter Biden's prosecutor and his defense team, according to former Director of National Intelligence John Ratcliffe:
"... the lawyers were all on one side, and they were all working to help Hunter Biden. The were all working to hide a blanket immunity agreement from the judge..."
That is how desperately the White House needed that plea agreement to go through. Why? As Douglas Schoen explained, Hunter Biden's problems are now Joe Biden's.
The president appears to have turned America's system of justice into a family protection syndicate. Biden Administration officials also appear to have turned the Department of Justice and the Federal Bureau of Investigation against the American people -- such as parents and Roman Catholics who might not agree with them.
Biden Administration officials also appear to have done even more than that. FBI agents, in an illegal "state action," attempted an end-run around the First Amendment, dishonestly colluding with Facebook and other tech companies to censor news reports about Hunter Biden's 2020 election-altering "Laptop from Hell."
Team Biden, in the person of Antony Blinken, had reportedly called Mike Morell to get what ultimately turned out to be 51 former intelligence officials to sign a letter falsely alleging that the Hunter Biden laptop had "all the earmarks of a Russian intelligence operation." That letter, it turned out, was the real disinformation.
It was countered immediately on Fox Business by former Director of National Intelligence John Ratcliffe. "Let me be clear," Ratcliffe said, "the intelligence community doesn't believe that because there is no intelligence that supports... that Hunter Biden's laptop is part of some Russian disinformation campaign. It's simply not true."
A day or so later, Biden waved the letter during his October 22, 2020 debate with Trump, and dismissed his son's laptop as a "Russian plant." Most media outlets went with the lie. Tech companies, apparently at the request of the White House, blocked the story. The outcome – apart from a Biden presidency? Blinken was subsequently rewarded with the post of Secretary of State supposedly for helping Biden get fraudulently elected.
What it all comes down to is that one party seemingly decided that Obama's promise to radically transform America was too important to trust to the electorate.
Now Blinken and Biden are supposedly qualified to give Israel's coalition government a lecture on judicial probity and democracy?
"[A] vast majority of Israelis believe — rightly — that you are a true friend and that your advice came from the heart," wrote Friedman from the bottom of his heart. What is more immoral: telling lies or covering up lies? That is for the editors of the New York Times and their Biden mouthpiece to answer, from the bottom of their hearts.
Steve Apfel, an author of non-fiction and fiction, blogs at Balaam's Curse. His new novel, What Man Proposes, is serialized at Substack.