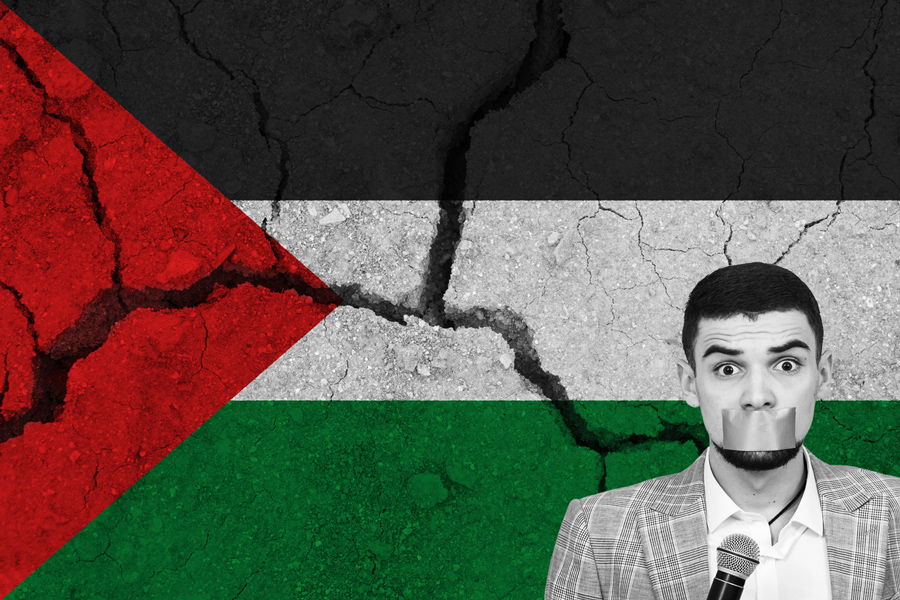 The past few days have again shown that the Palestinians' two governments – the Palestinian Authority in the West Bank and Hamas in the Gaza Strip – are doing their utmost to silence and intimidate Palestinian journalists who criticize them or report about their repressive measures and financial corruption. It is no secret that the Palestinians do not have a free media. The media in the West Bank and Gaza Strip is controlled by the Palestinian Authority and Hamas.
The Palestinian Authority and Hamas evidently want Palestinian journalists to serve as mouthpieces for their corrupt and undemocratic governments. They do not tolerate any form of criticism. Any Palestinian journalist who does not comply with their wishes is beaten, arrested or thrown out of his or her job. The Palestinian Authority and Hamas apparently want Palestinian journalists only to serve as foot soldiers for the Palestinian government and people.
This fierce crackdown on Palestinian journalists, however, is ignored by the mainstream media in the West. When Palestinian journalists are brutally attacked, where is the outrage of foreign journalists? Their outrage seems reserved only for stories that reflect negatively on Israel.
If the attacks on Palestinian journalists were being carried out by Israeli soldiers, The New York Times, The Washington Post and CNN would have dispatched teams of investigative reporters and "experts" to report Israel's "atrocities."
That is what these three American media outlets did regarding the tragic case of Shireen Abu Akleh, an Arab Christian correspondent for the Qatari-owned, Muslim Brotherhood-affiliated Al-Jazeera TV station, who was killed while covering armed clashes between Israeli troops and Palestinian gunmen in the city of Jenin in the northern West Bank. All three media outlets were obsessed with the case of Abu Akleh because they were trying to implicate Israel, even though there was no conclusive evidence that she had been hit by an Israeli bullet.
While the case of Abu Akleh caught the attention of many Western media outlets, no one appears to care about the condition of Palestinian journalists living and working under the Palestinian Authority and Hamas. In addition to fierce physical assaults, Palestinian journalists also have their cameras and mobile phones confiscated by security officers belonging to the Palestinian Authority and Hamas. Sometimes the cameras and phones are returned after the security officers remove all the information they want, sometimes not.
The Palestinian Authority and Hamas have been at each other's throats ever since 2006, when Hamas won a Palestinian parliamentary election. In 2007, the rivalry between the two parties reached its peak when Hamas staged a violent coup against the Palestinian Authority and seized control of the entire Gaza Strip.
The Palestinian Authority and Hamas do have one thing in common: the fear of an independent and free media. That is why they are sending their security officers and thugs to arrest and beat up Palestinian journalists.
On August 3, a video posted on social media featured Palestinian Authority officers in plainclothes severely beating Palestinian journalist Nidal Al-Natsheh and destroying his camera in the city of Hebron. His crime: he tried to report about a protest by university students against human rights violations committed by the Palestinian Authority.
On August 6, Palestinian journalist Ali Al-Samoudi was injured when Palestinian security forces opened fire at a group of Palestinians in Jenin. Al-Samoudi was reporting on Palestinians who were celebrating a terror attack in Tel Aviv that was carried out by a Palestinian terrorist. The Palestinian Authority was apparently worried that scenes of Palestinians rejoicing over the murder of a Jew (a municipal patrolman killed in the attack) would expose the Palestinians' glorification of terrorists and support for the murder of Jews.
Another journalist injured during the incident was Mohammed Abed. He reportedly sustained a direct hit from a tear gas canister fired by Palestinian security officers. The Palestinian Quds News website, where Abed works, condemned "recurring assaults and the intentional targeting of journalists" by the Palestinian Authority.
On July 31, Palestinian Authority security officers arrested journalist Sami Al-Sa'i at his workplace in the city of Tulkarem, also in the northern West Bank. Al-Sa'i has been arrested a number of times for allegedly criticizing the Palestinian Authority on social media. Because of his repeated incarcerations, he has been unable to find work in the local and foreign media. Recently, to support his family, he has been selling juice on the streets of Tulkarem.
On July 17, Palestinian Authority security forces arrested journalist Akil Awawdeh, also for critical posts on social media. Hours before his arrest, Awawdeh had ridiculed the Palestinian security forces' spokesperson for stating the Palestinian Authority does not arrest people because of their political affiliation.
This past week, Hamas security officers attacked and detained several Palestinian journalists trying to report on widespread protests against Hamas in the Gaza Strip.
The Palestinian Journalists Syndicate (PJS) said the Hamas officers threatened the journalists and prevented them from covering the protests. It said that journalists Mohammed Al-Baba and Bashar Taleb were taken to a Hamas police station where they had their cameras and mobile phones searched and confiscated. The PJS named a number of other journalists also detained and threatened by Hamas security forces and militiamen: Ehab Fasfous, Fouad Jaradah, Mohammed Abu Awn, and Mohammed Haddad.
If Palestinians think that the Palestinian community, including their Western colleagues, care about their predicament, they are painfully mistaken. Many in the international community who pretend to be "pro-Palestinian" do not really care about the Palestinians at all, or about the too-many-to-count vicious human rights violations committed against them every day. They only care about one thing: bash Israel.
When the Palestinian Authority and Hamas beat and arrest Palestinian journalists, the United Nations and so-called human rights organizations look the other way. Western journalists covering the Israeli-Palestinian conflict and Western universities are no better.
These journalists appear so obsessed with reporting on Israel's "crimes" – real or imagined – that, presumably to avoid casting the Palestinians in a bad light, they painstakingly avoid any story that might reflect negatively on the Palestinian Authority or Hamas. By doing that, however, the international community and media are, in reality, doing endless harm to the Palestinian people, who are then forced to continue suffering, without a murmur of help from anyone, under the repressive and undemocratic regimes of the Palestinian Authority and Hamas.
Bassam Tawil is a Muslim Arab based in the Middle East.