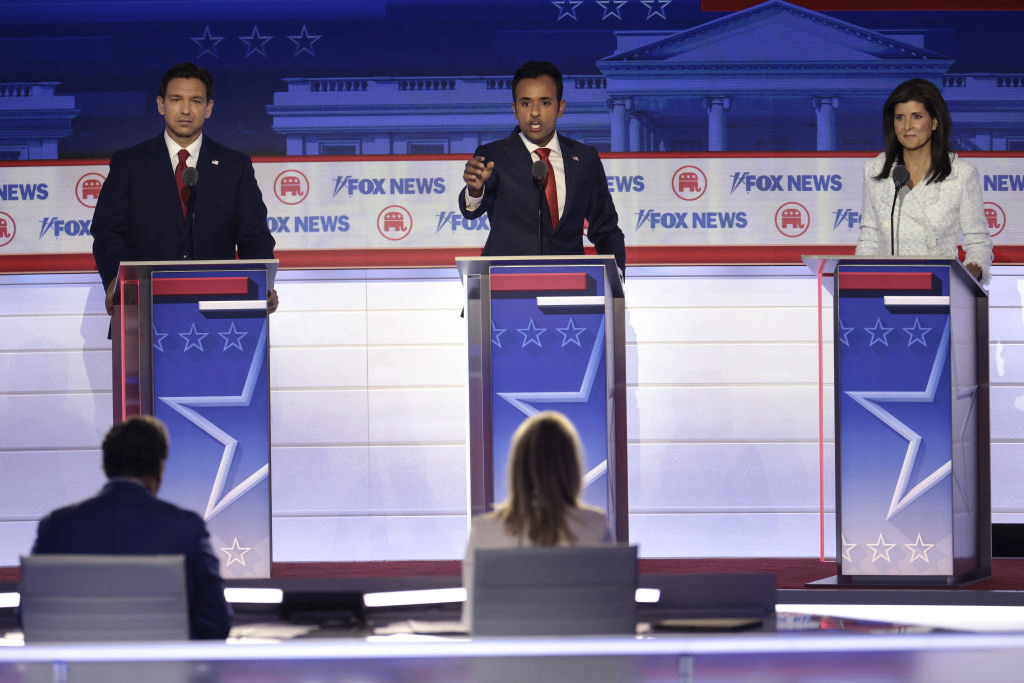 American politicians who are calling for decreasing US aid to Israel are apparently unaware of the dangers and challenges Israel has been facing since its establishment in 1948. In recent years, Israel has been facing a new wave of terrorism, funded and orchestrated by Iran's mullahs and their Palestinian proxies, Hamas and Palestinian Islamic Jihad (PIJ).
Israel's enemies are especially disturbed by the strong bond between Israel and the US. They do not want to see the US providing any financial and military aid to Israel because that hinders their plan to murder Jews and annihilate Israel.
When people such as Vivek Ramaswamy, a candidate for the Republican Party nomination in the 2024 US presidential election, call for decreasing aid to Israel, they are actually sending a message of support to the mullahs in Tehran and their proxies, Hamas and PIJ, as well as the Iran-funded Hezbollah terrorist militia in Lebanon and to nations that would like to see Israel and America "out of the way."
For Israel's enemies, statements such as "cutting aid" are a sign that America is about to throw Israel under the bus, paving the way for them to proceed with their plan to destroy Israel.
The timing of Ramaswamy's call for cutting US aid to Israel could not have been worse. It came at a time when Jews are being murdered by Palestinians on an almost weekly basis. The terrorists are waging their campaign of murder because they want to drive all Jews out of Israel. The terrorists are undoubtedly happy to hear a Republican candidate talk about decreasing aid to Israel. They are hoping Israel will be made weaker. With less US backing, it will be easier to destroy.
The terrorists and others have, even more, long been seeking to end US "hegemony" in the Middle East. They consider the US an enemy of Arabs and Muslims and dictators everyplace. Ending US aid to Israel would not just be the first step toward undermining Israel, it would also be the first step to ending US influence in the Middle East -- the way then US President Barack Obama's abandoned Syria -- the best gift the US could ever give to Iran, Russia, China, Turkey, Qatar, Iraq, Lebanon, Syria, Pakistan, Algeria, Afghanistan, Sudan, Somalia and on and on.
Ramaswamy probably does not know that the terrorists and their families are proud of their attacks against Israel. He and other Americans who are seeking to cut US aid to Israel are, sadly, dupes serving not only the enemies of Israel but the enemies of freedom and the United States. Freedom is what terrifies every despot the most, and it is this freedom that the United States promises and protects.
The terrorists who want to destroy Israel also want to destroy the United States -- for supporting exactly those freedoms both countries embrace, and which their detractors falsify as "biased."
If Ramaswamy wants to learn about the Palestinian campaign to murder Jews and eliminate Israel, he does not even need to look at how Palestinians rejoice and pass out sweets over the murder of innocent civilians. He only has to see how the Palestinian Authority, under the leadership of Mahmoud Abbas, incentivizes the Palestinians' "Pay to Slay" program by rewarding the families of those who murder Jews with more than $300 million a year (see also here, here, here and here). According to NGO Monitor:
"Instead of prioritizing social programs and economic development, the PA rewards and encourages this violence, spending more than $300 million a year incentivizing murder. This "pay to slay" policy, funded by the UN, EU, and many governments, rewards those who commit violence (including children) with cash payments. The greater the crime and the more victims injured or killed, the more money received. This campaign targeting children begins from birth and continues throughout childhood and the teenage years. It takes place through state media, schools (including those run by UNRWA), youth groups and centers, and sporting and cultural events in both the West Bank and Gaza."
Right after the arrest of two Palestinian terrorists, Mohammed and Saqer al-Shanteer, cousins who shot to death Batsheva Nigri, 42, a preschool teacher and mother of three, in front of her daughter last week, Mohammed al-Shanteer's father gave an interview to the Palestinian Quds News Network, saying:
"According to our faith and religion, we consider this [shooting attack] a Jihad operation, and we are proud of it. All fathers wish they had a son like mine, Mohammed, and a nephew like mine, Saqer. We are proud of our sons. We are not ashamed of them."
This father is not the first Palestinian parent to express pride in the involvement of his family in terrorist attacks against Jewish civilians or soldiers. According to the family, the murder of Nigri is an "act of Jihad" (holy war) that brings pride not only to the family, but to all Muslims.
The goal of the Jihad is not just to murder Jews, but to drive them out of their only homeland, Israel. Muslims, by contrast, enjoy more than 20 countries that are officially Islamic, as well as 57 members of the Organisation of Islamic Cooperation (OIC).
Moments before the terrorists were arrested, while Israeli soldiers were surrounding their house, their family quickly documented them in a video. "Allahu Akbar! [Allah is the greatest]... Victory for Islam... Those who came to arrest me [Israelis] will be defeated, God willing! They will be expelled from this blessed land," Mohammed al-Shanteer says in front of his weeping mother, who replies with the Islamic battle cry, "Allahu Akbar!"
The video has been widely shared on social media, where many Palestinians have voiced support for the terrorist and his family. In some posts, al-Shanteer is hailed as a "hero" and likened to a lion.
Al-Shanteer's father is right: the campaign of terrorism is part of a Jihad against Israel that aims not to end the "occupation," but to wipe Israel off the face of the Earth. As the Kuwaiti-Palestinian academic Sami Al-Arian openly stated on Al Jazeera on July 30: "[T]he Palestinian cause is not about creating a [Palestinian] state... [our] greatest strategic goal is to dismantle the State of Israel... "
Al-Shanteer's family does not live in a refugee camp or an impoverished neighborhood, but in a modern building constructed from reinforced concrete clad in Jerusalem stone, consisting of at least five apartments.
Al-Shanteer is not poor or uneducated. In fact, he is an interior designer and civil engineer. He did not set out to murder Jews because he was destitute or needed a job. He admits that he decided to murder Jews in the hope of expelling them from their homeland. For this, his father believes that all fathers should be envious of him because his son murdered a Jewish woman.
Not a single Palestinian has condemned the murder.
The video of the father boasting of the murder of the Jewish woman has been largely ignored by mainstream media in the West. Apparently Western journalists do not want to show that many Palestinians are proud of murdering Jews.
Many journalists prefer to maintain the Palestinian fantasy image of peaceful and non-violent people engaged in a so-called popular resistance against Israel. Western journalists who choose to ignore his remarks are hiding the truth from their readers about Palestinian support for, and endorsement of, terrorism.
Similarly, US politicians who ignore the threats facing Israel are empowering the jihadists, their masters in Iran, and dictators worldwide whose nightmare is America.
Bassam Tawil is a Muslim Arab based in the Middle East.