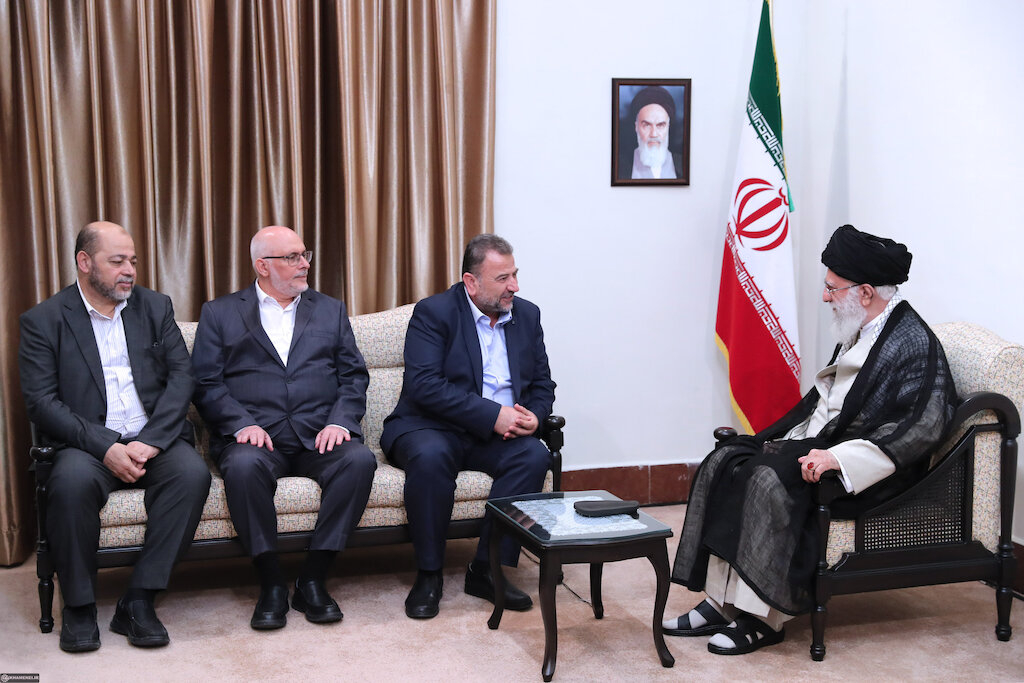 In 1930s, Britain pursued a policy of appeasing Hitler and Nazi Germany in the hope of avoiding a war. To the contrary, as we know, by empowering the Nazis to invade and attempt to take over other nations, this policy of appeasement led to World War ll.
Unfortunately, the European Union and the Biden administration have long been pursuing policies of appeasement with Hamas's paymaster, the Iranian regime. This policy has only emboldened and empowered Iran's ruling mullahs and their terrorist proxies, such as Hamas, to an extent that that on October 7, they launched one of the most barbaric attacks of our generation against Israel and Jews. Iran is now threatening to join the war against Israel, and may well be hoping that this is the moment they have effectively been planning since the 1979 Islamic Revolution.
History, as we know, has repeatedly shown that appeasing terrorists only empowers them. Even in recent history, the Obama administration imagined, it seems, that enabling the expansionist, revolutionary regime of Iran, which is designated a State Sponsor of Terrorism, to possess nuclear weapons, would somehow magically transform it into peaceful, collegial member of the family of nations.
President Barack Obama appeased the ruling mullahs of Iran by lifting sanctions and inventing the 2015 "nuclear deal." He claimed he was "confident" that it would "meet the national security needs of the United States and our allies." Outlined in the nuclear deal's preamble is that all parties "anticipate that full implementation of this JCPOA will positively contribute to regional and international peace and security."
What was actually the result? The international community witnessed even more rockets launched by Yemen's Houthis at civilian targets, the deployment of Lebanese Hezbollah soldiers in Syria, and increasing attacks by the Iranian-funded Hamas on Israel and the United States. With billions of dollars of revenue pouring into the pockets of Iran's Supreme Leader Ayatollah Ali Khamenei and the Islamic Revolutionary Guard Corps (IRGC), Tehran did not change its behavior for the better. Instead, Iran became even more empowered and emboldened to pursue its revolutionary ideals of anti-Americanism and anti-Semitism, as well as to accelerate its nuclear weapons program. Iran became, in fact, according to the US State Department, "the world's worst state sponsor of terrorism."
At the peak of these appeasement policies towards the mullahs, Iran was emboldened to publicly harass the US Navy, detain US sailors, imprison American citizens, and threaten to assassinate former US officials on US soil for a $1 million bounty. Khamenei also repeatedly vowed "Death to America!" and "Death to Israel!" and to "raze the Zionist regime in less than 8 minutes."
The Biden administration, however has looked the other way Iran violated sanction after sanction, enabling it enabling it to build a war chest for its own Islamic Revolutionary Guard Corps and its terrorist proxies abroad -- including Hamas, Hezbollah, Palestinian Islamic Jihad and the Houthis (who attack Saudi Arabia and the UAE from Yemen) -- of close to "$60 billion."
Sadly, in spite of sanctions, some of Iran's major trading partners are, in fact, member states of the European Union. According to Iran's state-controlled Mehr News Agency:
"Iran and the European Union's 27 member states traded €4.36 billion worth of goods during the first 10 months of 2022, registering a 14.28% rise compared with last year's corresponding period... Germany was the top trading partner of Iran in the EU region during the period, as the two countries exchanged over €1.6 billion worth of goods, 15.44% more than in a similar period of the year before. Italy came next with €555.39 million worth of trade with Iran to register an 11.14% year-on-year rise.... the Netherlands with €351.94 million (down 10.76%) and Spain with €296.06 million (up 13.12%) were Iran's other major European trade partners."
So, Germany, which preaches about human rights, has actually increased its trade with Iran.
Iran's radical regime, whose mission is to "Export the Revolution" and bring Islamist rule to the rest of the world via its military and terror groups, will not alter its aims through policies of appeasement.
The Biden administration and the European Union have pursued this dangerous policy -- not just of appeasement, but also of financing terrorists; of supporting a regime that chants "Death to America," "Death to Israel"; that plots to push the US out of the Middle East; that is committed to uprooting and replacing Israel; that has zealously been targeting American citizens and American assets, and that is one of only four state sponsors of terrorism, as well as a leading violator of human rights. It is high time to put Iran's regime out of business.
Dr. Majid Rafizadeh is a business strategist and advisor, Harvard-educated scholar, political scientist, board member of Harvard International Review, and president of the International American Council on the Middle East. He has authored several books on Islam and US Foreign Policy. He can be reached at Dr.Rafizadeh@Post.Harvard.Edu