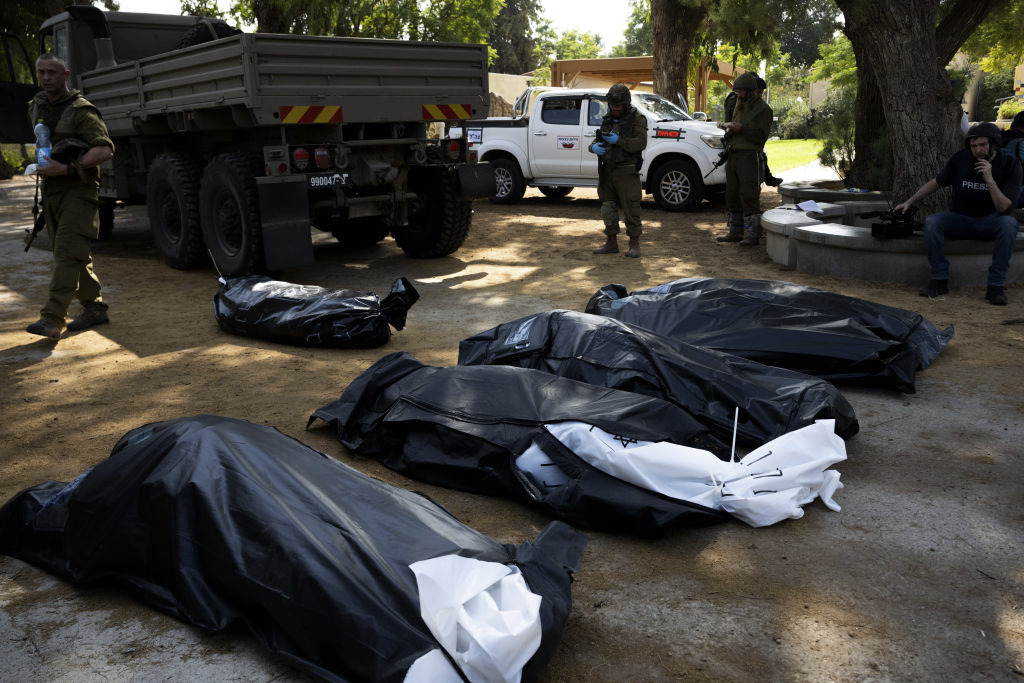 Israel had not even buried its dead from the horrifying jihadist pogrom that Hamas terrorists unleashed on Israeli civilians in south Israel -- beheading babies, burning them alive, torturing, raping, kidnapping, murdering -- before the European Union decided to reward the terrorists by tripling its assistance to Gaza.
"The Commission will immediately increase the current humanitarian aid envelope foreseen for Gaza by 50 million euros," European Commission President Ursula van der Leyen said. "This will bring the total to over 75 million euros. We will continue our close cooperation with the UN and its agencies to ensure that this aid reaches those in need in the Gaza strip."
Oh really? How? The terrorist group Hamas, a proxy of Iran, the "worst state sponsor of terrorism," is wholly in control of Gaza and will take what shows up and dribble it out slowly to a chosen few, mainly in their military. The idea that any of it will reach the million displaced souls who were urged by the Israelis to flee to southern Gaza to save their lives is charming, but woefully starry-eyed. Food and water -- if that is really what is in the uninspected trucks, rather than weapons -- will go to the Hamas foot soldiers to make sure they stay fit and loyal.
For the EU, the determination to stand with Israel and the Jewish people with more than just words at its worst moment since the Holocaust, lasted a splendiferous colossal day or so. After the massacre, the EU Commissioner for Neighborhood and Enlargement, Olivér Várhelyi, posted on X:
"The scale of terror and brutality against Israel and its people is a turning point.

"There can be no business as usual.

"As the biggest donor of the Palestinians, the European Commission is putting its full development portfolio under review, worth a total of EUR 691m ($732 million).

"•All payments immediately suspended.
•All projects put under review.
•All new budget proposals, incl. for 2023 postponed until further notice. •Comprehensive assessment of the whole portfolio.

"The foundations for peace, tolerance and co-existence must now be addressed.

"Incitement to hatred, violence and glorification of terror have poisoned the minds of too many.

"We need action and we need it now."
This surprisingly logical decision was almost immediately reversed by the top brass of the European Commission. Several EU member states -- France, Ireland, Spain and Luxembourg -- complained that suspending aid would "exacerbate the already dire situation inside the Gaza Strip."
Josep Borrell, the EU High Representative for Foreign Affairs and Security Policy wrote on X just six hours after Várhelyi's announcement:
"The review of the EU's assistance for Palestine announced by the European Commission will not suspend the due payments, as clarified by the Commission's press release.

"The suspension of the payments - punishing all the Palestinian people - would have damaged the EU interests in the region and would have only further emboldened terrorists."
Borell did not specify how stopping aid to Hamas terrorists would run against "EU interests" in the region or how it would have emboldened the terrorists. They seem quite bold already.
"Since the outset of the Israeli–Palestinian peace process in 1993, Europe has been one of Palestine's main donors," Le Monde wrote on October 13.
"This support, which has proved relatively stable since 2008, has averaged €1.2 billion a year across all member-states and the European Union (EU) itself, according to the Organisation for Economic Co-operation and Development (OECD). Within this combined total, the EU share managed by Brussels amounts to €300 million per year.

"Following the Hamas attack on Israel on October 7, this contribution is now being called into question, and the Commission is re-examining it to check whether it has financed the Islamist organization...Germany – which gives around €125 million a year – as well as Austria, Denmark and Sweden, have decided to temporarily suspend their contributions."
Stunningly, having financed Palestinians for thirty years to the tune of billions of euros, the European Union and its member states apparently had no idea whether that money went, directly or indirectly, to supporting terrorism and ultimately helping to finance the massacre against Israeli civilians on October 7. Now -- rather late -- they have called for a review. Despite their ignorance regarding the use of European funds by Hamas, the EU could not bring itself to suspend aid to Gaza -- which is the same as Hamas -- but tripled it no less.
One of the arguments used to legitimize the continued aid to Gaza, despite the gruesome Hamas massacre of Israeli civilians, is that supposedly Gazans do not support Hamas. This unsubstantiated fiction -- after all, the Palestinians voted for Hamas -- was also trotted out by US President Joe Biden on X, when, on October 15, he wrote:
"We must not lose sight of the fact that the overwhelming majority of Palestinians had nothing to do with Hamas's appalling attacks, and are suffering as a result of them."
According to a poll by the Ramallah-based Palestinian Center for Policy and Survey Research taken in September 2023, if new elections for the Palestinian Authority (PA) presidency were held today and only two candidates, PA President Mahmoud Abbas and Hamas leader Ismail Haniyeh, ran in them, Abbas would receive 37% of the overall Palestinian vote while Haniyeh would receive 58%. In Gaza specifically, the vote for Abbas would be at 33% and for Haniyeh at 64%.
According to another poll done by the Washington Institute, "Overall, 57% of Gazans express at least a somewhat positive opinion of Hamas—along with similar percentages of Palestinians in the West Bank (52%) and East Jerusalem (64%)."
Gazans also appear extremely positive about the Iranian regime, upon which Hamas is dependent for financial and military support. According to the Washington Institute poll:
"[W]hen it comes to Iran, which has strongly supported and potentially helped coordinate the attack, about half of Gazans view Tehran as either a 'friend of the country- (29%) or security partner (28%), compared to less than a third of West Bankers who would say the same."
It also found that 71% of Gazans support Palestinian Islamic Jihad, which also took part in the October 7 massacre and has said that it is holding 30 Israeli hostages, while Hamas is believed to hold nearly 200 hostages. The total number of hostages now has reportedly reached 222.
This is what the EU is supporting with its continued aid to Gaza. None of it will reach civilians if Hamas can help it, because there is nothing about Hamas' actions that would indicate that the terrorist organization cares a whit about the people that it controls.
One only needs to see the continued Hamas policy of telling Gazans not to evacuate their homes when Israel bombs, in order to have civilian deaths and "dead babies" to display for the international media. The Israel Defense Forces have repeatedly called on Gazans to evacuate from the north of Gaza to the south, in order to avoid harming them, as the military campaign to dismantle the terrorist organization continues. Hamas, however, is actively preventing Gazans from leaving, setting up roadblocks and possibly even using explosive devices to blow up the cars of fleeing Gazans.
"Hamas are trying to prevent people leaving northern Gaza," said UK Foreign Secretary James Cleverly.
"And that is the point... Of course we want to minimize Palestinian casualties. We want to minimize Israeli casualties. We want everybody to respect civilians. But the real clear distinction is Israel are trying to get civilians out of danger; Hamas are trying to put civilians into danger, and that is a fundamental difference between the two."
Meanwhile, as the EU was concerned about aid to Hamas, European capitals were the scenes of mass demonstrations cheering Hamas on with the chants "Free Palestine," interspersed with "Allahu Akbar" and calls for violence with the words "Intifada, intifada." In London, police said that there had been 105 antisemitic incidents and 75 antisemitic offences in the British capital since Hamas launched its attack on Israel on October 7, compared with 14 incidents and 12 offences in the same period last year, marking a 650% rise in "incidents" and a 525% increase in crimes.
Sadly, massive injustices were done by the international media which, without checking, wrongly blamed Israel for firing at a hospital in Gaza, supposedly killing hundreds. Video evidence and a voice recording revealed that the real cause of the explosion at the hospital was a rocket, launched toward Israel by Palestinian Islamic Jihad, that landed in the hospital parking lot. The media, it seems, could not wait to stick it to the Jews.
Robert Williams is a researcher based in the United States.