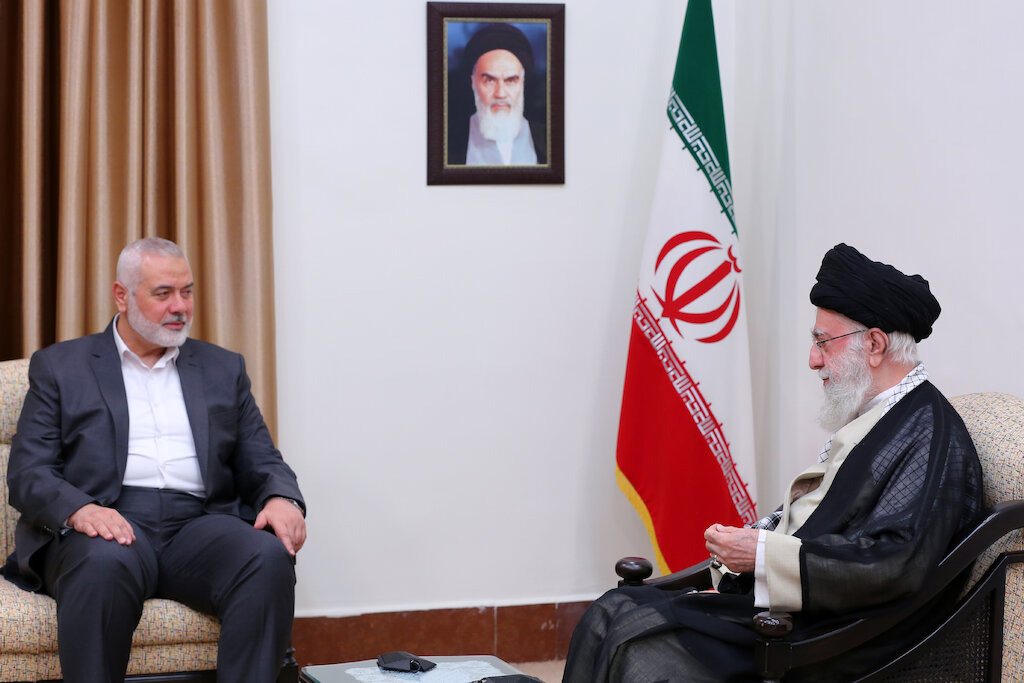 The Biden administration continues to turn a blind eye to Iran's involvement in the war against Israel, the Jews and in fact all "infidels" -- not least of which is "the Great Satan," the United States.
In recent weeks, Iranian proxies have attacked not only Israel and the Jews, but also at least 41 strikes against US forces in Syria and Iraq, during which 46 US servicemen were wounded and one was killed by a drone; and with more than 83 attacks on US troops since Biden became president.
These assaults came in addition to an attempted assassination on US soil by the Iranian regime of a foreign diplomat in 2012, and threats to assassinate former US officials, complete with a $1 million bounty, in 2022.
The US responded to these attacks by cancelling sanctions on Iran, thereby enabling it to reap close to $60 billion by exporting its oil and gas – and comfortably to finance its terrorist proxy war on Israel and attacks on US forces in the Middle East.
The US also issued countless bland warnings and struck four unmanned weapons depots in Syria.
Sadly, the Biden administration has yet to come out and publicly acknowledge Iran's role in Hamas's October 7 invasion of Israel, in which the terrorist group murdered over 1,200 Israelis and at least 31 Americans, and wounded over 4,500 Israelis. Hamas also abducted more than 240 people and took them back to Gaza, where they are being held as hostages.
In a speech in June 2016, Hezbollah Secretary General Hassan Nasrallah admitted that everything Iran's proxies possess or do is directed by the Iranian regime:
"We are open about the fact that Hezbollah's budget, its income, its expenses, everything it eats and drinks, its weapons and rockets, come from the Islamic Republic of Iran...As long as Iran has money, we have money... Just as we receive the rockets that we use to threaten Israel, we are receiving our money. No law will prevent us from receiving it..."
In addition to these acknowledgments, the Washington Post reported that, according to U.S. intelligence sources, Iran "provided military training and logistical help as well as tens of millions of dollars for weapons" to Hamas. The Wall Street Journal cited "senior members of Hamas and Hezbollah," admitting that that Iran helped Hamas plan its barbaric October 7 attack.
Iran provides roughly $100 million a year to Palestinian terrorist organizations such as Hamas and Palestinian Islamic Jihad, and $700 million a year to Hezbollah.
With all this evidence, what else does the Biden administration need to publicly acknowledge that this is the Iranian regime's war against Israel and Jews?
As US Senator Lindsey Graham (R-SC) noted:
"The idea that Iran read about this operation in the paper, or on television is laughable. 93% of Hezbollah and Hamas' money comes from Iran. They're the source of the problem. They're the great evil. So, if Hezbollah escalates against Israel, it will be because Iran told them to. Then Iran, you're in the crosshairs of the United States and Israel."
Another Iranian proxy also declared war on Israel: In a statement on October 31, Yemen's Houthi military spokesman Yahya Sarei said:
"Our armed forces have launched a large batch of ballistic and cruise missiles and a large number of drones on various Israeli enemy targets."
The Houthi terror organization, removed from the US list of Foreign Terrorist Organizations just a few weeks after Biden took office, has in the past month indeed launched missiles and attack drones at Israel, from a distance of about 1,200 miles. The sophisticated weapons systems that the Houthis use, including the drones and missiles, come from Iran. The Houthi terrorist group, according to a Yemeni government intelligence report, also "works closely" with Al Qaeda and ISIS.
Even as the evidence — including a 2020 United Nations report — has shown that Iran supplies sophisticated weapons to the Houthis, the Biden administration suspended some of the anti-terrorism sanctions on the Houthis that the Trump administration had put in place. When, on February 12, 2021, the Biden administration revoked the designation of Yemen's Houthis as a terrorist group, the Houthis returned the favor by launching missiles and attack drones into the United Arab Emirates and Saudi Arabia (here and here) .
Another of Iran's proxy terror groups, Lebanon's Hezbollah, has been launching cross-border attacks into Israel in a near-daily basis for the past month. On November 3, Hezbollah chief Hassan Nasrallah admitted:
"I am telling you, we have been engaged in this battle since October 8. The Islamic resistance in Lebanon started operation the very next day. What's taking place on our front is very important and significant... Yet I assure you this will not be the end. This will not be sufficient."
He also praised and thanked the "strong and brave Iraqi and Yemeni hands who are now involved in this holy war."
Iran and its proxies have clearly been waging a war against Israel, Jews and the United States. It is incumbent upon the Biden administration at least to publicly acknowledge this fact. Or is the US still hoping for some disastrous "nuclear deal" in which the Iranian regime would promise not to use its imminent nuclear weapons -- "on my watch" -- during just the Democrats' time in office?
Dr. Majid Rafizadeh is a business strategist and advisor, Harvard-educated scholar, political scientist, board member of Harvard International Review, and president of the International American Council on the Middle East. He has authored several books on Islam and US Foreign Policy. He can be reached at Dr.Rafizadeh@Post.Harvard.Edu