There seems to be a double-standard when it comes to how Israel's Prime Minister, Benjamin Netanyahu, and the Palestinian Authority's erstwhile President, Mahmoud Abbas -- now in the tenth year of his four-year term -- are treated by the Obama White House, as well as by many journalists. While Netanyahu is humiliated, insulted, threatened, and told that he must make "painful concessions" for peace, such as releasing more than 100 terrorists merely to get the Palestinians to come to a negotiating table, Abbas – a facilitator and supporter of these terrorists – is treated with kid gloves, and with Obama virtually begging him to visit.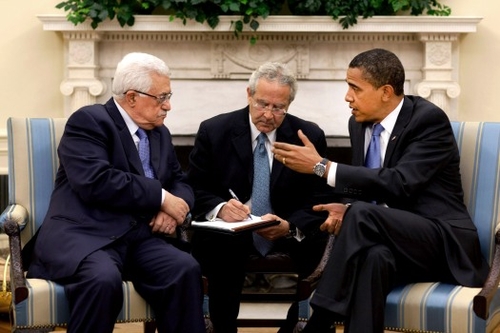 President Barack Obama meets with Palestinian Authority President Mahmoud Abbas in the Oval Office in 2009. (Image source: Official White House photo)
Here, however, are some questions, starting with the most important, that should be posed to Abbas when he takes a seat in the White House on March 17:
Does Israel have a right to exist?
Yasser Arafat, the first president of the Palestinian Authority [PA], accepted Israel as a Jewish state, and the homeland of the Jewish people. As the recent UNESCO exhibit documented, Jews have been on Israeli land, and in the disputed areas in Judea and Samaria (the West Bank) for 3,500 years, 2,000 years prior to the advent of Islam. You, however, recently said that you do not accept Israel as a Jewish state. Why?
Will you stop using the humanitarian aid money given to you by the U.S. and the U.N. for prohibited purposes, such as paying salaries to and glorifying terrorists, and inciting mass hatred against Jews, even among Palestinian children?
Why did you not immediately fire Jibril Rajoub, the supposedly "moderate" senior PA official, after he said in May 2013 that if the PA had a nuclear bomb, it would drop it on Israel that very day?
Are you prepared to make any concessions to advance the peace process? For example, will you rescind your July 2013 statement that if you get your own state, not a single Jew will be allowed anywhere within it?
If you strike a deal for peace, how will you ensure that all Palestinian parties, both in the West Bank and the Gaza Strip, uphold it; that the next president of the PA does not say, "Abbas signed that; I did not."?
If and when you get a Palestinian state, will you announce – in Arabic – that this agreement brings an end to the conflict?
And will you then formally order the PA to stop glorifying terrorists and calling for the destruction of Israel in the Palestinian media, school textbooks, summer camps, sports stadiums, crossword puzzles and other outlets?
It would be telling to hear how Abbas answers these questions.
It would also be telling to hear how President Barack Obama answers one question: If Abbas refuses to agree to these "painful concessions," will you stop issuing executive waivers that enable American taxpayer money to still be sent to him, even though you know it is being used for prohibited purposes?
John Ryan, a journalist based in the US, also writes for The Daily Caller.