As the White House slashes America's military budget and our influence proves irrelevant in Ukraine and other hot spots around the globe it is clear our economic policies have failed to grow our economy to create jobs and generate much needed revenue. This failure has resulted in budget deficits, increased debt and a loss of military strength. Our national debt has increased from approximately $11 trillion to $17.4 trillion over the last 5 years, and it's getting worse. Congress has just voted to lift the debt limit so that, together with our ongoing budget deficits, our nation will confront an $18 trillion debt within a few months.
This fiscal burden is so massive many observers and commentators have struggled to find words that allow us to understand its enormity. Some have described the national debt as going through the stratosphere, but it's far beyond that. It requires an astronomical calculation to reveal the magnitude of the crisis, computing the debt as a Light Year scientists use to measure the vast distances of outer space.
(Light travels at approximately 186,000 miles a second, or nearly 6 trillion miles a year, the definition of a "Light Year." Therefore, our $18 trillion debt would compute to be three Light Years. However, Washington has so severely abdicated its fiscal responsibilities that this crushing sum would be more accurately described as "Dark Years.")
Solutions that require political will
Solutions do exist but it requires political will and an appreciation that an unchecked national debt will profoundly damage our country, its future and the fate of our allies.
Ideologues claim higher taxes will solve our nation's debt burden, but that is a failed strategy. If the IRS were to tax all the richest Americans listed on the Forbes 400 at 100 percent and not just their income but their entire wealth, seizing and liquidating their assets would only account for about 15 months of budget deficits and resultant debt increases. Others lobby to continue monetizing our debt; essentially printing more currency and bonds, as a quick fix to cover budget deficits, a monetary policy that has created chaos within nations on five continents.
Fortunately, there are some who are sounding the alarm about this precarious debt threat. Former Florida Governor and potential Republican Presidential candidate Jeb Bush acknowledged during his recent visit to Long Island that we are in a slow motion economic collapse. This author was among those in the Long Island Association audience as Bush cautioned that the debt is unsustainable and implementing a strategy to tackle this destabilizing liability must become Washington's primary responsibility.
Bush observed that key to crafting a solution is acknowledging that American energy independence and reducing our debt are inseparable issues. Bush believes, "America needs a patriotic energy policy... that uses technology like hydrofracturing for the purpose of unleashing our domestic energy production."
Keeping our $300 billion in America
Strategic energy independence could break America's cycle of increasing debt and economic stagnation. Bush observes that although we have almost four times the amount of recoverable oil in oil shale than Saudi Arabia's proven oil reserves, we continue to send $300 billion dollars every year to oil producing countries, most of whom are either hostile to the United States or who support terrorism. He refers to analysis that finds just two states, Utah and Colorado, hold approximately 3 trillion barrels of oil in shale deposits which would provide us with the means to unleash domestic energy resources that would add jobs and re-industrialize our nation. Increasing supply would lower costs of oil, gasoline and natural gas to industry and the general population. Turning those $300 billion annual energy expenses from lost dollars into domestic reinvestment would help grow our economy and restore confidence among America's business community.
The obstructionists, fearful of competition, will, of course, not be silent. Oil exporters like Venezuela and the Arab Emirates are understandably nervous about losing those American petrodollars. It is not a surprise that they have underwritten Hollywood films attacking fracking as an environmental threat in hopes of swaying American public opinion and they will continue to use their wealth and influence to try and short circuit America's pursuit of accessing domestic energy resources.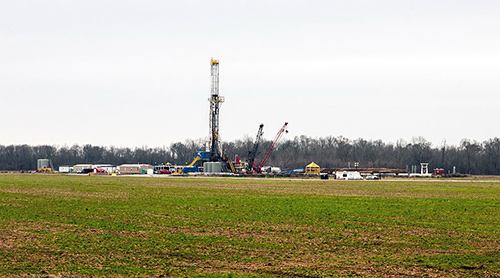 A hydrofracturing ("fracking") rig drilling for natural gas. (Image source: Wikimedia Commons)
The reality is fracking technology with strict regulations can create genuine energy independence that mobilizes this nation's industrial capacity in a manner not seen since World War II turned America into the Arsenal of Democracy. Using fracking as the centerpiece of a national energy master plan we could define state mandated environmental safeguards, determine where or whether we need pipelines, identify appropriate refinery upgrades and create the type of domestic investments that create economic growth, jobs for the unemployed and revenue for the government, while reducing energy costs to consumers.
Confronting emerging threats while growing the economy
While a broad range of renewable energy sources should be encouraged, fracking has become America's true weapon of choice in strengthening our economy and global leadership. Fracking success stories are already being written in North Dakota, Wyoming, Colorado and elsewhere. When other states follow their lead, more than enough oil and natural gas can be safely extracted from the ground that will not only permit the United States to be energy independent, but to become an energy exporter of LNG (liquid natural gas) to Europe at a time when Russia's threatening expansionist policies could see them shut down their natural gas currently piped to our allies. Fracking has the means to change global geopolitics in a profound and permanent way. It would allow America to regain its economic health, grow our economy, confront a debt that is a real and immediate threat to our national security while strengthening our European allies at a time of rising tensions.
A dispassionate, nonpartisan examination of government financial policy will reveal that by their actions, or inactions, for political or personal reasons, individuals sworn to uphold the Constitution of the United States have been directly responsible for jeopardizing the financial stability of our great country. Failure to acknowledge the speed by which we are now hurtling towards insolvency will see a nation's future quietly extinguished as our debt travels one more final Light Year, unless patriotism triumphs over politics. Washington has a game changing solution in domestic fracking that is already demonstrating its power. Now it's time to put it to work restoring American leadership.
An edited version of this essay was first published in Long Island Business News.