On the heels of the murder of three innocent Israeli teens, Hamas began pounding Israel with rocket fire, while Israel retaliated with defensive airstrikes on Gaza. As expected, however, Hamas and other Gaza officials -- including the head of the Palestinian Centre for Human Rights in Gaza, Raji Sourani -- have accused Israel of deliberately targeting civilians, while the Organization of Islamic Cooperation [OIC] announced plans for an "extraordinary ministerial meeting" to discuss "the intensifying and fierce Israeli campaign against Palestine."
Despite the sustained and typical propaganda campaign against Israel, Canada has condemned "the brazen and indiscriminate attacks that Hamas continues to wage on Israel." Foreign Affairs Minister John Baird repeated Canada's unwavering position that "Canada believes that Israel has every right to defend itself from such belligerent acts of terrorism."
Meanwhile, as many Christian Churches vote for divestment from Israel, the International Christian Embassy in Jerusalem [ICEJ], with offices in 60 nations -- among Israel's thriving Christian supporters -- sent mobile bomb shelters to protect residents of southern Israel.
In Israel's "Operation Protective Edge," its targets have been militants, military facilities, rocket launchers, tunnels and command centers. Israel has taken extraordinary measures to protect Palestinian civilian life. Despite the historically biased reporting about civilian casualties, for years Israel has made telephone calls, sent SMS messages, distributed leaflets, and fired flares to warn civilians to leave targeted buildings and sites. Even according to the New York Times, Israel has gone so far as to fire inert missiles without explosive warheads onto roofs as "warning shots" to warn Palestinians to evacuate in safety. Some defy these warnings; meanwhile, Hamas violates international law both by targeting Israel's civilians and by using its own people as human shields -- and then blaming Israel for the casualties.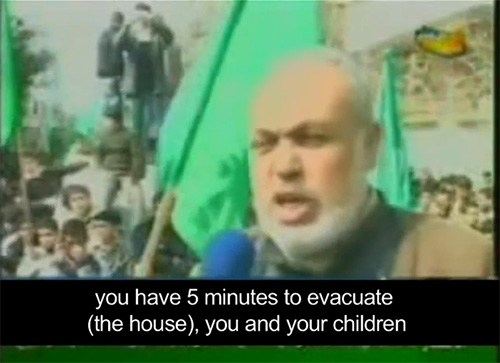 A Hamas military commander recounts on Palestinian TV how Israeli forces gave advance warning to him, to evacuate his home before bombing it. He goes on to describe how after the warning, he rushed to gather friends, family and neighbors on the roof of the building.
The relentless public opinion campaign against Israel -- even as its existence has been targeted since 1948 -- has been non-stop; and it continues to be attacked by rockets in this latest round.
Behind the propaganda campaign, which includes Boycott, Divestment and Sanctions [BDS], are deception and lies intended to malign Israel. The BDS movement covers up its ties with the terrorist group Hamas, and for years now has also been infiltrating churches and campuses. Recently, The Palestinian BDS National Committee , which is leading the global BDS movement, warmly welcomed "the brave decision of the Presbyterian Church (USA) general assembly in Detroit to divest its holdings from three US corporations ... on the basis of their well-documented record of complicity in the oppression and denial of human rights of Palestinians." The Palestinian BDS National Committee incredibly went on to congratulate the "deep commitment of the Presbyterian Church to truth and justice."
According to the NGO monitor, although not all church groups support BDS, there is a strong, well-financed network of churches that spearhead BDS campaigns. The leaders of these groups "selectively use the rhetoric of religious and moral authority to condemn Israel," while portraying Palestinians as the "weaker and suffering party that must be defended against injustice." This was most recently evidenced in a disheartening show of solidarity with Palestinian prisoners by the World Council of Churches [WCC] as the Palestinian Authority marked "Prisoners Day," when the WCC invited churches in the Holy Land to "remember Palestinian prisoners through prayers and acts of solidarity." While the WCC statement nobly referenced the Christian ethic of remembering all prisoners in a Christian spirit of kindness, it ignobly "forgot" to mention the need and right of Israel to protect its citizens from terrorism, as well as to show even the slightest Christian empathy for the victims of these terrorists, or for the victims' families who have suffered untold grief.
Last month came the tragic news of the murder of three Israeli teens by Palestinians, which an FBI official close to the investigation stated was a premeditated execution, and that the terrorists were disguised as religious Jews to lure the hitchhiking teens into the car.
Despite the lies and influence of the BDS propaganda, which have affected both Church and State, Israel has firm support from important elements of both.
According to writer Robert Nicholson who studies the relationship between Christians and Jews, "millions of evangelical Christians unabashedly continue their outspoken, wholehearted, stalwart defense of both the Jewish state and the Jewish people." In a show of support, the International Christian Embassy Jerusalem -- which, according to Israel Tourism, brings the largest single evangelical event ("The Feast of Tabernacles") to Israel every year -- has just delivered mobile bomb shelters to protect residents of southern Israel. And just as Canada's John Baird repeated Canada's leading support for Israel and called on the new Palestinian Authority government to exercise its authority in Gaza to bring an immediate end to the rocket attacks on Israel, the U.S., Britain, and even the U.N., condemned the rocket barrages from Gaza against Israel. The condemnation reflects a shift toward the truth: that what underlies the entire Palestinian agenda and BDS movement is to "destroy Israel in stages".