In 2011, Prime Minister Recep Tayyip Erdogan's Justice and Development Party [AKP] won a landslide election victory, garnering almost half of the national vote. Customarily, he read out his government's program in parliament:
"One of the most important prerequisites for stability in the [Middle East] region is a humanitarian and peaceful solution to the Palestinian dispute....The key to peace is a two-state solution that should come under UN resolutions and [parties that can live in] peace with each other. Turkey will keep on actively supporting any reconciliation to revive peace talks... It is out of the question that our ties with Israel normalize unless Israel apologizes for this unlawful incident [Israel's raid on the Mavi Marmara flotilla], pays compensation for our citizens who lost their lives and removes the embargo on Gaza."
Four years and two wars later, Erdogan was elected Turkey's president and appointed Ahmet Davutoglu, his foreign policy czar since 2009, as his prime minister and heir.
On Sept. 1, Davutoglu, customarily, read out his government's program in parliament:
"One of the most important prerequisites to sustainable stability in the Middle East is to find a just, comprehensive and viable solution to the Palestinian dispute.... Turkey's efforts for an end to the human tragedy in Palestine, achievement of sustainable peace in the region and support for the unity government in Palestine will continue on.... Any progress in the process of normalization of ties with Israel, which began after Israel apologized in 2013 for the Mavi Marmara attack, will not be possible unless Israel stopped its military strikes on Gaza and removed restrictions [on Gaza]."
Judging from the two manifestations of governance in 2011 and last week, the only major change in Turkey's foreign policy calculus is that Erdogan devoted only six pages to foreign policy whereas Davutoglu's text contains 19 pages on foreign policy.
That is, of course, if we do not count Yalcin Akdogan, Erdogan's top political advisor in 2011. Akdogan, now deputy prime minister, left everyone speechless last year when he remarked that, "[Syrian President Bashar al-Assad] could wish to win support from Arab countries by creating further polarization [tensions] with Israel. This trap should be avoided."
How ironic that Erdogan's men were complaining of "traps set on creating tensions with Israel in order to win Arab hearts and minds." With that pace of events, a Turkish foreign minister could accuse Greece of trying to revive the Ottoman Empire. Not just the sky, but apparently all outer space, is the limit in Turkish political hypocrisy. Happily, the new Turkish cabinet has one more Israel-obsessive member.
When Prime Minister Davutoglu declared his government's program in parliament he was full of hope and optimism that Turkey would soon achieve the place it deserves to achieve in a better world order -- an optimism he never abandoned while he was at the helm of the country's foreign policy. Ironically, as he was speaking, Turkish diplomatic missions, once opened with Kodak-moment, half-baked ceremonies, seemed to be deserted: Cairo, Jerusalem, Damascus, Mosul, Basra, and Baghdad pending. Turkey's ambassador recently appointed to Tripoli is still stuck in Ankara, not able to leave "for safety reasons."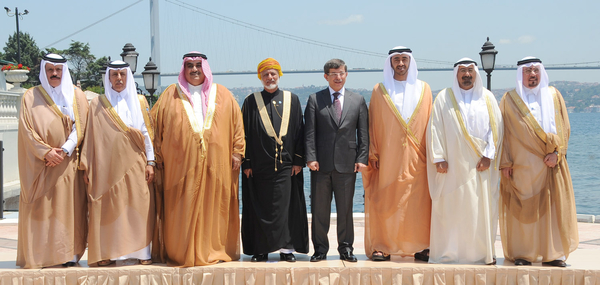 The ever-optimistic Ahmet Davutoglu, now Turkey's Prime Minister, is pictured during his tenure as foreign minister, flanked by the foreign ministers of Saudi Arabia and other Gulf states. (Image source: Bahrain Ministry of Foreign Affairs)
What would the Turkish consul general in Mosul -- now a hostage of the Islamic State [IS], along with 48 others consisting of consulate personnel and their families -- think about Davutoglu's grandiose portrayal of Turkey's foreign policy successes if he could watch the prime minister's speech in the dungeon in which he is being kept by Davutoglu's one-time allies?
These Turkish hostages have been kept, since June 11, by a terrorist army which even al-Qaeda says it thinks is too violent, extreme and radical. If the hostages could be interviewed by a journalist while Davutoglu proudly spoke of Turkey's greatness, their quotations would probably not be suitable for print.
Davutoglu is a dreamer of a future that will blend neo-Ottomanism with pan-Islamism. Despite outstanding failures in a span of five years, he still -- perhaps childishly -- believes that the overthrown dictatorships in the formerly Ottoman Muslim lands will one day be replaced with Islamic regimes, thus creating a regional "Muslim Brotherhood belt" under Turkey's leadership.
When his ideals fail, Davutoglu does two things: he asserts that they failed not because his vision was wrong but because the world order is wrong, and must be corrected; and he tends to find euphemisms. After the IS took 49 Turks hostage, Davutoglu's deputy minister said that "they were not actually being kept hostage," but "were merely interned." How nice! Perhaps the Turkish consulate personnel are now playing backgammon with IS's backgammon heavyweights. Meanwhile, the standard Turkish official attribution to the IS is that it is "an organization," with careful abstinence of the word "terrorist." Do the Turks think that the Islamic State is a charity organization?
June 2015 will be election time in Turkey, again. As there is more than enough evidence that Erdogan, Davutoglu & Co. always win votes by Israel-bashing in a country that is increasingly anti-Semitic, it should not be a surprise if Ankara quietly requested its Hamas comrades to start a new war prior to the June parliamentary elections so that the AKP will win again.
Burak Bekdil, based in Ankara, is a Turkish columnist for the Hürriyet Daily News and a Fellow at the Middle East Forum.