There seems to be an epidemic in Turkey. Dozens of ordinary citizens -- old, young, famous, unknown, even minors -- are being detained for allegedly insulting Turkey's President (and former Prime Minister), Recep Tayyip Erdogan.
The 34th sultan of the Ottoman Empire, Sultan Abdulhamid (or Abdul Hamid) II (1842-1918), was a deeply paranoid man who rarely travelled, out of fear of assassination. Known in the West as the "Red Sultan," due to atrocities against non-Muslim minorities during the fall of the empire, Abdulhamid II ran a network of spies to crush every crumb of dissent against his iron-fisted rule. The press was heavily censored. Ideologically, he had illusions of Pan-Islamism, and loved to appear in public as the champion of Islam against a supposedly aggressive Christendom.
Sound familiar?
Nearly a century after Abdulhamid's death, the democratic credentials of his ailing empire dangerously resemble those of current-day Turkey, the "sick man of Europe." Ironically, that country just so happens to be a member of most Western alliances, including NATO, and a candidate for full membership in the European Union.
In mid-February, a Turkish man was detained in the northwestern province of Edirne for insulting President Recep Tayyip Erdogan during a protest against the arrest of an activist, who had also allegedly insulted Erdogan. The man, Kadir Yavas, read out a press statement during a protest against the arrest of yet a third dissident, Onur Kilic. Both men belonged to a student protest movement. A few hours later, Yavas was detained by the police -- also for insulting Erdogan.
About a month earlier, amid a nationwide boycott of schools in protest of religious education, Kilic had been detained and subsequently arrested, again for insulting the president.
That same week in February, two more students, Arif Bugra Ugur and Safak Kurt, were also detained on the same charges, while a 17-year-old student, identified only by the initials U.H.C., was sentenced to 14 months in prison for insulting Erdogan (who at the time of the student's alleged offense was Prime Minister).
The student had attended a demonstration protesting charges against two other students. U.H.C. and his friends had gathered at a town square to issue Erdogan a satirical "report card."
During the final hearing of his case, the teen was sentenced first to 12 months in prison on charges of "insulting a public official." Then the court ruled to increase his sentence to 14 months due to his inappropriate behavior during the trial. Then the court reduced it to seven months because the defendant is a minor.
Mercifully, because there have been no previous criminal charges against U.H.C., the court then decided to put him on probation for three years.
A few days later, a Turkish comedian was detained for failing to pay damages to Erdogan. The director/actor Haldun Aciksozlu, known for his stand-up comedy show "Laz Marx" had been ordered to pay 6,000 liras (about $2,300) after making a statement in 2011 that the court found insulting. Aciksozlu was arrested at the Ataturk International Airport while leaving for Germany.
Apparently, Erdogan's law enforcement is at least equal and undiscriminating when it targets dissident voices.
Merve Buyuksarac, an industrial designer, writer and a former Miss Turkey, now faces up to two years in prison for an Instagram post that prosecutors claim "insulted" the Turkish president.
The 26-year-old Buyuksarac had merely shared a quote from the satirical The Master's Poem -- in which verses from the Turkish national anthem are used to criticize Erdogan. In her testimony, she said that she "may have quoted a poem," believed to be from a Turkish satirical magazine, but soon deleted it after a friend warned her she could have committed a crime.
Buyuksarac was investigated and detained in January. An Istanbul court will decide on whether to proceed with the case.
On March 6, the trial of 16-year-old Mehmet Emin Altunses, who is charged with insulting Erdogan, was delayed shortly after it began, after his lawyer objected to the court's decision to try the case behind closed doors, and asked that the judges be replaced. The judges halted the trial for about 15 minutes after it started, then adjourned the case until April 3.
Last December, Altunses was in the middle of lessons at school when the police officers came in to detain him. He is accused of targeting Erdogan by chanting "chief of theft, bribery and corruption" during a student protest rally.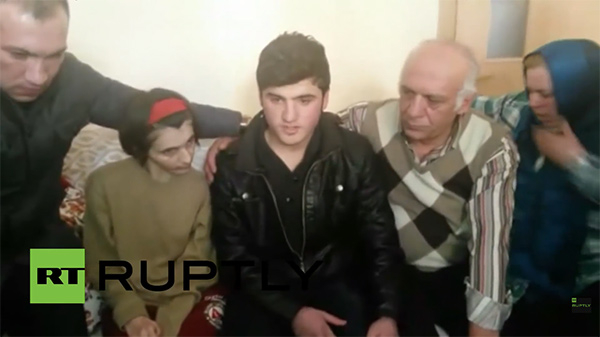 16-year-old Mehmet Emin Altunses (center) was arrested and charged with the crime of insulting Turkey's President, Recep Tayyip Erdogan, by allegedly chanting "chief of theft, bribery and corruption" during a protest. (Image source: RT video screenshot)
Apparently, the age of "dangerous Turkish criminals" is repeating itself in modern day Turkey, in its heirs to Abdulhamid's judiciary.
In early March, a 13-year-old boy in a town in western Turkey was dragged out of class by police and arrested, because of a Facebook post that prosecutors deemed insulting to Erdogan.
The boy, identified by his initials, U.R.E., is described by various newspapers as being in the seventh or eighth grade. He confessed to the police that he posted on Facebook but the contents of his post remain unclear.
Local newspapers reported that U.R.E. and his father were taken to the regional prosecutor's office and later released, though authorities are demanding a psychiatric evaluation for the child. The court handling the case has stated that it is awaiting the results of U.R.E.'s psychiatric evaluation before deciding whether to pursue criminal charges behalf against the teen.
The teen's father, in comments to the press, called for the government to use its resources to crack down on corrupt government officials rather than on children expressing themselves on social media. He is also accusing the police of "traumatizing" his son by entering his classroom to arrest him in front of his peers.
At the end of February, Can Dundar, one of Turkey's most prominent journalists, and editor-in-chief of the secular daily Cumhuriyet, was summoned by a prosecutor to testify over his remarks in an interview. Ironically, he had interviewed a prosecutor who was in charge of a massive corruption investigation implicating Erdogan, his sons, four cabinet ministers, their sons and some government-friendly businessmen. A criminal investigation was launched against Dundar for his remarks in the interview; his words allegedly insulted Erdogan.
More recently, an eccentric Turkish singer joined the list of dangerous criminal suspects, this time on charges of insulting not Erdogan, but Prime Minister Ahmet Davutoglu. "It is an honor to be detained for my opinions, not for stealing or for corruption," Atilla Tas said on his Twitter account, which has more than 720,000 followers, after he was detained by the police for insulting the prime minister.
According to the newspaper Hurriyet, since his tenure began last August, President Erdogan has filed criminal complaints against more than 60 people for insulting him.
Sadly, there are no such statistics from Abdulhamid's time to compare the systematic crackdown on dissents in Ottoman times to the systematic crackdown in current Turkish times.
Burak Bekdil, based in Ankara, is a Turkish columnist for the Hürriyet Daily and a Fellow at the Middle East Forum.