The international community is failing to respond to Iran's weapons and terrorism networks.
In recent years, Iran's networks have been expanding significantly, most often with deadly results for the region.
While Iran's nuclear program is the focus of intense global attention, the international community frequently overlooks the sophisticated Iranian transnational weapons smuggling and terrorism networks, currently fueling wars and instability across the Middle East.
Weapons ships disguised as cargo vessels, Iranian airlines that carry arms, and ground convoys ferrying missiles, rockets, guns, and ammunition are all used to arm members of Iran's regional network.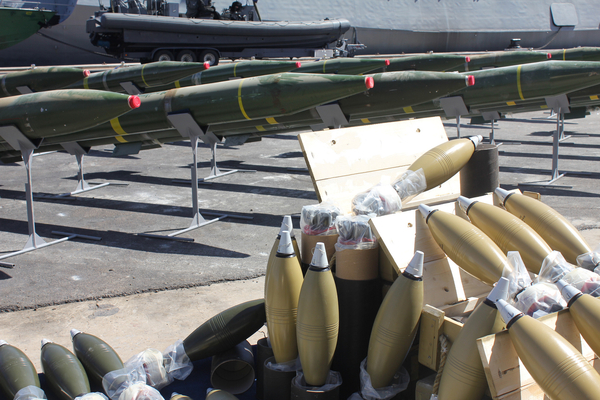 On March 5, 2014, Israel's Navy boarded the Klos-C in the Red Sea, and found it to be smuggling munitions from Iran to Gaza, including a large number of M-302 missiles, found concealed under bags of Portland cement. (Image source: IDF)
The lack of attention to these acts of aggression is quite startling in light of the scope of destructive influence they have, not just for the Middle East, but for international security as a whole.
Today, it is possible to look at a number of battles raging in the region; what connects them to one another in this network more often than not is the spurring influence of Iran.
The Quds Force, a shadowy elite unit of Iran's Islamic Revolutionary Guards Corps (IRGC) that operates overseas, runs the network. Iranian weapons, terror funds, military training and instructors now have more reach than ever, and the IRGC has been consolidating its presence in South America.
As a number of Middle Eastern regimes implode, leaving behind failed states and sectarian strife, Iran has taken advantage of the chaos to exert deep control over a growing number of Arab capitals, including Sana'a, Baghdad, Damascus, and Beirut -- as well as several regions in Arab countries -- and is presumably not stopping there. In Yemen, the powerful Iran-backed Shi'ite Houthi militia recently toppled the government. This proxy in Yemen could enable Iran to seize control of the crucial shipping lanes at the chokepoints on either side of the Saudi peninsula, at the Strait of Hormuz and the Bab El-Mandeb Strait.
To be sure, not all things are going Iran's way. Recent battlefield setbacks for the Assad regime are bad news for Tehran, as illustrated by a recent hasty visit by the Syrian defense minister to Iran for consultations and instructions.
Nowhere is Iranian intervention more evident than in Syria, where Iran has acted as the Assad regime's life support system, helping to fuel a conflict that has killed more than 250,000 people and created more than seven million refugees.
Iran views the Assad regime as a key regional base, and a strategic bridge to its chief proxy: Hezbollah in Lebanon.
Iran's support for Assad enables this conflict, the most deadly in the world just now, to roll on month after month. That conflict, in turn, is what has directly led to the mushrooming of radical Sunni groups, especially the Islamic State.
Iran's Lebanese proxy, Hezbollah, the most heavily armed terrorist entity in the world, is fighting shoulder-to-shoulder with the Assad regime's forces. Together with Iran, Hezbollah has been trying to set up terrorist bases in southern Syria in order to initiate cross-border attacks on Israel.
Tehran has not only been using its Quds Force network to send guided missiles and rockets to Hezbollah in southern Lebanon; it has also been paying Hamas tens of millions of dollars to continue digging tunnels from Gaza into Israel, for use in future cross-border attacks to murder and kidnap Israelis.
Iran's agenda is clear. It wishes to use its growing regional network to control the region, and use its proxies to indirectly attack any countries that stand in its way -- all the while portraying itself as a reasonable partner for the U.S. and the West in the war against the Islamic State.
While the international community has largely remained silent over Iran's exuberant meddling in the region, local Middle Eastern actors threatened by these actions have been responding.
A Saudi-led Sunni coalition of Arab air forces launched an air war in recent weeks against the Houthi militia in Yemen, to try to stop their advance, so far with limited success. Houthi rebels, striking back, launched mortars and Katyusha rockets on a Saudi Arabian town this week, hitting schools and residential buildings, and forcing the Saudis to shut down a local airport.
According to international media reports, which have not been confirmed by Israel, recently the skies over Syria are said to have seen Israeli fighter jets covertly target shipments of Iranian and Syrian weapons destined for Hezbollah in Lebanon -- one of a series of alleged Israeli strikes targeting advanced arms being smuggled to Hezbollah.
Actors other than just the regional ones appear to be responding, as well. At the end of April, the US Navy confronted Iranian ships carrying weapons for the Houthis in Yemen, forcing them to turn back. As the P5+1 appear to continue weaving together a poor nuclear deal that will leave open the gates to nuclear weapons for Iran, the Islamic Republic's aggression goes largely ignored.