As the regime of Bashar Assad continues steadily to lose ground in Syria; and as Assad's allies, Iran and Hezbollah, deploy in growing numbers to Syrian battlegrounds to try to stop the Assad regime's collapse, the future of this war-torn, chaotic land looks set to be dominated by radical Sunni and Shi'ite forces.
The presence of fundamentalist Shi'ite and Sunni forces fighting a sectarian-religious war to the death is a sign of things to come for the region: when states break down, militant entities enter to seize control. The idea that, because Sunni and Shi'ite elements are locked in battle with one another today, they will not pose a threat to international security tomorrow, is little more than wishful thinking.
The increased presence of the radicals in Syria will have a direct impact on international security, even though the West seems more fixated on looking only at threats posed by the Islamic State (ISIS), and disregards the possibly greater threat posed by the Iranian-led axis. It is Iran that is at the center of the same axis, so prominent in entangling Syria.
The threat from ISIS in Syria and Iraq to the West is obvious: Its successful campaigns and expanding transnational territory is set to become an enormous base of jihadist international terrorist activity, a launching pad for overseas attacks, and the basis for a propaganda recruitment campaign.
It has already become a magnet for European Muslim volunteers. Their return to their homes as battle-hardened jihadists poses a clear danger to those states' national security.
Yet the threat from the Iranian-led axis, highly active in Syria, is more severe. With Iran, a threshold nuclear regional power, as its sponsor, this axis plans to subvert and topple stable Sunni governments in the Middle East and attack Israel. Iran's axis also has its sights set on eventually sabotaging the international order, to promote Iran's "Islamic revolution."
This is the axis upon which the Assad regime has become utterly dependent for its continued survival.
Today, the radical, caliphate-seeking Sunni organization, ISIS, controls half of Syria, while hardline Lebanese Shi'ite Hezbollah units can be found everywhere in Syria, together with their sponsors, Iran's Islamic Revolutionary Guards Corps (IRGC) personnel, fighting together with the Assad regime's beleaguered and worn-out military forces.
The increased Iranian-Hezbollah presence needs to be closely watched. According to international media reports, an IRGC-Hezbollah convoy in southern Syria, made up of senior operatives involved in the setting up of a base designed to launch attacks on the Golan Heights, was struck and destroyed by Israel earlier this year. The Hashemite Kingdom of Jordan too has reason to be concerned.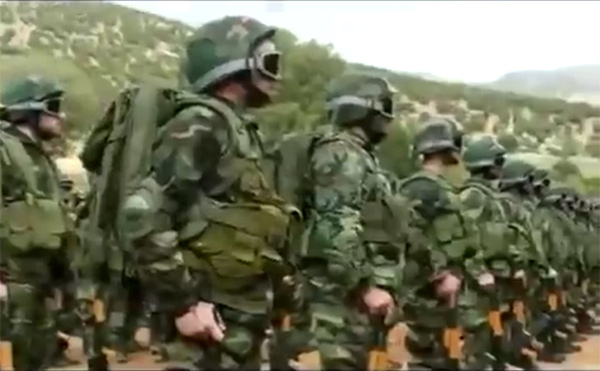 Lebanese Shi'ite Hezbollah fighters are deeply involved in Syria's civil war. (Image source: Hezbollah propaganda video)
Syria has become a region into which weapons, some highly advanced, flow in ever greater numbers, allowing Hezbollah to acquire guided missiles, and allowing ISIS and the Al-Nusra Front to add to their growing stockpile of weaponry.
Other rebel organizations, some sponsored by Saudi Arabia, Turkey, and Qatar, are also wielding influence in Syria. These groups represent an effort by Sunni states to exert their own influence there.
Despite all the efforts to support it, the Assad regime suffered another recent setback when ISIS seized the ancient city Palmyra in recent days, making an ISIS advance on Damascus more feasible. To the west, near the Lebanese border, Al-Qaeda's branch in Syria, the Al-Nursa Front, also made gains. It threatened to enter Lebanon, prompting Hezbollah to launch a counter-offensive to take back those areas.
These developments provide a blueprint for the future of Syria: A permanently divided territory, where conquests and counter-offensives continue to rage, and the scene of an ongoing humanitarian catastrophe, producing waves of millions of refugees that could destabilize Syria's neighbors. Syria is set to remain a land controlled by warring sectarian factions, some of whom plan to spread their destructive influence far beyond Syria.
Events in Syria have shown that the notion that air power can somehow stop ISIS's advance is a fantasy. More importantly, they have also illustrated that Washington's policy of cooperation with Iran in a possible "grand bargain" to stabilize the region, while failing to take a firmer stance against the civilian-slaughtering Assad regime, is equally fruitless.
A policy of turning a blind eye to the Iran-led axis, including Syria's Assad regime, appears to be doing more harm than good.