Middle East regional instability is set to worsen after Russia's lifting of its ban on the delivery of the advanced S-300 air defense missile system to Iran.
Russia's decision on April 13 to lift the ban is a highly dangerous development, which might well further destabilize the Middle East, and has serious potential to spark new conflicts.
The S-300 is one of the world's most advanced surface-to-air missile defense systems. Designed as a truck-mounted air defense battery, it can also be used as an offensive weapon, thanks to its long range and ability to track and strike many planes simultaneously.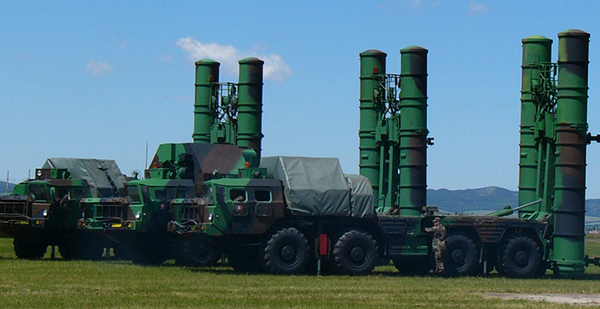 Batteries of Russian-made S-300 surface-to-air missiles, pictured here in service with the Slovakian military. (Image source: EllsworthSK/Wikimedia Commons)
If Russia follows through on its pledge to deliver the S-300 to Iran, the Iranians could then smuggle these sophisticated weapons into Syria, and from there, use a cross-border network to move the missiles on to Hezbollah in Lebanon.
From Lebanon, the S-300 missiles, which have a range of 125 miles, would not only pose a threat to vital Israel Air Force activity, but could also be used by Hezbollah to target civilian air traffic over Israel, triggering a devastating Israeli response.
In addition, Iran can be expected to try to smuggle the system to the Syrian Assad regime, as it has done with so many other types of weapons. Damascus, too, would in all likelihood use the S-300 to threaten Israeli aircraft over northern Israel.
Both the Assad regime and Hezbollah might also use the S-300 to try to challenge vital missions flown by the Israel Air Force, such as intelligence-gathering flights that help Israel keep an eye on the perpetual, threatening -- also Iranian-backed -- developments to its north.
It is reasonable to assume, however, that the Israel Air Force has already developed ways to overcome such threats.
The impact that Russian S-300 missiles will have in the region is far wider than just on Israel and its neighbors. Iran will doubtless be tempted to smuggle S-300 batteries, together with Iranian technicians and operators, to its Houthi clients in Yemen. The Shi'ite Houthis, also proxies of Iran, are currently unable to shoot down Saudi fighter jets engaged in an air campaign to stop the Shi'ite forces from taking over all of Yemen. Receiving the Russian-made surface-to-air missiles would change that.
Most critically, Iran can use the system to harden air defenses around its multiple nuclear sites, making any potential future air attack significantly more difficult.
Enhancing defenses around Iran's nuclear program has implications for global security as a whole, by making it easier for Iran to present its threshold nuclear status as an almost invulnerable established fact. This in turn would weaken the nuclear non-proliferation treaty, allow Iran confidently to continue exporting arms and terrorism across the Middle East, and allow Iran to build ballistic missiles that would place all of the Middle East, and large areas of Europe, in their range. If deployed on Iranian ships or submarines, Iranian ballistic missiles have the potential to reach even farther.
For the past five years, Russia has refrained from sending the S-300 system to Iran, due to Israeli and American pressure, as well as the biting sanctions that have been in place against the Islamic Republic.
Israel's Prime Minister, Benjamin Netanyahu, explaining that regional stability was at stake, lobbied Moscow intensively in 2010 to cancel a 2007 deal to supply the system to Iran. Russia, after sending mixed signals, eventually cancelled the deal.
Now, with a "framework" deal on Iran's nuclear program in place, and with the P5+1 countries working with Iran on a finalized deal by the end of June, Russia is keen to capitalize on lifting sanctions to resume business with Iran. China has also just agreed to build nuclear plants for Iran. Their decision looks like a sign of things to come.
Iran's Islamic Revolutionary Guards Corps (IRGC) is already active throughout the entire Middle East; it has been supplying Iranian proxies with more arms, training, and funds. This forward positioning, in turn, gives Iran the ability to remotely spark conflicts and destabilize the region.
As Russia's and China's decisions illustrate, lifting sanctions on Iran will only boost the IRGC's efforts to spread Iran's increasingly destructive influence.