For two years, I have been campaigning alongside my fellow liberty-minded Muslims at the American Islamic Forum for Democracy (the nonprofit organization I founded to combat Islamism) for the release of the courageous Saudi blogger Raif Badawi -- and for two years, the mainstream Muslim community and the Obama administration have remained relatively silent on his case.
While American Muslims raise their voices in collective, indignant outrage over Tahera Ahmad's accusation that she was denied a can of Diet Coke on an airplane, Raif Badawi languishes in prison, effectively sentenced to death by flogging. American Muslim organizations such as the Council on American-Islamic Relations (CAIR), the Islamic Society of North America (ISNA) and others have not spoken out in support of a man who is being persecuted for questioning the Wahhabi religious establishment. If these organizations didn't regularly comment on the status of Muslims abroad, this would be perhaps less notable -- but they do, and thus their silence is deafening even as their hypocrisy is predictable.
Today, Raif's case is more urgent than ever before. Despite condemnation from several world leaders and a groundswell of support from activists, Saudi Arabia's "injustice" system and supreme court announced Sunday that they upheld the lower court's decision to punish Raif for the crime of free reformist thought, with ten years in prison and 1,000 lashes -- a brutal punishment that is likely to kill him well before it is completed. Raif's family and supporters fear that the lashings -- previously suspended due to Raif's ailing health -- will commence again Friday.
This January, I joined other advocates of religious freedom in volunteering to receive part of Raif's punishment by being lashed in his stead, so as to spare his life and show the world the brutality of Saudi Arabia's brand of corporal punishment. We then invited others to join us, and to date have collected the signatures of 1,117 people willing to take lashes for Raif.
One of the enormous barriers to justice for Raif Badawi is Saudi Arabia's refusal to allow him adequate legal representation. In fact, his lawyer, Waleed Abu al-Khair, has also been sentenced to fifteen years in prison, charged with the "crimes" of "inflating public opinion" and "distorting the Kingdom's reputation." (Waleed's wife happens to be Samar Badawi, who endured a prison sentence in Saudi Arabia for "parental disobedience" after challenging her abusive father, and is now a leader in the women's rights movement.)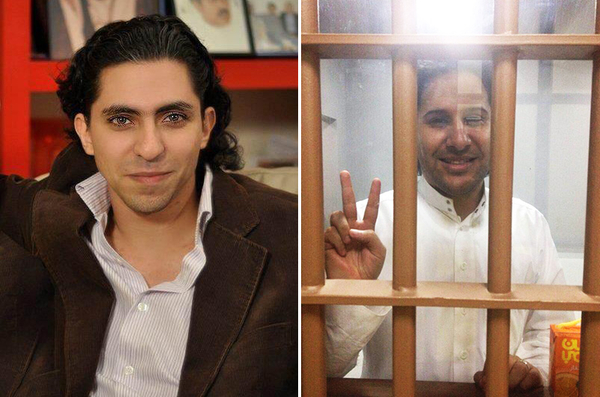 Raif Badawi (left) and his lawyer, Waleed Abu al-Khair.
Today, the free world must press on every pressure point possible and send a global appeal to the leaders of Saudi Arabia on behalf of Raif Badawi and Waleed Abu al-Khair. Natan Sharansky, the heroic Soviet dissident, wrote in the Washington Post in February, with regards to Saudi Arabia, "Trust the Dissidents, not the Diplomats." At this point, the only option left for Raif is for King Salman to grant him clemency.
American Islamist groups such as CAIR, ICNA, MAS, and ISNA have not and will not speak up on behalf of Raif or Waleed, due to their strong ties and sympathies to the Organization of Islamic Cooperation (OIC) lobby -- a global Islamist mafia of 57 Muslim majority nations now based out of Jeddah. The OIC will not do anything, in fact they have never been more emboldened, last week hosting "less than a mile-and-a-half away from the scene of Raif's first flogging, an OIC conference... 'combating intolerance, negative stereotyping and stigmatization of, and discrimination, incitement to violence and violence against, persons based on religion or belief'" (aka blasphemy laws: exactly what Raif, down the street, is getting flogged for doing).
I must here reiterate one of our recent statements on this incredibly significant case:
Make no mistake. As an American Muslim organization dedicated to reform and modernity, we at AIFD are Raif Badawi! The prisons of Islamist governments from the Kingdom of Saudi Arabia to Iran, Pakistan, and Turkey and other nations of the Organization of Islamic Cooperation (OIC) are filled with prisoners of conscience whose voices represent the key to individual freedom across Muslim-majority societies.

AIFD calls on President Barack Obama and his administration to appeal to Saudi authorities on behalf of Raif Badawi. How can the United States maintain ties as an "ally" with a state ready to torture, imprison, and possibly kill a man for the crime of questioning clerics? American values demand that we stand in support of Raif Badawi – firmly, unequivocally, and swiftly. Badawi's case will have repercussions for the entire Kingdom of Saudi Arabia and beyond.

If Badawi is permitted to languish in prison, is tortured with lashes and crippled with impossibly high fines, or worse yet murdered for asking the very questions and issuing the same challenges we do – the future of Muslims – dissident or not -- worldwide looks increasingly bleak. To date, the Obama administration has not taken sides in this battle within the "house of Islam" – and with every resistance to supporting real forces of liberty, more voices are silenced through fear, intimidation, and violence.
Raif Badawi's and Waleed Abu Al-Khair's names should be uttered from the mouth of President Obama every day from the bully pulpit of the White House until they are freed. Anything short of that positions the United States as apologists and facilitators of the world's greatest oppressors of free-thinking Muslims -- the 'neo-caliphate' of the OIC theocratic mafia and their Saudi Arabian capital base (translated 'Qaeda').
Dr. M. Zuhdi Jasser, M.D. is the President of the American Islamic Forum for Democracy, based in Phoenix, and author of "A Battle for the Soul of Islam: An American Muslim Patriot's Fight to Save his Faith". He is a former US Navy Lieutenant Commander.