In early 2013, NATO supposedly came to its ally's help: As Turkey was under threat from Syrian missiles -- potentially with biological/chemical warheads -- the alliance would build a mini anti-missile defense architecture on Turkish soil. Six U.S.-made Patriot missile batteries would be deployed in three Turkish cities and protect a vast area where about 3.5 million Turks lived.
The Patriot batteries that would protect Turkey from Syrian missiles belonged to the United States, Germany and the Netherlands. In early 2015, the Dutch mission ended and was replaced by Spanish Patriots. Recently, the German government said that it would withdraw its Patriot batteries and 250 troops at the beginning of 2016. Almost simultaneously, the U.S. government informed Turkey that its Patriot mission, expiring in October, would not be renewed. Washington cited "critical modernization upgrades" for the withdrawal.
Since the air defense system was stationed on Turkish soil, it unnerved Iran more than it did Syria. There is a story behind this. First, Patriot missiles cannot protect large swaths of land, but only designated friendly sites or installations in their vicinity. That the six batteries would protect Turkey's entire south and 3.5 million people living there was a tall tale. They would instead protect a U.S.-owned, NATO-assigned radar deployed earlier in Kurecik, a Turkish town; and they would protect it not from Syrian missiles with chemical warheads, but from Iranian ballistic missiles.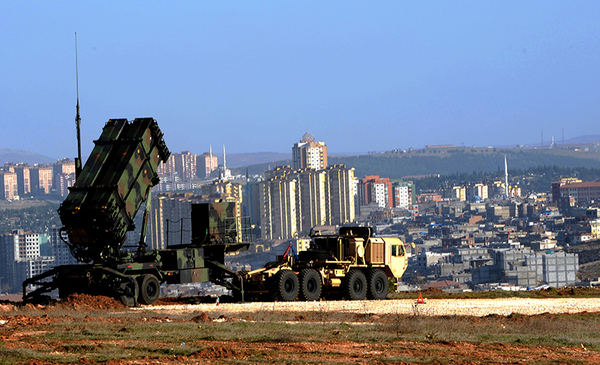 U.S. Patriot missiles, deployed outside Gaziantep, Turkey in 2013. (Image source: U.S. Army Europe/Daniel Phelps)
Kurecik seemed to matter a lot to Iran. In November 2011, Iran threatened that it would target NATO's missile defense shield in Turkey ("and then hit the next targets," read Israel) if it were threatened. Shortly before the arrival of Patriots in Turkey, Iran's army chief of staff warned NATO that stationing Patriot anti-missile batteries in Turkey was "setting the stage for world war."
What was stationed in Kurecik was an early-warning missile detection and tracking radar system. Its mission is to provide U.S. naval assets in the Mediterranean with early warning and tracking information in case of an Iranian missile launch that might target an ally or a friendly country, including Israel. So, a six-battery Patriot shield to protect the NATO radar in Kurecik against possible Iranian aggression was necessary. And that explains why the Iranians went mad about Kurecik and openly threatened to hit it.
NATO and Turkish officials have always denied any link between the Patriot missiles and the NATO radar in Turkey. They have often pointed out that the Patriot batteries were stationed in the provinces of Adana, Kahramanmaras and Gaziantep, while Kurecik was in nearby Malatya province. But the Patriot is a road-mobile system: It can be dismantled easily and re-deployed in another area in a matter of hours (the road distance between Kurecik and Kahramanmaras is a mere 200 kilometers, or 124 miles).
Clearly, Iran did not go mad and threaten to hit all NATO installations in Turkey because it wanted 3.5 million Turkish citizens to die from the chemical warhead of a Syrian missile. It went mad and threatened because it viewed the defensive NATO assets in Turkey as a threat to its offensive missile capabilities, which the Patriots could potentially neutralize.
Why, otherwise, would a country feel "threatened" and threaten others with starting a "world war" just because a bunch of defensive systems are deployed in a neighboring country? Iran did so because it views the NATO radar in Turkey as an asset that could counter any missile attack on Israel; and the Patriots as hostile elements because they would protect that radar. In a way, Iran's reaction to the NATO assets in Turkey revealed its intentions to attack.
It could be a total coincidence that the U.S. and Germany (most likely to be followed by Spain) have decided to pull their Patriot batteries and troops from Turkey shortly after agreeing to a nuclear deal with Iran. But if it is a coincidence, it is a very suspicious one. In theory, the Patriot systems were deployed in Turkey in order to protect the NATO ally from missile threats from Syrian President Bashar al-Assad's regime. Right? Right.
Assad's regime is still alive in Damascus and it has the same missile arsenal it had in 2013. Moreover, Turkey's cold war with Assad's Syria is worse than it was in 2013, with Ankara systematically supporting every opposition group and openly declaring that it is pushing for Assad's downfall. Why were Assad's missiles a threat to Turkey two and a half years ago, but are not today?
The Patriot missiles are leaving Turkey. They no longer will "protect Turkish soil."
Apparently, NATO allies believe, although the idea defies logic, that the nuclear deal with Iran will discourage the mullahs in Tehran from attacking Israel.
It looks as if the potential target of NATO heavyweights' decision is more a gesture to Iran than to Turkey.
Burak Bekdil, based in Ankara, is a Turkish columnist for the Hürriyet Daily and a Fellow at the Middle East Forum.