A tweet by India's Prime Minister Modi on Aug. 16, during his visit to Abu Dhabi, prompted a unique cultural debate in the United Arab Emirates (UAE). Announcing to his 14.9 million followers that the UAE government had allotted land for a Hindu temple, he prompted a discussion on Twitter that generated over 25,000 tweets in the Arabic language alone (a very large number for public opinion in the UAE and other Arabian monarchies), coverage on the BBC, and more.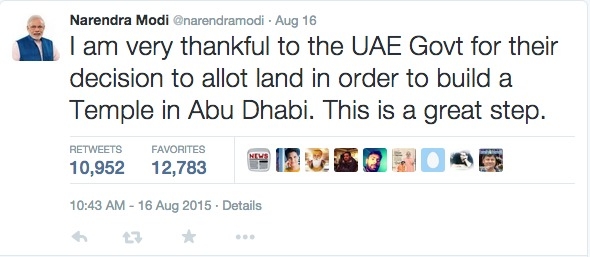 It was the remarkable crown prince of Abu Dhabi, Sheikh Mohamed Bin Zayed Al Nahyan, who donated land for the temple; he did so to foster cultural and religious tolerance and fit his longstanding effort to bring diversity to Abu Dhabi (another notable example was establishing the Guggenheim Museum). As the prince explained, a "civilized, advanced" Abu Dhabi with sustainable development requires "concerted efforts from all sectors of the community" -- Hindus included. The temple also fit newly passed UAE legislation establishing religious freedom.
But the prospect of a state-supported Hindu temple immediately provoked an uproar, beginning with the Twitter hashtag (in Arabic) #BuildingAHinduTempleInAbuDhabi. The imam of the Sheikh Zayed Mosque in Abu Dhabi (where super-star Rihanna controversially had modeled her Arabian outfit), Waseem Yousef, kicked off the debate that same day with a tweet asserting that "Religion is for Allah only. All Imams agree that building temples for idol worshipping is a blasphemy."
"Religion is for Allah only. All Imams agree that building temples for idol worshipping is a blasphemy." — Waseem Yousef
"If you truly respect religions, you'd keep these scumbags out of the mosques of Alla.h" — Ahmad Aloudah
The popular UAE response to Youssef's tweet came fast and hard: #StopWassim'sTVShow. And, indeed, he quickly found his television show interpreting dreams canceled.
News of the Hindu temple then crossed over to nearby countries, especially Saudi Arabia, where a surge of anti-Hindu sentiments smeared the crown prince, the UAE government, and all Emiratis.
Some anti-Hindu tweets cited the Prophet Muhammad breaking idols in Mecca. Others focused on the persecution of Muslims in Burma where Buddhists (not Hindus) destroyed a historic mosque and massacred Muslims.

"1400 years ago the prophet purified Arabia from idol worshipping. Now it returns to Abu Dhabi." — Mshari Al-Shammari
Other Saudis were anti-freedom and progress. They apparently believe it collides with Islamic values, and refuse to consider the UAE as a model for balancing the two:

"They claim freedom, build churches and temples, but they're actually taking bad habits from the West and calling it progress." — @zeiid2
Some of the tweets attacked Abu Dhabi's crown prince: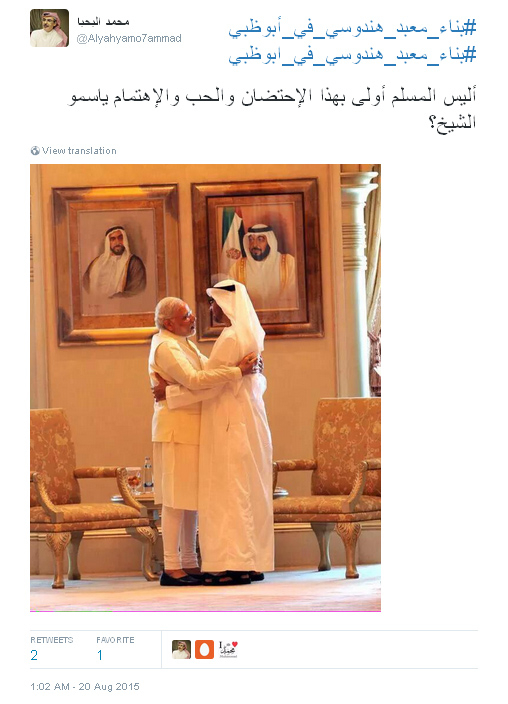 "Only Muslims are worthy of your love and compassion." — @Alyahyamo7ammad
The Islamic State in Iraq and Syria (ISIS) also weighed in:

"We are destroying the temples of idol worshippers, and the UAE is calling Muslims to follow the infidels." — @Asdia1Y
Surprisingly, this was tweeted from a Canadian Muslim, referring to the Hindu temple: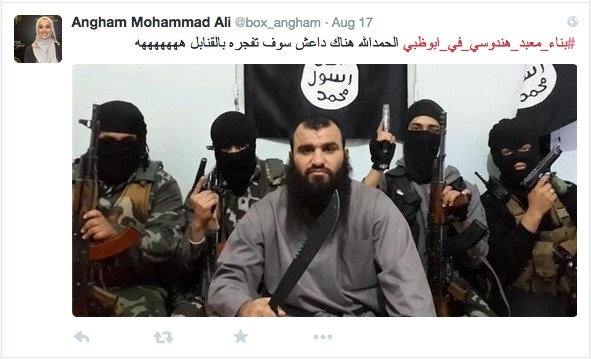 "Thank god for ISIS, which will blow it up soon." — Angham Mohammad Ali
The response, however, was not one sided. A tweet quickly emerged from Saudi Arabia under a trending hashtag #LiberalRational: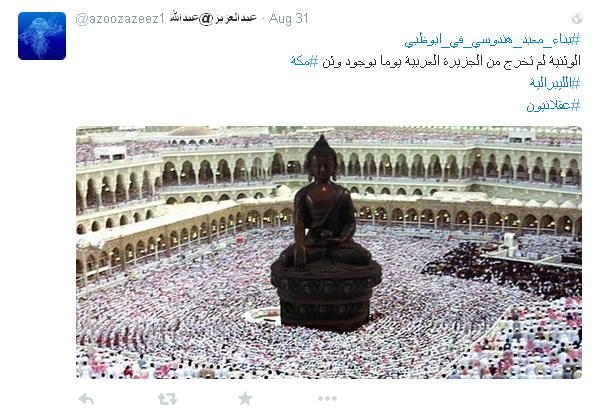 "Idol worshipping never left Mecca. Mecca is the idol that you worship." — @azoozazeez1
Other twitter users from Saudi Arabia also followed suit, including the writer and public figure Saleh Al Turigee, who has 143,000 followers on Twitter.

"This is a huge leap from medieval ways of thinking. Humanity is against aggression and stopping others from practicing their faith." — Saleh Al Turigee
Positive voices from the UAE and elsewhere in the Middle East, especially Egypt, supported the temple; they pushed it forth as a symbol of love, freedom, knowledge, innovation, and humanity.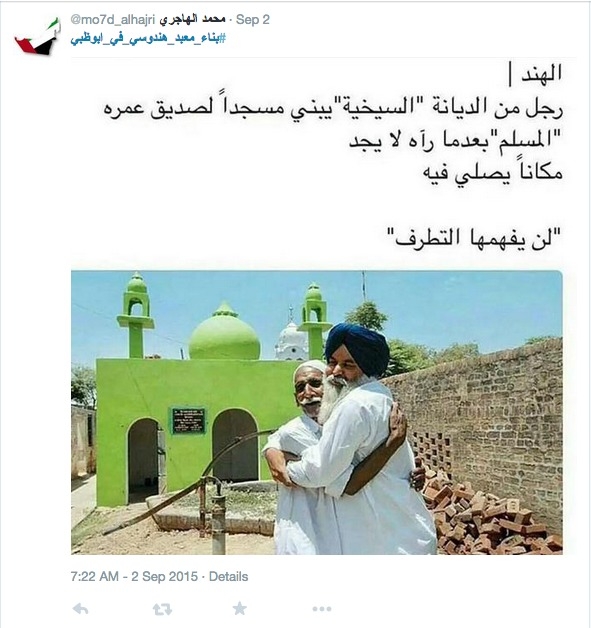 "India: A Sikh man builds a mosque for his Muslim childhood friend. Extremists will never understand this." — @mo7d_alhajri

"Religious freedom is a right for everyone, just as it is a right for you to have a mosque in non-Muslim countries" — F. K. Habeeb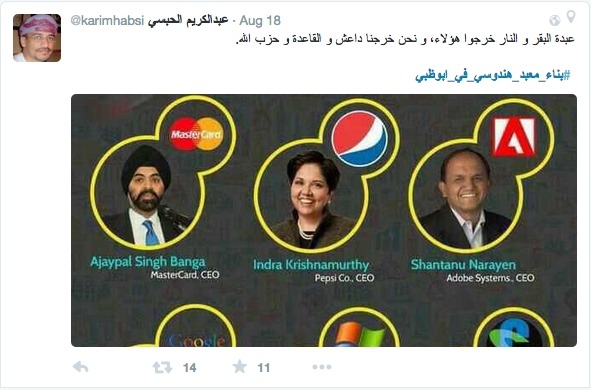 "Cow-worshippers produced the following people, and we produced ISIS, Al-Qaeda and Hezbollah." — Karim Habsi, Oman.

"UAE says Islam is a religion of humanity. ISIS says Islam is a religion of blood." — Fatima Naoot, Egypt (492K followers/writer)
Some tweets, both pro- and anti-temple, showed a sense of humor:

"Let's just respect their Holy Cow and stop eating Kebabs." "The cows would be happy." — @alabood9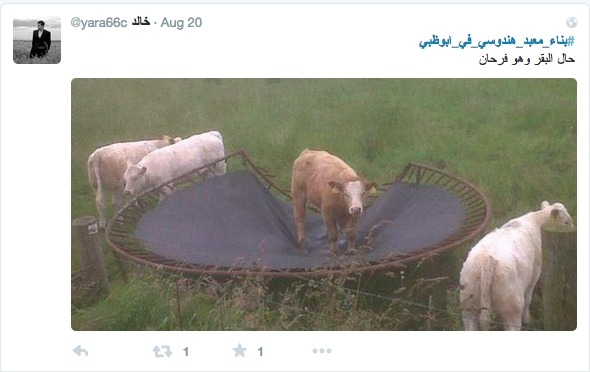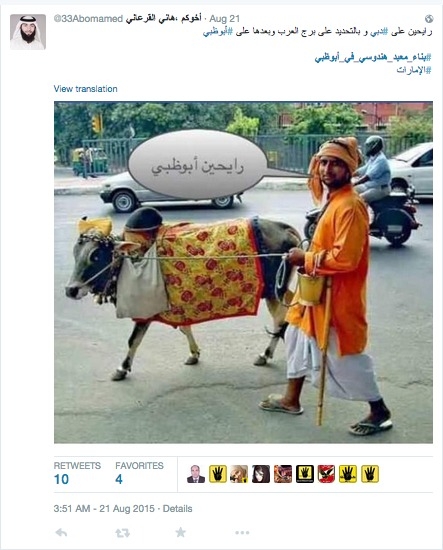 "We are on our way to Abu Dhabi" — @33Abomamed
The Hindu temple issue reveals with special clarity the divide between Muslim extremists (who perceive the "Other" as an infidel) and Muslim non-extremists (who follow a spirit of openness, peace, and coexistence with different cultures in modern times). More importantly, it shows that a non-extremist segment not only exists, but is ready to take on the extremists. From Abu Dhabi's crown prince, to the city's population, to the larger body of Arabic-language Twitter activists, the non-extremists can stand up to -- and sometimes defeat -- the ISIS crowd.
As a UAE national who lives in Abu Dhabi, where 80% of the residents come from 161 foreign nationalities, I believe the people are looking forward to the openness represented by the Hindu temple. We look forward to its opening and see this as a welcome, significant step towards the defeat of the extremists in our midst.
Sara Al Nuaimi is an Emirati lady, a Muslim and a cultural activist based in Abu Dhabi.