The death sentence for Asia Bibi is like Chernobyl's nuclear cloud: it contaminates everything around it. After Asia's arrest, her husband, Masih, and her children went into hiding. They have moved house 15 times in five years. They could not even attend Asia's judicial hearings. It is too dangerous for them. Her husband was forced to quit his job.
Asia's "crime" was to use the same water glass as her Muslim co-workers. She was sentenced to death because she is Christian and she was thirsty. "You defiled our water," the Muslim women told her. "Convert to Islam to redeem yourself from your filthy religion."
Asia took a deep breath and replied: "I will not convert. I believe in my religion and Jesus Christ. And why should I be the one to convert and not you?"
On November 8, 2010, after just five minutes of deliberation, Asia Noreen Bibi, under Article 295 of the Pakistani Code, was sentenced to death by hanging. The crowd cheered the verdict. She was alone and burst into tears. Next to her there were two policemen, visibly satisfied. In the days after, 50,000 people in Karachi and 40,000 in Lahore took the streets to brandish an image of Asia Bibi with the rope around her neck. They say they will not rest until she is hanged or shot.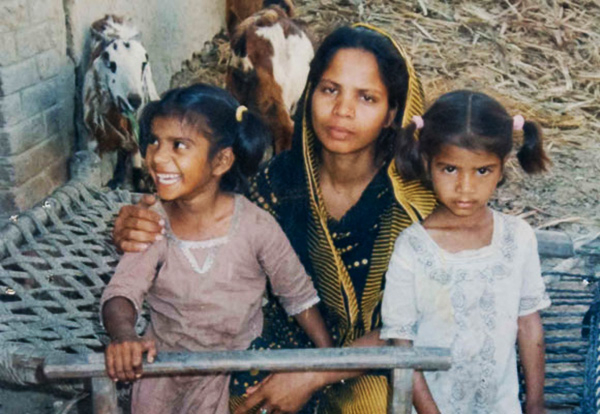 Asia Bibi and two of her five children, pictured prior to her imprisonment on death row in 2010 for "blasphemy."
Pakistani Islamists recently gathered to demand the immediate execution of this woman, who has been jailed for 2,500 days. Fears for the life of Bibi -- the first Christian woman sentenced to be hanged in Pakistan on spurious charges of "blasphemy" -- have grown after the execution of Mumtaz Qadri, the murderer of Punjab governor Salman Taseer, a brave Muslim reformer who paid with his life for expressing support for Asia Bibi. Lawyers defending people accused of blasphemy are sometimes murdered as well.
The late Minister for Minority Affairs Shahbaz Bhatti also supported Asia Bibi, and ensured that she was placed another cell, where a camera now checks that she does not suffer any violence. It was a fatal decision for Bhatti. A terrorist blocked Bhatti's car as he left his mother's house and murdered him in broad daylight. Everyone knew that the death sentence would be carried out sooner or later. Rome's Trevi Fountain has just been illuminated red to remember Christian martyrs, such as Mr. Bhatti.
Street protests against Asia Bibi have continued since Qadri's execution on February 29, 2016. A senior Punjabi government official revealed that Bibi's security tightened was increased after intelligence reports surfaced that Islamist groups are conspiring to kill her inside the prison, to avenge the hanging of Qadri.
These threats are why human rights organizations have demanded that the appeal of Asia Bibi, which has been postponed so far, will be conducted in a prison cell, under tight security measures. Any transfer needs to remain secret because Islamists are ready to exploit any opportunity to target her.
To understand Asia's impending martyrdom, one has to read the book she wrote with the French journalist Anne Isabelle Tollet, entitled "Blasphemy".
Asia Bibi must prepare her food by herself to avoid being poisoned. Even the guards threaten her with death. She never leaves her prison cell, and no one is allowed to enter to clean it. She has to clean it by herself, and the prison does not provide any cleaning products. In the small cell, which measures three meters, next to the bed there is what the guards, to mock her, call the "bathroom." It is a water pipe from the wall and a hole in the ground. This has been her life in the last five years, as in the crypt of a cemetery.
Meanwhile, Islamists just raised the bounty on her head to 50 million rupees ($678,000). Her lawyer explained that many Christians accused of blasphemy are killed in their prison cells before they can even appear in court.
Asia Bibi never killed anyone. But in the so-called justice system of her country, she has done something much worse, the crime of crimes, the most absolute outrage: She -- allegedly -- offended the Muslim Prophet Mohammed. Criminals, murderers, and rapists are treated better than her.
It is the West's indolence and cupidity that has condemned Asia Bibi to death. For this courageous woman, no one in Europe has filled the streets to ask her liberation or to protest against Pakistan's anti-Christian laws. Even Pope Francis stood silent. The emblem of his reticence is the 12 seconds of face-to-face time the Pope had with Bibi's husband and her daughter in St. Peter's Square. Francis barely touched the two, while his predecessor, Pope Benedict XVI, publicly called many times for her release.
U.S. President Barack Obama, always full of rhetoric and ecumenical emotions, has never said a word about the persecution of Christians or asked his Pakistani allies to free Asia Bibi. And to quote the French newspaper Le Figaro, Europeans are usually "so eager" to have "mobilizations, petitions, demonstrations of every kind, but "in this case, nothing!"
For a long time, even the American mainstream press stood silent about the massacres of Christians, who are martyred every five minutes. This silence was broken by a brave dissident of Islam, Ayaan Hirsi Ali, who dedicated to this mass martyrdom a masterful essay in Newsweek. The mainline Protestant churches of America, too busy demonizing Israel, also stood silent. In France, it has been impossible even to sponsor an event in which the receipts would be given in favor of these Christians. The operator of the Paris' metro refused an ad in favor of these Christians, then lifted the ban after protests. All European secular NGOs such as Oxfam are also silent, leaving the defense of Christians to heroic non-governmental organizations such as the Barnabas Fund.
Westerners have been accustomed to think of those remote Christians as if they were leftover agents of colonialism, so that we are deaf to their pleas and even to their tragic stories. Meanwhile, Christianity is being erased from its own cradle. Distaste for our moral cowardice is balanced by the admiration for these Christians, such as Asia Bibi, who continue to witness their faith in a land that wants to expel them from history. But the Western cowardice will be punished.
The war against the "blasphemous" has in fact deep consequences in Europe, where dozens of journalists, cartoonists and writers are condemned to death for another version of the same "crime" as Asia Bibi: "Islamophobia." Catholic faithful such as Asia Bibi have been persecuted for the same reasons and by the same people who murdered Charlie Hebdo's impenitent secularists. And ISIS, which recently blew up Mosul's iconic clock church (donated by the wife of Napoleon III), would gladly blow up the Cathedral of Chartres, one of France's greatest treasures.
The liberation of this illiterate Pakistani mother of five children does not just affect some distant Christian community. It concerns all of us. Is it too much to ask Westerners for some moral clarity and to rally under the slogan, "Je Suis Asia Bibi"?
Giulio Meotti, Cultural Editor for Il Foglio, is an Italian journalist and author.