The Iran nuclear deal, marking its first anniversary, does not appear to have had a calming effect on the Middle East. The Iranians seem to be deepening their intervention in the Israeli-Palestinian conflict in general and in internal Palestinian affairs in particular.
This intervention is an extension of Iran's ongoing efforts to expand its influence in Arab and Islamic countries, including Iraq, Yemen, Syria and Lebanon and some Gulf states. The nuclear deal between Tehran and the world powers has not stopped the Iranians from proceeding with their global plan to export their "Islamic Revolution." On the contrary, the general sense among Arabs and Muslims is that in the wake of the nuclear deal, Iran has accelerated its efforts to spread its influence.
Iran's direct and indirect presence in Iraq, Syria, Yemen and Lebanon has garnered some international attention, yet its actions in the Palestinian arena are still ignored by the world.
That Iran provides financial and military aid to Palestinian groups such as Hamas and Islamic Jihad has never been a secret. In fact, both the Iranians and the Palestinian radical groups have been boasting about their relations.
Iran funnels money to these groups because they share its desire to eliminate Israel and replace it with an Islamic empire. Like Hezbollah in Lebanon and the Houthis in Yemen, Hamas and Islamic Jihad agreed to play the role of Tehran's proxies and enablers in the Israeli-Palestinian conflict.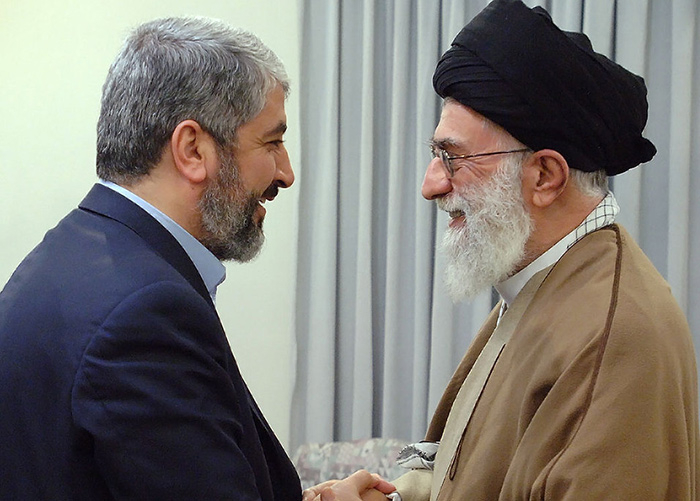 Iran used to funnel money to Hamas and Islamic Jihad because they share its desire to eliminate Israel and replace it with an Islamic empire. Relations between Iran and Hamas foundered a few years back, when Hamas leaders refused to support the Iranian-backed Syrian dictator, Bashar Assad. Pictured above: Hamas leader Khaled Mashaal (left) confers with Iranian "Supreme Leader" Ali Khamenei, in 2010. (Image source: Office of the Supreme Leader)
But puppets must remain puppets. Iran gets nasty when its dummies do not play according to its rules. This is precisely what happened with Hamas and Islamic Jihad.
Relations between Iran and Hamas foundered a few years back over the crisis in Syria. Defying their masters in Tehran, Hamas leaders refused to declare support for the Iranian-backed Syrian dictator, Bashar Assad. Things between Iran and Hamas have been pretty bad ever since.
First, the Assad government closed down Hamas offices in Damascus. Second, Assad expelled the Hamas leadership from Syria. Third, Iran suspended financial and military aid to Hamas, further aggravating the financial crisis that the Gaza-based Islamist movement had already been facing.
Islamic Jihad got it next. Iranian mullahs woke up one morning to realize that Islamic Jihad leaders have been a bit unfaithful. Some of the Islamic Jihad leaders were caught flirting with Iran's Sunni rivals in Saudi Arabia and other Gulf countries. Even worse, the Iranians discovered that Islamic Jihad was still working closely with their erstwhile allies in the Gaza Strip, Hamas.
Iran had had high hopes for Islamic Jihad replacing Hamas as Tehran's darling, and major proxy in the Palestinian arena. But here were Islamic Jihad leaders and activists working with their cohorts in Hamas, in apparent disregard of Papa Iran.
The mullahs did not lose much time. Outraged by Islamic Jihad's apparent disloyalty, Iran launched its own terror group inside the Gaza Strip: Al-Sabireen (The Patient Ones). This group, which currently consists of several hundred disgruntled ex-Hamas and ex-Islamic Jihad members, was meant to replace Islamic Jihad the same way Islamic Jihad was supposed to replace Hamas in the Gaza Strip -- in accordance with Iran's scheme.
Lo and behold: it is hard to get things right with Iran. Al-Sabireen has also failed to please its masters in Tehran and is not "delivering." Palestinian sources in the Gaza Strip say that Iran has realized that the investment in Al-Sabireen has not been worthwhile because the group has not been able to do anything "dramatic" in the past two years. By "dramatic," the sources mean that Al-Sabireen has neither emerged as a serious challenger to Islamic Jihad or Hamas, and has not succeeded in killing enough Israelis.
So Iran has gone running back to its former bedfellow, Islamic Jihad.
For now, Iran is not prepared fully to bring Hamas back under its wings. Hamas, for the Iranians, is a "treacherous" movement, thanks to its periodic temporary ceasefires with Israel. The Iranian leaders want to see Hamas killing Jews every day, with no break. Ironically, Hamas has become too "moderate" for the Iranian leadership because it is not doing enough to drive Jews out of the region.
That leaves Iran with the Islamic Jihad.
In a surprise move, the Iranians this week hosted Islamic Jihad leader Ramadan Shalah and senior officials from his organization, in a renewed bid to revive Islamic Jihad's role as the major puppet of Tehran in the Gaza Strip. Islamic Jihad officials said that the visit has resulted in the resumption of Iranian financial aid to their cash-strapped organization. As a result of the rift between Islamic Jihad and Iran, the Iranians are said to have cut off nearly 90% of their financial aid to the Palestinian terror organization.
Some Palestinians, such as political analyst Hamadeh Fara'neh, see the rapprochement between Iran and Islamic Jihad as a response to the warming of relations between Hamas and Turkey. The Iranians, he argues, are unhappy with recent reports that suggested that Turkey was acting as a mediator between Hamas and Israel.
Other Palestinians believe that Iran's real goal is to unite Islamic Jihad and Al-Sabireen so that they would become a real and realistic alternative to Hamas in the Gaza Strip.
Whatever Iran's intentions may be, one thing is clear: The Iranians are taking advantage of the nuclear deal to move forward with their efforts to increase their influence over some Arab and Islamic countries. Iran is also showing that it remains very keen on playing a role in the Israeli-Palestinian conflict -- one that emboldens radical groups that are bent on the destruction of Israel and that share the same values as the Islamic State terror group.
Iran's latest courtship of Islamic Jihad is yet another attempt by the mullahs to deepen their infiltration of the Palestinian arena by supporting and arming any terror group that strives to smash Israel. For now, it seems that Iran's scheme is working, largely thanks to the apathy of the international community, where many believe that Iran has been declawed by the nuclear deal.
But more Palestinian terror group leaders may soon perform the "pilgrimage" to their masters in Tehran. If this keeps up, the Iranians themselves will puppeteer any Palestinian state that is created in the region. Their ultimate task, after all, is to use this state as a launching pad to destroy Israel. And the Iranians are prepared to fund and arm any Palestinian group that is willing to help achieve this goal.
Khaled Abu Toameh is an award-winning journalist based in Jerusalem.