It is true that the worst enemy of Turkey's Islamist President Recep Tayyip Erdogan is another Islamist who was Erdogan's best political ally for several years. It is also true that Erdogan, publicly or privately, feels hostility against a number of Muslim communities in the Middle East, including secular and Alevi Muslims in Turkey, the Nusairi (Alawites) in Syria and the Shiite in Iran, Lebanon and Bahrain.
It is not a secret, either, that Erdogan does not admire Jews, to put it mildly. But essentially, his strict adherence to political Islam often reveals his war of domination with non-Muslim Western civilization in a broader context. Erdogan fights anyone and anything outside the sphere of his understanding of Sunni Islamism.
A few years ago, Erdogan launched a political campaign, "The World is Greater Than Five," arguing that it was not fair to leave the fate of the world to the five permanent members of the United Nations Security Council (UNSC) -- members with veto powers.
That is fine. There are many politicians, artists and intellectuals from every corner of the world, regardless of ethnicity or religion, who campaign around the same idea. The world may or may not be greater than five. To challenge the idea that the United States, Britain, Russia, China and France should be the eternal permanent members is legitimate by all means. But Erdogan's argument over why "the world is greater than five" is problematic as it typically reflects an Islamist's angry inner thoughts, feelings of "defeat against the non-Muslim West" and a "powerful urge to reverse the world order in favor of political Islam."
In a February 2015 speech, Erdogan said:
"Currently, there are five permanent and ten non-permanent members. Do the latter have any authority whatsoever? None ... This must change ... You cannot make 196 countries live with the decisions made by any of the five permanent members of the U.N. Security Council."
Then, in the same speech, Erdogan came to the bottom line when he criticized the lack of "Muslim voices" in the Security Council. "When we look at it in terms of religion, we see that all religions except Islam are represented. Is this justice? No".
That is at the core of Erdogan's not-so-silent (and never-ending) war with the West: (Sunni) Muslim nations should be deciding on matters shaping world politics, not others.
Never mind if he supports his argument with false and corrupted information such as "we see that all religions except Islam are represented." There are no Jewish, Shinto, Buddhist, Hindu or Animist nations in the UN Security Council, or nations predominantly adhering to other faiths. Erdogan is not honest even when he insists on a Muslim contingent in the Security Council. He would be angry if the UN, as he passionately suggests, agreed on a Muslim seat and gave it to Shiite Iran. No, he wants a Sunni seat.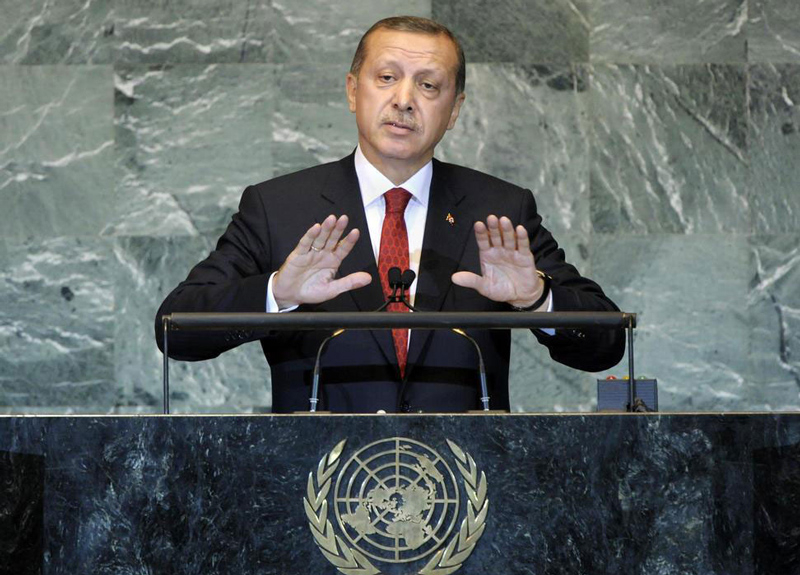 Turkey's President Recep Tayyip Erdogan now insists on a (Sunni) Muslim contingent in the UN Security Council. Pictured: Erdogan addresses the UN General Assembly on September 23, 2011. (Image source: United Nations)
On October 1, in his annual speech for the inauguration of the new legislative year, Erdogan called the UN "a burden on humanity." He, then, challenged the European Union (EU) that "it's the EU's choice whether to continue on its path with or without Turkey." Then, in the same speech, he slammed the U.S. for the "inconsistency and disjointedness" of its policies on the Middle East.
Erdogan's Turkey is a solitary nation. It does not belong to Europe. Hence its failure to join the EU, despite a half century-long effort. Theoretically it is a NATO ally and a "strategic partner" of the US. In reality, it is hostile to Western civilization and the US is only a tactical partner -- a partner as long as it helps Islamists advance their political ambitions, not a partner with shared democratic values.
Erdogan's Turkey is a solitary nation because it cannot ally with any Russian-dominated bloc either. Turkey and Russia can be at best trading partners but never allies. Historic and present day hostilities between Turkey and Russia are as deep as between the West and Soviet Russia during the Cold War.
Worse, Turkey does not belong to any Islamic bloc either. The Shiite bloc hates Erdogan's passionate Sunni-ism. For most Sunni Arabs, Turks are not even Muslims simply because they are not Arabs. Ironically, Erdogan's Turkey is too Islamic to belong to Western culture and too secular to belong to the Islamic culture. Erdogan had some face value on the "Arab street" only when he aggressively fought Israel politically.
Erdogan's anti-Western, pro-Sunni Turkey is, and should be, doomed to purgatory.
Burak Bekdil, based in Ankara, is a Turkish columnist for the Hürriyet Daily and a Fellow at the Middle East Forum.