Do not forget these names: Yves Aubin de La Messuzière; Denis Bauchard; Philippe Coste; Bertrand Dufourcq; Christian Graeff; Pierre Hunt; Patrick Leclercq; Stanislas de Laboulaye; Jean-Louis Lucet; Gabriel Robin; Jacques-Alain de Sédouy and Alfred Siefer-Gaillardin.
These men are retired French ambassadors. They are apparently well educated, very polite and aristocratic people and they regularly publish op-eds in Le Monde. However, they publish in Le Monde only to threaten Israel.
Their most recent op-ed in Le Monde on January 9, 2017, was to explain how an international conference on the Middle East, the one which scheduled for January 15 in Paris, would be beneficial for the "security" of Israel. Their text is a discouraging enumeration of traditional clichés of France's hypocritical diplomacy.
Example: "For the Palestinians, nothing is worse than the absence of a state". In which way is it the worst? As Bret Stephens wrote this week in the Wall Street Journal:
"Have they experienced greater violations to their culture than Tibetans? No: Beijing has conducted a systematic policy of repression for 67 years, whereas Palestinians are nothing if not vocal in mosques, universities and the media. Have they been persecuted more harshly than the Rohingya? Not even close."
Stephens also noted that:
"a telling figure came in a June 2015 poll conducted by the Palestinian Center for Public Opinion, which found that a majority of Arab residents in East Jerusalem would rather live as citizens with equal rights in Israel than in a Palestinian state. "
The French ambassadors, however, do not explain. They just add: "The Proclamation of a Palestinian state will certainly not change anything on the ground," but they say that they hope this symbolic move will create "a new dynamic imposing new realities". Hmm. Now what could these "new realities" be in a Palestinian state in the middle of a war-torn Middle East?
"Today," reflects Diana B. Greenwald of the Washington Post, "with Fatah in charge in the West Bank, the main threat comes from Islamist groups, such as Hamas, and even militant groups associated with Fatah that have chafed under Abbas's heavy-handed rule."
This evaluation was backed up by the landslide vote for Hamas, not in Gaza, but at Birzeit University in the West Bank.
For these French ambassadors, all Israeli governments, and especially Netanyahu's, are seemingly driven by a "religious nationalism" which supposedly makes Israel's prime minister deaf to the national aspirations of Palestinian people -- the same Palestinian people who pursue a state by killing Jews with knifes, bus-bombs or vehicular ramming attacks, at the same time shouting, "Allahu Akbar" ["Allah is Greatest"]. For our ambassadors, terrorism does not exist in "Palestine". They just whisper Quixotically about "the need for security" for Israel.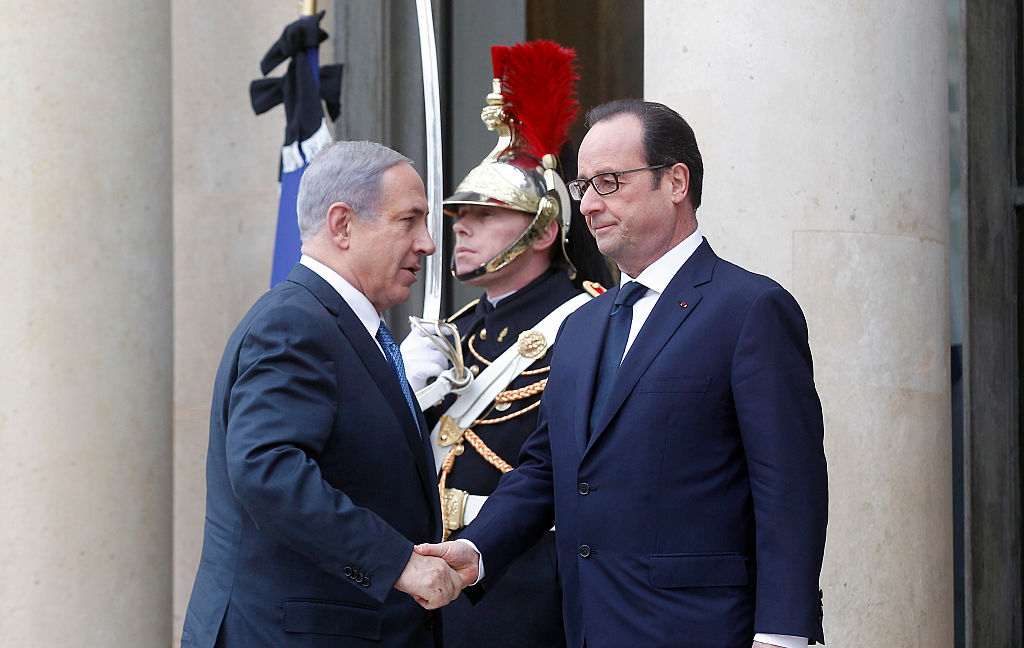 Unhappy France-Israel diplomacy. Pictured: French President François Hollande (right) greets Israeli Prime Minister Benjamin Netanyahu in Paris on January 11, 2015. (Image source: Thierry Chesnot/Getty Images)
Their article is a long and boring lament about the oh-so-difficult conditions of the Palestinian people. But after this complaint, our ambassadors finally get to their real intent: they threaten to banish Israel. If Israel does not comply with its condemnation; if Israel refuses to go back to the "Auschwitz borders" of 1949 as UN Security Council Resolution 2334 dictates; if Israel does not renounce Jerusalem, the soul of its civilization for more than 3,000 years, to make room for a Palestinian state -- they also conveniently leave out that it would most likely soon be an Islamic terrorist state -- then the process of international sanctions will be launched.
"It is unfortunate, however," the ambassadors wrote, "that Mr. Netanyahu from the outset announced that he did not want to meet Mr. Abbas in Paris. But this refusal shows the need for international pressure to reframe an impossible dialogue."
"Otherwise, how would Israel escape the danger of sanctions? By calling for the labeling of products from the Israeli settlements, the European Union, was being consistent with its condemnation of the settlements, and paved the way. It is a perilous process for Israel, open to the outside world, and therefore vulnerable. We recall the role of sanctions in the end of apartheid in South Africa".
They are not precise about what "sanctions" would be. But in an earlier op-ed, published on February 3, 2016, the same group of retired French ambassadors gave some examples of their wishes.
Immediate recognition of the State of Palestine by France and all countries of the European Union.
A suspension of the association agreement between the European Union and Israel.
The end of economic and scientific cooperation between the European Union and Israel.
These pedantic diatribes against the Jewish state are a pathetic illustration of the traditional blindness of European diplomacy, and especially France's. These ambassadors make the statement that "the Israeli-Palestinian conflict is eclipsed in world opinion by the misfortunes of Syria, Iraq and Yemen, and by the perilous presence of the Islamic state", but they continue to think that "the resentment of Arab public opinion against the Western world" exists because this same Western world is "accused of complicity with Israel".
The obvious conclusion is that they are just trying to hide their own detestation of Israel behind the Arab one. The problem is not Jewish "settlers" in "Palestine". Before 1967, there were no settlements. So what was the Palestine Liberation Organization "liberating" when it was created in Cairo in 1964? The answer, of course, as the PLO was the first to admit, was "Palestine" -- meaning the entire state of Israel, regarded by many Arabs as just one big settlement. Just look at any Palestinian map.
Middle East expert Gregg Roman straightens out the factual history distorted by the UN and Europe:
"[W]hen taking into account 3,000 years of history and context, Palestinian Arabs, not indigenous Israeli Jews, become the offending party.... Around 1,300 years ago, descendants and followers of the Prophet Mohammad from Arabia poured out of the Peninsular in an orgy of conquest, expansionism and colonization. They first annihilated ancient Jewish tribes in places like Yathrib (known today as Medina) and Khaybar before sweeping north, east and west, conquering what is today known as the Middle East, North Africa and even southern Europe.... Wherever Arab and Islamic rulers conquered, they imposed their culture, language and — most significantly — their religion.... At first, Arab settlers and conquerors did not want to intermingle with their indigenous vassals. They often lived in segregated quarters or created garrison towns from which they imposed their authority on native populations.... while slavery became rampant and unfettered.... Slowly, but surely, the "Arab world" that we know today was artificially and aggressively imposed."
Arabs, who have been trying to kill Jews there for nearly a hundred years, long before 1967, represent a problem -- there are 1.5 million Arab people in Israel, but no one considers them "settlers". The problem is that these ambassadors are not as dangerous to Israel as they are to Europe and the free world, as they keep on succumbing to the demands of Islam.
Yves Mamou is a journalist and author based in France. He worked for two decades for the daily, Le Monde, before his retirement.