Antonio Tajani, the new President of the European Parliament, has made a bold opening statement of intent: "No Jew should be forced to leave Europe." While this is an admirable position to hold, it sadly could not be farther from the truth. The poison of anti-Semitism festers in Europe once again.
Europe is seeing yet again another rise in the number of Jews leaving the continent. Jonathan Boyd, Executive Director of the Institute of Jewish Policy Research (IJPR), notes that the number of Jews leaving France is "unprecedented"
The results of the study show that 4% of the French and Belgian Jewish populations had emigrated those countries to reside in Israel.
The IJPR attributes this demographic transformation to the inflow of migrants from the Middle East, North Africa and South Asia. Is this really surprising? Sadly, when individuals come from nations that have culturally a high dislike of Jews, many of these immigrants might hold anti-Semitic views that eventually get spread.
In France, anti-Semitic incidents more than doubled between 2014 and 2015, from 423 reported incidents to 851. From January to July, anti-Semitic incidents in the UK increased by 11% according to the UK's Common Security Trust. And this prejudice is increasing.
With such spikes in Jew-hatred, is it surprising that Jews are leaving Europe? Equally concerning is Europe's blindness to this anti-Semitism.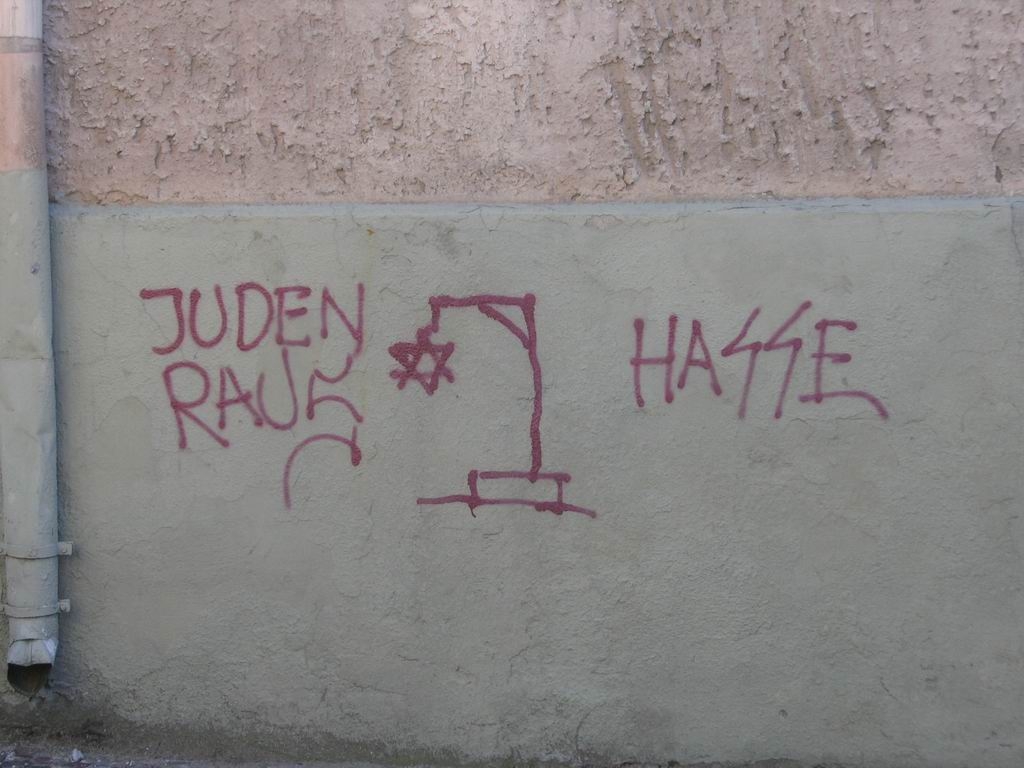 Anti-Semitic graffiti [Illustrative]. (Image source: Beny Shlevich/Flickr)
Recently, a German court decided that the firebombing of a synagogue in Wuppertal was only the expression of "anti-Israeli sentiment."
Really? Why, then, was not the Israeli embassy attacked rather than a synagogue whose worshippers presumably were not Israeli? They worshippers were German. What happened in the German court was pure Nazi-think: the most undisguised anti-Semitism: that Jews supposedly are not Germans.
The old wine of pure anti-Semitism is now dressed up in new "politically correct" bottles of criticism of Israel. At heart, however, it is your grandmother's same old Jew-hate, much of it still based on racist tropes. The Jews in that firebombed synagogue were German nationals and may have had absolutely no links to Israel. They do however, have a connection to Judaism.
The German court actually ruled that that attacking a place where Jews worship is somehow different from attacking Jews. Your pet slug would not believe that.
Meanwhile, another German Court again rejected an action against your friendly neighborhood "sharia police."
In Germany, it seems, burning down synagogues is merely "anti-Israeli" even if there are no Israelis there, but "police" who use Islamic sharia law -- without legal authority and within a system of law that persecutes women, Christians, Jews and others -- are acceptable and legal.
And people cannot understand why Jews are leaving Europe?
Even though German authorities evidently struggle to identify anti-Semitism, the Israeli government claims there has been an 50% increase in anti-Semitic incidents in Germany just since 2015.
Jew-hatred in Europe is spreading to the workplace and the hubs of supposedly enlightened discourse: universities. At Goldsmith's University, students scrawled on a public feedback board that they wanted "No more David Hirsch, no more Zionism -- a bitter Jew."
The message and tone here is clear: Jews are not welcome. The suggestion that academics would also not be welcome because of their religion is deeply worrying and should be unacceptable.
Goldsmith's have since condemned the action, but it is telling that someone felt he could comfortably post such anti-Jewish abuse. The anti-Semitism facing Jews at UK universities led the Baroness Deech to declare British University campuses "no-go zones" for Jews.
Students at Exeter University wear T-shirts glorifying the Holocaust; the Labour Party Chair at Oxford University commendably resigned over members calling Auschwitz a "cash cow" and mocking the mourners of the Paris terrorist attacks; SOAS University is under investigation for lectures likening Zionism to Nazism and delusionally arguing that it was Zionists who were conspiring to increase anti-Semitism to encourage Jews to leave the UK and go to Israel.
The Israeli government also believes there was an increase in anti-Semitic incidents in Britain by 62%.
While it is praiseworthy that UK Prime Minister Theresa May has backed and adopted a new definition of anti-Semitism to attempt to deal with the rising hate crime, simply defining and identifying anti-Semitism is only the start. It is also necessary to start tackling the anti-Semitic attitudes of Islamic communities across Europe and the attitudes of immigrants coming to our nations. What needs to be made clear is that you are welcome here as long as you respect Jews, Christians and all others, as well.
Robbie Travers, a political commentator and consultant, is Executive Director of Agora, former media manager at the Human Security Centre, and a law student at the University of Edinburgh.