President Trump may be meeting with Prime Minister Trudeau of Canada shortly. The two leaders worked across from each other on the world's longest undefended border.
The January 29, 2017 shooting at a Quebec City mosque in which six people were killed may prove to be "interesting" as it plays on USA/Canada relations. There is emerging information to show that the mosque may have been targeted as a "Muslim Brotherhood mosque." This includes a July 2016 article (i.e. seven months before the attack) by the Journal de Quebec which stated that a pamphlet had been circulated in the neighbourhood claiming it was a Muslim Brotherhood mosque. Three weeks prior to the pamphlet being distributed, a pig's head had been left at the doorway of the mosque. Three incidents around one mosque suggests a pattern of activity and escalation by an individual or group that has grievances with the Muslim Brotherhood. It is not yet clear if terrorism charges will be laid in addition to charges of first degree murder.
South of here, a series of reports suggest that President Trump may use executive authority to list the Muslim Brotherhood and some of its front groups in the USA as terrorist entities. Senator Cruz (R-TX) has a bill in the US Congress that would have the effect of listing the Muslim Brotherhood as a terrorist entity along its front groups CAIR USA, ISNA and the North American Islamic Trust.
Trudeau and the Islamist Front Groups
Prior to the Canadian election of November 2015, it had been reported that the Muslim Brotherhood and Jamaat-e-Islami front groups would use the Liberal Party of Canada as a vehicle for political Entryism. The article also noted the roles of ISNA Canada and ICNA Canada in these efforts. A number of Canadian Members of Parliament have Islamist connections, advocate for sharia law or, in the case of Cabinet Minister Maryam Monsef states that "Sharia fascinates me :)"
In December of 2015, Prime Minister Trudeau sent a video message to the "Reviving the Islamic Spirit" conference in which he stressed "our shared beliefs." This, despite the fact the conference is sponsored by and has been attended by a virtual who-is-who list of Muslim Brotherhood front group members over several years. The same conference also featured Linda Sarsour who is currently leading a number of US demonstrations against President Trump and has ties to a variety of Islamist groups. Many members of her family have a long history with HAMAS – another Muslim Brotherhood spin-off organization. Prime Minister Trudeau had also appeared as a member of Parliament at the Reviving the Islamic Spirit Conference in 2012.
Member of Parliament Justin Trudeau also gave a speech at the ISNA mosque in Mississauga, albeit in 2013 before the ISNA had the charity status for its "Development Fund" revoked for funding terrorism. The ultimate destination of the funding was the south Asian based Jamaat-e-Islami , the same group noted above as being involved in the Liberal Party. The ISNA in turn has welcomed the election of Prime Minister Trudeau.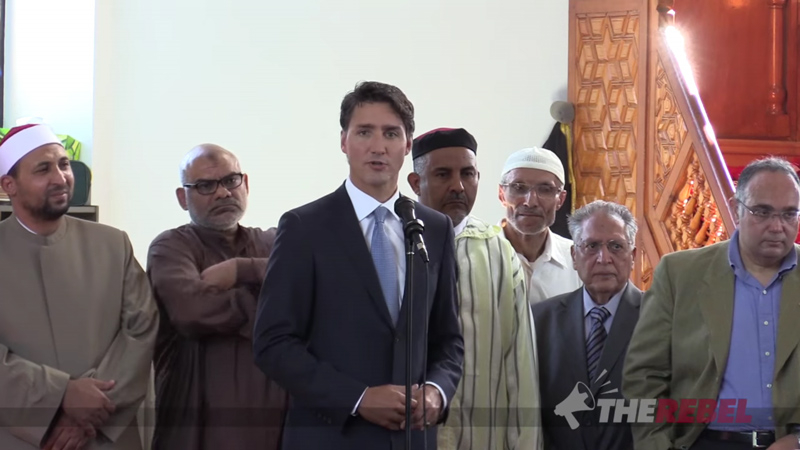 In 2016 Prime Minister Trudeau chose not to observe any official 9/11 memorial ceremony to honour the Canadians who died that day. However, the very next day, he attended the Ottawa Main Mosque which has multiple links to extremism. (Image source: Rebel.media screenshot)
Prime Minister Trudeau and his Public Safety minister also appeared to have stumbled into making claims about "hate crimes against mosques" when there is no evidence to suggest a hate crime actually occurred.
Canada and the USA – Terrorism and the Border
Cross border terrorism has a long and complex history between Canada and the USA. Terrorists from the USA (Jamaat al Fuqra) entered Canada in 1991 with the intent of killing some 5,000 people in an attack on a Hindu Temple and a theatre. Hezbollah has used Canada as a base of operations, including shipping dual-use technologies from Canada into the USA for transhipment to Lebanon, as well as smuggling, fund raising and immigration fraud. Then there was Ahmed Ressam in 1999. His intent was to depart Canada, enter the USA through Washington State and set off his car-bomb at LAX. Senators Senator Clinton and Senator McCain have made repeated statements that some of the 911 terrorists entered he USA though Canada, even after this story had been debunked numerous times.
Canada and the Cycle of Violence
The shooting at the Quebec mosque was the final one of three incidents which appears to show a pattern of escalation and a clear grievance against the Muslim Brotherhood. If this is the case, and the shooter did target the mosque for its Muslim Brotherhood connections, then this signals that a "cycle of violence" (attacks, revenge attacks, claims of victimization followed by more attacks) around Islamist extremism is indeed in Canada. This attack, of course, follows four previous Islamist violent incidents in Canada:
The terrorist murder of Warrant Office Vincent in 2014.
The attack on the National War Memorial and the Parliament with the killing of Corporal Cirillo, also in 2014.
The attack on the Canadian Forces Recruiting Centre in Toronto in 2016 and the attempted suicide bombing by Arron Driver, in which the bomb's detonator and the RCMP killed him in a taxi near London Ontario in 2016.
Additionally, many Canadians, including a number of Muslim Student Association alumni have died overseas as suicide bombers, ISIS fighters or propagandists.
US Canada Relations
US/Canada relations may hit a bumpy patch, especially given that Canada continues to act as host for a variety of Muslim Brotherhood front groups while taking no visible political action against them.
Canada may hit a bumpy patch too.
Tom Quiggin, a court qualified expert on terrorism and practical intelligence, is based in Canada.