Following the elections, Mideast peace negotiations should resume
I was invited to meet with President Abbas of the Palestinian Authority just before he spoke to the General Assembly of the United Nations. I came to the meeting with an agenda: to persuade him to sit down with the Israelis and resume negotiations without first requiring the Israelis to accept a total settlement freeze. I knew the Israelis would not—indeed could not—agree to a settlement freeze as a prior condition to beginning negotiations, since they had previously agreed to a nine month freeze and the Palestinians refused to come to the bargaining table until just before the freeze expired, and then demanded that the freeze be extended. Prime Minister Netanyahu had invited the Palestinians to begin negotiations with no prior conditions—an invitation that the Palestinians had rejected because the Israelis refused first to impose a freeze.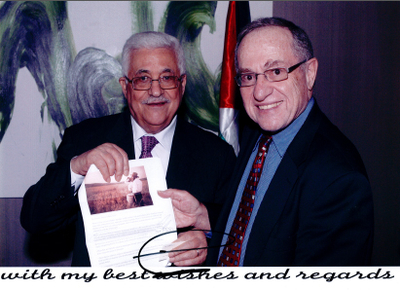 My proposal to President Abbas was to have the Palestinian Authority agree to sit down and begin negotiations before any freeze began, if the Israelis would agree to begin a freeze only after the negotiations commenced in good faith. In that way, the Israelis would get what they wanted: negotiations beginning with no prior actions on their part. And the Palestinians would get what they wanted: a settlement freeze while the negotiations continued in good faith.
My plan further required the parties to immediately agree to divide the disputed territories into three areas (that were roughly equivalent to areas already agreed to in other contexts). The first would be those parts of the West Bank that will never become part of Israel, such as Ramallah, Jericho, Jenin and other heavily populated Palestinian places. Israel would agree to freeze all building in that area. The second would be those parts of the West Bank that will definitely remain part of Israel after any peace agreement, such as Ma'ale Adumim, Gilo and other areas contiguous to greater Jerusalem. The Palestinians would agree not to oppose building within that area. The third would be those parts of the West Bank that are subject to reasonable disagreement as to whether they will become part of a Palestinian state or remain part of Israel subject to land swaps. These include Ariel, the Etzion Bloc and other settlements fairly close to the Green Line. The Israelis would agree to a temporary settlement freeze in that area so long as negotiations continued in good faith. If the negotiations allocated some of that land to Israel, building could continue on that land.
I had written an op ed layi-g out my plan, and I brought a copy of it to my meeting with President Abbas. When I showed it to him, he said, "This looks good," and he passed it on to Saeb Erekat, his close advisor. Erekat read it closely and gave it back to President Abbas, who circled the operative paragraph and signed it, "Abu Mazzen." He asked me to show it to Prime Minister Netanyahu with whom I would be meeting several days later.
Between the time I met with President Abbas and the time I met with Prime Minister Netanyahu, both delivered their speeches to the General Assembly. Netanyahu reiterated his invitation to sit down and negotiate a peaceful resolution, while Abbas made a belligerent speech accusing Israel of ethnic cleansing and other crimes. He expressed no real interest in negotiating peace. So when I told Prime Minister Netanyahu about President Abbas' apparent acceptance of my proposal, he was understandably skeptical. But he took a copy of the signed article and put it in his pocket, saying he would certainly give it careful consideration.
Since that time, Abbas has indicated that he might be willing to sit down and negotiate without a settlement freeze, but only after the United Nations votes on upgrading the status of Palestine. Netanyahu, during his recent visit to France, reiterated a desire to sit down and negotiate with no preconditions.
It seems clear that nothing will happen until after both the American presidential election and the Israeli parliamentary elections early next year. When those elections are over, I intend to press both sides to consider my proposal.
There are no real downsides for either the Palestinians or the Israelis in resuming negotiations. Everyone knows roughly what a negotiated peace would look like. There would be some mutually agreed upon territorial changes to the 1967 borders, a demilitarized Palestinian state, some military presence along the Jordan River to assure Israel's security, a realistic resolution of the Jerusalem issue and an abandonment of the so-called Right of Return. There would be no immediate resolution of the Gaza issue, so long as Hamas remained opposed to Israel's right to exist.
Peace between Israel and the Palestinian Authority is long overdue. The parties have come close on several occasions. Following the two elections, the time will be right for moving in the direction of peace. I hope my proposal will help to facilitate renewed negotiations.
Related Topics: Israel | Alan M. Dershowitz receive the latest by email: subscribe to the free gatestone institute mailing list
Reader comments on this item
| | | |
| --- | --- | --- |
| Title | By | Date |
| Dershowitz is fooled. [225 words] | Phillip Slepian | Nov 6, 2012 09:14 |
| Trusting Abbas [52 words] | David Salinger | Nov 5, 2012 13:46 |
| "Everyone knows roughly what a negotiated peace would look like." ...Not really. [161 words] | Elihu | Nov 5, 2012 13:15 |
| Sensible and well meaning [68 words] | Micha | Nov 5, 2012 09:09 |
| And what do they convey in Arabic news outlets and in their schools? [196 words] | David Bedein, Center for Near East Policy Research | Nov 5, 2012 04:09 |
| Peace between Israelis and Palestinians is an ABSURD notion. [82 words] | Veet Vivarto | Nov 5, 2012 02:27 |
| Alan, please! [139 words] | Ehud | Nov 4, 2012 22:42 |
| The true meaning of what took place when Mr. Dershowitz met Abbas [297 words] | John | Nov 4, 2012 16:51 |
| Middle East peace negotiations with Dershowitz [7 words] | Ronnie | Nov 4, 2012 15:53 |
| Dershowitz still does not get it. [188 words] | Lily Steiner | Nov 4, 2012 14:06 |
| The veracity of Lucy Van Pelt [42 words] | Stephen L. Dugas | Nov 4, 2012 08:25 |
| Mideast negotiations [64 words] | Avi Keslinger | Nov 4, 2012 01:00 |
| Following the elections... [96 words] | Kenneth Mathews | Nov 3, 2012 23:23 |
| The Arabs do NOT want a Palestinian state alongside Israel. [107 words] | Artcohn | Nov 3, 2012 22:35 |
| I am sorry, but Dershowitz is naive. [277 words] | Dr Frank J. Leavitt (Yeruham) | Nov 3, 2012 21:37 |
| Get Real, Alan D. [244 words] | Dick Roberts | Nov 3, 2012 20:37 |
| Following the Election Peace Negotiations Should Resume (not) [212 words] | Andy Halmay | Nov 3, 2012 20:21 |
| ↔ "Life for Peace" [9 words] | Phil Slepian | Nov 9, 2012 09:23 |
| Alan is Wrong [98 words] | Dale Debber | Nov 3, 2012 20:07 |
| Will he never learn? [62 words] | Ethan P. | Nov 3, 2012 19:30 |
Comment on this item
Subscribe To Mailing List
Tweets by @GatestoneInst
Latest Articles
by Khaled Abu Toameh
"Armed robbery in broad daylight." — Palestinians, after Hamas "seized" $750,000 from Gaza bank.
Fatah accused Hamas of "squandering" $700 million of financial aid earmarked for the Palestinian victims of war. Fatah wants to ensure that the millions of dollars intended for the Gaza Strip will pass through its hands and not end up in Hamas's bank accounts. Relying on Fatah in this regard is like asking a cat to guard the milk.
The head of the Palestinian Authority's Anti-Corruption Commission revealed that his group has retrieved $70 million of public funds fund embezzled by Palestinian officials. Arab and Western donors need to make sure that their money does not end up (once again) in the wrong hands. Without a proper mechanism of accountability and transparency, hundreds of millions of dollars are likely to find their way into the bank accounts of both Hamas and Fatah leaders.
by Mudar Zahran
"If Hamas does not like you for any reason all they have to do now is say you are a Mossad agent and kill you." — A., a Fatah member in Gaza.
"Hamas wanted us butchered so it could win the media war against Israel showing our dead children on TV and then get money from Qatar." — T., former Hamas Ministry officer.
"They would fire rockets and then run away quickly, leaving us to face Israeli bombs for what they did." — D., Gazan journalist.
"Hamas imposed a curfew: anyone walking out in the street was shot. That way people had to stay in their homes, even if they were about to get bombed. Hamas held the whole Gazan population as a human shield." — K., graduate student
"The Israeli army allows supplies to come in and Hamas steals them. It seems even the Israelis care for us more than Hamas." — E., first-aid volunteer.
"We are under Hamas occupation, and if you ask most of us, we would rather be under Israeli occupation… We miss the days when we were able to work inside Israel and make good money. We miss the security and calm Israel provided when it was here." — S., graduate of an American university, former Hamas sympathizer.
by Ben Cohen
Now, with the Islamic State's self-proclaimed caliphate having captured key oil wells in the Middle East this year, foreign oil has become an even more lethal financial weapon-of-choice for those seeking to destroy democracy and further escalate the War on Terror.
That President Barack Obama failed even to mention oil as a critical factor in the war against IS during his speech to the nation on September 10, is an omission both revealing and dangerous in terms of how his administration wants to depict the stakes involved in this latest confrontation with the jihadis.
by Lawrence A. Franklin
One Pakistani recruiter of child suicide bombers describes these children as "tools provided by God."
Another Muslim cleric in a madrassa [Islamic boys' school] describes child suicide bombers as "a gift from Allah that we have an unlimited number willing to be sacrificed to teach Americans a lesson."
Using children as suicide bombers will stop when... they stop "condoning the killing of innocents."
by Denis MacEoin
"No religion condones the killing of innocents." — U.S. President Barack Obama, September 10, 2014.
"Islam is a religion of peace." — U.K. Prime Minister David Cameron, September 13, 2014.
"There is a place for violence in Islam. There is a place for jihad in Islam." — U.K. Imam Anjem Choudary, CBN News, April 5, 2010.
Regrettably it is impossible to re-interpret the Qur'an in a "moderate" manner. The most famous modern interpretation by Sayyid Qutb (d. 1966), the Muslim Brotherhood ideologue, leads the reader again and again into political territory, where jihad is at the root of action.
If they deviated from the true faith -- as we are seeing in the Islamic State today -- "backsliders," like pagans, were to be fought until they either accepted Islam or were killed.
In India alone, between 60 and 80 million Hindus may have been put to death by Muslim armies between the years 1000-1525.
Most Shared
Most Viewed