Following the elections, Mideast peace negotiations should resume
I was invited to meet with President Abbas of the Palestinian Authority just before he spoke to the General Assembly of the United Nations. I came to the meeting with an agenda: to persuade him to sit down with the Israelis and resume negotiations without first requiring the Israelis to accept a total settlement freeze. I knew the Israelis would not—indeed could not—agree to a settlement freeze as a prior condition to beginning negotiations, since they had previously agreed to a nine month freeze and the Palestinians refused to come to the bargaining table until just before the freeze expired, and then demanded that the freeze be extended. Prime Minister Netanyahu had invited the Palestinians to begin negotiations with no prior conditions—an invitation that the Palestinians had rejected because the Israelis refused first to impose a freeze.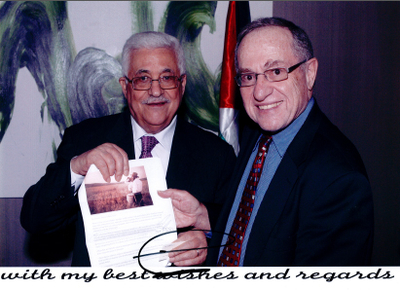 My proposal to President Abbas was to have the Palestinian Authority agree to sit down and begin negotiations before any freeze began, if the Israelis would agree to begin a freeze only after the negotiations commenced in good faith. In that way, the Israelis would get what they wanted: negotiations beginning with no prior actions on their part. And the Palestinians would get what they wanted: a settlement freeze while the negotiations continued in good faith.
My plan further required the parties to immediately agree to divide the disputed territories into three areas (that were roughly equivalent to areas already agreed to in other contexts). The first would be those parts of the West Bank that will never become part of Israel, such as Ramallah, Jericho, Jenin and other heavily populated Palestinian places. Israel would agree to freeze all building in that area. The second would be those parts of the West Bank that will definitely remain part of Israel after any peace agreement, such as Ma'ale Adumim, Gilo and other areas contiguous to greater Jerusalem. The Palestinians would agree not to oppose building within that area. The third would be those parts of the West Bank that are subject to reasonable disagreement as to whether they will become part of a Palestinian state or remain part of Israel subject to land swaps. These include Ariel, the Etzion Bloc and other settlements fairly close to the Green Line. The Israelis would agree to a temporary settlement freeze in that area so long as negotiations continued in good faith. If the negotiations allocated some of that land to Israel, building could continue on that land.
I had written an op ed layi-g out my plan, and I brought a copy of it to my meeting with President Abbas. When I showed it to him, he said, "This looks good," and he passed it on to Saeb Erekat, his close advisor. Erekat read it closely and gave it back to President Abbas, who circled the operative paragraph and signed it, "Abu Mazzen." He asked me to show it to Prime Minister Netanyahu with whom I would be meeting several days later.
Between the time I met with President Abbas and the time I met with Prime Minister Netanyahu, both delivered their speeches to the General Assembly. Netanyahu reiterated his invitation to sit down and negotiate a peaceful resolution, while Abbas made a belligerent speech accusing Israel of ethnic cleansing and other crimes. He expressed no real interest in negotiating peace. So when I told Prime Minister Netanyahu about President Abbas' apparent acceptance of my proposal, he was understandably skeptical. But he took a copy of the signed article and put it in his pocket, saying he would certainly give it careful consideration.
Since that time, Abbas has indicated that he might be willing to sit down and negotiate without a settlement freeze, but only after the United Nations votes on upgrading the status of Palestine. Netanyahu, during his recent visit to France, reiterated a desire to sit down and negotiate with no preconditions.
It seems clear that nothing will happen until after both the American presidential election and the Israeli parliamentary elections early next year. When those elections are over, I intend to press both sides to consider my proposal.
There are no real downsides for either the Palestinians or the Israelis in resuming negotiations. Everyone knows roughly what a negotiated peace would look like. There would be some mutually agreed upon territorial changes to the 1967 borders, a demilitarized Palestinian state, some military presence along the Jordan River to assure Israel's security, a realistic resolution of the Jerusalem issue and an abandonment of the so-called Right of Return. There would be no immediate resolution of the Gaza issue, so long as Hamas remained opposed to Israel's right to exist.
Peace between Israel and the Palestinian Authority is long overdue. The parties have come close on several occasions. Following the two elections, the time will be right for moving in the direction of peace. I hope my proposal will help to facilitate renewed negotiations.
Related Topics: Israel | Alan M. Dershowitz receive the latest by email: subscribe to the free gatestone institute mailing list
Reader comments on this item
| | | |
| --- | --- | --- |
| Title | By | Date |
| Dershowitz is fooled. [225 words] | Phillip Slepian | Nov 6, 2012 09:14 |
| Trusting Abbas [52 words] | David Salinger | Nov 5, 2012 13:46 |
| "Everyone knows roughly what a negotiated peace would look like." ...Not really. [161 words] | Elihu | Nov 5, 2012 13:15 |
| Sensible and well meaning [68 words] | Micha | Nov 5, 2012 09:09 |
| And what do they convey in Arabic news outlets and in their schools? [196 words] | David Bedein, Center for Near East Policy Research | Nov 5, 2012 04:09 |
| Peace between Israelis and Palestinians is an ABSURD notion. [82 words] | Veet Vivarto | Nov 5, 2012 02:27 |
| Alan, please! [139 words] | Ehud | Nov 4, 2012 22:42 |
| The true meaning of what took place when Mr. Dershowitz met Abbas [297 words] | John | Nov 4, 2012 16:51 |
| Middle East peace negotiations with Dershowitz [7 words] | Ronnie | Nov 4, 2012 15:53 |
| Dershowitz still does not get it. [188 words] | Lily Steiner | Nov 4, 2012 14:06 |
| The veracity of Lucy Van Pelt [42 words] | Stephen L. Dugas | Nov 4, 2012 08:25 |
| Mideast negotiations [64 words] | Avi Keslinger | Nov 4, 2012 01:00 |
| Following the elections... [96 words] | Kenneth Mathews | Nov 3, 2012 23:23 |
| The Arabs do NOT want a Palestinian state alongside Israel. [107 words] | Artcohn | Nov 3, 2012 22:35 |
| I am sorry, but Dershowitz is naive. [277 words] | Dr Frank J. Leavitt (Yeruham) | Nov 3, 2012 21:37 |
| Get Real, Alan D. [244 words] | Dick Roberts | Nov 3, 2012 20:37 |
| Following the Election Peace Negotiations Should Resume (not) [212 words] | Andy Halmay | Nov 3, 2012 20:21 |
| ↔ "Life for Peace" [9 words] | Phil Slepian | Nov 9, 2012 09:23 |
| Alan is Wrong [98 words] | Dale Debber | Nov 3, 2012 20:07 |
| Will he never learn? [62 words] | Ethan P. | Nov 3, 2012 19:30 |
Comment on this item
Subscribe To Mailing List
Tweets by @GatestoneInst
Subscribe To Mailing List
Latest Articles
by Khaled Abu Toameh
Fatah has several hundred militiamen in the Gaza Strip, some of whom are members of the Palestinian Authority security forces, who continue to receive their salaries from Western governments.
At least two Fatah armed groups announced that they had started firing rockets at the "settlements" of Ashkelon and Sderot, cities inside the pre-1967 borders of Israel, with another Fatah group claiming responsibility for firing 35 rockets into Israel since Sunday.
So far as Abbas is concerned, "it all started when Israel fired back" in response to hundred of rockets fired at Israel from the Gaza Strip during the last few days. He seems concerned that if the world hears about the role of Fatah in the rocket attacks, the news will affect Western financial aid to the Palestinian Authority, which dominated by Fatah.
by Soeren Kern
"When it becomes serious, you have to lie." — Jean-Claude Juncker.
"We decide on something, leave it lying around, and wait and see what happens. If no one kicks up a fuss, because most people don't understand what has been decided, we continue step by step until there is no turning back." — Jean-Claude Juncker.
"Of course there will be transfers of sovereignty. But would I be intelligent to bring attention to that?" — Jean-Claude Juncker.
"I am for secret, dark debates." — Jean-Claude Juncker.
Juncker has been an unabashed advocate for expanding the powers of the EU. Critics say that the new system for naming the Commission president amounts to an "institutional coup" because it severs any remaining direct connection with the democratic process at the national level.
by Samuel Westrop
If British politicians are serious about putting a stop to the misuse of charity for pro-terror purposes, lawmakers could propose legislation that removes the effective immunity of charitable trusts from liability when their trustees are found to have used funds for terrorist or other unlawful activities.
by Valentina Colombo
"God is not fanatic; the ulema [religious scholars]... are." — Mohammed Charfi, Muslim intellectual.
Saudi Arabia's behavior comes with the bought consent of the West, which would rather constantly reprimand and punish Israel than address the Arab and Muslim world's floggings, stonings, beheadings and amputations -- not to mention executing homosexuals, gender apartheid and the often merciless treatment of foreign workers. Such a double standard exposes that many Europeans who consider themselves moral and speak about "ethical investing" are, in fact, accessories to these Saudi crimes, and therefore themselves guilty of crimes against humanity.
"He does not see this court as legitimate." — Samar Badawi, wife of human rights lawyer Walid Abu al-Khayr, who was sentenced by a Saudi court to 15 years in prison.
Raif Badawi, a Saudi blogger, has been sentenced to 1000 lashes, ten years in jail and a fine of $270,000 for a blog regarded by Saudi Arabia's regime as insulting Islam.
"My commitment is…to reject any repression in the name of religion…a goal that we will reach in a peaceful and law-abiding way." — Raif Badawi
Terrorism only exists, therefore, if and when it is directed at the Saudi regime, and may well mean just defeating Shiites.
by Raif Badawi
As others respect our difference with them, we should respect the differences that others have with us, and recall the great humanitarian sense of Saudi King Abdullah bin Abdul Aziz. ... It requires courage to respect others' views, to appreciate others' beliefs choices along with their right to believe them.
Most Shared
Most Viewed