UK Textbook Wipes Israel Off the Map
Why is the British Council, sponsored by the British Foreign Office, endorsing a textbook that wipes Israel off the map and indoctrinates students with anti-Western material?
Ahmadinejad promised it. Now British textbooks are doing it. Israel has been wiped off the map by Garnet Education, an English-language teaching company in Britain, whose educational textbook 'Skills in English Writing Level 1', aimed at foreign students and immigrants to the UK, contains a map with "Occupied Palestine" in place of the Jewish State.
Speaking to the Algemeiner, the prominent American Jewish newspaper which broke the story, school teacher Liz Wiseman noted that the book is "one of the more popular and mainstream English language teaching (ELT) textbooks published by Garnet, which is quite popular and mainstream itself."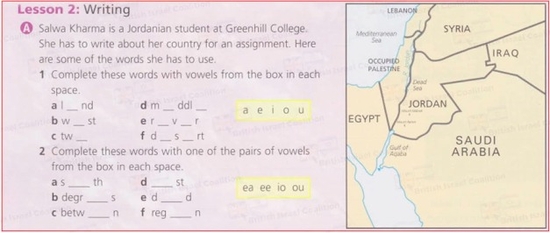 A number of publications, such as The Commentator, have picked up on the story. Crucially, however, they missed a vital detail: Garnet Education is controlled by a Lebanese media empire owned by pro-Syrian Arab nationalist Tahseen Khayat, whose daughter runs the UK subsidiary companies, including Garnet Education.
An Arab media forum describes Khayat as "one of the most prominent publishers on both Arab and international levels and owns a number of publishing houses in the UK and France." Khayat runs the Tahseen Khayat Group, which works closely with Middle Eastern governments to educate Arab youth. The journalist Robert Fisk, while discussing Lebanese television channel New TV, which Khayat founded, notes that "the Khayat family's television station has always carried a Syrian 'point of view' – they were even allowed into the Syrian city of Deraa at the beginning of the Syrian revolution and their senior cameraman in Deraa was Shabaan."
Several years ago, New TV promoted the work of German writer Jürgen Cain Külbel, a conspiracy theorist who claims that Israeli spy agency Mossad was responsible for assassination of Lebanese President Rafic Hariri. In reality, four members of the Lebanese terrorist group Hezbollah have been indicted at the International Court of Justice for the crime.
Khayat's daughter, Nadia Khayat, runs the UK-based companies Garnet Education and Ithaca Press. Ithaca Press describes itself as the "leading publisher of academic books on Middle Eastern and Islamic Studies". Garnet Publishing, part of Garnet Education, produces fiction books that are also on Middle Eastern subjects. Many of these books deal with Arab resistance to putative Israeli and Western belligerence. One recently published fiction book by Garnet Publishing, The Almond Tree, tells the reader that Israeli soldiers murder Palestinians in cold blood and burn down their homes.
In posts on their websites, both Garnet and Ithaca glorify the Lebanese terrorist group Hezbollah: "For Lebanon it was a time of misfortune … Only Hezbollah – thanks to its August 2006 victory in the thirty-three day war over the reputedly invincible Israeli army – seems to have bucked the trend."
In 2003, Tahsin Khayat released a statement proclaiming he is "well-known as a patriot and an Arab nationalist. He deals with Israel and the US as enemies and not allies, especially when it comes to the Palestinian intifada..."
Garnet Education books are used to teach English to immigrants across the world. The British Council, set up by the UK Government and sponsored by the British Foreign Office, has run events with Garnet and endorses their material, claiming Garnet has "established a global reputation for quality and innovation." Why is the British government sponsoring such a company? Judges of the Duke of Edinburgh ESU English Language Award have described the book as "extremely well-planned and constructed and very impressive." Generations of students have been provided educational textbooks by this network of companies with a manifest hatred for Israel and the West.
Using textbooks as propaganda, however, is not a new story. In 2007, it emerged that the King Fahd Academy school in London was using textbooks encouraged by the Saudi Ministry for Education, which described Jews as "apes" and Christians as "pigs". According to the Evening Standard, pupils were allegedly heard saying they want to "kill Americans", praise 9/11 and idolise Osama bin Laden as their "hero".
In the same year, an investigation by The Times uncovered that Mahmood Chandia, a senior lecturer at the University of Central Lancashire, was teaching that music is a way in which Jews spread "the Satanic web" to corrupt young Muslims.
In 2010, it was revealed that the leading geography textbook for British school students encouraged students to ask questions such as "Why did the Jews seize land that is now Israel?" The textbook also sought to excuse terrorism, informing school students that "Palestinians feel powerless. They have no country, no government, no army and few resources - so they resort to bombing to make their point".
Sadly, these are but a few examples from many. For years, Islamist and Arabist groups have involved themselves in educational and social services, as terrorism expert Matthew Levitt notes, in order to "reshape the political consciousness of educated youth". Textbooks, designed to be sources of absolute fact, influence people of all ages and beliefs. The statements of government-approved educational textbooks do far more damage than the appeals of the street demagogue or the conspiracy theorist. Garnet Education chose to wipe Israel off the map. An entire nation was expunged. As a consequence, in the minds of the thousands of immigrants and foreign students learning English, there is no Jewish State; there is only "occupation". What would the British government say if Israel encouraged the use of a textbook that labeled the Falkland Islands as "occupied Argentina"? What would Britain say if a textbook were given to students across the world in which England, a sovereign nation, did not exist?
Related Topics: Israel, United Kingdom | Samuel Westrop receive the latest by email: subscribe to the free gatestone institute mailing list
Reader comments on this item
| | | |
| --- | --- | --- |
| Title | By | Date |
| Get ready UK... [12 words] | Scott in Texas | Jan 11, 2013 12:36 |
| Wow! Same old tactics! Hide true history and spread corruption. If we don't learn the lessons of true history, history will repeat itself. [54 words] | Kendra | Jan 7, 2013 18:31 |
| Utter Madness! [96 words] | Mark | Jan 7, 2013 11:39 |
| Britain, you've blown it. [159 words] | Patricia | Jan 7, 2013 11:10 |
| Irrational Aspirational [82 words] | Aptitude Design | Jan 4, 2013 00:46 |
| The books [19 words] | Ted | Jan 3, 2013 22:00 |
| What the heck do you think you are doing? [35 words] | Joe | Jan 3, 2013 20:45 |
| Politically Correct [27 words] | Lady Moonlight | Jan 3, 2013 18:36 |
| What happened to common sense and history? [398 words] | Kate Brennan | Jan 3, 2013 17:22 |
| Opposite Experience [26 words] | Abraham J. Rokach | Jan 3, 2013 13:27 |
| Respectable anti-Semitism [167 words] | Ethan P. | Jan 3, 2013 10:21 |
| Israel has existed even before the Roman conquest, when they changed the name to PALESTINE [41 words] | Kenneth V. Tellis | Jan 3, 2013 07:54 |
| ↔ Israel will always be there [69 words] | Pat | Jan 7, 2013 13:16 |
| Great research [19 words] | Jonathan Hoffman | Jan 3, 2013 07:33 |
| The British? [20 words] | Poptoy1949 | Jan 3, 2013 05:38 |
| ↔ Weak backbone trying to please oil kingdoms [24 words] | Jerry Obriant | Jan 5, 2013 11:01 |
Comment on this item
Tweets by @GatestoneInst
Subscribe To Mailing List
Latest Articles
by Samuel Westrop
In the West, the Arabization of Muslim communities has occurred with government assistance, which, through imposed policies of multiculturalism in the name of diversity, has effected the destruction of South Asian culture.
by Soeren Kern
The problem of Islam in public schools has been allowed to snowball to vast proportions... not hundreds but thousands of British schools have come under the influence of Muslim radicals.
Bains was also instructed to stop teaching citizenship classes because they were deemed to be "un-Islamic," and to introduce Islamic studies into the curriculum, even though Saltley is a non-faith school.
Schools should not be allowed to become "silos of segregation." — Nick Clegg, Deputy Prime Minister
by Peter Martino
Europe's biggest failure vis-à-vis Turkey is another example of its unwillingness to face unwelcome truths: that whenever Islamists go into politics, they never turn out to be moderates.
EU leaders are now, belatedly, coming to realize that Erdogan is not their friend.
by Timon Dias
"Both materially, and in essence, sovereignty unconditionally and always belongs to Allah." — Recep Tayyip Erdogan, Prime Minister, Turkey.
What is surprising is that so many Western politicians, including EU-minded ones, apparently still ignore what the consequences could be of such an ideology. Do they really assume it could never happen to them?
by Gordon G. Chang
The second thing we get wrong about China is that it is safe to ignore periodic Chinese threats to incinerate our cities and wage war on us. They employ salami-slicing tactics, as with Scarborough Shoal... so that they do not invite retaliation.
If we cannot say these things clearly and publicly, the Chinese will think we are afraid of them. If they think we are afraid of them, they will act accordingly.
Chinese leaders do not distrust us because they have insufficient contact with us. They distrust us because they see themselves as protectors of an ideology threatened by free societies.
Most Shared
Most Viewed