Palestinians Being Slaughtered, Displaced

Where are the "Pro-Palestinians"?
The mistreatment of Palestinians at the hands of the Lebanese authorities always reminds one of those university professors and political commentators living in the U.S. who pretend to be "pro-Palestinian." They focus their attacks on Israel, and ignore the real suffering of the Palestinian people at the hands of Arab countries.
As Israeli authorities issued permits last week to hundreds of thousands of West Bank Palestinians to visit Israel, the Lebanese government decided to ban Palestinian refugees fleeing the war in Syria from entering Lebanon.
So while Palestinians are being slaughtered and forced out of their homes in Syria, the Lebanese government is preventing them from entering Lebanon.
The Israeli permits, which were issued on the occasion of the Muslim feast of Eid al-Fitr, enabled hundreds of thousands of Palestinians to visit shopping malls, restaurants and beaches in Tel Aviv, Jaffa, Haifa, Jerusalem and Acre.
But as the West Bank Palestinians were celebrating the feast in Israel, thousands of their brethren found themselves stranded along the border between Syria and Lebanon.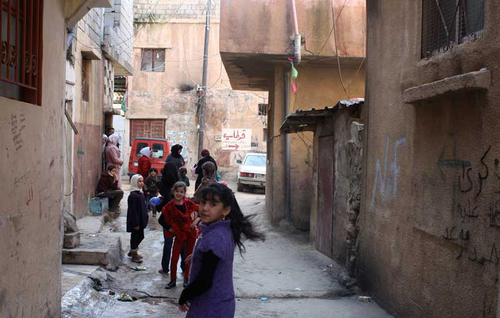 The Wavel refugee camp for Palestinians, near Baalbek in Lebanon. Palestinians fleeing the Syrian civil war have been given shelter in Wavel with the assistance of UNRWA. (Image credit: European Commission DG ECHO)
And as the Palestinians were enjoying their time at the beaches, malls and restaurants in Israel, word came that the number of Palestinians killed in Syria over the past two years has now risen to 1,472.
According to the Palestinian human rights foundation Rasd, the Lebanese decision to ban Palestinian refugees from entering Lebanon is a "violation of the Lebanese international commitments."
The group also expressed its surprise over the Palestinian Authority's "silence" towards the suffering of the Palestinian refugees fleeing from Syria.
The Lebanese ban did not surprise those who have long been following Lebanon's apartheid policies against Palestinians. These policies include laws prohibiting Palestinians from owning property and working in dozens of professions.
Although the Lebanese authorities have not offered any reason for the latest anti-Palestinian move, some Lebanese politicians have expressed fear that the Palestinians would try to "settle" in their country.
More than 70,000 Palestinians are reported to have fled Syria to Lebanon over the past two years.
Other Lebanese politicians have expressed fear that the new Palestinian refugees would pose a threat to their country's national security. These politicians claim that many of the refugees have turned Lebanon's Palestinian refugee camps into bases for Islamic terror groups.
Human rights activists say that most of the Palestinians stranded along the border between Syria and Lebanon are women and children who clearly pose no threat to Lebanon's national security and stability.
The mistreatment of Palestinians at the hands of the Lebanese authorities always reminds one of those university professors and political commentators living in the U.S. who pretend to be "pro-Palestinian."
These professors and columnists rarely utter a word about the apartheid laws enforced by Lebanon against the 450,000 Palestinians living there.
Instead, the "pro-Palestinian" professors and columnists focus their attacks on Israel and ignore the real suffering of Palestinians at the hands of the Lebanese authorities and other Arab countries.
The Palestinian Authority leadership also does not seem to care about the plight of Palestinians in Arab countries.
Abbas and his top officials spent the whole week issuing condemnations of Israeli plans to build new homes in Jewish settlements, completely ignoring the latest Lebanese ban against Palestinian refugees. As far as the Palestinian Authority leadership is concerned, plans to build new housing units are much more serious than the killing or displacing of thousands of Palestinians in Syria and Lebanon.
Related Topics: Lebanon | Khaled Abu Toameh receive the latest by email: subscribe to the free gatestone institute mailing list
Reader comments on this item
Comment on this item
Tweets by @GatestoneInst
Subscribe To Mailing List
Latest Articles
by Khaled Abu Toameh
The arrest of businessman Mohamed Al Sabawi is seen as part of a campaign by the Palestinian Authority to intimidate and extort money from prominent and wealthy businessmen who seek to help strengthen the Palestinian economy. The case of Al Sabawi will undoubtedly scare potential investors and convince them that investing in Ramallah and other Palestinian cities is a bad idea.
A Palestinian Authority security official said that the arrest was a "routine legal procedure" against an investor suspected of slander and obstructing the work of police officers.
by Stephen Bryen and Shoshana Bryen
The administration's position is that the nuclear deal is separate from any other conversation with Iran including the fate of the Americans imprisoned there: retired FBI agent Robert Levinson, former U.S. Marine Amir Hekmati, and Iranian-American Pastor Saeed Abedini, who is currently housed in a "violent offenders" prison.
We get, essentially, nothing. But it is worse than that. Whatever the P5+1 believes it achieved pales in comparison to what the deal cost.
by Samuel Westrop
"Al Fatiha Global has a strict vetting policy ... We have certain people who actually go out and check people's social networking profiles, like Facebook and Twitter. If somebody has something on there which may seem a bit radical, then that's it, they're not accepted." — Kas Jameel, Aid Convoy Driver
Jameel, however, apparently forgot to vet his own social media postings.
by Khaled Abu Toameh
The Geneva accord and Washington's failed policies in Egypt and other Muslim countries have taught the Palestinians that it would be better to wait until the U.S. completely loses its influence so that other players such as Russia, China and the EU will step in and impose a solution on Israel.
The way the Palestinian Authority sees it, "If it worked with Iran, why shouldn't it work also with Israel?"
by Veli Sirin
"We will not allow boys and girls to live together in state-owed student residences. The values I hold do not allow such a thing. Anything can happen when it is mixed....All kinds of messy things are happening." — Turkish Prime Minister Recep Tayyip Erdogan, AKP Party.
"They have revoked women's rights step by step. Women should liberate themselves from a mentality that aims to lock them in the house." — Kemal Kilicdaroglu, leader, CHP Party.
"In a democracy, the state cannot play the voyeur. Stick to your own business." — Haluk Koc, CHP Party Spokesman.
Most Shared
Most Viewed