What Abbas Missed in His UN Speech
Abbas is more concerned about Jews visiting the Temple Mount than thousands of Palestinians who are being butchered and expelled from their homes in Arab countries; he sees evil only in the actions of Israel and Jewish settlers.
As Palestinian Authority President Mahmoud Abbas was delivering his speech at the General Assembly of the United Nations last week, one of his officials in Ramallah revealed that 250,000 out of the approximately 600,000 Palestinians in Syria have been forced to flee their homes since the beginning of the conflict there.
The official, Mohamed Shtayyeh, a member of the Fatah Central Committee, said that 93,000 of the displaced Palestinians fled to Lebanon, Egypt, Jordan and Turkey.
He added that those who fled to the neighboring Arab countries were living in harsh conditions.
Yet in his speech, Abbas largely ignored the plight of these Palestinians. Instead, he chose to direct his criticism toward Israel and the settlers.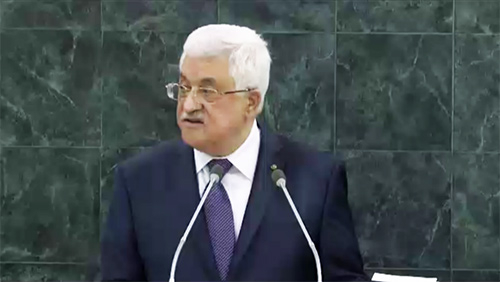 Palestinian Authority President Mahmoud Abbas addresses the UN General Assembly, September 26, 2013 (Photo credit: UN video)
Abbas saw no need to criticize the warring Syrian parties for killing Palestinians and driving them out of their homes.
Nor did he utter a word about Lebanon's mistreatment of the Palestinian refugees or the fact that the Egyptians have been mistreating Palestinian refugees.
The only time Abbas referred to the plight of the refugees was toward the end of his speech, when he stated, "In the past few years and this year, Palestinian refugees have paid -- and continue to pay -- a heavy price for the conflicts and unrest in the region despite their neutrality. Tens of thousands of refugees have been forced to search for new places to live in."
Abbas, of course, also ignored the fact that nearly 2,000 Palestinians have been killed and thousands injured in Syria in the past two years.
He did not, however, forget to mention in his speech that 27 Palestinians were killed by the Israel Defense Forces since the beginning of the year.
Abbas's speech shows that the Palestinian Authority leadership considers construction of new housing units in settlements and neighborhoods of Jerusalem as being more serious than the displacement of a quarter million Palestinians.
For the Palestinian Authority leadership, the security fence in the West Bank, which has put an end to suicide bombings, is more problematic than the killing and displacement of thousands of Palestinians in Syria.
Not surprisingly, Abbas did not condemn any of the Arab countries for mistreating and humiliating Palestinians, especially in recent years.
So what if the Egyptian authorities are shooting and killing Palestinian refugees fleeing Syria? So what if the Lebanese authorities are imposing severe restrictions on the entry of Palestinian refugees? So what if Palestinians are being killed every day in Syria by the forces of Bashar al-Assad and the "rebels?"
Abbas does not seem to have time to talk about the suffering of his people at the hands of Arab governments and terror groups.
As he was speaking, thousands of Palestinians were stranded on both sides of the Gaza Strip-Egypt border due to the closure of the terminal by the Egyptian authorities. Abbas saw no need to refer in his speech to the Egyptian blockade on the Gaza Strip, which is hurting not only Hamas, but also the entire population.
As his speech has shown, he is more concerned about Jews visiting the Temple Mount than thousands of Palestinians who are being butchered and expelled from their homes in Arab countries. That hundreds of mosques and churches have been destroyed in Syria and Egypt is of no concern to Abbas, who sees evil only in the actions of Israel and Jewish settlers.
Related Topics: Palestinian Authority | Khaled Abu Toameh receive the latest by email: subscribe to the free gatestone institute mailing list
Reader comments on this item
| | | |
| --- | --- | --- |
| Title | By | Date |
| Obviously not his people [65 words] | Bart Benschop | Oct 3, 2013 03:15 |
| But he's better looking than Arafat! [122 words] | Ronit | Oct 2, 2013 22:00 |
| Amen. Comment on "What Abbas Missed in His Speech" [179 words] | Jen Schiller | Oct 2, 2013 13:29 |
| ↔ Outstanding article! [7 words] | Shoshana Rubin | Oct 3, 2013 13:51 |
| A Primary Question [22 words] | James | Oct 2, 2013 10:30 |
| ↔ Re: A Primary Question [29 words] | Avril | Oct 3, 2013 03:02 |
| ↔ Muslims [77 words] | JAFO425 | Oct 4, 2013 16:07 |
| ↔ Thank you. [3 words] | James | Oct 16, 2013 11:54 |
| ↔ Response to JAFO425 [421 words] | James | Oct 16, 2013 12:11 |
| Abbas UN Speech [37 words] | Docky Wocky | Oct 2, 2013 08:41 |
| Abbas obsession with Israel in his UN speech [40 words] | Charles Kamerman | Oct 2, 2013 08:19 |
| ↔ Abbas Speech [44 words] | Docky Wocky | Oct 2, 2013 16:48 |
| ↔ Re: Abbas Speech [82 words] | Avril | Oct 3, 2013 03:10 |
| ↔ Abbas speech and Palestinians Underdogs? [67 words] | Docky Wocky | Oct 3, 2013 11:46 |
Comment on this item
Subscribe To Mailing List
Tweets by @GatestoneInst
Subscribe To Mailing List
Latest Articles
by Soeren Kern
"I believe that adulterers should be stoned to death. I believe that we should cut the hands off of thieves. I believe the Sharia should be implemented in Denmark. Maybe we should change the Christiansborg Palace [the Danish Parliament building] to Muslimsborg to have the flag of Islam flying over the parliament in Denmark. I think this would be very nice." — Anjem Choudary, while in Denmark to establish Islam4dk in June 2014.
"[Choudary's network] has now been proscribed as a terrorist organization operating under 11 different names, but neither he nor any one of his associates has so far been prosecuted for membership of an illegal group." — Times of London.
"The cure for depression is jihad." — Abdul Raqib Amin (aka Abu Bara al-Hindi), Scottish jihadist.
by Christine Williams
Israel's targets have been militants, military facilities, rocket launchers, tunnels and command centers. Israel has taken extraordinary measures to protect Palestinian civilian life.
Meanwhile, Hamas violates international law both by targeting Israel's civilians and by using its own people as human shields -- and then blaming Israel for the casualties.
The BDS movement covers up its ties with the terrorist group Hamas.
by Oliver Williams
In the politically correct attempt to avoid "stereotyping" and be safe from discomfort, have we been blocking out reality?
Hollywood has been indulging in a sort of reverse racial profiling: cinematic terrorists could be anybody other than Muslims.
Muslim terrorists? As in the movie Non-Stop, Hollywood would rather cast the family members of 9/11 victims as terrorists rather than reflect that such a thing exists.
by Khaled Abu Toameh
Fatah has several hundred militiamen in the Gaza Strip, some of whom are members of the Palestinian Authority security forces, who continue to receive their salaries from Western governments.
At least two Fatah armed groups announced that they had started firing rockets at the "settlements" of Ashkelon and Sderot, cities inside the pre-1967 borders of Israel, with another Fatah group claiming responsibility for firing 35 rockets into Israel since Sunday.
So far as Abbas is concerned, "it all started when Israel fired back" in response to hundred of rockets fired at Israel from the Gaza Strip during the last few days. He seems concerned that if the world hears about the role of Fatah in the rocket attacks, the news will affect Western financial aid to the Palestinian Authority, which dominated by Fatah.
by Soeren Kern
"When it becomes serious, you have to lie." — Jean-Claude Juncker.
"We decide on something, leave it lying around, and wait and see what happens. If no one kicks up a fuss, because most people don't understand what has been decided, we continue step by step until there is no turning back." — Jean-Claude Juncker.
"Of course there will be transfers of sovereignty. But would I be intelligent to bring attention to that?" — Jean-Claude Juncker.
"I am for secret, dark debates." — Jean-Claude Juncker.
Juncker has been an unabashed advocate for expanding the powers of the EU. Critics say that the new system for naming the Commission president amounts to an "institutional coup" because it severs any remaining direct connection with the democratic process at the national level.
Most Shared
Most Viewed