What Abbas Missed in His UN Speech
Abbas is more concerned about Jews visiting the Temple Mount than thousands of Palestinians who are being butchered and expelled from their homes in Arab countries; he sees evil only in the actions of Israel and Jewish settlers.
As Palestinian Authority President Mahmoud Abbas was delivering his speech at the General Assembly of the United Nations last week, one of his officials in Ramallah revealed that 250,000 out of the approximately 600,000 Palestinians in Syria have been forced to flee their homes since the beginning of the conflict there.
The official, Mohamed Shtayyeh, a member of the Fatah Central Committee, said that 93,000 of the displaced Palestinians fled to Lebanon, Egypt, Jordan and Turkey.
He added that those who fled to the neighboring Arab countries were living in harsh conditions.
Yet in his speech, Abbas largely ignored the plight of these Palestinians. Instead, he chose to direct his criticism toward Israel and the settlers.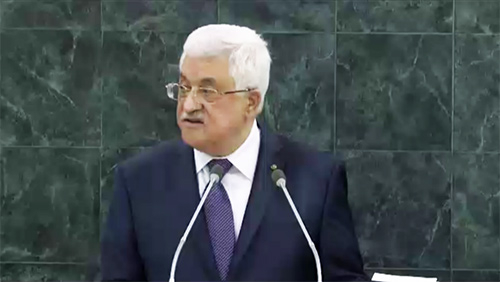 Palestinian Authority President Mahmoud Abbas addresses the UN General Assembly, September 26, 2013 (Photo credit: UN video)
Abbas saw no need to criticize the warring Syrian parties for killing Palestinians and driving them out of their homes.
Nor did he utter a word about Lebanon's mistreatment of the Palestinian refugees or the fact that the Egyptians have been mistreating Palestinian refugees.
The only time Abbas referred to the plight of the refugees was toward the end of his speech, when he stated, "In the past few years and this year, Palestinian refugees have paid -- and continue to pay -- a heavy price for the conflicts and unrest in the region despite their neutrality. Tens of thousands of refugees have been forced to search for new places to live in."
Abbas, of course, also ignored the fact that nearly 2,000 Palestinians have been killed and thousands injured in Syria in the past two years.
He did not, however, forget to mention in his speech that 27 Palestinians were killed by the Israel Defense Forces since the beginning of the year.
Abbas's speech shows that the Palestinian Authority leadership considers construction of new housing units in settlements and neighborhoods of Jerusalem as being more serious than the displacement of a quarter million Palestinians.
For the Palestinian Authority leadership, the security fence in the West Bank, which has put an end to suicide bombings, is more problematic than the killing and displacement of thousands of Palestinians in Syria.
Not surprisingly, Abbas did not condemn any of the Arab countries for mistreating and humiliating Palestinians, especially in recent years.
So what if the Egyptian authorities are shooting and killing Palestinian refugees fleeing Syria? So what if the Lebanese authorities are imposing severe restrictions on the entry of Palestinian refugees? So what if Palestinians are being killed every day in Syria by the forces of Bashar al-Assad and the "rebels?"
Abbas does not seem to have time to talk about the suffering of his people at the hands of Arab governments and terror groups.
As he was speaking, thousands of Palestinians were stranded on both sides of the Gaza Strip-Egypt border due to the closure of the terminal by the Egyptian authorities. Abbas saw no need to refer in his speech to the Egyptian blockade on the Gaza Strip, which is hurting not only Hamas, but also the entire population.
As his speech has shown, he is more concerned about Jews visiting the Temple Mount than thousands of Palestinians who are being butchered and expelled from their homes in Arab countries. That hundreds of mosques and churches have been destroyed in Syria and Egypt is of no concern to Abbas, who sees evil only in the actions of Israel and Jewish settlers.
Related Topics: Khaled Abu Toameh receive the latest by email: subscribe to the free gatestone institute mailing list
Reader comments on this item
| | | |
| --- | --- | --- |
| Title | By | Date |
| Obviously not his people [65 words] | Bart Benschop | Oct 3, 2013 03:15 |
| But he's better looking than Arafat! [122 words] | Ronit | Oct 2, 2013 22:00 |
| Amen. Comment on "What Abbas Missed in His Speech" [179 words] | Jen Schiller | Oct 2, 2013 13:29 |
| ↔ Outstanding article! [7 words] | Shoshana Rubin | Oct 3, 2013 13:51 |
| A Primary Question [22 words] | James | Oct 2, 2013 10:30 |
| ↔ Re: A Primary Question [29 words] | Avril | Oct 3, 2013 03:02 |
| ↔ Muslims [77 words] | JAFO425 | Oct 4, 2013 16:07 |
| ↔ Thank you. [3 words] | James | Oct 16, 2013 11:54 |
| ↔ Response to JAFO425 [421 words] | James | Oct 16, 2013 12:11 |
| Abbas UN Speech [37 words] | Docky Wocky | Oct 2, 2013 08:41 |
| Abbas obsession with Israel in his UN speech [40 words] | Charles Kamerman | Oct 2, 2013 08:19 |
| ↔ Abbas Speech [44 words] | Docky Wocky | Oct 2, 2013 16:48 |
| ↔ Re: Abbas Speech [82 words] | Avril | Oct 3, 2013 03:10 |
| ↔ Abbas speech and Palestinians Underdogs? [67 words] | Docky Wocky | Oct 3, 2013 11:46 |
Comment on this item
Tweets by @GatestoneInst
Subscribe To Mailing List
Latest Articles
by Douglas Murray
One year after the bombs went off at the Boston marathon, Brandeis authorities were so intent on avoiding the issues those bombs had raised, that they would rather point the finger at a critic of the radical ideology than do anything to criticize the ideology.
Is not the Palestinian leadership a viable negotiating partner with whom peace is just about to be achieved? How do you protest if the protesters are Muslims? Who are the victims and who are the victimizers? After all, "victims" cannot victimize, can they?
When we see a global bigotry and hatred such as this, we should identify it as such and demand, in the name of all that is decent, that it stop.
by Anna Mahjar-Barducci
Libya is the new jihadist front on the Mediterranean -- and just a few hours away from the centers of Europe.
Several security sources have confirmed that Belmokhtar is still alive and has moved, along with his troops, from Mali to a new base in the Libyan desert.
by Timon Dias
"If Lady Justice is truly blind, she will prosecute all of us or none of us. I hope none of us." — Geert Wilders, MP and Leader of the Party for Freedom, the Netherlands.
A more recent development is the pending Dutch Moroccan takeover of the drugs and human trafficking businesses.
by Shabnam Assadollahi
It is now being said that Morteza Sarbandi, instead of assaulting Reyhaneh Jabbari, was stabbed while performing Muslim prayers.
by Khaled Abu Toameh
"We reject all forms of violence... Palestinian blood is like Israeli blood. It is human blood and precious and no one wants anyone killed." — Mahmoud al-Habbash, Palestinian Minister of Religious Affairs
"If your blood is like the blood of Zionists, our blood is not." — Zakariya Zubeidi, former leader of the Al-Aqsa Martyrs' Brigade.
"We call for lifting his [al-Habbash's] diplomatic immunity and for prosecuting him immediately for his administrative, financial, and political corruption. We also call on President Abbas to fire him immediately from the Palestinian cabinet." — Mansour al-Sa'di, Fatah leader.
The angry reactions show that there are many Palestinians who see no problem with a terrorist attack against a Jewish family. Palestinian leaders can blame only themselves.
Most Shared
Most Viewed