What Abbas Missed in His UN Speech
Translations of this item:
Abbas is more concerned about Jews visiting the Temple Mount than thousands of Palestinians who are being butchered and expelled from their homes in Arab countries; he sees evil only in the actions of Israel and Jewish settlers.
As Palestinian Authority President Mahmoud Abbas was delivering his speech at the General Assembly of the United Nations last week, one of his officials in Ramallah revealed that 250,000 out of the approximately 600,000 Palestinians in Syria have been forced to flee their homes since the beginning of the conflict there.
The official, Mohamed Shtayyeh, a member of the Fatah Central Committee, said that 93,000 of the displaced Palestinians fled to Lebanon, Egypt, Jordan and Turkey.
He added that those who fled to the neighboring Arab countries were living in harsh conditions.
Yet in his speech, Abbas largely ignored the plight of these Palestinians. Instead, he chose to direct his criticism toward Israel and the settlers.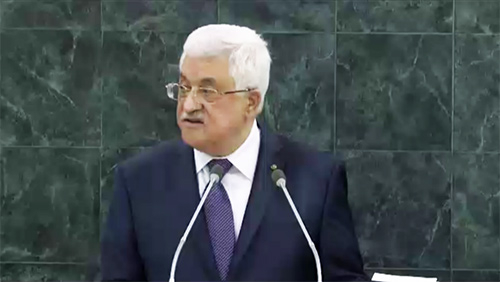 Palestinian Authority President Mahmoud Abbas addresses the UN General Assembly, September 26, 2013 (Photo credit: UN video)
Abbas saw no need to criticize the warring Syrian parties for killing Palestinians and driving them out of their homes.
Nor did he utter a word about Lebanon's mistreatment of the Palestinian refugees or the fact that the Egyptians have been mistreating Palestinian refugees.
The only time Abbas referred to the plight of the refugees was toward the end of his speech, when he stated, "In the past few years and this year, Palestinian refugees have paid -- and continue to pay -- a heavy price for the conflicts and unrest in the region despite their neutrality. Tens of thousands of refugees have been forced to search for new places to live in."
Abbas, of course, also ignored the fact that nearly 2,000 Palestinians have been killed and thousands injured in Syria in the past two years.
He did not, however, forget to mention in his speech that 27 Palestinians were killed by the Israel Defense Forces since the beginning of the year.
Abbas's speech shows that the Palestinian Authority leadership considers construction of new housing units in settlements and neighborhoods of Jerusalem as being more serious than the displacement of a quarter million Palestinians.
For the Palestinian Authority leadership, the security fence in the West Bank, which has put an end to suicide bombings, is more problematic than the killing and displacement of thousands of Palestinians in Syria.
Not surprisingly, Abbas did not condemn any of the Arab countries for mistreating and humiliating Palestinians, especially in recent years.
So what if the Egyptian authorities are shooting and killing Palestinian refugees fleeing Syria? So what if the Lebanese authorities are imposing severe restrictions on the entry of Palestinian refugees? So what if Palestinians are being killed every day in Syria by the forces of Bashar al-Assad and the "rebels?"
Abbas does not seem to have time to talk about the suffering of his people at the hands of Arab governments and terror groups.
As he was speaking, thousands of Palestinians were stranded on both sides of the Gaza Strip-Egypt border due to the closure of the terminal by the Egyptian authorities. Abbas saw no need to refer in his speech to the Egyptian blockade on the Gaza Strip, which is hurting not only Hamas, but also the entire population.
As his speech has shown, he is more concerned about Jews visiting the Temple Mount than thousands of Palestinians who are being butchered and expelled from their homes in Arab countries. That hundreds of mosques and churches have been destroyed in Syria and Egypt is of no concern to Abbas, who sees evil only in the actions of Israel and Jewish settlers.
Related Topics: Palestinian Authority | Khaled Abu Toameh receive the latest by email: subscribe to the free gatestone institute mailing list
Reader comments on this item
| | | |
| --- | --- | --- |
| Title | By | Date |
| Obviously not his people [65 words] | Bart Benschop | Oct 3, 2013 03:15 |
| But he's better looking than Arafat! [122 words] | Ronit | Oct 2, 2013 22:00 |
| Amen. Comment on "What Abbas Missed in His Speech" [179 words] | Jen Schiller | Oct 2, 2013 13:29 |
| ↔ Outstanding article! [7 words] | Shoshana Rubin | Oct 3, 2013 13:51 |
| A Primary Question [22 words] | James | Oct 2, 2013 10:30 |
| ↔ Re: A Primary Question [29 words] | Avril | Oct 3, 2013 03:02 |
| ↔ Muslims [77 words] | JAFO425 | Oct 4, 2013 16:07 |
| ↔ Thank you. [3 words] | James | Oct 16, 2013 11:54 |
| ↔ Response to JAFO425 [421 words] | James | Oct 16, 2013 12:11 |
| Abbas UN Speech [37 words] | Docky Wocky | Oct 2, 2013 08:41 |
| Abbas obsession with Israel in his UN speech [40 words] | Charles Kamerman | Oct 2, 2013 08:19 |
| ↔ Abbas Speech [44 words] | Docky Wocky | Oct 2, 2013 16:48 |
| ↔ Re: Abbas Speech [82 words] | Avril | Oct 3, 2013 03:10 |
| ↔ Abbas speech and Palestinians Underdogs? [67 words] | Docky Wocky | Oct 3, 2013 11:46 |
Comment on this item
Subscribe To Mailing List
Tweets by @GatestoneInst
Subscribe To Mailing List
Latest Articles
by Pierre Rehov
For terrorists, the death of innocent children is irrelevant. In a society that promotes martyrdom as the ultimate sign of success, the death of innocent children can sometimes even be seen as a public relations blessing.
In every action, intent is paramount. There should never be a moral equivalence painted between the deliberate killing of civilians, and a retaliation that tragically leads to casualties among civilians.
There is, however, one small difference: in the Middle East, reporters are threatened, except in Israel. Their choice becomes a simple one: promote the Palestinian point of view or stop working in the West Bank. Keep the eye of the camera dirty or lose your job. This show should not go on.
by Khaled Abu Toameh
Since 1948, the Arab countries and government have been paying mostly lip service to the Palestinians.
"They have money and oil, but don't care about the Palestinians, even though we are Arabs and Muslims like them. What a Saudi or Qatari sheikh spends in one night in London, Paris or Las Vegas could solve the problem of tens of thousands of Palestinians." — Palestinian human rights activist.
"Some Arabs were hoping that Israel would rid them of Hamas." — Ashraf Salameh, Gaza City.
"Some of the Arab regimes are interested in getting rid of the resistance in order to remove the burden of the Palestinian cause, which threatens the stability of their regimes." — Mustafa al-Sawwaf, Palestinian political analyst.
"Most Arabs are busy these days with bloody battles waged by their leaders, who are struggling to survive. These battles are raging in Yemen, Syria, Iraq, Egypt, Libya and the Palestinian Authority." — Mohammed al-Musafer, columnist.
"The Arab leaders don't know what they want from the Gaza Strip. They don't even know what they want from Israel." — Yusef Rizka, Hamas official.
by Soeren Kern
European elites, who take pride in viewing the EU as a "postmodern" superpower, have long argued that military hard-power is illegitimate in the 21st century. Unfortunately for Europe, Russia (along with China and Iran) has not embraced the EU's fantastical soft-power worldview, in which "climate change" is now said to pose the greatest threat to European security.
For its part, the European Commission, the EU's administrative branch, which never misses an opportunity to boycott institutions in Israel, has issued only a standard statement on the shooting down of MH17 in Ukraine, which reads: "The European Union will continue to follow this issue very closely."
The EU has made only half-hearted attempts to develop alternatives to its dependency on Russian oil and gas.
by Shoshana Bryen
Proportionality in international law is not about equality of death or civilian suffering, or even about [equality of] firepower. Proportionality weighs the necessity of a military action against suffering that the action might cause to enemy civilians in the vicinity.
"Under international humanitarian law and the Rome Statute, the death of civilians during an armed conflict, no matter how grave and regrettable does not constitute a war crime.... even when it is known that some civilian deaths or injuries will occur. A crime occurs if there is an intentional attack directed against civilians (principle of distinction) or an attack is launched on a military objective in the knowledge that the incidental civilian injuries would be clearly excessive in relation to the anticipated military advantage (principle of proportionality)." — Luis Moreno-Ocampo, Chief Prosecutor, International Criminal Court.
"The greater the military advantage anticipated, the larger the amount of collateral damage -- often civilian casualties -- which will be "justified" and "necessary." — Dr. Françoise Hampton, University of Essex, UK.
Most Shared
Most Viewed