What Abbas Missed in His UN Speech
Translations of this item:
Abbas is more concerned about Jews visiting the Temple Mount than thousands of Palestinians who are being butchered and expelled from their homes in Arab countries; he sees evil only in the actions of Israel and Jewish settlers.
As Palestinian Authority President Mahmoud Abbas was delivering his speech at the General Assembly of the United Nations last week, one of his officials in Ramallah revealed that 250,000 out of the approximately 600,000 Palestinians in Syria have been forced to flee their homes since the beginning of the conflict there.
The official, Mohamed Shtayyeh, a member of the Fatah Central Committee, said that 93,000 of the displaced Palestinians fled to Lebanon, Egypt, Jordan and Turkey.
He added that those who fled to the neighboring Arab countries were living in harsh conditions.
Yet in his speech, Abbas largely ignored the plight of these Palestinians. Instead, he chose to direct his criticism toward Israel and the settlers.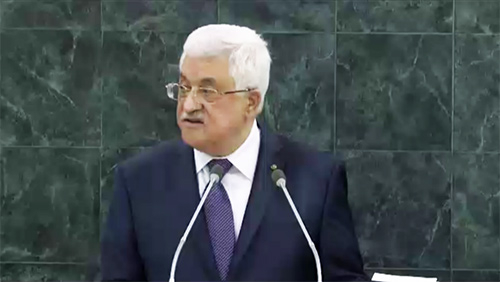 Palestinian Authority President Mahmoud Abbas addresses the UN General Assembly, September 26, 2013 (Photo credit: UN video)
Abbas saw no need to criticize the warring Syrian parties for killing Palestinians and driving them out of their homes.
Nor did he utter a word about Lebanon's mistreatment of the Palestinian refugees or the fact that the Egyptians have been mistreating Palestinian refugees.
The only time Abbas referred to the plight of the refugees was toward the end of his speech, when he stated, "In the past few years and this year, Palestinian refugees have paid -- and continue to pay -- a heavy price for the conflicts and unrest in the region despite their neutrality. Tens of thousands of refugees have been forced to search for new places to live in."
Abbas, of course, also ignored the fact that nearly 2,000 Palestinians have been killed and thousands injured in Syria in the past two years.
He did not, however, forget to mention in his speech that 27 Palestinians were killed by the Israel Defense Forces since the beginning of the year.
Abbas's speech shows that the Palestinian Authority leadership considers construction of new housing units in settlements and neighborhoods of Jerusalem as being more serious than the displacement of a quarter million Palestinians.
For the Palestinian Authority leadership, the security fence in the West Bank, which has put an end to suicide bombings, is more problematic than the killing and displacement of thousands of Palestinians in Syria.
Not surprisingly, Abbas did not condemn any of the Arab countries for mistreating and humiliating Palestinians, especially in recent years.
So what if the Egyptian authorities are shooting and killing Palestinian refugees fleeing Syria? So what if the Lebanese authorities are imposing severe restrictions on the entry of Palestinian refugees? So what if Palestinians are being killed every day in Syria by the forces of Bashar al-Assad and the "rebels?"
Abbas does not seem to have time to talk about the suffering of his people at the hands of Arab governments and terror groups.
As he was speaking, thousands of Palestinians were stranded on both sides of the Gaza Strip-Egypt border due to the closure of the terminal by the Egyptian authorities. Abbas saw no need to refer in his speech to the Egyptian blockade on the Gaza Strip, which is hurting not only Hamas, but also the entire population.
As his speech has shown, he is more concerned about Jews visiting the Temple Mount than thousands of Palestinians who are being butchered and expelled from their homes in Arab countries. That hundreds of mosques and churches have been destroyed in Syria and Egypt is of no concern to Abbas, who sees evil only in the actions of Israel and Jewish settlers.
Related Topics: Palestinian Authority | Khaled Abu Toameh receive the latest by email: subscribe to the free gatestone institute mailing list
Reader comments on this item
| | | |
| --- | --- | --- |
| Title | By | Date |
| Obviously not his people [65 words] | Bart Benschop | Oct 3, 2013 03:15 |
| But he's better looking than Arafat! [122 words] | Ronit | Oct 2, 2013 22:00 |
| Amen. Comment on "What Abbas Missed in His Speech" [179 words] | Jen Schiller | Oct 2, 2013 13:29 |
| ↔ Outstanding article! [7 words] | Shoshana Rubin | Oct 3, 2013 13:51 |
| A Primary Question [22 words] | James | Oct 2, 2013 10:30 |
| ↔ Re: A Primary Question [29 words] | Avril | Oct 3, 2013 03:02 |
| ↔ Muslims [77 words] | JAFO425 | Oct 4, 2013 16:07 |
| ↔ Thank you. [3 words] | James | Oct 16, 2013 11:54 |
| ↔ Response to JAFO425 [421 words] | James | Oct 16, 2013 12:11 |
| Abbas UN Speech [37 words] | Docky Wocky | Oct 2, 2013 08:41 |
| Abbas obsession with Israel in his UN speech [40 words] | Charles Kamerman | Oct 2, 2013 08:19 |
| ↔ Abbas Speech [44 words] | Docky Wocky | Oct 2, 2013 16:48 |
| ↔ Re: Abbas Speech [82 words] | Avril | Oct 3, 2013 03:10 |
| ↔ Abbas speech and Palestinians Underdogs? [67 words] | Docky Wocky | Oct 3, 2013 11:46 |
Comment on this item
Subscribe To Mailing List
Tweets by @GatestoneInst
Latest Articles
by Khaled Abu Toameh
The "Arab Spring" did not erupt as a result of the Israeli-Palestinian conflict. Rather, it was the outcome of decades of tyranny and corruption in the Arab world. The Tunisians, Egyptians, Libyans and Yemenis who removed their dictators from power did not do so because of the lack of a "two-state solution." This is the last thing they had in mind.
The thousands of Muslims who are volunteering to join the Islamic State [IS] are not doing so because they are frustrated with the lack of progress in the Israeli-Palestinian peace talks.
The only solution the Islamic State believes in is a Sunni Islamic Caliphate where the surviving non-Muslims who are not massacred would be subject to sharia law.
What Kerry perhaps does not know is that the Islamic State is not interested in the Israeli-Palestinian conflict at all. Unlike Kerry, Sunni scholars fully understand that the Islamic State has more to do with Islam and terrorism than with any other conflict.
by Steven J. Rosen
Palestinian officials have generally been silent about security cooperation with Israel. They are loath to acknowledge how important it is for the survival of the Palestinian Authority [PA], and fear that critics, especially Hamas, will consider it "collaboration with the enemy."
"You smuggle weapons, explosives and cash to the West Bank, not for the fight with Israel, but for a coup against the Palestinian Authority. The Israeli intelligence chief visited me two weeks ago and told me about the [Hamas] group they arrested that was planning for a coup... We have a national unity government and you are thinking about a coup against me." — Mahmoud Abbas, PA President, to Khaled Mashaal, Hamas leader.
According to Israeli Defense Minister Moshe Ya'alon, if the IDF leaves the West Bank, Hamas will take over, and other terrorists groups such as the Islamic Jihad, Al-Qaeda and Islamic State would operate there.
In recent months, Abbas has been making a series of threats against Israel. If Abbas becomes another Arafat, it could be the Israeli side that loses interest in security cooperation.
by Burak Bekdil
It was the Islamists who, since they came to power in the 2000s, have reaped the biggest political gains from the "Palestine-fetish."
But the Turkish rhetoric on "solidarity" with our Palestinian brothers often seems askew to how solidarity should be.
by Raheel Raza
One blogger writes that Malala hates Pakistan's military. I believe it is the other way around.
I would so like to see the day when Malala is welcomed back in Pakistan, with the whole country cheering.
by Francesco Sisci
Democratic evolution in China was being seriously considered. The failures of U.S. support for democracy in Afghanistan, Iraq, Egypt and Libya gave new food for thought to those opposed to democracy. Lastly, the United States did not strongly oppose the anti-democratic coup d'état that overthrew a democratically elected government in Thailand.
On the other hand, Russia -- dominated by Vladimir Putin, a new autocrat determined to stifle democracy in Russia -- provided a new model.
The whole of Eastern Europe and most of Latin America, formerly in the clutches of dictatorships, are now efficient democracies. This seems to indicate that while democracy cannot be parachuted into a country, there is a broader, longer-term global trend toward democracy and that its growth depends on local conditions.
As economic development needed careful planning, political reforms need even greater planning. The question remains: is China preparing for these political reforms?
Most Shared
Most Viewed