What Abbas Missed in His UN Speech
Abbas is more concerned about Jews visiting the Temple Mount than thousands of Palestinians who are being butchered and expelled from their homes in Arab countries; he sees evil only in the actions of Israel and Jewish settlers.
As Palestinian Authority President Mahmoud Abbas was delivering his speech at the General Assembly of the United Nations last week, one of his officials in Ramallah revealed that 250,000 out of the approximately 600,000 Palestinians in Syria have been forced to flee their homes since the beginning of the conflict there.
The official, Mohamed Shtayyeh, a member of the Fatah Central Committee, said that 93,000 of the displaced Palestinians fled to Lebanon, Egypt, Jordan and Turkey.
He added that those who fled to the neighboring Arab countries were living in harsh conditions.
Yet in his speech, Abbas largely ignored the plight of these Palestinians. Instead, he chose to direct his criticism toward Israel and the settlers.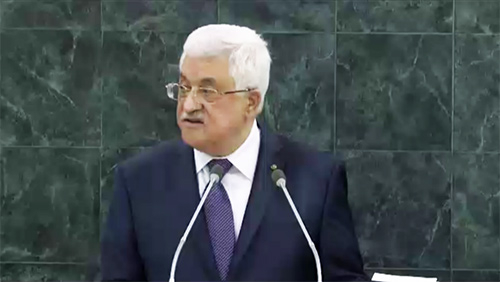 Palestinian Authority President Mahmoud Abbas addresses the UN General Assembly, September 26, 2013 (Photo credit: UN video)
Abbas saw no need to criticize the warring Syrian parties for killing Palestinians and driving them out of their homes.
Nor did he utter a word about Lebanon's mistreatment of the Palestinian refugees or the fact that the Egyptians have been mistreating Palestinian refugees.
The only time Abbas referred to the plight of the refugees was toward the end of his speech, when he stated, "In the past few years and this year, Palestinian refugees have paid -- and continue to pay -- a heavy price for the conflicts and unrest in the region despite their neutrality. Tens of thousands of refugees have been forced to search for new places to live in."
Abbas, of course, also ignored the fact that nearly 2,000 Palestinians have been killed and thousands injured in Syria in the past two years.
He did not, however, forget to mention in his speech that 27 Palestinians were killed by the Israel Defense Forces since the beginning of the year.
Abbas's speech shows that the Palestinian Authority leadership considers construction of new housing units in settlements and neighborhoods of Jerusalem as being more serious than the displacement of a quarter million Palestinians.
For the Palestinian Authority leadership, the security fence in the West Bank, which has put an end to suicide bombings, is more problematic than the killing and displacement of thousands of Palestinians in Syria.
Not surprisingly, Abbas did not condemn any of the Arab countries for mistreating and humiliating Palestinians, especially in recent years.
So what if the Egyptian authorities are shooting and killing Palestinian refugees fleeing Syria? So what if the Lebanese authorities are imposing severe restrictions on the entry of Palestinian refugees? So what if Palestinians are being killed every day in Syria by the forces of Bashar al-Assad and the "rebels?"
Abbas does not seem to have time to talk about the suffering of his people at the hands of Arab governments and terror groups.
As he was speaking, thousands of Palestinians were stranded on both sides of the Gaza Strip-Egypt border due to the closure of the terminal by the Egyptian authorities. Abbas saw no need to refer in his speech to the Egyptian blockade on the Gaza Strip, which is hurting not only Hamas, but also the entire population.
As his speech has shown, he is more concerned about Jews visiting the Temple Mount than thousands of Palestinians who are being butchered and expelled from their homes in Arab countries. That hundreds of mosques and churches have been destroyed in Syria and Egypt is of no concern to Abbas, who sees evil only in the actions of Israel and Jewish settlers.
Related Topics: Khaled Abu Toameh receive the latest by email: subscribe to the free gatestone institute mailing list
Reader comments on this item
| | | |
| --- | --- | --- |
| Title | By | Date |
| Obviously not his people [65 words] | Bart Benschop | Oct 3, 2013 03:15 |
| But he's better looking than Arafat! [122 words] | Ronit | Oct 2, 2013 22:00 |
| Amen. Comment on "What Abbas Missed in His Speech" [179 words] | Jen Schiller | Oct 2, 2013 13:29 |
| ↔ Outstanding article! [7 words] | Shoshana Rubin | Oct 3, 2013 13:51 |
| A Primary Question [22 words] | James | Oct 2, 2013 10:30 |
| ↔ Re: A Primary Question [29 words] | Avril | Oct 3, 2013 03:02 |
| ↔ Muslims [77 words] | JAFO425 | Oct 4, 2013 16:07 |
| ↔ Thank you. [3 words] | James | Oct 16, 2013 11:54 |
| ↔ Response to JAFO425 [421 words] | James | Oct 16, 2013 12:11 |
| Abbas UN Speech [37 words] | Docky Wocky | Oct 2, 2013 08:41 |
| Abbas obsession with Israel in his UN speech [40 words] | Charles Kamerman | Oct 2, 2013 08:19 |
| ↔ Abbas Speech [44 words] | Docky Wocky | Oct 2, 2013 16:48 |
| ↔ Re: Abbas Speech [82 words] | Avril | Oct 3, 2013 03:10 |
| ↔ Abbas speech and Palestinians Underdogs? [67 words] | Docky Wocky | Oct 3, 2013 11:46 |
Comment on this item
Tweets by @GatestoneInst
Subscribe To Mailing List
Latest Articles
by Ali Salim
They probably believe that if they put off a war in this administration -- possibly to have the world thrown into an even more deadly and costly war down the line -- at least no one will be able to say it happened on their watch. They are wrong. If and when Iran becomes a nuclear power, as with North Korea, the event will go down in history as the fault of the Americans -- and above all the crowning legacy of the current administration -- in their retreat and flight.
Countries such as China and Russia easily identified a historic opportunity when America abandoned sensitive strongholds of great geopolitical value such as Saudi Arabian oil; the Suez Canal; the Arabian Gulf markets for arms, technology and merchandise, and spheres of geostrategic influence.
by Soeren Kern
The common thread that binds the entire document together is the OIC's repeated insistence that the main culprit responsible for "the institutionalization of Islamophobia" in Western countries is freedom of speech.
"The Istanbul Process started with Secretary of State Hillary Clinton and the EU High Representative for Foreign Affairs and Security Policy Catherine Ashton.... We need to build on it." — OIC Secretary General Ekmeleddin Isanoglu
by Samuel Westrop
Speakers at Hacked Off events, for example, have demanded that a media regulator should encourage the press to "support" public institutions such as the National Health Service, effectively turning Britain's free press into cheerleaders for the government.
"If a minority group (gypsies, say) is routinely and falsely maligned by a newspaper, it is fair for a representative organisation to make a compliant on their behalf. If not, there would be no single voice addressing such a democratic deficit." — David Hass, spokesperson, Hacked Off Campaign
by Khaled Abu Toameh
Kerry needs to listen to what Hamas and other groups are saying in Arabic.
Hamas is not the only Palestinian party that would reject any U.S.-sponsored agreement. Most of the Palestinian groups...have already expressed their opposition to the Israeli-Palestinian peace talks.
by Michael Armanious
"If you take out uncovered meat and place it outside on the street...and the cats come and eat it, whose fault is it, the cats' or the uncovered meat? If she was in her room, in her home in her hijab, no problem would have occurred." — Sheikh Taj Din Al-Hilali, Grand Mufti, Australia, 2006
Although she survived the attack, what is really instructive is how she was demonized and blamed on Egypt's talk shows for the violence she endured. Commentators accused her of deliberately wearing a blue bra to invite the attack -- as if it even could have been seen beneath the black Islamic veil she wore before she was attacked.
Most Shared
Most Viewed