New Extremist Foxes Welcomed into U.S. Chicken Coop
Say hello again to two of the most over-promoted and sinister figures involved with the current U.S. government: Mohamed Elibiary and Dalia Mogahed. If you were one of those Christian Copts standing in the ruins of your village or church, what message would you take from all this?
Imagine that in recent weeks alone, dozens of Muslims around the world had been murdered by Christian extremists armed with suicide belts and similar paraphernalia.
Imagine that at the same time, around other parts of the world, Christian mobs had set fire to, and burned to the ground, the holy places of some of the oldest and most established Muslim communities in the world.
Do you think there would be a reaction to such events? Probably yes.
Would that reaction be wholly negative and unceasing in its condemnation? Probably yes.
Would it be remotely conceivable that a senior U.S. government official or advisor would have used the opportunity to claim that Muslims who had been targeted had brought it upon themselves? Probably no.
Welcome then to the mirror-image of the real-world persecution of Christians that is going on across the globe today.
And say hello again to two of the most appallingly over-promoted and sinister figures involved with the current U.S. government: Mohamed Elibiary and Dalia Mogahed.
Of course, you may not want to: as the terror goes on worldwide, and the situation around the globe slips continuously in the Islamists' general direction, there is a growing and terrific ennui among much of the West. Among much of the Western world, terrorists' marauding is another case of, "Oh, just that Islamism again." You say a person is not good? Well, we can't be bothered to find out. The very condition that so few people can raise themselves to be bothered is part of the problem: "The trouble with all the nice people I knew in Germany," the British author Stephen Spender wrote in his Berlin diary in the 1930s, "is that they were either tired or weak."
Thankfully there are a number of people who can still rouse themselves to point out how outrageous Western governments' hiring policies are these days -- as when Mohamed Elibiary was promoted to the U.S. Department of Homeland Security's Advisory Council. Yet despite these heroic individuals pointing out Elibiary's track record of support for Islamists worldwide, the appointment held -- and so it was that the U.S. government welcomed another fox into its chicken coop.
Now an American official can not only fail to stand by America's friends – he can actually blame them for the persecution they are suffering.
Over recent days, one of the effects of this has already been felt: in September, when violence against Egypt's Copts had reached another peak, the new Department of Homeland Security Homeland Security Advisor, Elibiary, used his twitter account to blame American Coptic activists for the murder of their co-religionists by Muslim Brotherhood extremists of the type Elibiary has a track record of supporting.
On September 15, he wrote, "For decade since 9/11 attack extremist American Coptic activists have nurtured anti Islam and anti Muslim sentiments among AM RT wing." A day earlier, Elibiary blamed American Copts for protesting against attacks on their relatives in Egypt, and recommended an article "on need to reform #Coptic activism in #US including stop promoting #Islamophobia."
So while Copts were actually being targeted and killed in Egypt, Mr. Elbiary chose to try to switch attention onto the fictional persecution of Muslims in the U.S. There is nothing quite like someone excusing one crime-in-progress by citing a non-existent other crime -- except for, of course, a U.S. government official doing the same.
Unfortunately, thanks to our enthusiastic, politically-correct attitudes and radical Islamist ideologies, Elibiary is not alone in the U.S. administration.
It was Dalia Mogahed, you will recall, who helped President Obama draft the 2009 Cairo Speech -- a "reset" speech, regarded as seminal across several rooms in the White House. It was Mogahed who helped draft the address which apologized for America's past actions while giving the benefit of the doubt to most of its self-stated enemies.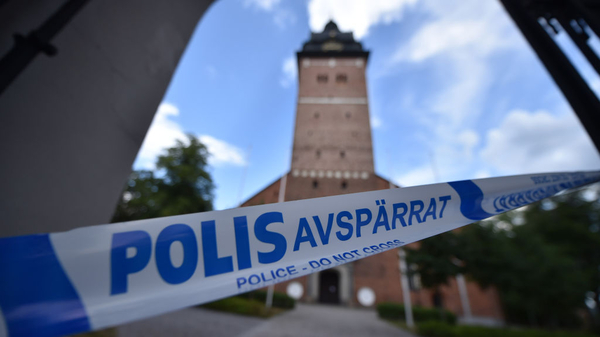 Dalia Mogahed, advisor to the White House Office of Faith-Based and Neighborhood Partnerships.
Mogahed is not only one of the geniuses credited with that speech; her record also includes other glowing occasions. Such as the time, that same year, in which she cropped up on a U.K. television program, which aired on the most notorious satellite Islamist channel. Mogahed took part in a discussion about the empowerment of women through Sharia. She participated, seemingly happily, in the program hosted -- and introduced as such -- by a member of the radical Islamist group Hizb-ut-Tahrir. Mogahed also seemed unfazed when, for instance, passionate fellow participants called for the restoration of the Caliphate (a key pipedream of Hizb-ut-Tahrir).
Incidents like that have been used against her. But these things have a tendency to come and go. A little flare-up of bad publicity here, the rebuttal of legitimate concerns and an accusation of "Islamophobia" there -- it is all part of the mood-music.
Dalia Mogahed's latest popping-up however, makes all her previous ones not only explicable but mild:
After 80 Coptic churches had been burned down by Brotherhood supporters, Ms. Mogahed decided to single out for criticism not the perpetrators but --- the Egyptian media! "The Egyptian media took advantage of the Copts to achieve many personal/political gains which has angered the West," she wrote on one of the Facebook pages to which she spends her time contributing: "Egyptian Americans for Democracy and Human Rights." All of which adds up to one of the strangest sets of messages any American government has surely ever given out.
If you were one of those Christian Copts standing in the ruins of your village or church, what message would you take from all this? If the officials of the current U.S. administration are managing to blame the media, or even fellow Copts in the U.S., for your slaughter and the desecration of your churches, would it be any surprise if they took the message that the current U.S. administration is not just indifferent to the suffering of Christians across the Middle East and the rest of the world, but actively asking them, "Would you mind dying quietly, please?'
Related Topics: Douglas Murray receive the latest by email: subscribe to the free gatestone institute mailing list
Reader comments on this item
| | | |
| --- | --- | --- |
| Title | By | Date |
| Re: New Extremist Foxes Welcomed into U.S. Chicken Coop [25 words] | Subee | Oct 12, 2013 14:58 |
| Tell it as it is! [230 words] | Colin Harrison | Oct 12, 2013 07:26 |
| And this is surprising why? [13 words] | Rosalee | Oct 10, 2013 17:32 |
| Not Islamophobia [134 words] | Marty | Oct 10, 2013 15:56 |
| Outstanding article! [8 words] | Shoshana Rubin | Oct 10, 2013 15:16 |
| Islam [6 words] | Expose Secularism | Oct 10, 2013 14:36 |
| And OBAMA...? [14 words] | Mony | Oct 10, 2013 12:11 |
| Now Muslims themselves are"Islamophobic"! [101 words] | Steven Buckley | Oct 10, 2013 11:34 |
| Obama is the Head of the Dead Fish [192 words] | Richard Field | Oct 10, 2013 09:41 |
| Extremist Foxes [122 words] | Docky Wocky | Oct 10, 2013 08:52 |
| New Extremist Foxes [65 words] | A.T. Halmay | Oct 10, 2013 08:24 |
| ↔ Re: Americans shedding their blinders [110 words] | Barbara Griffith | Oct 11, 2013 02:39 |
Comment on this item
Tweets by @GatestoneInst
Subscribe To Mailing List
Latest Articles
by Samuel Westrop
In the West, the Arabization of Muslim communities has occurred with government assistance, which, through imposed policies of multiculturalism in the name of diversity, has effected the destruction of South Asian culture.
by Soeren Kern
The problem of Islam in public schools has been allowed to snowball to vast proportions... not hundreds but thousands of British schools have come under the influence of Muslim radicals.
Bains was also instructed to stop teaching citizenship classes because they were deemed to be "un-Islamic," and to introduce Islamic studies into the curriculum, even though Saltley is a non-faith school.
Schools should not be allowed to become "silos of segregation." — Nick Clegg, Deputy Prime Minister
by Peter Martino
Europe's biggest failure vis-à-vis Turkey is another example of its unwillingness to face unwelcome truths: that whenever Islamists go into politics, they never turn out to be moderates.
EU leaders are now, belatedly, coming to realize that Erdogan is not their friend.
by Timon Dias
"Both materially, and in essence, sovereignty unconditionally and always belongs to Allah." — Recep Tayyip Erdogan, Prime Minister, Turkey.
What is surprising is that so many Western politicians, including EU-minded ones, apparently still ignore what the consequences could be of such an ideology. Do they really assume it could never happen to them?
by Gordon G. Chang
The second thing we get wrong about China is that it is safe to ignore periodic Chinese threats to incinerate our cities and wage war on us. They employ salami-slicing tactics, as with Scarborough Shoal... so that they do not invite retaliation.
If we cannot say these things clearly and publicly, the Chinese will think we are afraid of them. If they think we are afraid of them, they will act accordingly.
Chinese leaders do not distrust us because they have insufficient contact with us. They distrust us because they see themselves as protectors of an ideology threatened by free societies.
Most Shared
Most Viewed